Enjoy this Free Printable Halloween Countdown Calendar so kids can keep track of how many days until trick or treats!
I looked at the calendar today and realized that October begins next week.
Yikes!
Because as soon as the calendar switches over to October, kids begin to plan for their biggest Fall holiday -- Halloween.
They plan their costumes.
They plan who to "Boo!"
They plan their trick or treat route.
They ask me for fun Halloween activities they can do while we count down to the big day.
They start to bug me about whether I'll be handing out candy this year or pretzels AGAIN (really, I only did that one year and they were pumpkin shaped pretzels that I thought were adorable :)
And I will very frequently hear "How many more days until I can wear my costume?"
Can you relate?
So, I thought a little pre-emptive planning on my part would be a good thing (cue the spooky music and creepy, squeaking door...)
---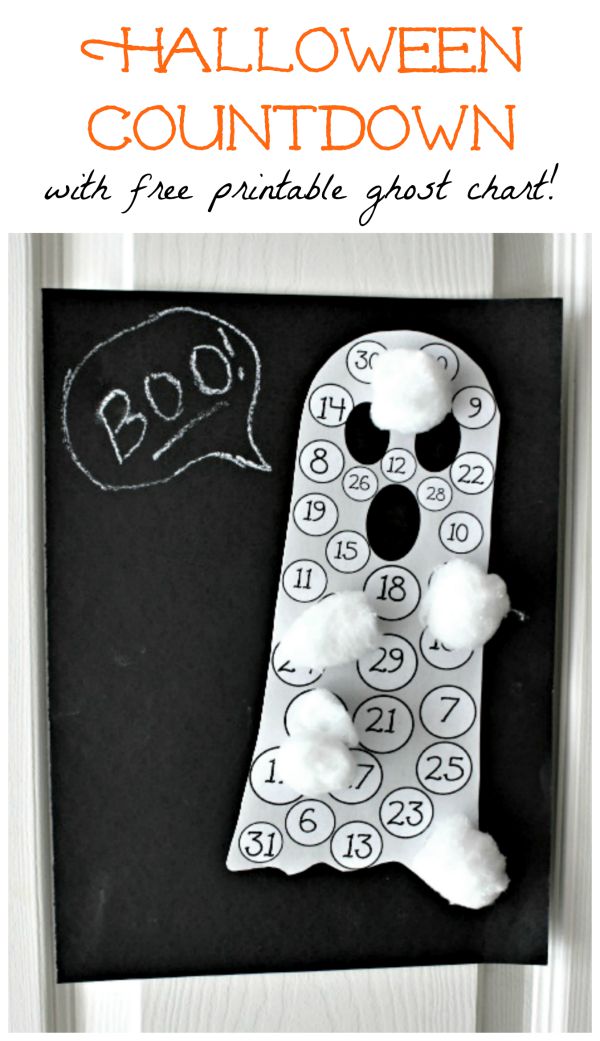 Free Printable Halloween Calendar for Kids
This year, we are totally prepared for the countdown -- your kids can do this on their own while practicing a little math (hee hee, trick them into a little learning ;)
I use the PicMonkey: crazy-awesome photo editing online program and love it! You can do some amazing things with it -- make a Halloween banner or party invitations -- PLUS Picmonkey is free (seriously, free means you gotta try it!) for all their basic photo editing which includes some of their awesome holiday templates & graphics!
Just print off one of our ghost-themed Countdown to Halloween sheets, grab a bag of cotton balls
(affiliate link in case you need them) and you're all set!
Each day in October, have the kids search for the date on the ghost and glue a cotton ball over that day. Number recognition, sensory fun and a holiday calendar all wrapped up in one!
I modeled it after the Santa's beard countdown that I remember doing as a child -- it was so much fun to see the flat paper turn into a fluffy, white beard for dear old St. Nick.
We printed the Gray ghost template, cut it out and glued it onto a piece of black construction paper. Here's the link to the printable gray countdown ghost if you'd like to do the same.
And because I think ghosts get tired of only being portrayed as white or gray figures, I thought I would also create an orange ghost countdown (print it here ) -- because sometimes ya gotta be different, right!
Get ready -- the Countdown is almost on!
More Halloween Crafts & Activities
12 Perfect Pumpkin Books for Kids
31 Printable Halloween Activities
Wait! There's more --