A dozen pumpkin books for kids that are perfect for Fall!
Every Fall, we love to look at beautiful leaves, enjoy the cool weather and read books about PUMPKINS!
The pumpkin patches in our area open this week and like many families, my kids are excited to hunt down the perfect orange orb.
And today's Discover & Explore linky will feature all kinds of pumpkin fun!
---
12 Perfect Pumpkin Books for Kids
In honor of "pumpkin" season, here's a fun list of books that that can be read as you enjoy all the pumpkin festivities. Enjoy this round-up of great reads which include affiliate links so you can check out all the details for each book.
Before Heading to a Pumpkin Patch
Do the kids have questions about how those gorgeous pumpkins grow so big? These books will help them to learn about the life cycle of a pumpkin as it grows from seed to squash.
It's Pumpkin Time!
is wonderful for younger children. Beautiful illustrations introduce children to the idea of planting & harvesting from a pumpkin patch.
From Seed to Pumpkin (Let's-Read-and-Find-Out Science)
does an excellent job of introducing the science behind how seeds grow. Kids will learn about pollination, what's important in growing a pumpkin along with a few fun activities.
Pumpkin Pumpkin
is the wonderful story of a young boy who plants a pumpkin seed in spring, cares for it all summer and then carves the pumpkin for Halloween (but not before saving a few seeds for next year).
The Pumpkin Book
is a great book for kids of all ages. A favorite children's author, Gail Gibbons introduces all the details about the growth of pumkins along with some new terms for kids to learn.
Just for Fun
Enjoy some laughs with these funny seasonal reads!
In The Very Best Pumpkin
, Peter lives at a pumpkin farm and finds a tiny pumpkin in a field all by itself. He cares for all summer long and it grows into a nice large pumpkin. But then a visitor to the farm wants to buy it -- can Peter sell his pumpkin?
Pumpkin Town!
is an entertaining story about a family that grows too many pumpkins -- what should you do with a mountain of pumpkins? Find out in this funny round-about read that keeps kids asking 'what will happen next?'
Readers will love all the bumping, thumping fun in The Runaway Pumpkin
-- three siblings find a giant pumpin and try to roll it down the hill to show everyone, and away it goes!
When You're Ready to Carve your Jack-o-lantern
Not sure what type of face to carve on that pumpkin? These books introduce lots of ideas for how to turn that pretty pumpkin into something funny, spooky or down-right cute!
It's Pumpkin Day, Mouse!
brings back our favorite mouse who is trying to decide what type of face to put on his pumpkin.
What happens when too many pumpkins break loose and roll down the hill into town? The residents of Pumpkin Hill
will show you when the mayor declares that each person must carve a pumpkin!
Great Read with Pumpkin Seeds
What do you do with all those seeds? Do you love to toast them, count them, plant them?
Which size pumpkin has the most seeds -- a big one or small one?
Or does it matter? Follow along with the class activities and they try to find the answers in How Many Seeds in a Pumpkin?
Baking Something Pumpkin
Pumpkins aren't just for carving -- they also make some wonderful treats!
Cat, Duck & Squirrel are making pumpkin soup again, as they do every year. But this time, Duck wants to stir the soup instead of putting in the salt. Will his friends cooperate too? Find out in Pumpkin Soup
.
Have you ever attended The Pumpkin Fair
? You find pumpkin bowling, pumpkin games and tons of pumpkin food to enjoy!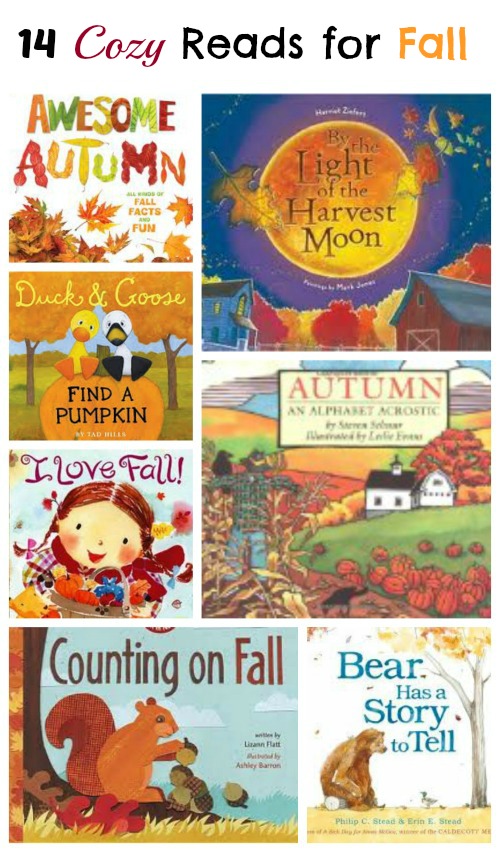 MORE FALL BOOK LISTS FOR KIDS
14 Cozy Books that Celebrate Fall
The Best ER (Early Readers) with Seasonal Themes
Great Books to Take on a Leaf Hunt
More Fall Activities for Kids
Looking for more great activities to do this Fall?
Halloween Countdown: Ghost Number Activity
Lots More Pumpkin Fun
Please read the following guidelines for sharing:
By linking up, you are giving me permission to share your post including one photo in our weekly feature post and on social media channels.
Visit 2-3 other posts that have linked up, find some new ideas & meet new friends