Learn which trees are growing in your yard with this tree identification scavenger hunt using leaves, tree seeds & free printable clues!
Do you know the saying "A picture's worth a thousand words"?
If that's the case, I'm going to tell you that a hands-on science activity answers 1,000 questions 🙂
Giving kids a fun way to get up close while learning helps provide the details for all the "why is this happening?" and "what does that mean?" questions that they ask while exploring the world.
Today we have both for you — a few pictures along with an awesome & easy outdoor science activity that's worth it's weight in gold!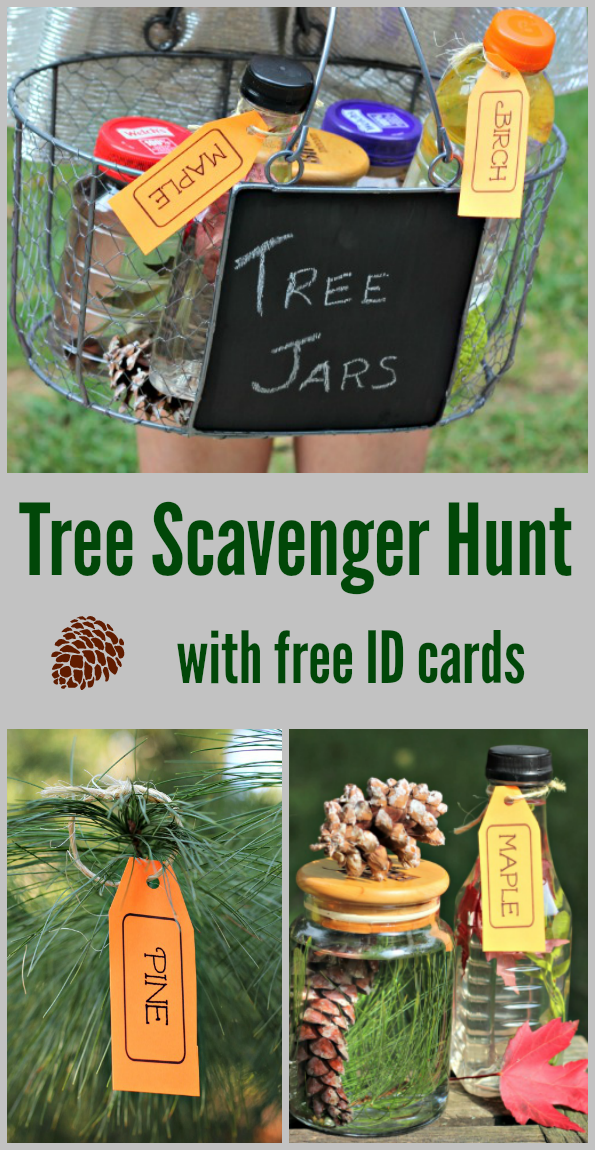 Tree Identification Scavenger Hunt
During Autumn, it seems that so many questions revolve around trees —
Why do leaves change colors?
Why does this tree have pinecones and the others have acrons?
Giving your child the opportunity to explore more about trees will allow them to better understand nature, the seasons and also life cycles of plants. I'm including FREE printable tree ID tags, instructions for making nature sensory bottles and affiliate links for books & items we used for the activity too.
This hands-on science activity is going to cover two areas of science — both tree identification (ecology) and also how water can be used as a magnifier (which is a physics concept).
I love finding easy and fun ways to introduce advanced science concepts to kids 🙂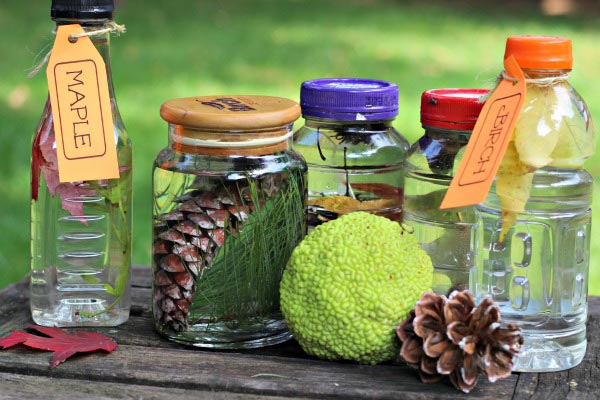 Items for the Tree Scavenger Hunt & Science Activity

You'll need to collect a few items to do the tree scavenger hunt along with the science experiment for magnifying leaves & seeds:
1. Glass or plastic jars/bottles
We used a few of both types (glass & plastic) just to look at the differences in how water worked in each. If you'll be doing the activity with younger children, I would suggest plastic bottles as they're safer and lighter to hold.
You can either wash out some old food jars and bottles you have at home or try these Clear Plastic PET Jars with tops
if you want a uniform collection (which looks great on a shelf or displayed in a nature center!).
And someone always emails me to ask 'What's that green thing in the photo?' It's a hedge apple from the hedge trees in the Midwest. They have a wonderful scent and are great for nature baskets!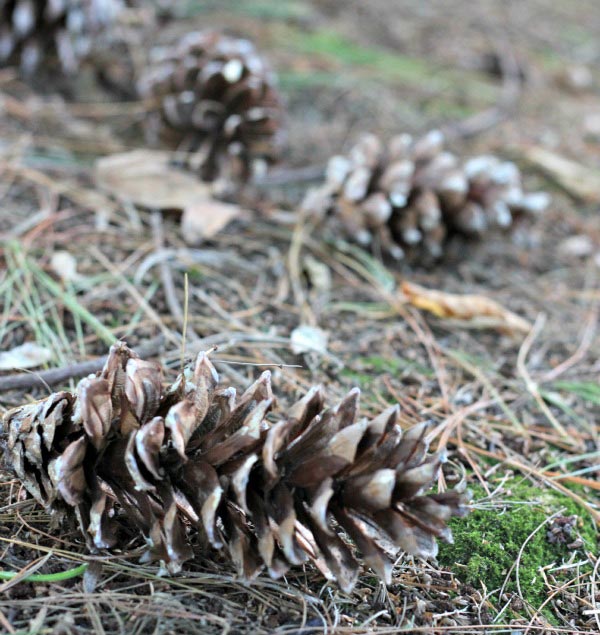 2. Leaves & Seeds from trees around your area
This can be a great opportunity to have kids help with set-up.
For each tree, find a few leaves and any seeds to put in the jar or bottle. Seeds might include small items such as 'helicopters' or larger items like acrons or pinecones. Be sure that you keep the leaves & seeds together
If you're looking for some great books to pair with this activity, a few of our favorites include:
The Tree Book: For Kids & Their Grown-ups is a look at all types of trees along with the leaf, seed and flower for each one. It's the perfect book if you're doing a tree unit study or identification activity.
Nature Anatomy is one of our FAVORITE nature books! It has gorgeous illustrations for many areas of nature as well as easy-to-read pages with facts and details that kids, teens and adults will enjoy.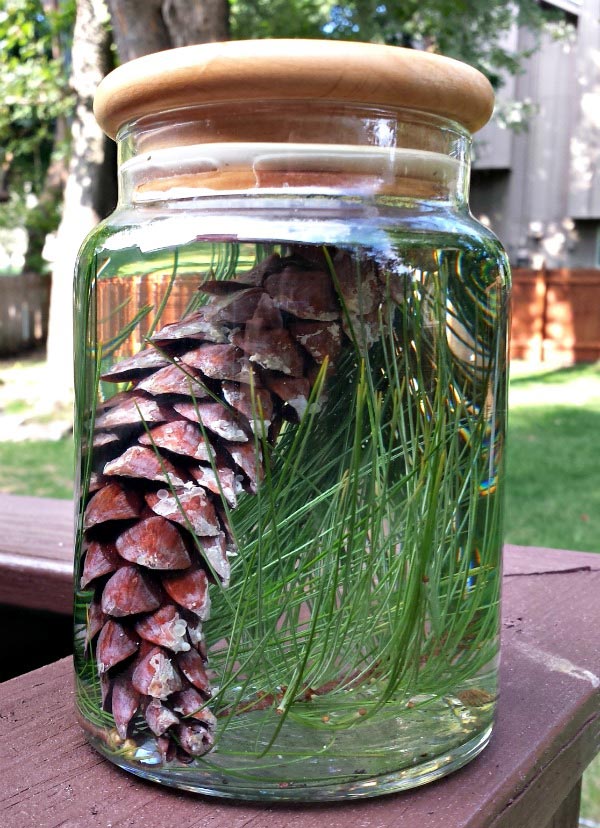 Nature Sensory Bottles: Magnifying Tree Leaves & Seeds

Once you have the leaves & seeds in the jars, fill them will water. This will create an awesome nature sensory bottle or jar — kids will be able to turn it around in their hands to see all the details of the tree seeds & leaves.
You can see in the photo above how the pinecone and needles will appear larger in the water.
Adding water to the bottles serves two purposes:
• first, it keeps the leaves fresh so you can use them for a week or longer without them getting brittle
• second, you'll get a nice close-up look at the tree items
Using water as a type of magnifying glass is such a cool experiment!
I know, your kids are probably going to ask how it works, right 😉
Here's the explanation — when light travels through water, the light beams will slow down and bend. When that happens, the light spreads out and the objects in the water will appear larger.
Cool, right!
You can read a more detailed explanation and see other science activities in our Refraction & Light Experiments post!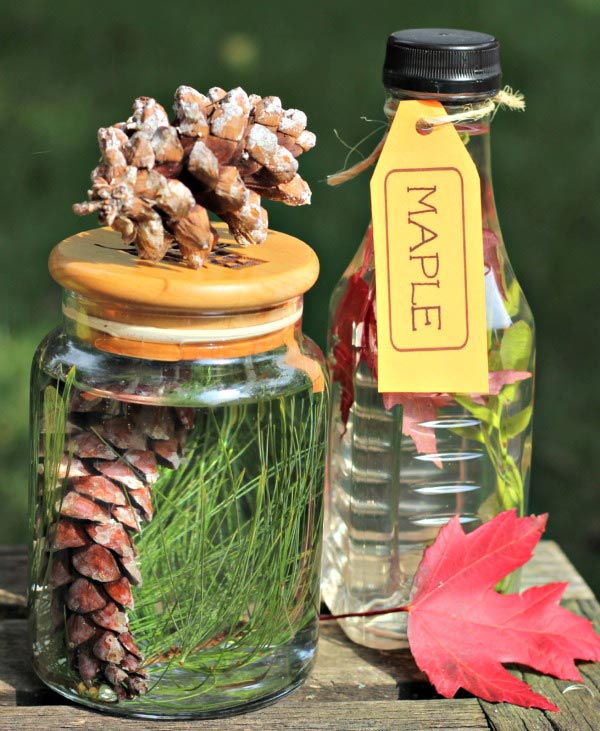 Tree ID Scavenger Hunt

In order to know what types of trees you have in your area, use this free tree identification printable and seed list.
I've included names of the most popular trees in this FREE Tree Tag printable — just cut out the ones that work with your tree jars so your kids can see which tree names are associated with their leaves & seeds.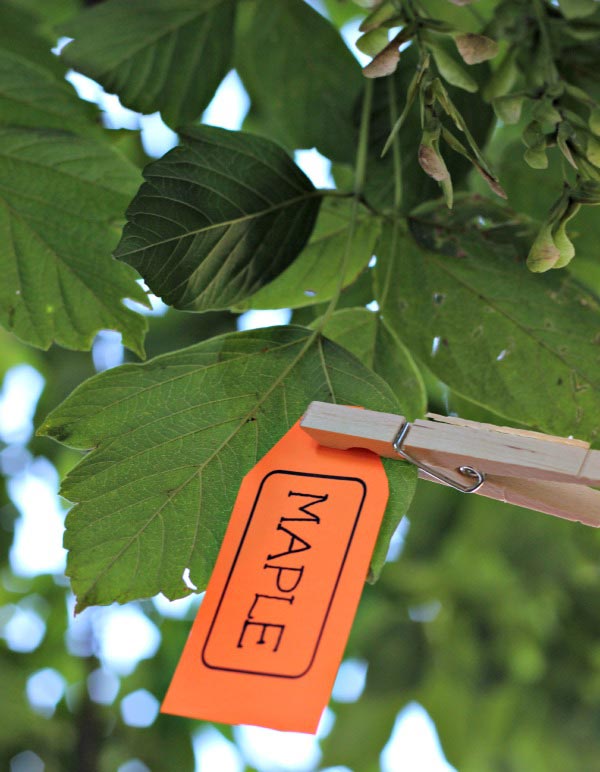 I printed ours on bright orange cardstock so they were easy to see when handing from the trees.
You can hole-punch and attach the tags with twine or hang them from the trees with clothespins.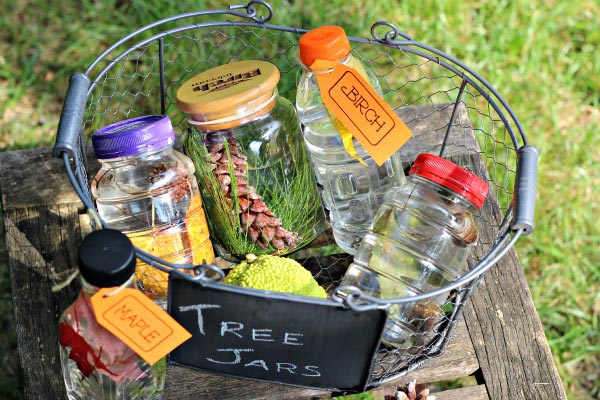 Tree ID Scavenger Hunt Game

For younger kids, print two sets of the Tree ID cards — as you collect the leaves and seeds, attach one of the tree name tags to each of your jars and another to the tree where you collected the item.
You can put your tree jars in a basket along with some loose tree seeds (like pinecones and hedge apples) for a great sensory experience! Here's a similar Wire Basket with handles
(affiliate link) if you want one for the activity.
Kids can then match the tree jar to the correct tree! Use plastic bottles/jars and they can walk around your yard to find a matching name tag or match the leaves/seeds to each tree. When they find a match, leave the nature sensory jar near that tree!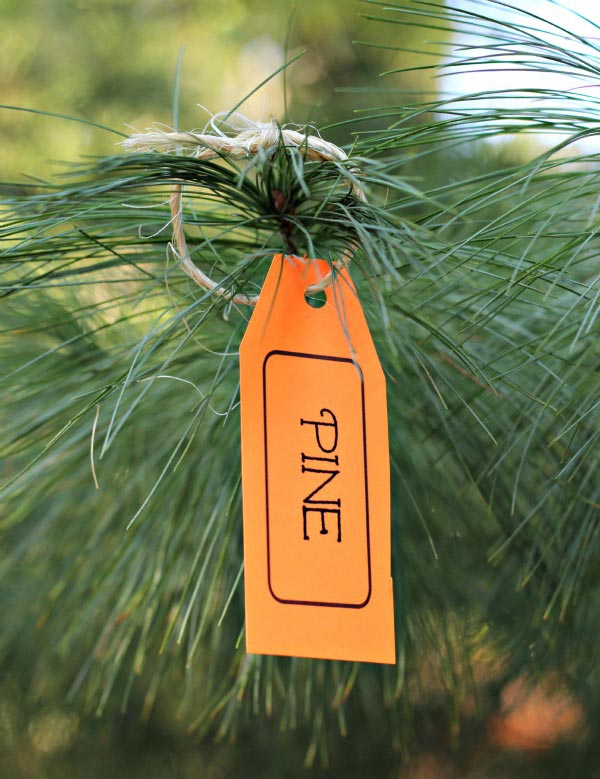 With older kids, it's fun to put the tags on ONLY the trees.
Then have them take each of the nature sensory jars to the different trees to see which leaves & seeds match before they attach the tags to the jar.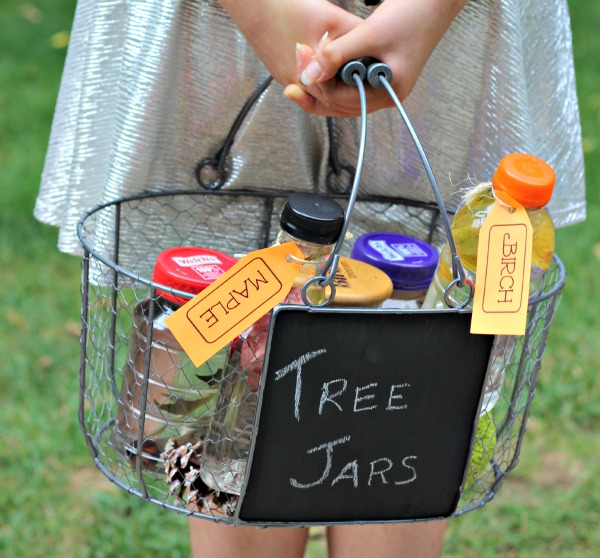 We've had the items in our nature sensory jars for 3 weeks now & they still look great! The jar with the pinceone & needles is a little cloudy as the sap is mixing with the water (just another great science discussion to have with kids 😉
So get out there and have some fun this week — there's nothing like a great nature activity in Autumn!
More Scavenger Hunts for Kids
Nature Scavenger Hunt (w/FREE printable!)
40 Outdoor Scavenger Hunts for Kids
More Tree & Nature Activities
Here's a few other outdoor activities your kids will enjoy:
The Art & Science of Leaf Rubbings
Gifts that Connect Kids with Nature