Favorite apple books and activities for kids: apple picking, cider mills and fun STEM ideas!
Fall isn't just leaf season – it's also apple season!
Trees are blooming with ripe apples, ready for the picking. Mills are pressing cider and apples are everywhere!
There are a number of fun apple activities & outings that your kids will really enjoy during Autumn.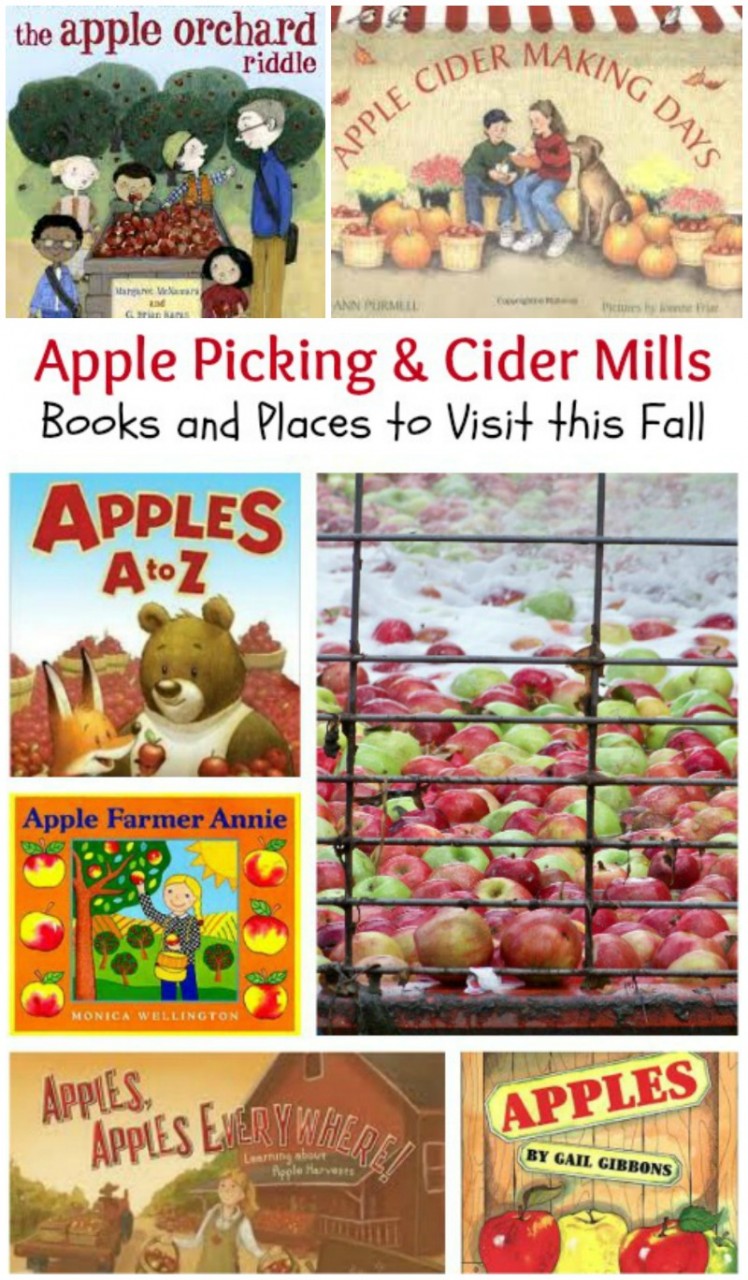 Apple Activities for Kids
Anytime food is involved, kids (along with tweens & teens) are willing to participate 🙂 and apple activities are part of our favorite fall family traditions.
Usually we grab some seasonal books from the library, plan a visit to an orchard or visit our local cider mill and then bake something together. Once of our favorite seasonal recipes are apple pie pancakes!
Fall is a great time for outings (as you can see from our 44 Fun Family Fall Activities list!)
And, of course, I always sneak in some science & math too 😉
Kids Books about Apples

Before you head out to pick apples or enjoy these activities, check out some of these great books about apples and apple picking! We've included affiliate links so it's easy to learn more about each of the books on our list.

Apples A to Z by Margaret McNamara is a wonderful new book that tells you everything you want to know about apples one letter at a time. The page on V is for Varieties will show you just how many types of apples exist. This is a great book to read along with a snack tasting test for different types of apples!
The book also has some fun apples jokes, trivia and a recipe for making applesauce.
Apples, Apples Everywhere!: Learning About Apple Harvests by Robin Koontz takes you on a trip to the apple orchard. Kids will learn about what happens during apple harvest and the illustrations are very fun and fall-ish! Perfect to read before a trip to the orchard.
One of our favorite fall books is Apple Farmer Annie by Monica Wellington. Annie runs an apple orchard and there's quite a bit to do in the fall. Read along to learn about all the activities, and try a few of the recipes included in the back of the book!
Jacqueline Farmer's book Apples is a wonderful resource for kids who love to ask questions. Great illustrations accompany facts about apples, along with details on the history of apples and how they are used.
And kids will love joing the class on a field trip to the orchard in The Apple Orchard Riddle also by Margaret McNamara. The teacher poses a riddle at the beginning of the story and the class is determined to find the answer. After you read the book, I guarantee that kids will want to cut an apple in half to see the answer to the riddle too!
And if you plan to visit a cider mill (or even if you don't have a cider mill close to you), try reading Apple Cider-Making Days, a story about a family who owns an apple orchard and makes cider in their barn. I love that the book shows kids about apple pressing and also has some fun tidbits about cider!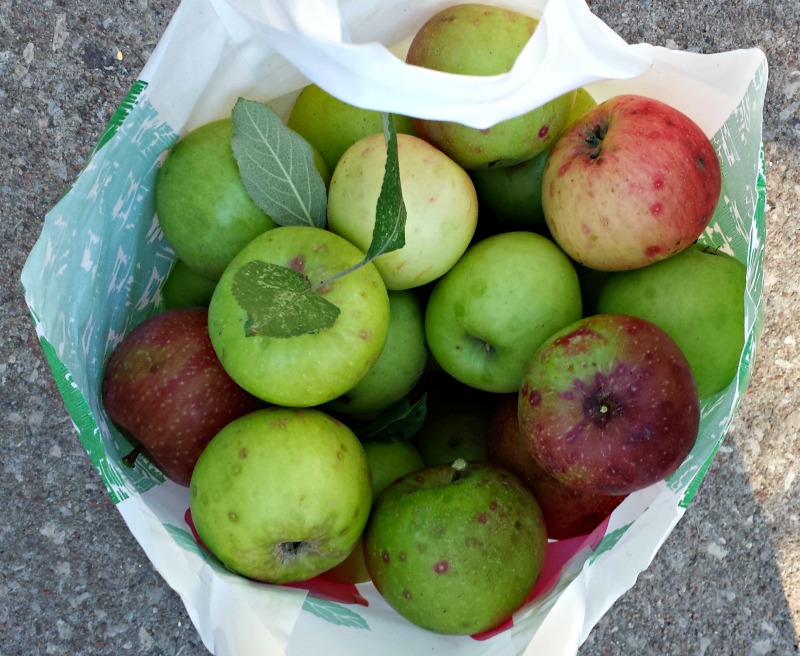 Where to Go Apple Picking Near Me
Have you ever taken your kids apple picking?
There are orchards across the world that invite you to come and pick-your-own apples. Apple picking is so easy for kids of all ages. Many times, the apples will grow low on the branches so even young children can pick them.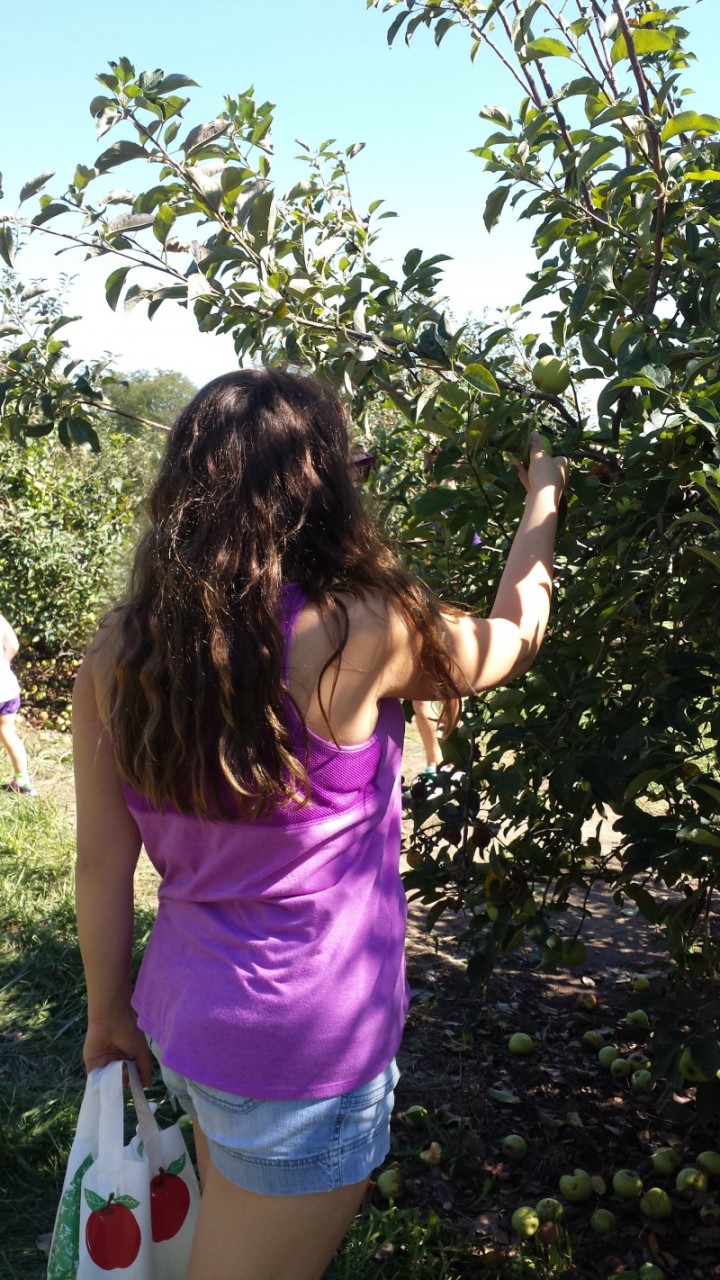 We started apple-picking when our kids were as young as 3 years old.
When you find an apple on the tree, all you need to do is hold the apple, twist and pull!
Orchards usually have items that make picking fun – long sticks with cages at that top that help you to reach apples high up in the tree, and fun bags or baskets for carrying your apples. To find an orchard to visit near you, check out the list of apple picking locations on Pick Your Own.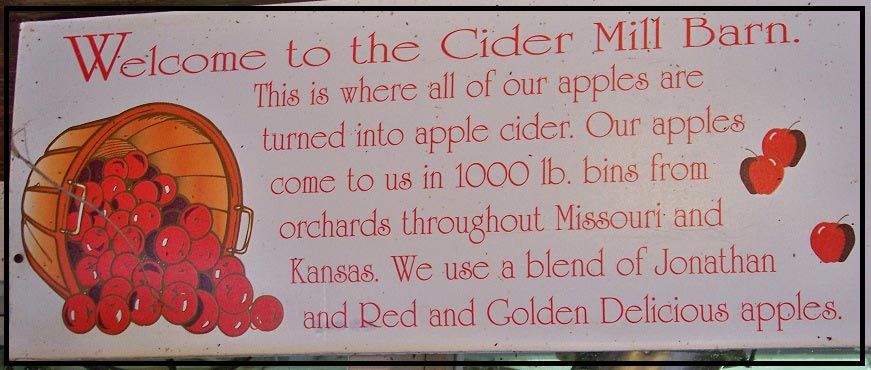 Visit A Cider Mill Near You
Another wonderful place to visit in the fall is a local cider mill, especially one that allows you to view the apple pressing process.
Many cider mills are very busy in the fall and will offer tours of the mill during that time. The tour will show kids how apple cider is made, along with other apple products.
We have a local cider mill near Kansas City that we enjoy visiting. Families can walk through the cider barn and watch the apples as they are washed and pressed. I also love the signage at our local mill, which tells more about the apple pressing process.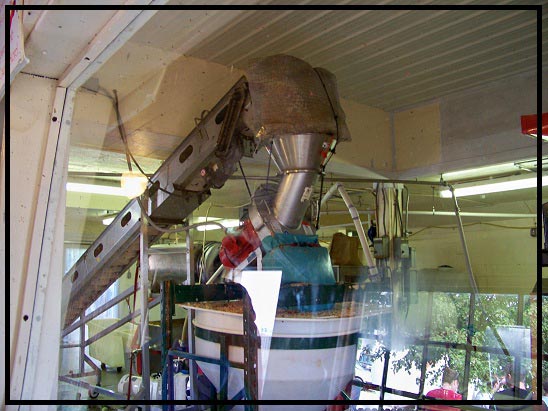 Here's a picture of the apple press – it processes hundreds of apples at once!
If you know of a local brand of cider in your grocery store, find out if they have a local pressing mill that you can visit.
Apple Science Activities
One of the first activities I LOVE to do with our kids is a 5 senses experiment using apples & popular Fall spices!
It's a great science & sensory way to learn. All you'll need is a few apples and a variety of spices — see the details of our apple experiment here.
Another easy science activity is to buy a variety of apples and have your kids taste each one. Or try this Apple Science Experiment to see which liquid helps keep apples fresh the longest.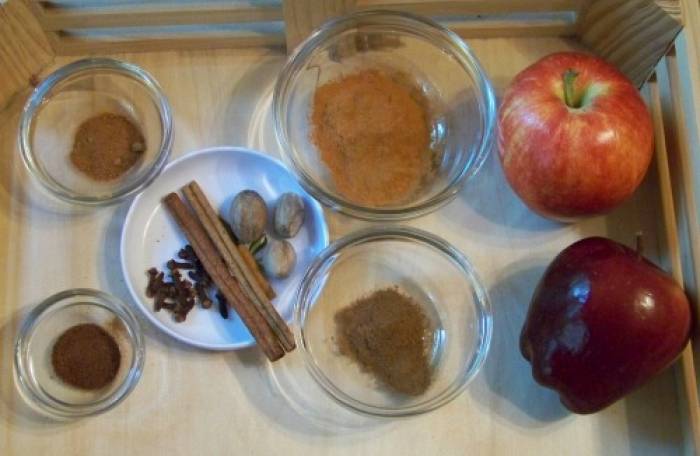 Baking is another wonderful science activity to try with kids!
One of the first things I recommend if you're going to do any baking is an Apple Peeler! Not only does it make things a whole lot easier, it's also a great 'vintage' kitchen tool to introduce to kids — makes baking feel so much more like Fall in my opinion 😉 We also have an apple corer in our kitchen that our kids really love to use when we make baked apples.
Try this healthy recipe for Homemade Applesauce – so easy, your kids can make it!
Have your kids create their own snack with apples – stack apples with peanut butter, make apple-ka-bobs using your favorite foods (like sliced turkey and berries) or try these yummy Cinnamon Apple Chips from Baked by Rachel.
Apple Math Activities
Apples just seem to lend themselves to math activities, especially fractions.
Use snack-time for learning about fractions by cutting the apple into sections (1/4, 1/8, etc.) and letting your kids sort the sections into different groups. Here are a few math books about apples:
Both Ten Apples Up On Top! and Apple Fractions are great books that introduce math concepts using apples.
Apples are also great for counting and sorting activities, especially if you have a few different varieties at home. PBS Kids also has a fun apple picking math game with Curious George that kids can play online. You can also try these Fun Ways to Explore with Apples too!
More Fun Fall Activities:
20 Outdoor Fall Science Activities
18 Fall Scavenger Hunts for Kids