A wonderful collection of forest animal crafts and activities for kids!
When I was a child, I can remember spending HOURS exploring the woods behind our house ( which is part of the inspiration for our forest animal books for kids!).
My brother, sister and I (along with our neighborhood friends) would hike back to the forested area and walk through the creek, play games and hope to encounter all types of woodland animals.
During the summer, we would head out after breakfast and come back tired & hungry for a late lunch. The woods were a special place — so colorful in the Fall, mysteriously quiet in the winter, full of life during Spring and a cool respite during those hot Summer days.
We thought we were explorers!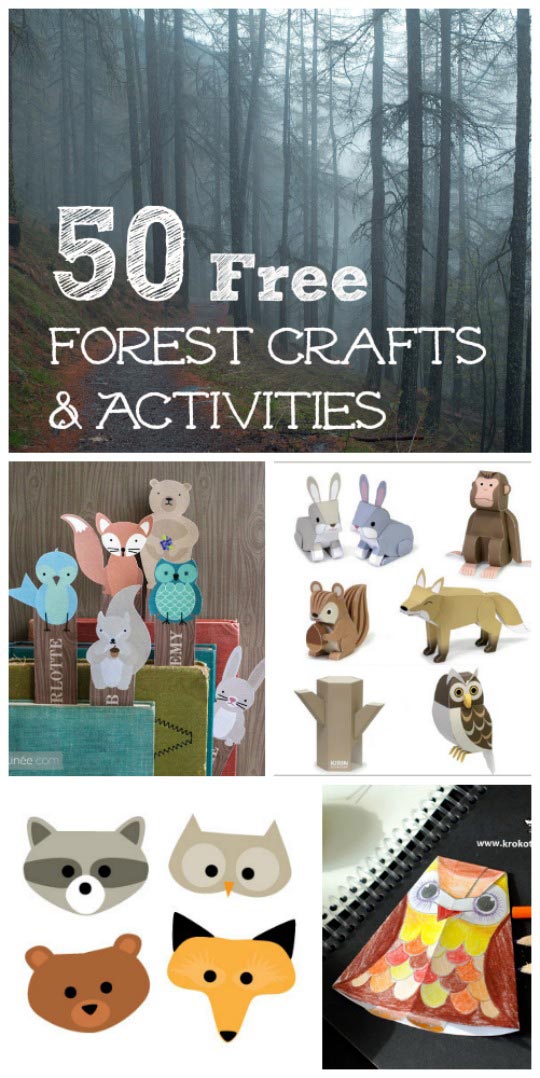 50 Free Forest Crafts & Activities
And as a parent, I was reminded this summer that these moments of childhood are experienced by each generation. During our marathon summer road trip, we spent a few days at Gran & Pop's house which is located on 4.5 acres of wooded property.
Each morning, all the kids would say "We're going back to the creek" or "We're taking the path through the woods to explore" — words that reminded me how every child is drawn to the forest.
So today we're going to kick-off a short series focused on Forest Adventures!
Over the next few weeks, we'll introduce more than 50 fun books and activities that will connect kids to the woodland areas near your home. Some of these activities can be done at home, others are better experienced in the forest — ALL will inspire the wonder & joy of connecting with nature.
"Look deep into nature, and then you will understand everything better."
~ Albert Einstein
Printable Forest Animal Crafts & Activities
I thought we'd begin the series with a fun introduction to forest animals since almost every child enjoys (and is enthralled by) woodland creatures.
These fun activities will introduce kids to all types of animals that call the forest home! With coloring pages, printable learning games, paper crafts hosting woodland animals and amazing nature worksheets, kids of any age will be able to explore the wonders of the woods!
As the kids are cutting, crafting & having fun with these free printables, talk to them about why these animals live in the forest, whether they would enjoy seeing the animals in real life and what questions they may have about each of our woodland friends.
We've marked the activities shown in the photo above with an (*)
Woodland Animal Scavenger Hunt || Sparklebox
"What do you call a group of …? Names of Woodland Animals || Edventures with Kids
Forest Animal Coloring & Fun Facts (10 pages!) || Preschool Powol Packets
Fawn and Fox Puppets || Playful Learning
Woodland Animal Bookmarks * || Lia Griffith
3D Printable Forest Animals * || KIRIN
Outdoor Photo Scavenger Hunt (great for kids & teens!) || Edventures with Kids
Name that Tree! A Hands-on Science Activity || Edventures with Kids
Forest Animal Masks to cut & color * || AlphaMom
Forest Animal Templates (deer, fox & owl) for creative art projects || Jones Design Company
Woodland Animal Coloring Sheets || Kids Activities Blog
Woodland Forest Learning Pack || 3 Dinosaurs
Animal Track Guide || Bear Tracker's Den
Paper Owl Baby * || Krokotak
Fall Leaf Scavenger Hunt || Edventures with Kids
Forest Food Chain game || Brain Power Boy
Wildlife Worksheets (more than 20 pages!) || Activity Village
Book of Outside Stuff to Do || Discover the Forest
Hunting for Animal Tracks (w/printable track cards) || Edventures with Kids
Forest-themed Learning Activities
If you're looking for some forest-themed learning items, here's a collection that's sure to please! Affiliate links are included for more information and your convenience.
The Safari Ltd Wild Safari North American Wildlife TOOB is a great addition to creating your own forest small world! You can see how we used it in our Woodland Habitat activity.
This Woodland Animals Kids Sewing Kit
is perfect for fine motor skill development (plus super adorable)!
And puzzles are a great learning item — try the Mudpuppy puzzle line with choices for toddlers to tweens. We like the illustations on the Mudpuppy Forest Friends 100 Piece Puzzle
.
Additional Forest Activities for Kids:
Arctic Animals & Forest Animals: Comparing Habitats
Explore the Forest: Tips for Hiking with Kids
And don't forget about fun forest stories — be sure to see our woodland booklists:
12 Books about Life in the Forest
15 Fabulous Books about Forest Animals