Inspire kids to learn about tree seeds and leaves with these hands-on activities!
Our Autumn theme for this week is Leaves & Seeds – like our other tree activities for kids, this one encourages kids to explore the individual parts of a tree using hands-on activities and science inquiry (which is asking questions — and naturally happens with kids!)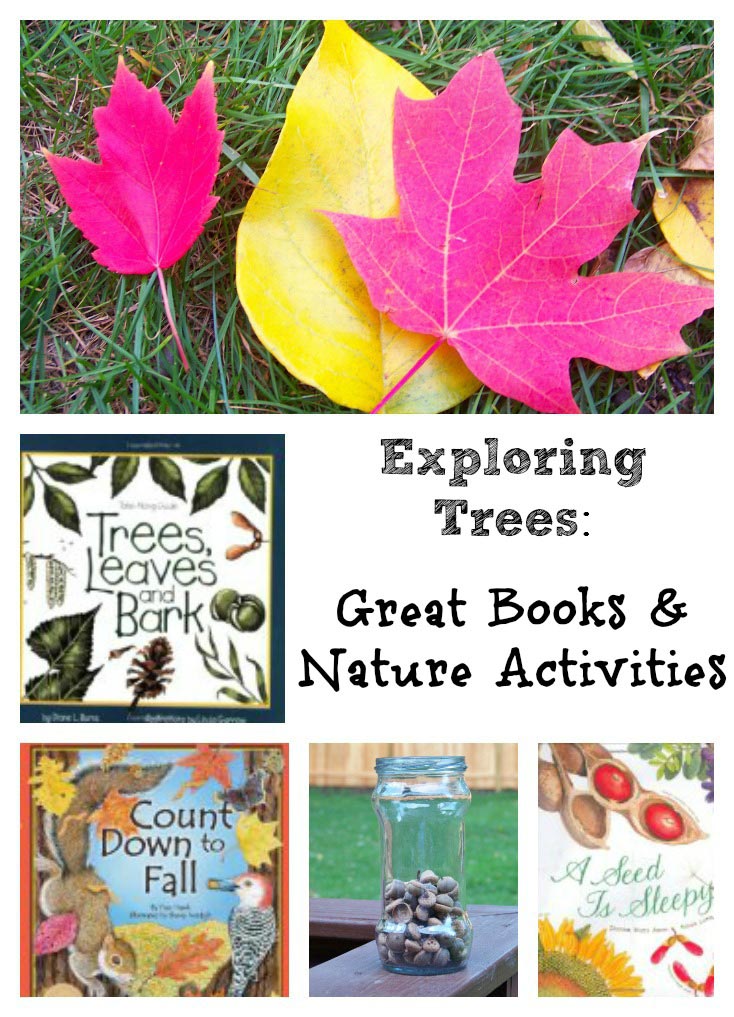 Tree Leaves & Seeds: Autumn Nature Activities for Kids
Exploring trees during Fall is both a great nature and science activity. You can learn about the life cycle of a tree, see first-hand that trees have different types of seeds and leaves, and get a better appreciation of the natural world around us.
The study of trees is called Dendrology (kinda fun to say, right 😉 so while you're out on this nature mission, you can tell your kids that they are "dendrologists" — they'll think that's cool!
First, before you even head out the door, grab one of these books! They will give a little background on a tree's life cycle and some insight into what you might find on your tree hunt. We've included affiliate links so that can learn more about each one.
Children's Books about Tree Seeds & Leaves
I love take-along guides like Trees, Leaves & Bark! With this book, kids are encouraged to explore their natural world through pictures and short descriptions of nature objects. Colorful illustrations and some fun activities are provided for the reader. This is a perfect introductory book for kids ages 7 – 12 years for using on a nature walk or wanting to learn about the trees in their own backyard!
Why Do Leaves Change Color? is a wonderful science introduction for kids! The book explains the answer to a very common question and gives kids an inside look at how and why tree leaves turn from green to bright colors in the Fall. The Let's Read and Find out Science series (with more than 30 titles in the series!) is a wonderful choice for kids ages 3 – 8 years!
A Seed Is Sleepy is a beautifully illustrated book that shares the secret of seeds. The vibrant colors attract the reader to explore the details of each types of tree seed and learn about the adventures, trials and tribulations of each type. Fun facts are woven into the pages such as "who would guess that a seed as small as a freckle would grow into the world's tallest tree?!" Great for kids ages 5 – 10 years (adults will even learn a few things!)
I Can Name 50 Trees Today!: All About Trees is part of the Dr. Seuss Learning Library series. Follow along with the Cat as he introduces you to trees from around the world. Kids will learn how to identify different types of trees and enjoy all the scientific details included in this book. If you haven't checked out the nonfiction Cat in the Hat Learning Library series, be sure you do — great books for kids ages 5 – 11 years!
And one of our new favorite books is Count Down to Fall by Fran Hawk. It's a wonderful book to use in the fall for identifying trees and their leaves. Once you begin to look at leaves, children will realize that they come in a variety of shapes and sizes. This books shares information about the leaves and seeds from a number of different trees.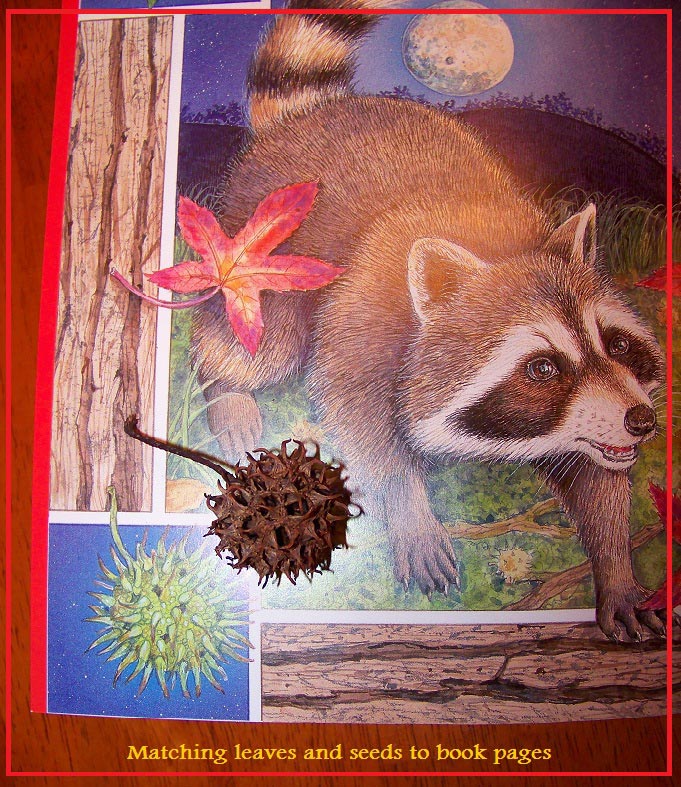 We used this book to go on a leaf & seed hunt to learn what types of trees we had in our neighborhood. Each page of the book uses a short rhyme to introduce a new tree, describes the color of the leaf in the fall and shares pictures of the leaf and seed from that tree.
What I love most about the books from Arbordale Publishing are all the add-on activities and information included at the back of each book! Kids can learn the benefits leaves offer to animals and people, do a leaf matching game and learn about geography and the seasons and so much more!
What are Tree Seeds?
The first lesson kids can learn is that trees grow from seeds just like plants do. Each type of tree produces a different type of seed. And some trees also produce fruits (popular fruits that might grow from trees in your area would be black walnuts, crab apples, Osage apples etc.) Since not all trees have fruits, we're just focusing on the seeds for today 😉
Outdoor Activity: Take a nature walk and collect a variety of seeds – here's a list to get you started:
Pinecones
Acorns
Helicopters or winged seeds
Walnuts
Chestnuts
Pods
Prickly Bur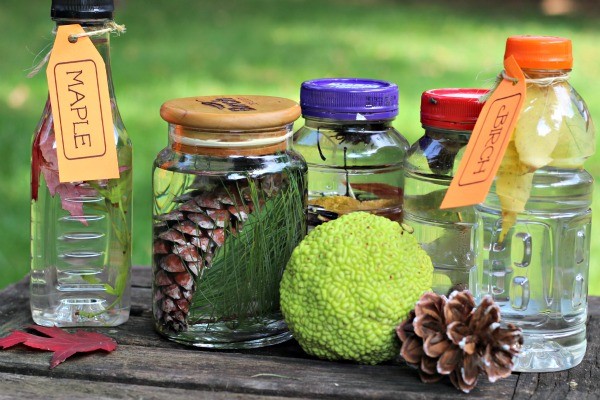 Collecting Tree Seeds & Leaves
It's fun to collect tree leaves and seeds on your walk. Try to keep them together based on their tree (pairing the leaf and the seed from the same tree) as you gather them. And be sure to only take them off the ground once they've fallen.
We like to make Tree Jars in the fall — easy outdoor sensory jars that hold the leaf and seed for each tree. See our Tree Scavenger Hunt post for free printable Tree ID labels to use.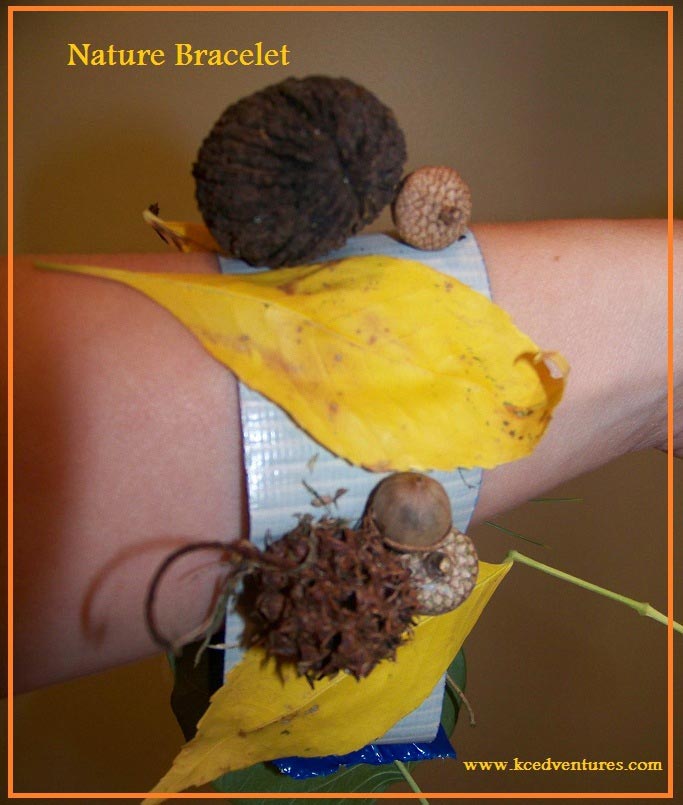 For extra fun when collecting, make a cool Nature Bracelet!
Put some sturdy tape (duct tape or heavy masking tape) inside-out around your child's wrist. As you find leaves or seeds on the ground, stick them onto the tape to make a colorful nature bracelet.
Easy Leaf & Seed Crafts for Kids
Create some Nature Artwork using tree seeds, leaves, tree fruits and other items you have around the house.
For example, Leaf Man is a very popular picure book that takes a creative look at what leaves might look like if they were arranged in a certain way — as ducks, cows and a travelling man that floats around the Autumn world. It was one of our book recommendations for the Kids Online Book Club in September. Once your done collecing leaves and seeds, use them to create naturepictures!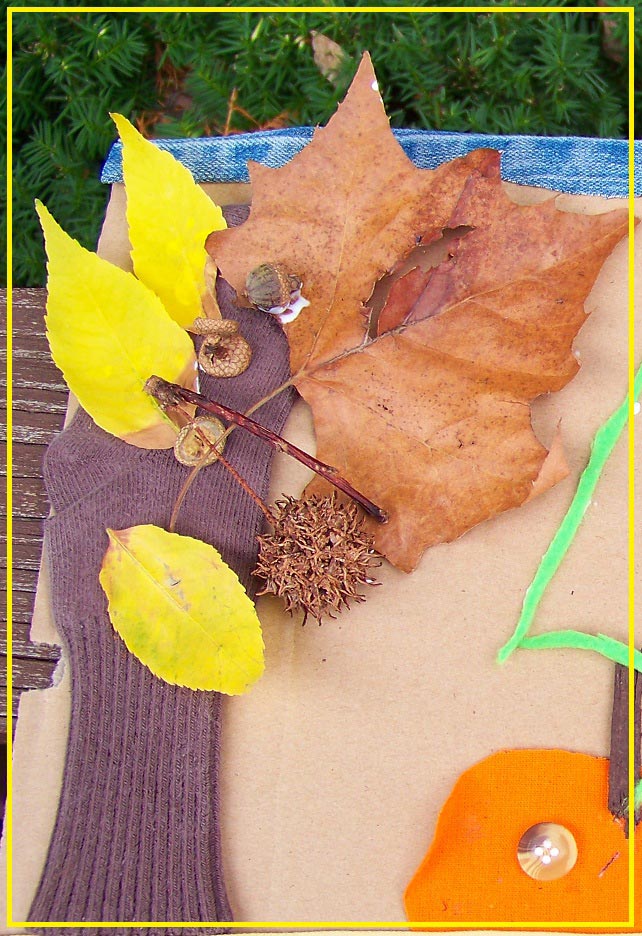 Use leaves, seeds and other materials to make your own "tree". We used an old sock for the tree base and added some of the leaves and seeds we found on our walk. You can also use sticks or pieces of bark that you find on the ground for the tree too.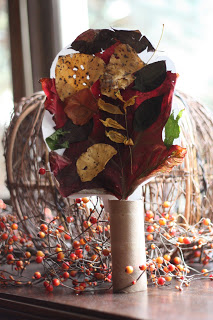 I Can Teach My Child used different items they had on hand to make a beautiful Autumn Tree too!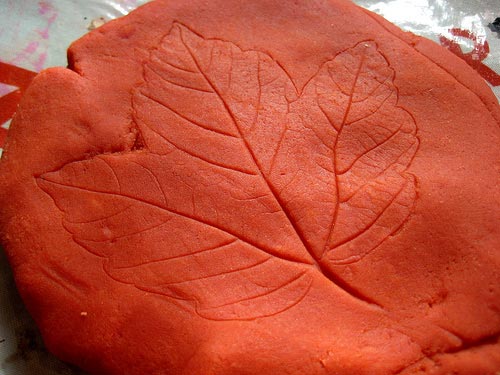 Make some beautiful Leaf Prints with play dough or clay like these from Nuture Store.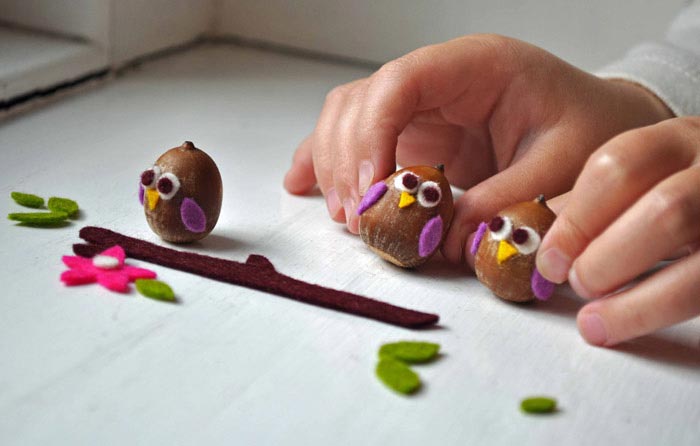 If you have Acorns lying around your yard, make these adorable Acorn Owls from Curly Birds via bloesom kids. And our Outdoor Nature Crafts for Kids has more creative ideas for you too!
More Fall Nature Activities for Kids:
FREE printable Fall Scavenger Hunt
How to Make a Leaf Rubbing: Science & Art Activity