Enjoy Autumn with these 50 FUN Fall Activities for Families - traditional items, unique experiences and seasonal ideas both kids and adults will LOVE doing together!
I've been trying to find a fun way to get all of our Autumn activities into one spot.
There's always so much we love to do in the Fall and so much of it is nearby -- apple picking, getting pumpkins, fall hikes, baking (and more baking)!
Last year, we created a fun and colorful Fall Fun printable list -- but this year, I wanted something new.
I started with a list but it just didn't feel right.
I was looking for something more visual, something the kids would want to read and choose from each week, something like a game.
And that's when it hit me -- why not make it a game?!
So Fall Family Fun BINGO was born :)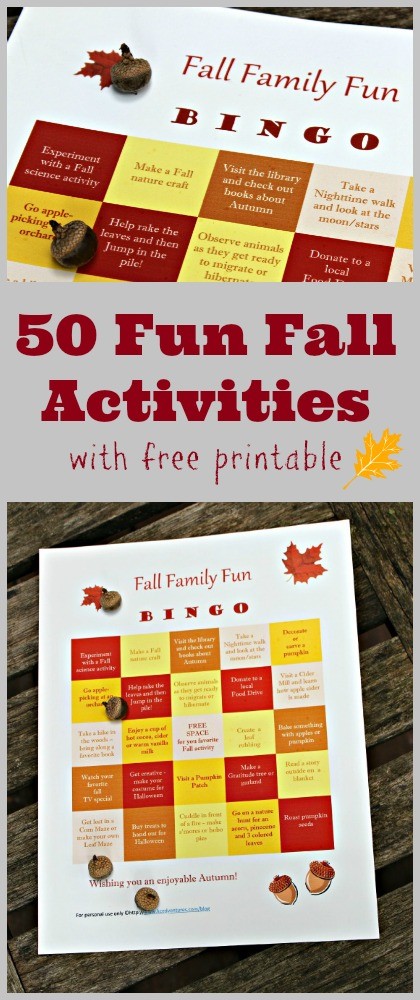 50 FUN Fall Family Activities for Kids & Adults to do Together
Unlike summer activities, many of these Autumn adventures can be found close to home - you might search for things like "apple orchards near me" and see what pops up if that's something your family wants to try this Fall.
And no need to have the "What should we do today?" discussions -- just look at the board to see what your options are for fun this week!
As you complete activities, your kids can mark them off (along with suggesting what to do next so they can score a BINGO!).
My daughter wants to go for a black-out on the board :)
No competitions with this game -- just a fun way to keep track of all the things your family enjoys doing in Fall.
And it's so much nicer to look at that just a list!
To make things super easy, I thought I would share some details about our favorite Fall traditions, book lists and activities to inspire you to enjoy the season! I've also included affiliate links for items we love so you can see the details along with links so you can easily find Fall activities near me and activities you can do at home.
Fun Fall Activities Near Me
Go apple-picking -- find an orchard near me!
Visit a Cider Mill - check out how to find a cider mill near me & these great books to read too!
Go Leaf Peeping to check out the beautiful colors
Visit a Pumpkin Patch to choose your pumpkin - once in every kids' childhood, they should wander through a pumpkin patch with determination on finding just the right one! And then try to carry it back to the car ;)
Get lost in a Corn Maze - find a corn maze near me!
Attend a local Fall Festival
Go on a Fall Scavenger Hunt - grab your favorite from these 18 Autumn & Fall Scavenger Hunt Activities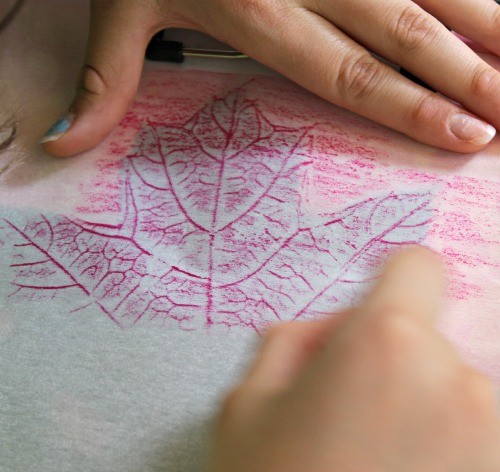 Outdoor Fall Crafts & Activities for Kids & Adults
Create your own Leaf Maze - just rake leaves into pathways!
Enjoy a Night Hike and see a who new world on Autumn evenings!
Try a creative session as a family with these 15 Fall-themed Art Projects
Rake the leaves and then Jump in the pile!
Make a family craft with one of these 15 DIY Fall Garland Ideas
Cuddle in front of a fire - make s'mores or hobo pies
For hobo pies, you need one of these cool Campfire Pie Iron Sandwich Cooker
- we like the square ones because sandwich bread fits nicely. Try this recipe to make your favorite fruit pie (you can use any bread you'd like).
Fall Family Reading Sessions
Visit your local library and stock up on favorite fall books!
Browse our lists for a few favorites:
16 Classic Kids Books with Autumn Themes
Great Thanksgiving Stories for Kids
Then having weekly reading sessions with your kids with these fun ideas:
storytime outside on a blanket
book & apple cider sessions
"read to your pumpkin" story time
read a book for each item on the BINGO board
Science Activities for Family Fun this Fall
Easy ways to explore seasonal changes with your kids!
Create a Nature Exploration Tray
Explore the art & science behind Leaf Rubbings
Observe animals as they get ready for winter
Try this combination science activity/writing tray for homework practice: Apple Tasting & the 5 Senses
This is an easy & COOL one: make a Pumpkin Optical Illusion
And we also have 10 Halloween Science Activities for you to try too!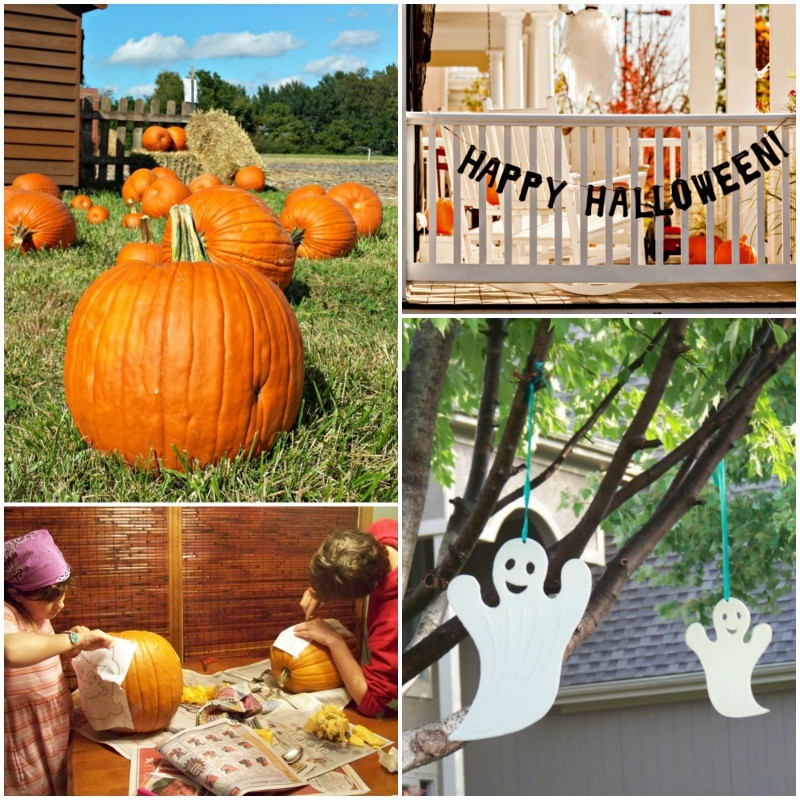 Halloween Activities for both Adults and Kids
Decorate or carve a pumpkin (try these 101+ pumpkin stencils for inspiration!)
Make Mummy Garland or Halloween Salt-dough Garland
Get creative - make your costume for Halloween (here's a few easy costume ideas)
Bake together: Try one of these Healthy Halloween snacks!
Go on a Halloween Scavenger Hunt with this FREE printable!
Create a Halloween Countdown Calendar
Get ready for the BIG event with these 5 Must-Do's before Halloween Night that families can do together!
Watch your favorite fall TV special -- our favorites include It's the Great Pumpkin, Charlie Brown
and Garfield's Halloween Adventure
("candy, candy, candy candy, candy!")
And here's 31 More Halloween Activities for Families!
Fall Baking Ideas for Families
Enjoy a cup of hot cocoa or warm vanilla milk (sprinkle a dap of cinnamon on top of it too!)
My family loves these Awesome Apple Cider Pancakes || All Day I Dream About Food
Healthy Pumpkin Muffins || Nothing if Not Intentional
Roast pumpkin seeds
Make warm apple cider in an apple! Fun idea to do before storytime sessions!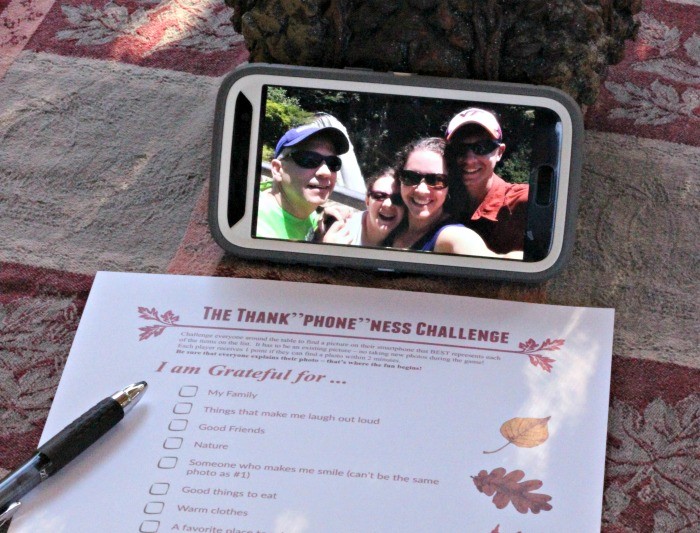 Fall Activities that Inspire Thankful Families
If you're looking for volunteer ideas, ways to give back to your community or other activites that bring family together, try a few of these:
Play this FREE "What's on your Phone?' Thankfulness Challenge for families! It's a fun idea for a way to connect on the weekend, activity to do during dinner or with your extended family on Thanksgiving Day!
Volunteer as a family -- try these 30 Family Service Ideas & Random Acts of Kindness this month!
Make a Gratitude tree or garland
Donate to a local Food Drive or host your own neighborhood food drive
Kids Activities for Thanksgiving Day
Create a Nature Turkey Puzzle for Thanksgiving
Of course, I have a copy for you to print out and use too! Because what fun is it if I can't share the Autumn Love ;)
Print out your own Fall BINGO board and have a few adventures this season!
We print ours on heavy paper like cardstock so it lasts through the season and hang it on the fridge for all to see -- it's a great way to think about how you'll connect as a family each week even when things get busy.
You can also laminate the printable to keep as part of your yearly Fall traditions!
Looking for more fun Fall ideas?
44 Fun Fall Activities for Families