Free Fall Leaf Scavenger Hunt printable to inspire kids to get outside, practice a little math and (most of all) enjoy the beauty of the season!
Leaf hunt activities are second nature in Autumn! Whether you're creating leaf rubbings or just enjoying the color, there are so many ways to play, learn and craft with leaves. And best of all, NO prep time!
You won't need any special supplies for these leaf projects — just step outside and you're set to go 🙂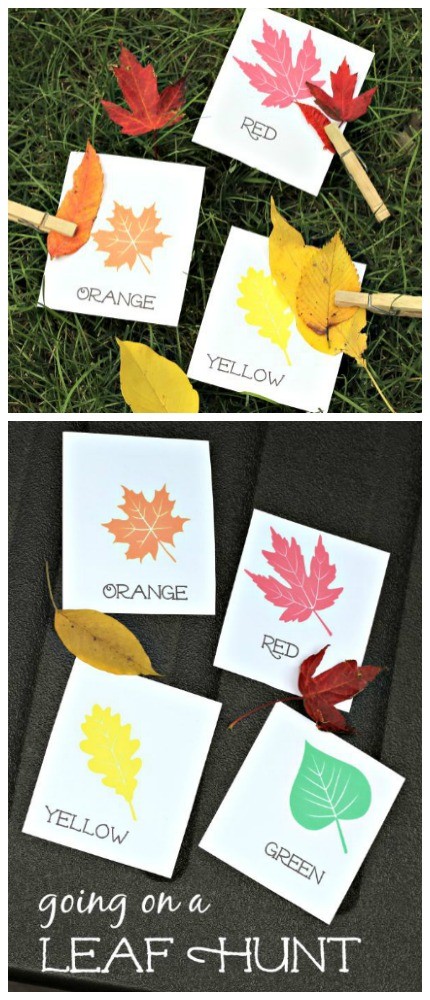 Fall Leaf Hunt Activity for Kids
Kids will enjoy hunting for leaves by color, shape or number with these easy outdoor ideas. And once you've collected your leaves, we've include a variety of math activities for kids of all ages!
Be sure to add in some other fun leaf activities —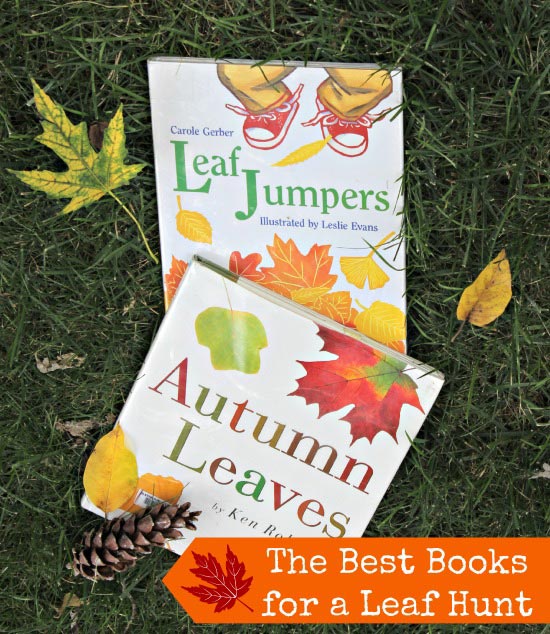 Books for a Leaf Hunt
As with any of our activities, I always love to suggest pairing this with a fun book for kids. We're including affiliate links to items we used with this activity too.
We recommend these books for your next leaf hunt — each will help children to identify leaves, their trees and explore a little Fall science too!
We're Going on a Leaf Hunt — one of the most popular books for younger kids with a catchy song and fun illustrations is perfect to pair with this activity!
Kids who have LOTS of questions will enjoy the book Why Do Leaves Change Colors? which shares the science behind why some leaves are red, orange, yellow and green!
And if you're looking for a book that's part story, part field guide to help identify the leaves you find, try Leaf Jumpers by Carole Gerber!
See all the of our FAVORITE leaf book titles on the Best Books to Take on a Leaf Hunt book list!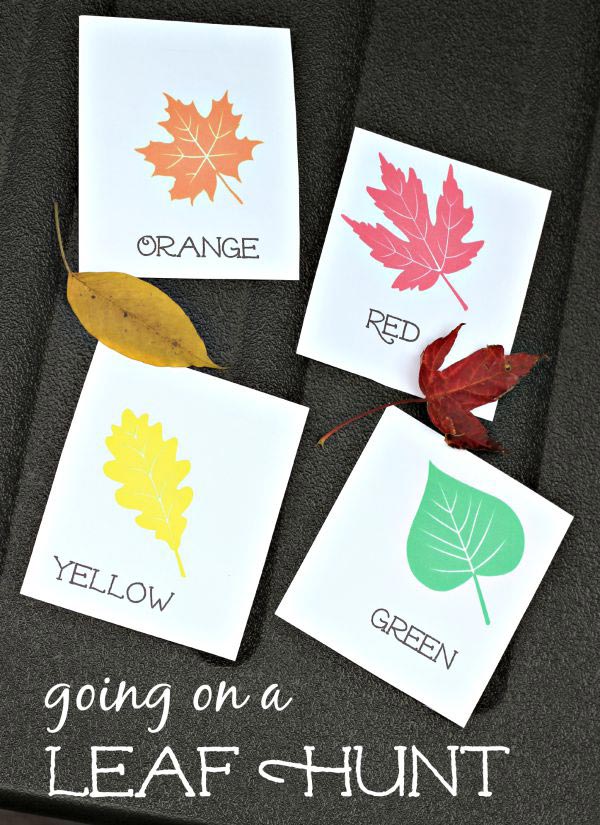 Leaf Scavenger Hunt Activity
You can use this activity & free printable Leaf Cards or worksheet (found below) in quite a few ways:
1. Print off the worksheet and have younger kids head out to find one leaf of each color (we used clothespins to attach our leaves to the paper).
2. If you print the leaf cards on white cardstock, they are more sturdy and can be cut into four individual leaf hunting cards. Use these to have your kids find multiple leaves of each color.
3. This is also a fun activity for classrooms or scouting groups — have kids pair up into teams and find the leaves.
Leaf hunts are lots of fun on the way home from school or as a family activity — maybe on a weekend hike or during the pre-Thanksgiving festivities at Grandma's!
If you'd like to extend the activity, see how we experiment with our leaf rubbings using different art materials.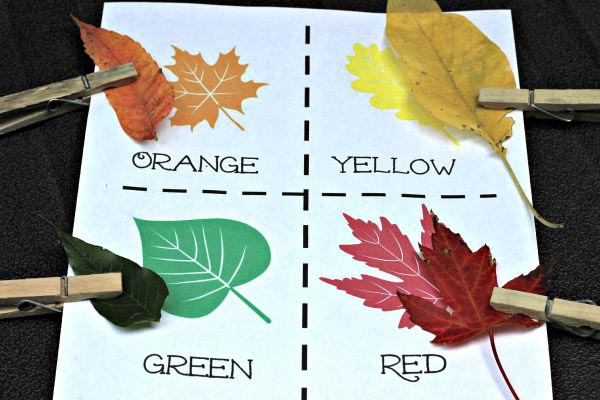 Fall Math Activities: We're Going on a Leaf Hunt
Math in nature is such an easy thing to do! And not just counting either — there are a number of math concepts using leaves that kids from ages 2 – 12 can enjoy and can be easily paired with the book We're Going on a Leaf Hunt!
Categorizing & Color Matching Leaves

By matching colored leaves to their appropriate color on the cards, kids are learning how to categorize items which is a basic math concept for preschoolers and early elementary students.
Counting Leaves

Younger kids can practice their counting skills. Have them count the number of leaves for each color and the total numbers of leaves. If counting forward is easy, line up the leaves and have them count backwards or by 2's.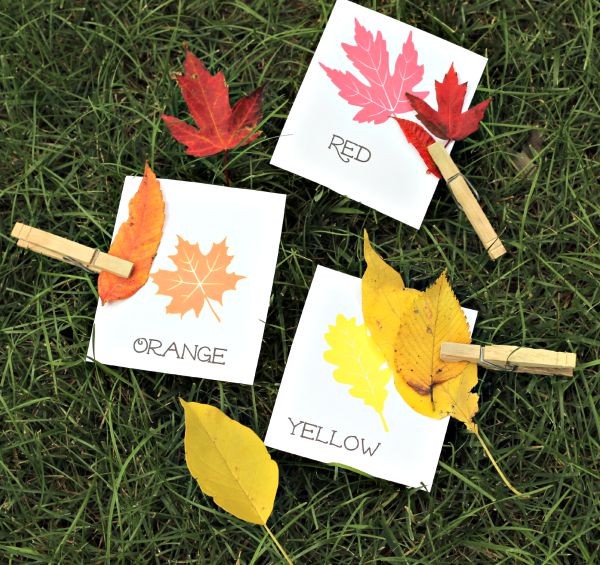 Learning Addition with Leaves

Once kids are proficient at counting, the next step is adding numbers. For this activity, kids can add yellow leaves + red leaves + orange leaves + green leaves!
Be sure to use a "0" if you aren't able to find one of the leaf colors — this will give kids practice with the concept of zero.
Leaf Graphing Activity

Kids LOVE making graphs! Try creating a circle graph or bar graph using crayons or colored pencils to represent the number of leaves from each color group.
Or grab some sidewalk chalk and head outside to draw leaf graphs on the sidewalk or driveway.
Learning Percentages
If you have kids over the age of 8 years old, introduce the idea of percentages. "What % of the leaves are red?" etc.
Advanced Math with Leaves: Finding the Mode
Learning about the mode (largest number of an item) is a perfect way to introduce advanced math for kids ages 10+.
For example, we found 2 red leaves, 3 yellow leaves, 1 green leaf and 2 orange leaves.
To explain the concept of mode, you are looking for the color group with the MOST leaves — for us, that would be our yellow leaves.
Your kids will also enjoy these other Fall science & math activities using items from nature!
More Outdoor Fall Activities for Kids
20 Outdoor Fall Science Activities