Print this free Thanksgiving Photo Gratitude Scavenger Hunt that you play with your smartphone & get the whole family involved in showing why they are thankful this year!
I was thinking a new game would be fun for all ages — we love to have free printable Thanksgiving games and activities around the table or those fun minute-to-win-it games at Christmas.
And I knew it needed to involve photos because when you think about it, every time you snap a picture, you're actually capturing a memory of something you appreciate, something you are thankful for in your life.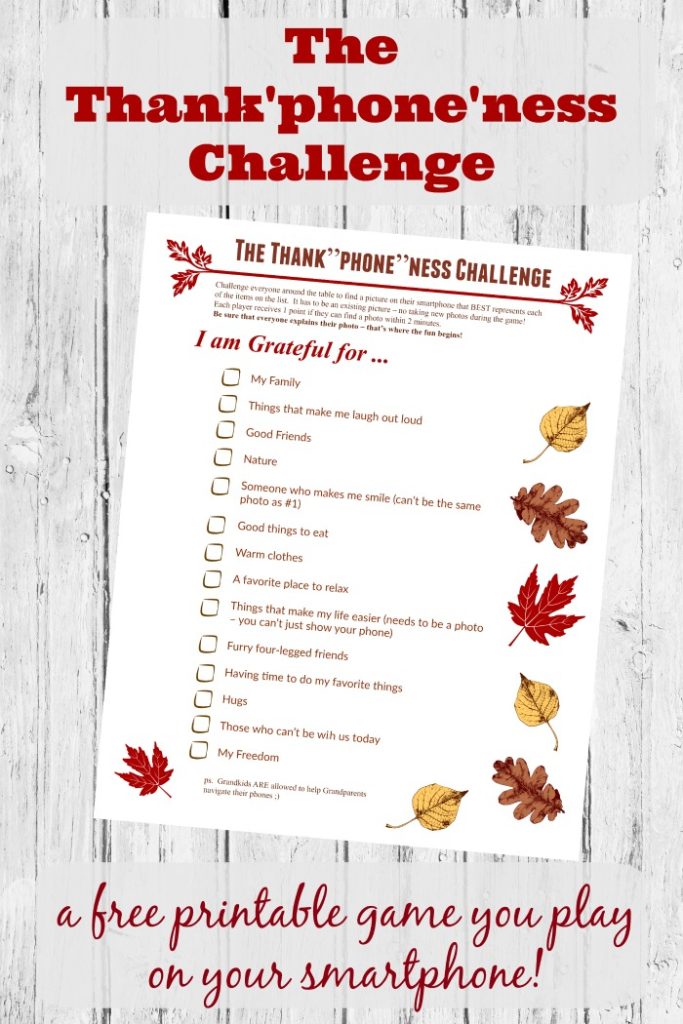 Thanksgiving "What's on Your Phone" Gratitude Scavenger Hunt
Every November, you'll find me doing two things:
1. Getting ready for our annual Christmas countdown (a BIG family tradition we love!) and
2. Thinking of some fun things to do with the family when they come to visit for the holidays
Here's the thing — I need something FUN that EVERYONE can do together — young kids, grandparents, teenagers — that can be a challenge.
Thankfulness is a hard concept for kids to grasp — even for older kids (psst…these FREE printable Family Conversation Starter words are a fun way to introduce the concept!)
We all have so much in our life that we tend to take for granted — health, a warm house, a hug from our kids — so I wanted something that we could do this Thanksgiving that highlights why we should be grateful.
And I found the perfect solution!
Instead of talking about the weather or politics or some other hum-drum topic, print off this fun photo challenge game to play with the family & friends you'll have to dinner.
It's a Thank'phone'ness Scavenger Hunt and it's SUCH a blast to do together!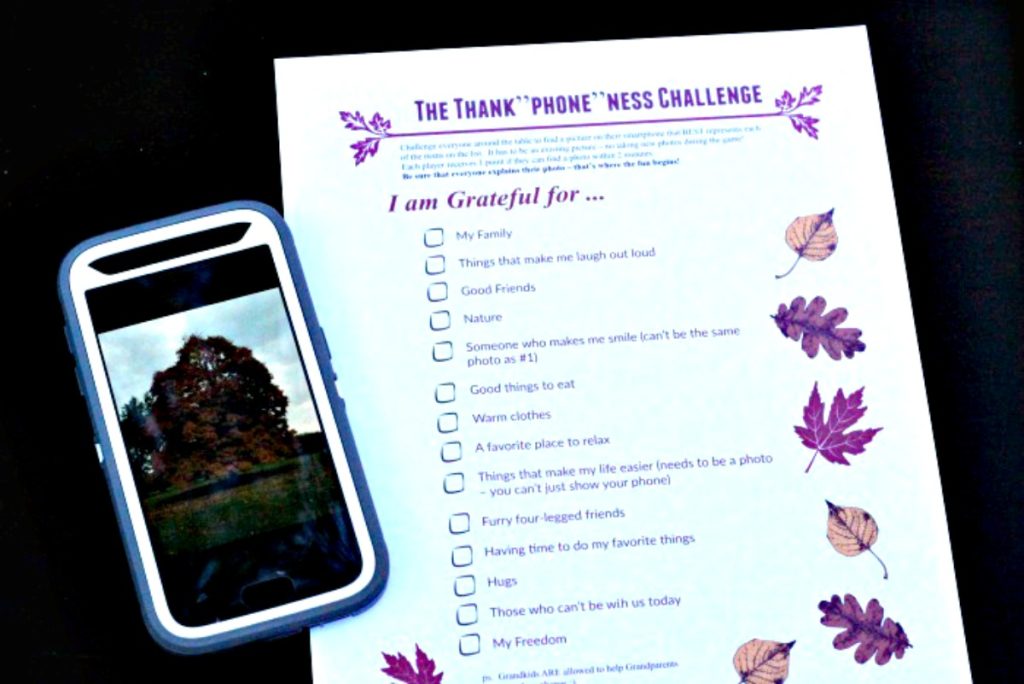 Why a Gratitude Photo Scavenger Hunt?
Here's why I created the game along with the rules (every game needs a few rules 😉 and also affiliate links to some of the items we use at our Thanksgiving celebrations.
If you look on my phone, you'll see two types of photos:
1. Pictures of things that I am so grateful to have in my life — my kids, vacation experiences, amazing food, our pup, etc.
2. Pictures my kids make me take (you know "Mom, take a picture of me ….") — BUT surprisingly I'm also very thankful for these nutty, crazy shots because they make me smile & laugh so much!
But here's the thing — all these photos are on my phone and rarely get shared with others. That's the main purpose of this game — to share pictures with others of why we're thankful!
You know what they say — a picture's worth 1000 words 🙂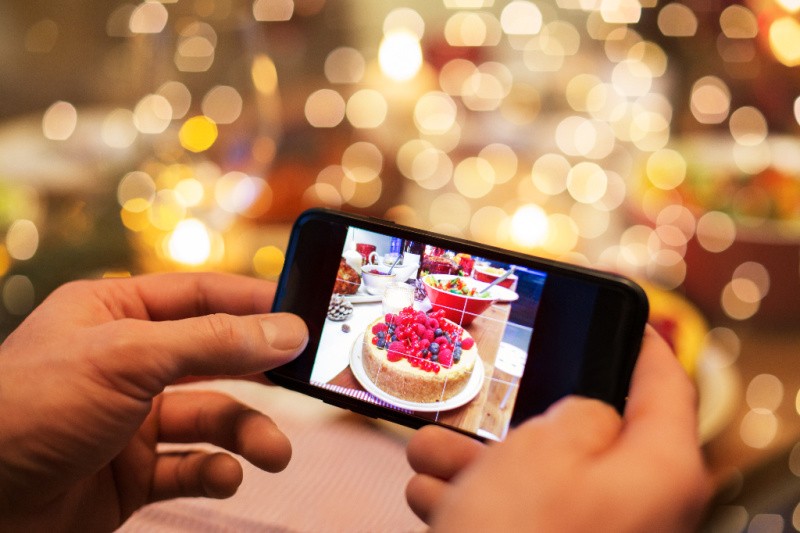 How to Play the Thanksgiving Gratitude Scavenger Hunt Game
Here are the rules for the game — you can play this scavenger hunt just for fun or you can give each person 1 point for each photo they are able to find on their phone in less than one minute:
Choose someone to be the "Reader" — this person will read each of the items aloud to everyone at the table — OR, if you are playing this game virtually, to everyone on your Zoom or Skype call.
Each person should have a smartphone with them — they are going to be looking for photos on their camera roll, Instagram account, etc. If you have younger kids who don't have their own phone, pair them with a parent or grandparent who could use a little help finding photos 😉
The "Reader" will read aloud one of the items and each player gets 1 – 2 minutes (you set the time limit) to find a photo on their phone that represents that phrase. So it's kind of a 'minute to win it game' too!
NO TAKING NEW PICTURES! This is a big rule — you have to watch those teenagers and tricky Grandfathers who are going to try to be sneaky 😉
After 1 or 2 minutes, every player gets to share why they chose that photo.
Be sure to check the box if you found a photo on your phone — the relative with the most checkmarks (or the best story) gets an extra piece of pie 😉
Easy, peasy — and such a fun way to learn more about one another.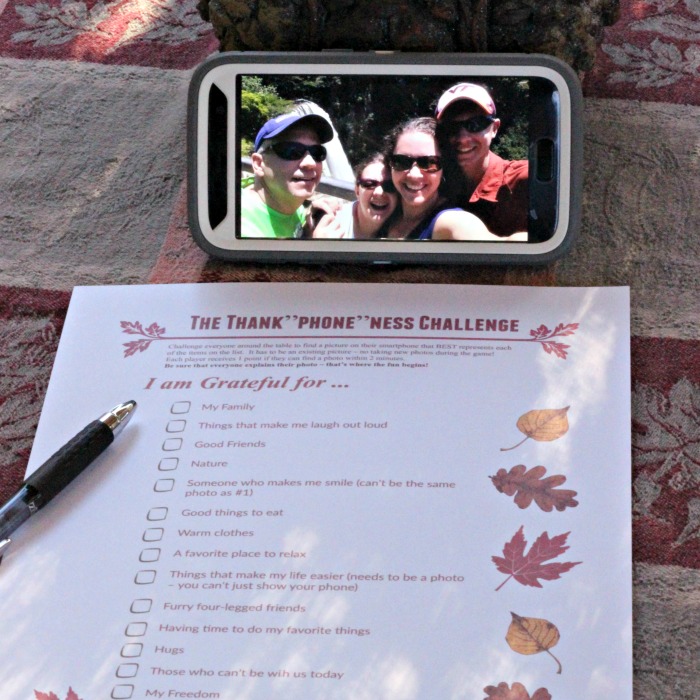 Printable Thanksgiving Games for the Family
Normally, we love to have Mad Libs at our holiday tables (seriously funny moments — the kids got their grandmother to say 'boobs' one holiday and it's been a family joke ever since 😉 Oh! and also holiday crackers — a BIG tradition in our family and yes, we make everyone wear the paper hats!
But I really wanted something that not only made us laugh but also inspired some sharing time too like these free printable Thanksgiving Coloring pages for kids and adults.
Not to mention, how many of these darn photos do we ever really take off our phone, right?!
My oldest is away at college so it's always great to see what's on his phone since we only see him a few times throughout the year — new friends, campus activities, those crazy things you may not want to show your grandparents (ha!)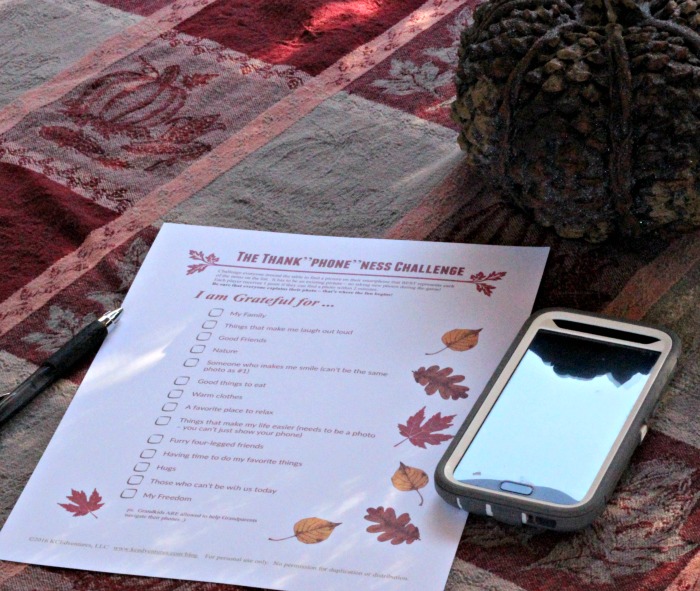 And tweens and teens will actually WANT to play this game since they can use their phones — seriously, it's the ONLY reason I actually allow phones at our dinner table 😉
I love this game so much that I included it as a FREE bonus in the Printable Thanksgiving Games for Families pack!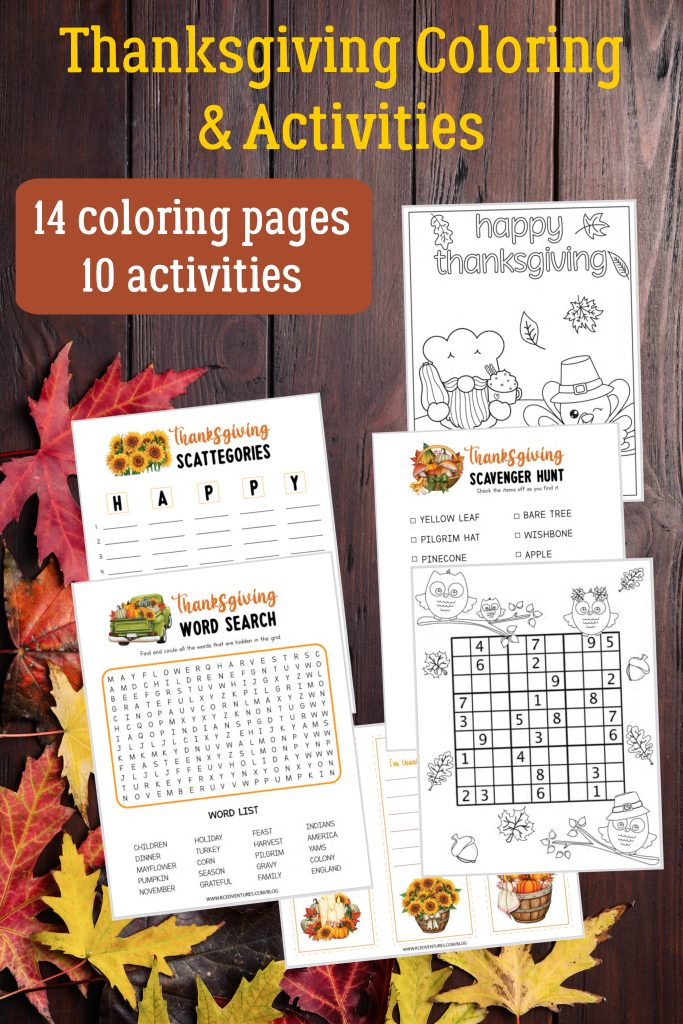 I promise there will be some AWESOME family discussions taking place — stories about vacation photos that come up or fond memories of those who couldn't be around the table with you this year.
And the best are the photos that remind you of traditions or past family moments that you haven't shared with your kids yet — our kids LOVE to hear old family stories like those.
It's also a great activity to do with youth groups, scout troops and at any family gathering!
So grab the free printable Thanksgiving Photo Scavenger Hunt (along with your favorite piece of pie) and spend some time enjoying the company of friends & family this year!
And if you enjoy scavenger hunts, be sure to see the FREE printable Thanksgiving Day Parade Scavenger Hunt or our other printable Gratitude Scavenger Hunt that's perfect for the holidays too!
Happy Holidays!
~ Jacquie
More Fun Games for the Holidays
100+ Advent Activities & Ideas
Printable Christmas Charades & Pictionary Cards