Check out these FREE kids' programs, workshops & clinics this summer where your kids can explore hands-on activities, master a skill or create something beautiful!
Summer is coming and kids are looking for fun things to do -- and us parents are hoping that it's not all tech time ;)
There are a number of free programs & workshops your kids can try this summer -- my favorite part about these are that they are only a few hours and give kids a way to try something new without investing a ton of time (or money).
Summer is the perfect time to try out something new -- you never know what your kids will gravitate to unless you introduce them to new things!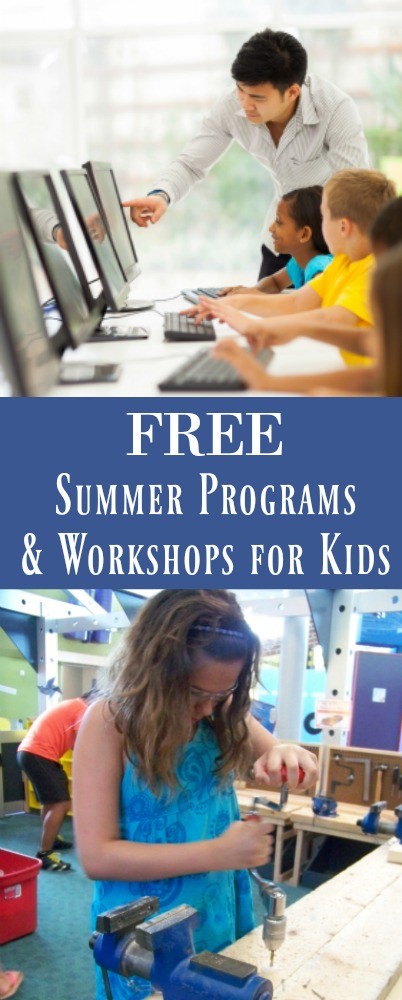 Free Kids' Summer Programs & Workshops
First, check out our post on Summer Reading Programs & Free Rewards -- so many ways to inspire your kids to do some reading in the coming months.
And be sure to grab the FREE printable summer calendar of 100 No Cost Things to do this Summer too!
A quick warning -- some of these will fill up quick!!
Call ahead to reserve a spot if it's possible -- don't tell your kids until you know they can get in ;)
And be sure to ask about the parent/child policy -- some require a parent to stay onsite during the duration of the program.
Kids Bowl Free Program
One of the longer standing free summer programs, kids receive 2 free games of bowling every day all summer long! Search their website to find bowling alleys all over the US & Canada that participate.
This is a great option for those hot days when you're looking for a good indoor activity -- especially for a group of kids too.
Maker Camp
We love this DIY-at-home option for STEM camp!
Camp sessions launch June 19th and your kids can join in to build & create.
If you'd like to see what types of projects are offered, check out the 2016 Maker activities.
Home Depot Kids Build Workshops

For building fun, make sure to check out the Free Kids Workshops held on the first Saturday of each month at the Home Depot.
We love these workshops! Projects vary for each one but the best part is that kids get a free apron, pin and project to complete. And yes, swinging a hammer is usually part of the project ;)
pssst ... they also have awesome DIY workshops for adults too.
Register early for these - they are popular!
American Girl Events Near You
If you have a daughter ages 8+ who loves the American Girls books or dolls, try attending one of their free in-store events!
The American Girl stores have some fun craft events, scavenger hunts and book clubs throughout the year. Browse their calendar to find a store & events near you and look for the events that state 'Free and open to the public'.
Local Nature Centers
Always check with your local nature center as many offer some amazing workshops for kids and families!
We've attended family hikes, animal visits, naturalist programs, archery clinics and more that cover outdoor skills.
Use this list at Wikipedia to locate a local or state-supported nature center near you. Check their website for summer workshops or give them a call and ask about any offerings they have for kids and families.
Bass Pro Stores
One of our favorite summer finds in the Family Summer Camp at Bass Pro Stores. Their page still says 2016 but hoping they will once again offer these workshops this year -- usually late June through July.
You'll find more than a dozen kid-friendly, interactive clinics that cover a variety of topics. At each clinic, kids will either watch a short video or presentation from a staff member, complete some fun games/learning pages and do an in-store activity.
For each clinic they complete, your child will earn a free pin! Last year, they also gave out lanyards so the kids could keep al their pins together. My daugther attended clinics on camping, fishing, pets & the outdoors, animals tracks and outdoor skills.

Junior Ranger with the National Parks
We are huge fans of the Junior Ranger program at the National Parks -- be sure to read our 'Why We Love the Junior Ranger Programs' for details!
Almost all of the national parks and many of the national historic sites have these free programs. Kids will get an activity book for each park or site. Once you complete the activities for their age, your child can earn Junior Ranger status along with a certificate, pin or patch (varies by park).
One of the best things about this program is that you can complete some of the Junior Ranger activities online and at your home!
Apple Youth Workshops
Did you know that Apple Stores offer free youth workshops and Apple Camp for Kids?
These sessions offer your kids the opportnity to learn about the programs and apps for their Apple devices along with opportunities to create and share. Kids can make movies, create music and program devices.
These are in-person workshops offered at the Apple retail stores around the country. Check the Apply Today event calendar -- filter for your city along with the 'Kids' category to find workshops near you!
Microsoft Store Kids Workshops
At the Tech Fun for Kids workshops, your kids can learn quite a few new skills!
Microsoft stores offer a variety of free workshops for kids including YouthSparks summer camp, DigiGirls events, coding camps and more. Find all the details on the calendar for your local Microsoft store.
Free Museum Programs
Believe it or not, many art museums offer FREE admission -- and quite a few will have summer activities, scavenger hunts and other fun programs when you visit.
Check the event calendar for any museums in your area.
And also the Target Community website for free admission days to children's museums in some of the larger cities around the US.
Lowe's Build & Grow Clinics
Sadly, these closed this year (2017) -- I just wanted to leave this update in case you weren't aware. My kids loved these clinics so we were sorry to see them go.
More Summer Activities:
Turn Your Backyard into a Science Lab