The kids are out of school -- time for a master list of fun things do in Winter to keep them busy!
Whether you're looking for indoor activities, fun things to do outside or a few unique ideas for your winter vacation -- these ideas are sure to please, easy to do and will keep your kids thinking & creating on those long winter days.
We even have some fun ways the kids can pitch in and help kick-start some organizing for the New Year!
---
(*) items are included in the photo collage
33 Winter Fun Things to Do
Having three or more weeks off from school can get kids a little squirrely (if you know what I mean) -- that's a LOT of downtime for them.
I love having one or two go-to activities that we can do each day -- ideally, one indoor and one outdoor so we can get some fresh air.
And breaks are also a great time to dive into those art projects or science activities that may take more than a few minutes to do.
Try adding a few of these to your schedule during the coming weeks!
Indoor Winter Activities
Print off some of these free winter-themed paper games & activities.
Make a birdfeeder for your yard.
Clean out the playroom & donate gently used toys & books.
Cozy up with some hot cocoa and a few wonderful winter books for a reading session.
Create a set of mystery balloons for a fun non-messy sensory activity.
Have fun learning about penguins with these video cam, books & more!
If the kids need to burn off energy, here are some fun activities to beat off cabin fever.
Write 'thank you' notes or call out-of-town relatives to say 'thanks' for the gifts.
Explore maps & globes with this Christmas-themed geography game!
If you have cold weather, ignore it & host an Island Day at home!
Indoor Science Activities to do over Winter Break:
Holiday physics with sink & float *
Create your own 'gong' sound experiment
Test how much water is in snow *
More winter science experiments
Have a New Year's Eve Countdown
Talk about the coming year & set Family Goals for 2016
Get started planning your summer vacation – Browse websites, get a few travel books from the library and have the kids help make a list of attractions
Have the kids start their own science journal. *
Put together a winter nature table and bring nature indoors! *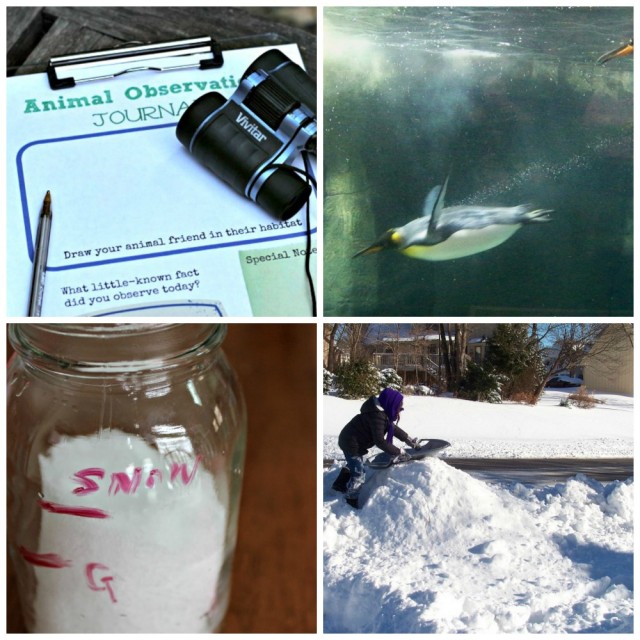 Outdoor Activities to Do in Winter

Go for a Winter BINGO walk with these free printable winter BINGO boards. *
Make snow angels or go sledding.
Play in the snow (if you have it) or make your own snow!
Take a walk in the park and search for animal tracks
Go bird watching -- use this free bird identification chart!
Head to the rink & ice skate together.
Grab our free printable Playground Scavenger Hunt and scout out a new playground in your area.
Make an ice wreath or ice lanterns.
Go on a Scavenger Hunt -- check out the January list in our 12 Months of Scavenger Hunts.
Go Explore this Winter

Visit some of your favorite furry friends at your local nature center -- see our 5 Best Things to See at a Nature Center post for ideas. *
Explore an art museum -- here's 5 things to do while you're at the museum.
Go to the library for a storytime or fun activity session they are hosting.
Visit to a local park and use this free printable Animal Observation Journal to track what you see!
Find a local attraction that your family hasn't visited & go explore!
Take a tour of a factory in your city.
Try visiting the zoo on a warmer winter day and start your own Animal Science Journal white you're there!
Creative Winter Crafts to Entertain the Kids

Put up a "snowman factory" so the kids can build snowmen without snow!
Make some noisemakers or New Year's crafts.
Use pinecones to create your own winter forest playland. *
Design your own zentangle rocks! *
Decorate the windows with paper snowflakes!
Make a snowglobe in a bag.
Create a winter art project -- check the Winter Fun board for tons of ideas!
MORE Fun Things to do for Winter:
29 ways to be a Cool Parent this Winter
14 Wonderful Winter Activities