Count down the days to Christmas with these free printable Advent Calendar Numbers!
This is the time of year when so many families are thinking about fun Advent Activity Ideas and Christmas countdowns. While we've shared a number of creative holiday countdown activities for kids, I know that not everyone has an Advent Calendar.
So here's a set of Christmas Advent Calendar Numbers that can be used with any countdown you're planning this year!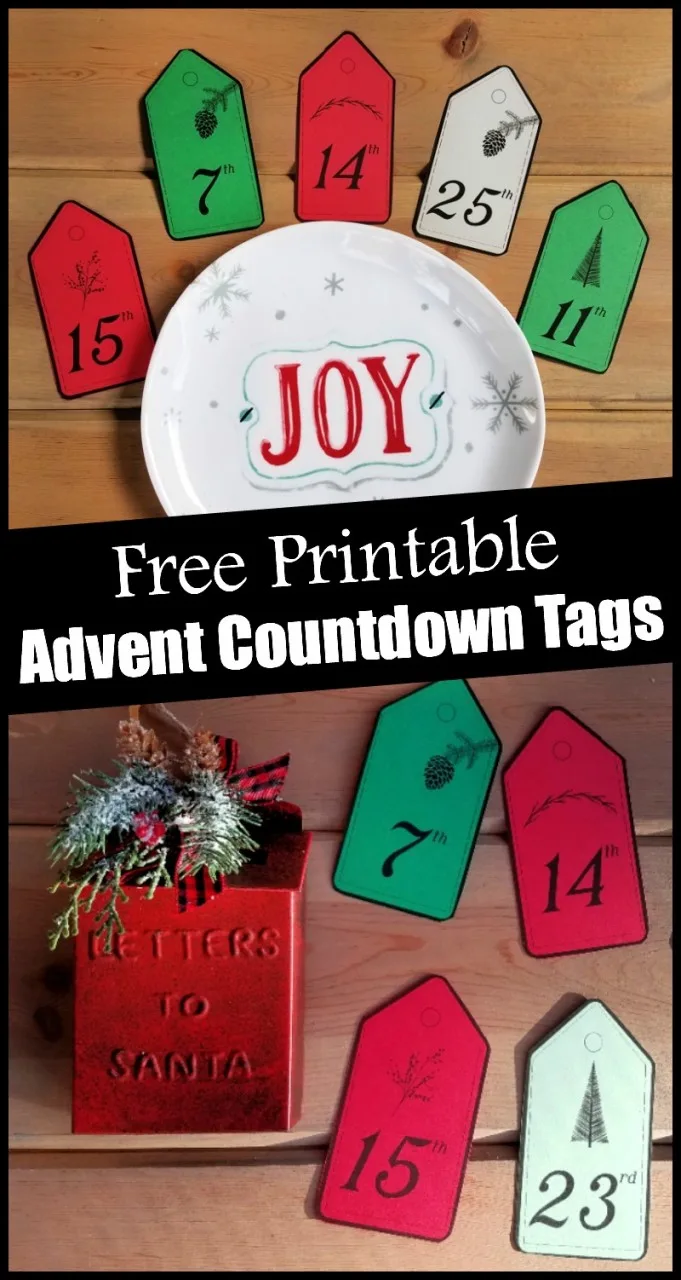 Free Printable Advent Calendar Numbers or Christmas Countdown Tags
There are so many fun ways to do a holiday countdown! And having a set of numbered tags allows kids to know just how many more days they need to wait until Christmas.
In fact, you can even turn this into a fun math activity too! Just have them subtract the date from the number 25 to know how many more days are left. I'm sure Santa will be impressed with that skill 😉
How to Set up a Christmas Countdown
First, grab a copy of the free printable number tags below.
Cut out tags for each day you'd like to do your countdown. There's no reason you have to do all 25 days – if that's too long for your family, just do twelve days! Or you could even choose to do only weekend days if you're week is too hectic.
Then decide what you will do each day of your countdown!
Our 25 Creative Christmas Countdown Ideas has some inspiration for you –
The Advent Calendar numbers can also serve as your advent calendar! Just use clothespins to hang them from a piece of holiday ribbon or Christmas pom-pom garland.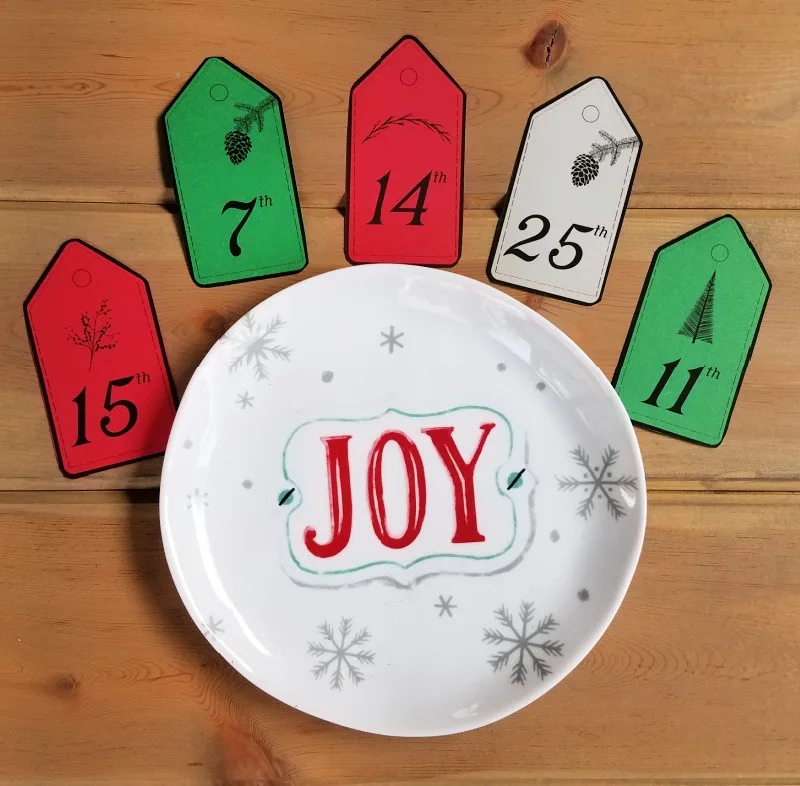 Printable Christmas Calendar Numbers pdf
This set of FREE printable Christmas or Advent countdown tags comes in a pdf file with a white background and black trim.
Each tag is adored with some winter-themed nature graphics – think pine cones, evergreen trees, holly and more! There are 25 tags in the set; one for each day leading up to Christmas. You can print and use as many of the numbers as you need.
Since the tags are on a white background, you are able to print them on any color paper you'd like! As you can see above, we've printed them on red, green and a light gray cardstock. We do recommend a heavier paper like this colorful holiday themed cardstock so the tags with last from season to season. You can also laminate the countdown tags so they are able to be used year after year.
Turn your countdown tags into a family service activity and do random acts of kindness (RAKs) this year — here are 30 Service Projects & RAKs for Families to do Together!
I use this adorable Reindeer Garland with our holiday countdown. Since life is busy this year, we don't do activities every day. Instead, I just use holiday clothespins to attach the days we will have activities to do together (something for us all to look forward to during the busyness of the week 😉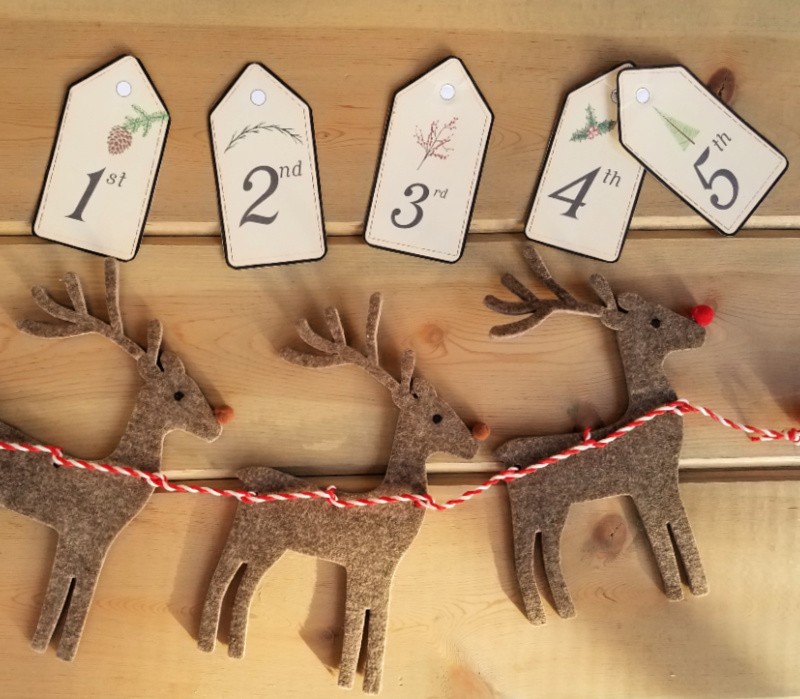 Full Color Printable Advent Countdown Tags
If you have one of our printable Advent Activity Packs, then these vintage-themed color tags with nature holiday graphics match perfectly! Once you order your printable Advent Activities, the countdown tags will be emailed to you as a bonus!
If you don't have our Advent Activity Pack or the 12 Days of Christmas Countdown pack, you can purchase these colorful tags on their own for only $1.99 — get them now & start a new Christmas tradition this year!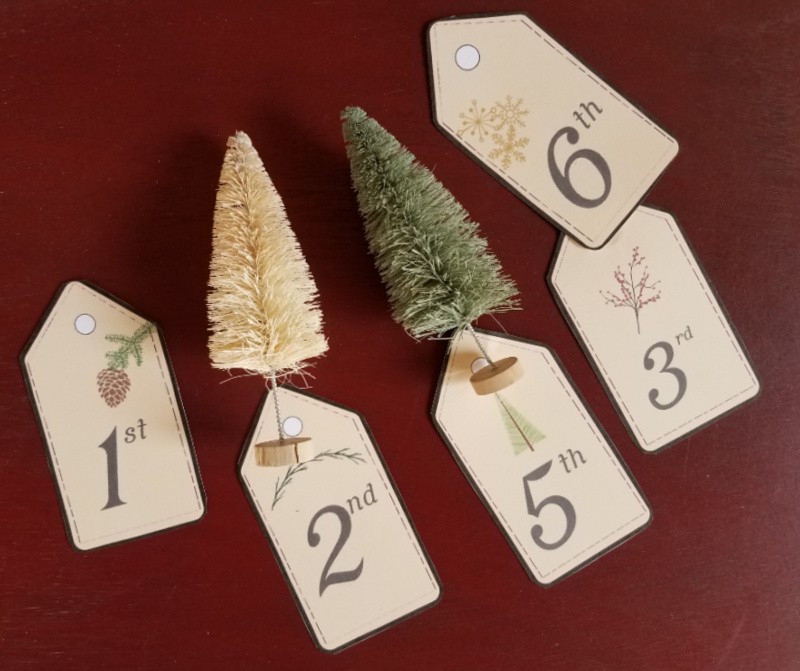 Slide the Advent Activity coupons from the pack into your Advent calendar and use these printable numbers to attach to Christmas books to read each night.
Or attach the activity coupons to the back of each numbered tag and leave one at the breakfast table each morning for a holiday surprise.
They can also become part of your holiday decor – hang the numbers & Advent Activity coupons on your tree and kids can search through the branches for the correct numbered tag each day!
Just add your name & email to the form above to receive the FREE printable set of Advent Calendar numbers.
Enjoy your holidays!!
More Fun Christmas Ideas:
12 Days of Christmas Countdown
12 Minute to Win It Christmas Games