A great collection of free printable Christmas games & activities to keep your kids entertained the whole month of December!
The holiday season is upon us! It's time to enjoy counting down the days to Christmas and finding ways to slow down and enjoy the season together.
It's also time to get ready to keep the kids from snooping in the closets or under the tree :)
Do you have a snooper?
My oldest was great - he never wanted to know what gifts he would get on Christmas morning. My youngest -- a whole different story!
She's one of those 'I'm going to pretend I'm not snooping while I try to gather clues about both my gifts AND everyone else's'. She keeps us on our toes during the holidays.
It's hard for kids to contain all that excitement -- wrapped gifts in arms' reach, the promise of a school holiday party, family coming -- I totally understand.
Which is why having some fun activities for them to do each day helps them to enjoy the weeks leading up to Christmas.
Free Printable Christmas Games & Activities
These totally fun & free printable Christmas games and activities are perfect for kids of all ages!
You can even wrap them so the kids have something to unwrap each day (hopefully it keeps them busy enough that they won't have time to snoop ;)
Kid-sized Christmas Activities & Printable Games
Search for holiday symbols in this fun Christmas I Spy Game | The Pleasantest Thing
Surprise your kids with some special holiday fun with these Holiday Coupons | Edventures with Kids
Test your mind with a Christmas Memory Game | Crazy Little Projects
Act out the birth of baby Jesus with this Nativity Play Dough printable set | Life Over C's
Keep your kids busy with a Gingerbread Scavenger Hunt | Edventures with Kids
Have a pretend baking session with these Christmas Cookie Baking set | Kids Activities Blog
Dress up these Holiday Paper Dolls for an afternoon play session | Bonecas de Papel
Building a Gingerbread House this year? Grab this adorable set of Santa & Reindeer play puppets to add a little fun | Edventures with Kids
Create your own village with these Gingerbread Paper homes | We Love to Illustrate
Fill in Santa's beard as you count down to Christmas | Tomfo
Color a set of Christmas Paper Cones to play with after school | A Mummy Too
15+ pages of Christmas coloring & jokes | Squishy Cute Designs
And squeeze in a little learning while you play with this printable Holiday Science Experiment
Family Fun: Printable Christmas Games for Kids and Adults
Play a game of Holiday Charades | Edventures with Kids
Check out the decorations in your neighborhood with this Christmas Lights Scavenger Hunt | The Evolution of Mom
Color together with this FREE printable Rudolph the Red-nosed Reindeer coloring book!
Have a laugh session with these Christmas Joke Cards | Activity Village
Older kids & adults will LOVE this Christmas Geography Challenge! | Edventures with Kids
Enjoy a selfie session with these fun Christmas Photo Booth printables | Kristen Duke Photography
See who can solve these Christmas Word Puzzles the fastest | Flanders Family

Read one part of the Christmas Story (Jesus' birth) each night with this Advent Countdown | Red Bird Blue

18 printable Christmas-themed Minute to Win It games the whole family will enjoy | Dating Divas
Test your knowledge of the holidays with this fun Christmas Trivia Game | Lil Luna
PLUS see these 40 Free Printable Winter Games & Activities for more ideas!
Oh! and if you're a book-lover (or raising a bookworm) Try Audible and Get Two Free Audiobooks
- a great place to find some free game books!

Get Ready for the Holidays:
25 Ways to Slow Down & Enjoy the Holidays
30 Service Projects & RAKs for Families to do Together
12 Days of Christmas Countdown Activities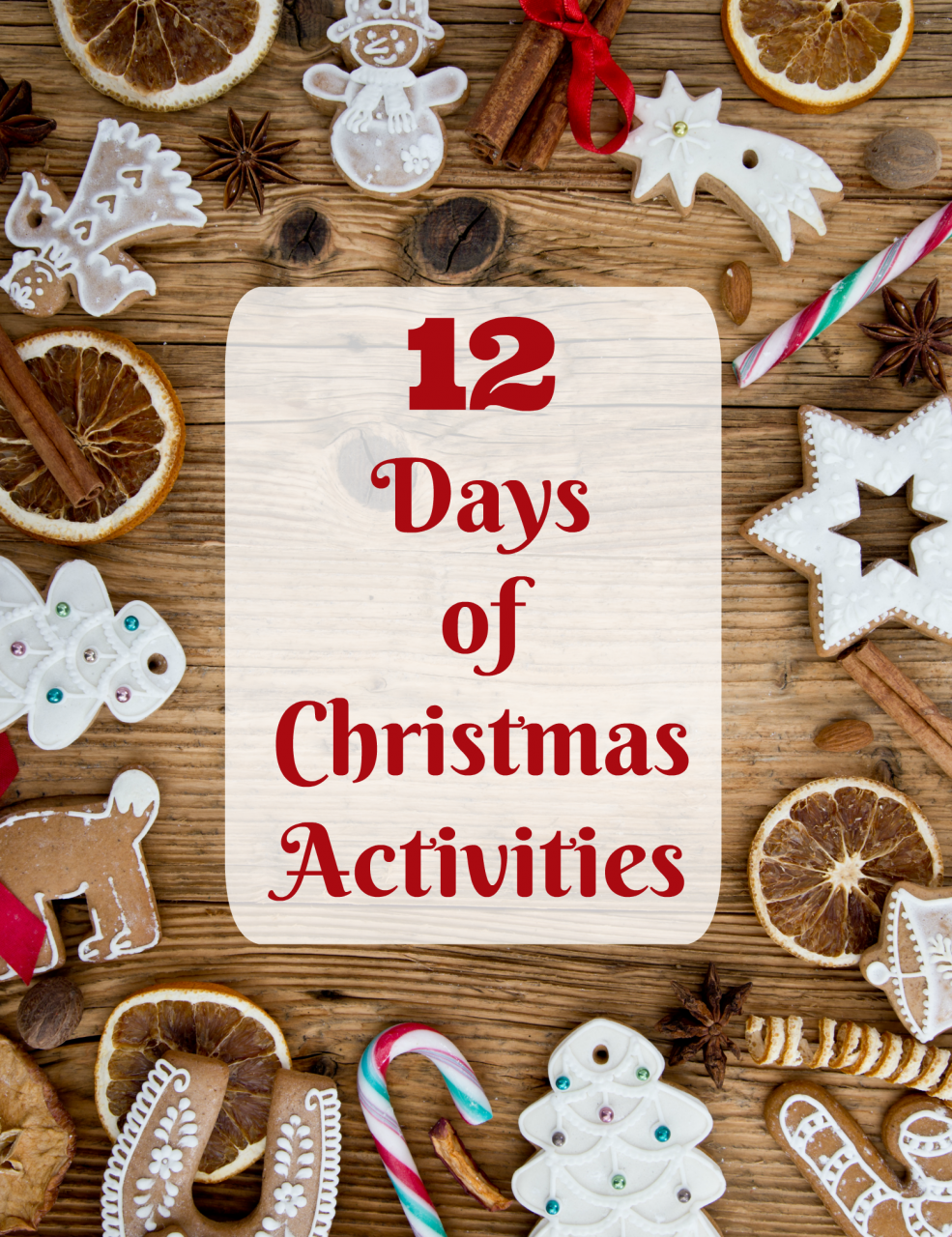 100 Ideas for Your Advent Countdown