Enjoy the holidays with these FREE Christmas Scavenger Hunt Ideas!
I'm always looking for some fun and easy ways to keep kids busy during the weeks leading up to Christmas. We love to do things like this free printable Christmas Decoration Scavenger Hunt as we walk the neighborhood to see all the houses decked out.
This year, I thought I'd add a few new games to our collection of scavenger hunts — on for Christmas Eve and another for one of our favorite holiday films, Rudolph!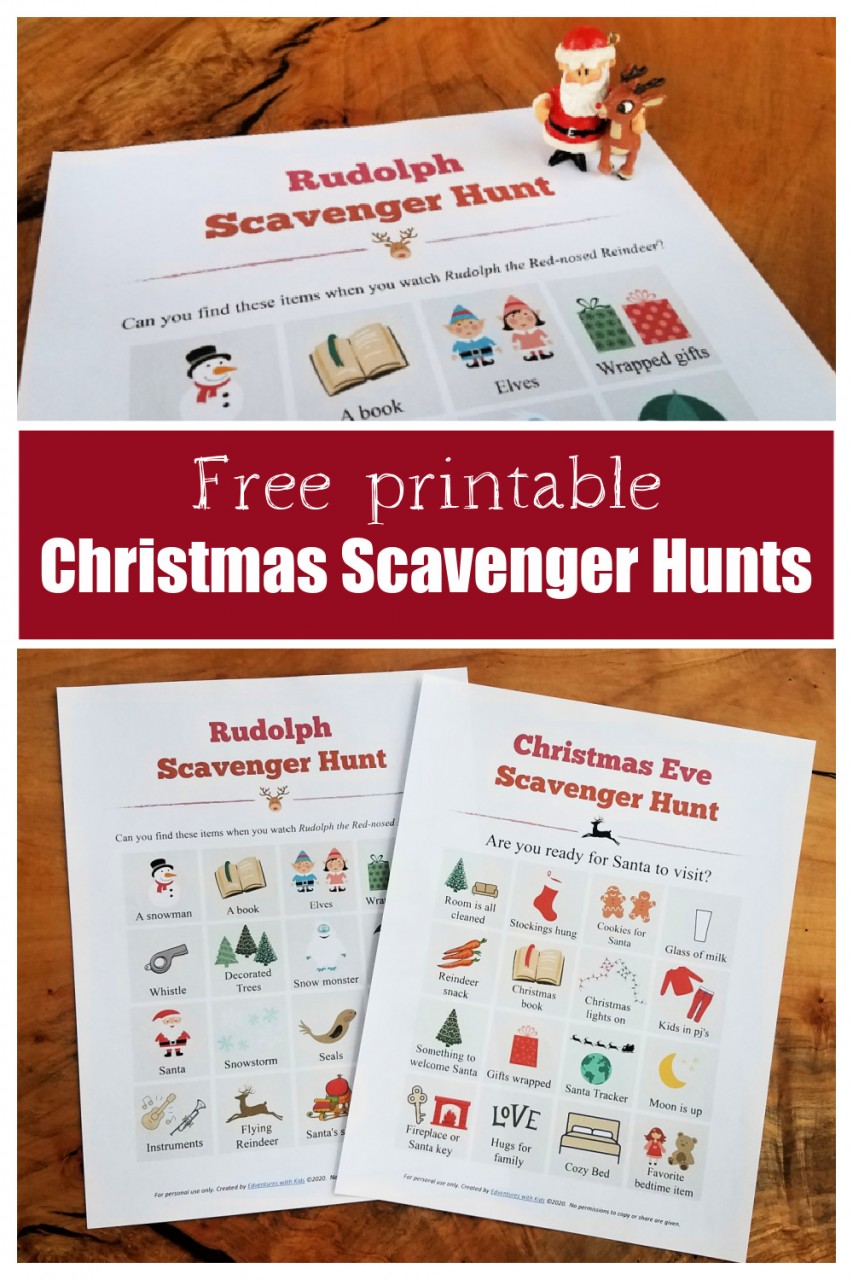 Christmas Scavenger Hunt Ideas with FREE printables
My goal with holiday scavenger hunts is simple — have some easy activities the kids can do on their own that will keep them from asking "how many more days until…" 🙂
And I do love that scavenger hunts are also a great activity that increases observation and reading skills, builds vocabulary and even elicits some teamwork when you do them with a partner.
If you're looking for a few fun ideas to keep your kids busy this week, these will be perfect!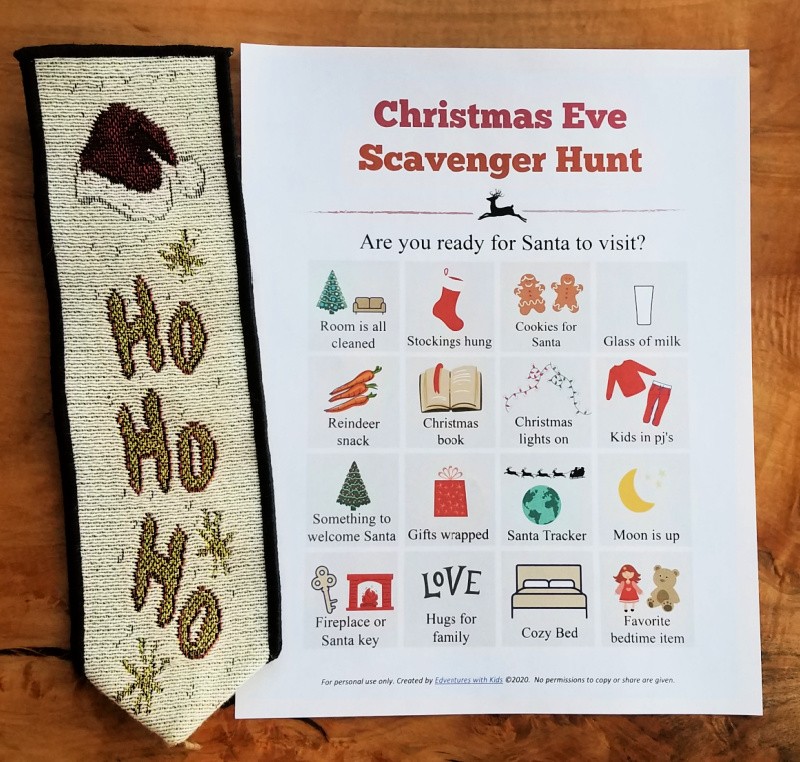 Christmas Eve Scavenger Hunt
This is part scavenger hunt/part Christmas Eve prep checklist — and a fun way to have kids be sure they have everything all set for Santa's visit.
You'll notice that the first item on the hunt is "Room is all cleaned" – that little piece of brilliance is thanks to my parents. I can remember them saying that if we left books and shoes all over the floor, that Santa could trip and we wouldn't want that to happen, would we? 😉
Well, of course not! So we were sure to pick things up before we put out the milk & cookies and headed to bed.
Other favorite items include:
You don't have to wait until late on Christmas Eve to start this hunt — give it to kids right after dinner and have them get started to check things off the list. It might take them some time to make their bed cozy, pick out just the right holiday book and pick up their toys (ahem … 🙂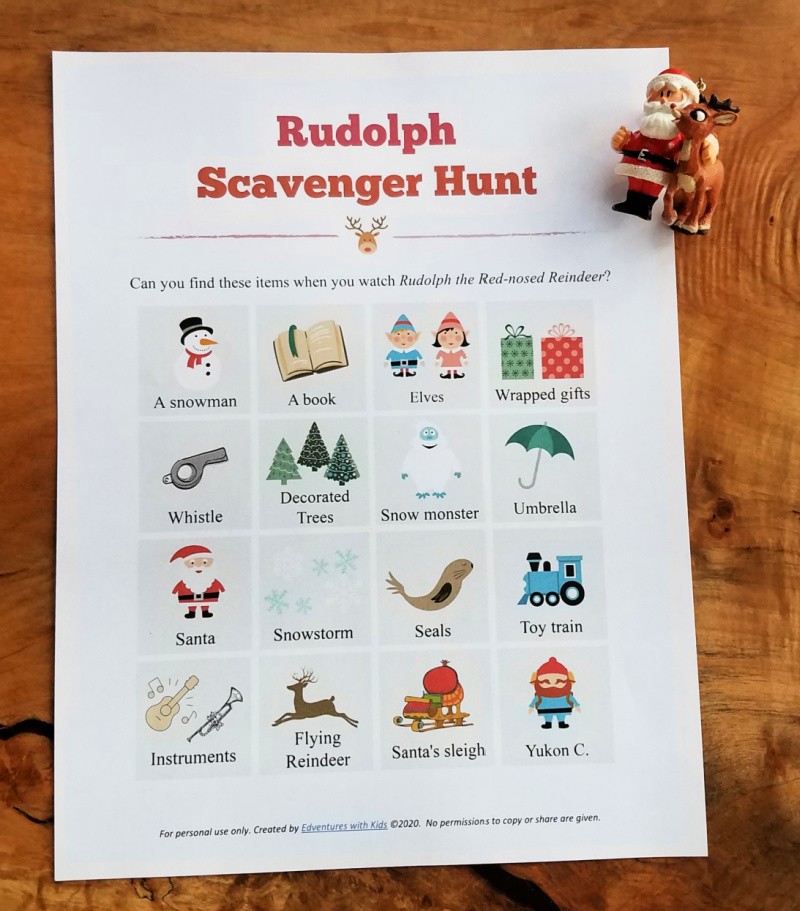 Rudolph Scavenger Hunt
Another favorite holiday tradition for us and many other families is watching Rudolph the Red-nosed Reindeer!
First, I love that the tv special it's tied to a book (that whole kids book that are made into movies is very appealing in our house 🙂 It's a such a great vintage holiday special — lots of favorite memories for parents and even grandparents — so it usually appeals to a wide age of family members.
(By the way, another vintage special we love to watch every year is Emmet Otter's Jugband Christmas).
So this scavenger hunt is based on items you'll see when watching Rudolph. If you have a book that's also a movie adaptation, you'll probably be able to find many if not all the items in the book too!
One of the special things about this hunt is that kids need to pay attention while they watch Rudolph — not all of the items will be front and center so you may have to search for them. For example, the Christmas seals show up quickly during the intro. You have to pay very close attention to spot the 'whistle' and 'instruments'.
Quite a few of the items show up more than once during the movie so don't be concerned if they miss it the first time around. For example, the green umbrella — kids will probably be paying attention to what Sam the Snowman is saying rather than what he's carrying. Be sure kids look through the items on the scavenger hunt before they start the movie so they have an idea of what they need to spot.
You can grab a copy of BOTH Christmas Scavenger Hunts above so you can print them & be ready for some Christmas Eve fun!
Enjoy your holidays!!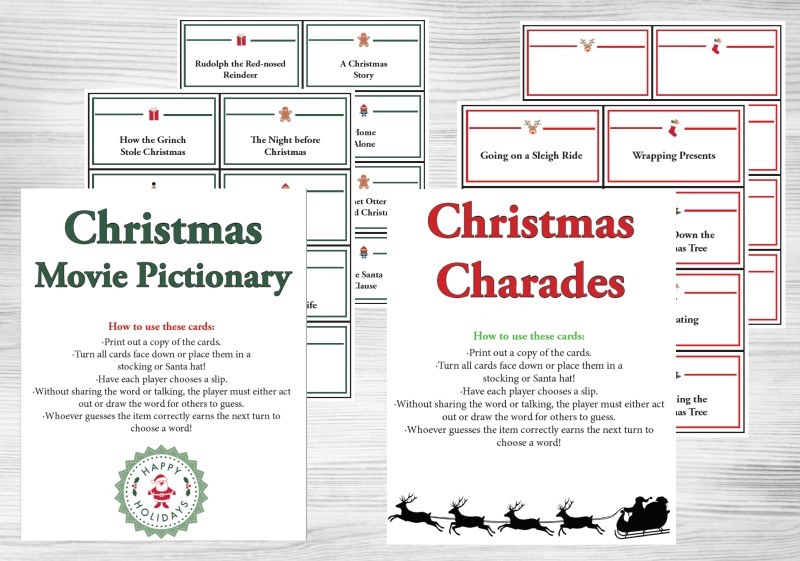 More Christmas Scavenger Hunts & Games
Christmas Charades & Pictionary games (printable!)
FREE printable Gingerbread Scavenger Hunt