FUN ocean science for kids: draw & measure the size of a blue whale with this week's outdoor STEM activity!
We are going under the sea to learn about whales with one of our fun Ocean STEM activities.
Have you ever really wondered what it would be like to stand next to a whale? We decided to explore a little about whales this week and learn just how big they really are!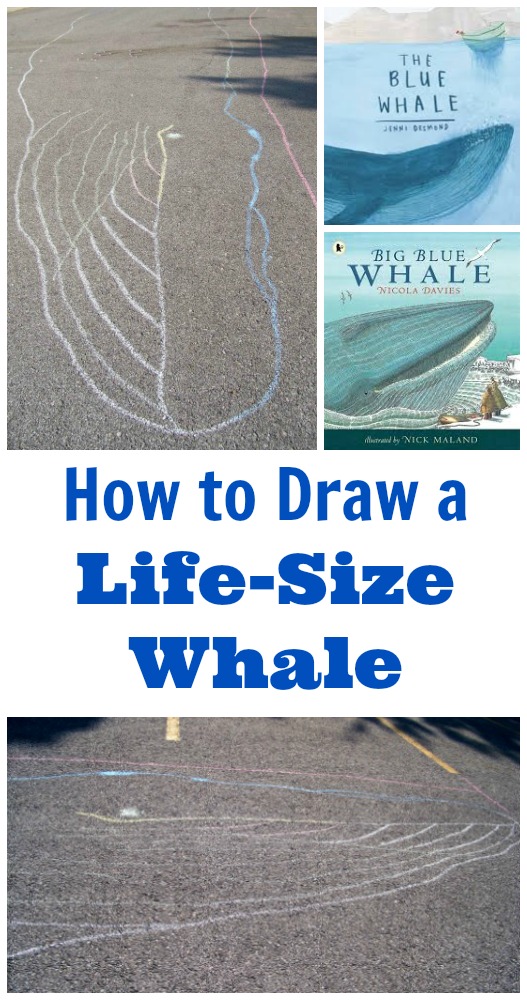 Ocean STEM Activity: How Big is a Blue Whale?
I would love to go on a whale watch one day — and both of my kids are been crazy for whales. Go figure, we live in Kansas – the most landlocked state in the country, and they are all into whales.
But since that probably won't happen for a long time, we enjoy learning about ocean animals at home with some fun hands-on projects (did you see our Ocean Layers STEM Activity?!!)
As with many of our science activities & experiments, we LOVE to start with a book to learn a little more about the topic. We were looking for photos of the blue whale (so we could use them as examples when we began drawing) along with details about its' average length.
Here are a few of our favorite books along with affiliate links so you can review more about each one too:
The Blue Whale
is a gorgeous non-fiction picture book with amazing details.
Readers can see just how large a blue whale's eye really is as they gaze into it and learn many details about it's large size. Beautiful illustrations here! And you can tell from our chalk drawing that this was one of the books we used as a model — the pictures made it look easy to replicate some of the details of the whales.
We love the photographs in Face to Face with Whales! They are so detailed that you are able to see all the amazing features of whales. I'm awestruck at how they got so close for many of these photos.
Is a Blue Whale the Biggest Thing There Is? is a wonderful book that gives kids an idea about how big things really are in the world.
It's a great read for a math discussion about relative sizes and how things compare to each other. We used one of the examples in this book when comparing our whale to our car.
And the Big Blue Whale: Read and Wonder book is a beautiful read. It includes excellent information about the blue whale and a nice double-page spread to give you an idea of it's size in comparison to a human. I just love the drawings in the book.
Billy Twitters and His Blue Whale Problem
may not be a non-fiction book but it has so many cool comparisons sprinkled through the story, we just had to include it! The story follows Billy Twitters as he tries to take care of his new *pet* whale — very funny read aloud!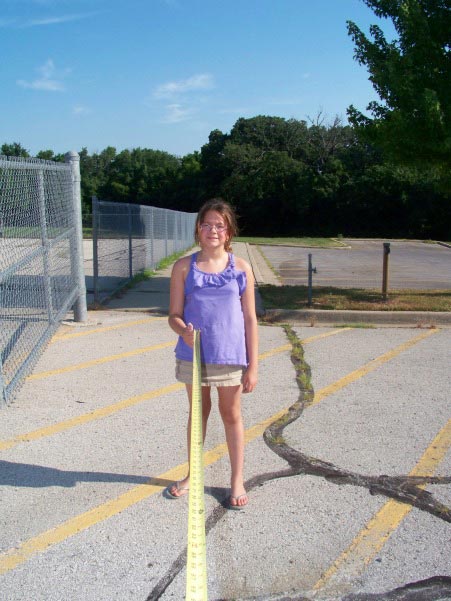 Ocean STEM Activity

Now that your armed with more details about your whale, time to get drawing!
This is a wonderful outdoor STEM activity (actually a STEAM activity since there's art involved too 😉 with an under the sea focus since it involves some science, math and even a little 'engineering' to figure out how you'll fit this drawing into your space 😉
Here's what you'll need to do a whale drawing using chalk — we're including affiliate links to items we used for your convenience:
The first thing you'll need to do is measure out the length you'll need for your whale.
Since we decided to draw a blue whale (yep, one of the biggest animals in the world!), we had to measure out 100 feet!
Did you get that — 100 feet!
So, you ask, where the heck do we find that kind of room?
Great question!
We headed to our school parking lot since school is out of session. You can also try the blacktop at a local playground too.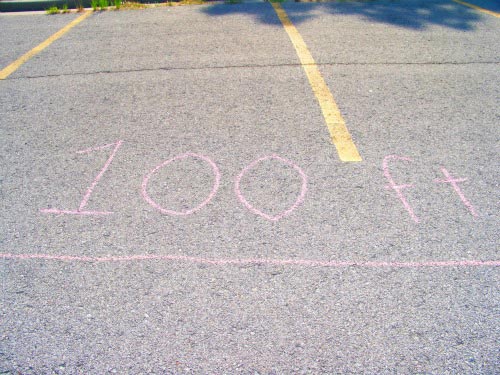 We used our chalk to draw a line that measured 100 feet!
We had to use the length of our tape measure four times over so you may have to measure, then mark and then measure some more 🙂 This is great visual math for kids too.
And we also ran out of chalk while drawing our line so one piece of chalk may not go as far as you think when drawing — bring a LOT!
Making a chalk the length of your proposed whale (you can also do a shark or a manta ray, etc) will help as you while drawing so you don't have to keep measuring out the distance or holding down the tape measure while you work.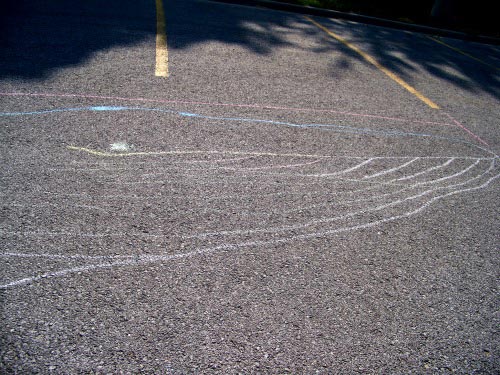 How to Draw a Whale

Then we got to work drawing "Bluey" our big blue whale. Luckily, whales are fairly easy to draw; we just followed the photos from one of our books.
We used blue pieces of chalk to draw an outline of the whale.
You can make it as detailed as you'd like (we added the fins and some of the features on the whale's head using white, yellow and pink chalk to make his features 'pop' a little more).
Another great way to inspire kids to draw in the details is to use these mini whale models they can hold and examine as they draw!
You can also choose the chalk color based on your whale. Use white if you want to draw a Beluga, gray for a sperm whale or gray whale, etc.
Obviously, we chose to use blue 😉
How Big is a Blue Whale?!?
This was really the best part!
To get an idea of how big these beautiful creatures really are, you can try a few things.
First, we stood on opposite ends of our drawing so that we were 100 feet away from each other. That really made an impression on my daughter to see how much "whale" would be between us!
You can also have your child sit next to the drawing while you take a photo — then they can see how they measure up to their favorite sea creature.
And if you want to add in a little math, bring along your bike and see how many bikes it would take to equal the length of the whale. You can see that we had our car with us and it was dwarfed by our drawing!
Want to learn more about blue whales? Visit Wonderopolis: How Big is the Biggest Whale?
And if you have kids who love ocean animals, be sure to check out our list of fun Ocean Activities & Books for kids too!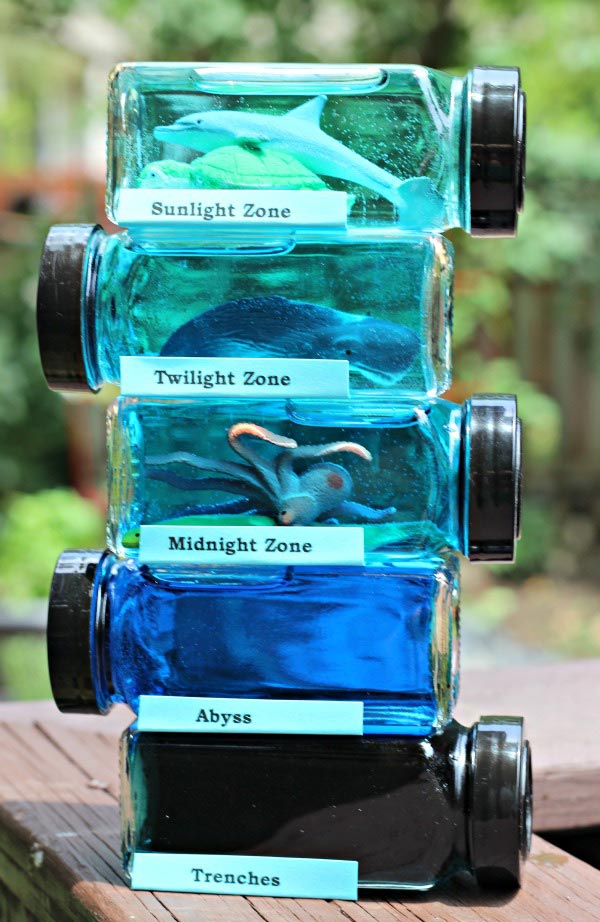 More Ocean Activities for Kids:
Create an Under the Sea World & Explore Ocean Zones
Explore the Ocean's Layers (photo above)
FREE printable Under the Sea Scavenger Hunt (you can do online!)