I know that Fall inspires some popular tree activities for kids — creating leaf rubbings, watching the leaves change color and heading out on a leaf hunt.
But if we look a little deeper, we'll also find that trees play a crucial role to many of our neighborhood animal friends. So today, let's head outside and be nature detectives as we look at the lives of trees!
---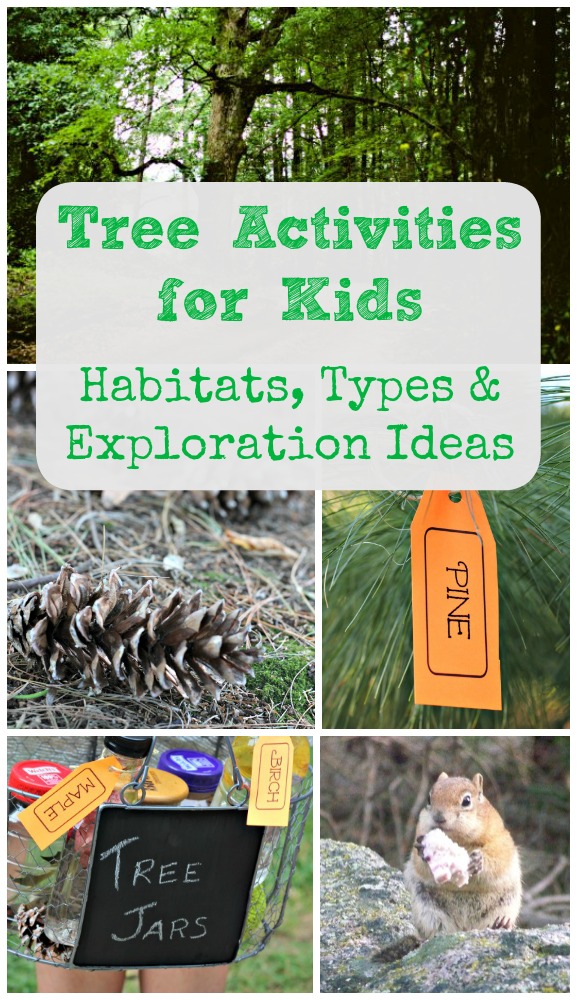 Tree Activities for Kids
Almost everyone has access to a tree or two — and if you're lucky, maybe a nearby park or wooded area where you can explore. Since we'll be exploring how trees & animals interact, this free printable Animal Observation Journal is also a great item to bring along for this activity! We're also including links to a few affiliate items we used during our nature adventure.
As we were exploring the books of David McPhail, who is both an author and illustrator and after reading quite a few (like a dozen!), my daughter and I decided we'd highlight The Searcher and Old Tree
for this activity.
The book tells the story of a raccoon (the Searcher) who lives in an old tree. The tree shelters and protects the raccoon through a very dangerous storm; and in the morning, the racoon is very thankful to the tree.
We decided to go on a tree hunt to see what types of animals use trees for shelter and homes. So, we headed to a local park where we could look at a variety of trees and be nature detectives in how those trees played a part in the local habitat/ecosystem for animals.
Nature Activity & Observation
We first discussed the difference between the types of trees that were in the park – deciduous trees and coniferous trees.
Nature Facts for Kids:
Coniferous trees are trees that produce cones as seeds – thus, pine trees. These trees have needles instead of leaves and will retain many of their needles during the winter. If you look at a variety of coniferous trees, you will see that pinecones come in various shapes and sizes and the brances of these trees have different shaped needles and smells.
Deciduous trees are trees that lose their leaves in the Winter months. Oak, maple and elm are all examples of this type of tree. These types of trees will usually *but not always* have leaves that change color in the Fall.
If you'd like to explore tree leaves & seeds in more detail, use these free printable Tree Identification cards for a fun scavenger hunt!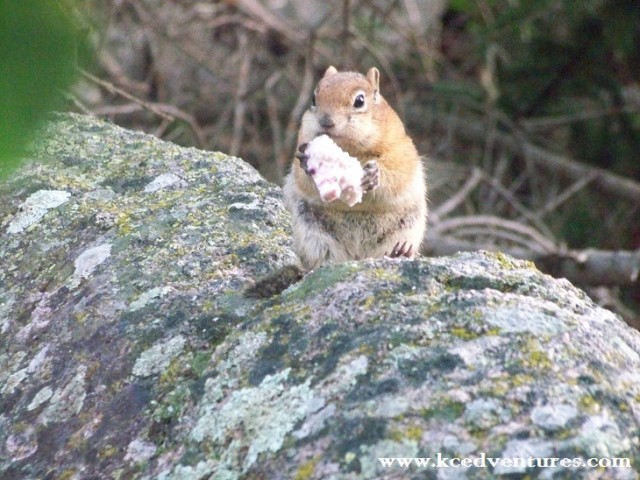 Trees as Animal Homes & Habitats
As we began to explore the different trees at the park, we noticed some of the animals that lived in or near the trees. Habitats (or where an animal lives) is such a fun topic to discuss with kids! If you'd like to expand on this, try these 40 Animal Habitat Crafts & Projects!
We found this beautiful woodpecker with a bright red tuft on his head. He was using the trees to find food. Some animals find their food sources in trees.
In addition to the woodpecker, there were a number of other birds we saw in the park.
Nature Facts for Kids: Some birds use trees to hold their nests. Others, such as owls and hawks, use trees to find their food. These large birds will perch high on a tree in order to scan a wide area of the ground for food.
We also observed quite a few squirrels' nests in some of the deciduous trees. Those large clumps of leaves at the top of the tree are squirrel homes.
Nature Facts for Kids: We were curious as to why squirrels would make a nest in a tree that would lose its' leaves instead of one of the many pine trees in the park. I asked my friend Christy who authors Tweets & Tree Frogs, a great kids nature blog!
She let me know that different species of squirrels chose different types of trees to nest in during the winter months. In our location (Kansas), we have fox squirrels and Eastern gray squirrels and both prefer to nest in deciduous trees.
We also came across this pair of ducks who were living at the pond in the park. They have a home in the reeds that are growing under one of the large, old trees. If you have a pond at your park, you'll enjoy these 20 Science & Water Activities for a Day at the Pond.
Remember to talk to your kids about how a trees trunk or root system can also provide shelter for animals.
Nature Facts for Kids: In addition to providing shelter and food, trees also serve other purposes for wildlife. Squirrels use trees as part of their transportation system. You can see them jumping from branch to branch as they travel.
Trees also provide camouflage for many birds and animals. While in the park, we heard a dove above us in one of the trees, but because of the gray/brown color of the dove's feathers, it took us a few minutes to find where the bird was perched.
And of course, when a tree has all its leaves, it will provide shade and shelter to many animals.
Great Books about Trees
Here are some other wonderful books that show how trees are important to animals. I've included affiliate links for each of our recommendations so you can learn more about the books too.
A Tree Is Nice
by Janice May Udry is an award-winning story about all the nice things a tree provides us. Simple yet beautiful illustrations. This is a great book to share with young children or one that emerging readers can read aloud. Also includes a nice section about planting trees which would be a fun hands-on activity for kids.
I Can Name 50 Trees Today!: All About Trees
by Bonnie Worth is part of the Cat in the Hat's Learning Library. This fun (and sometimes funny!) look at trees will be enjoyed by readers of all ages. Kids will begin to learn that there are many different types of trees in the world along with leaf shapes and seeds.
Tell Me, Tree: All About Trees for Kids
by Gail Gibbons is a wonderful nonfiction book about the life cycles of trees. The book also includes information on how to identify different types of trees and why trees are so important to animals and people. Kids can also learn how to make their own tree identification journal.
MORE TREE ACTIVITIES:
How Do Leaves Breathe? A Simple Science Experiment
The Art & Science of Leaf Rubbings