A wonderful list of FREE read aloud books online for Christmas and winter holidays is sure to inspire holiday reading!
One of our most loved and read posts is Finding Free Kids Books Online — so I thought we should create a special Holiday Edition as our gift to each of you! So many families are traveling at this time of the year but that doesn't mean you can't enjoy a story with your kids or 'bring along' some seasonal favorites.
These are especially great to take on family road trips during holiday travel or while waiting in line running errands 😉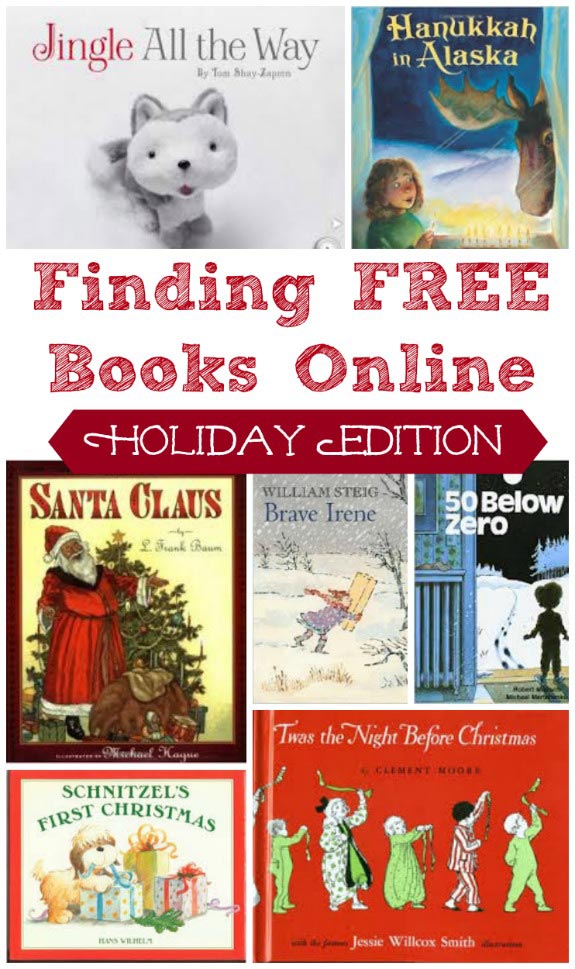 Free Christmas Books Online to Read Aloud to Kids
I've included details about how to best download and read books from each of our highlighted websites. Some of the sites include books with illustrations, other sites include audio versions, etc.
There's a wide variety of topics, genres and book types — something for everyone!
If you're doing the 12 Days of Christmas Countdown with your kids, these free books are perfect to pair with your daily reading activity!
These holiday books are also a wonderful resource if you're a teacher and have students doing remote learning or need a book to project on a screen during class time.
The highlighted links will take you to FREE online editions of great kids holiday books for reading on your iPad, Kindle, computer or smartphone! Then you won't have to worry if you didn't get to pack some books (or if you get stuck in line at Target and need something to keep the kids happy 😉
Plus, we've included a few holiday 'treats' that feature audio books & music too!
If you're looking for activities to pair with the books, try some of these:
25 Free Printable Christmas Games & Activities
12 Days of Christmas Activities
The text links will bring you to the free online version of the books. The thumbnail pictures of the books will take you to our Amazon affiliate links if you are interested in learning more about the paperback or hardcover version of each of our selections.
And if you're a book lover, be sure to Try Audible and Get Two Free Audiobooks
!
Classic Christmas Stories to Read Online
Project Gutenburg has a wonderful Children's Christmas Bookshelf!
These are all vintage or classic stories, poems and children's books that you'll remember reading as a child — some with original illustrations too! These stories are all in the public domain.
Project Gutenburg has downloads for your computer and Kindle Reader. Books can be read on iPad, laptop and Kindle (and maybe even on your phone depending on how big your screen might be).
This is a wonderful place to go when you are unexpectedly waiting in line — at the doctor, stuck in traffic during holiday travel or just need a quick holiday book to read. Many of these stories make excellent read-alouds and will keep the kids entertained.
Twas the Night Before Christmas by Clement C. Moore. This book is a fun one to read on Christmas Eve and also early in the season when kids are asking all those questions about Santa 😉 Pair it with these FREE Write a Letter to Santa printable pages!
A Christmas Carol by Charles Dickens is a wonderful read for December (the book includes the old pencil images too)!
The Gift of the Magi by O. Henry (also with an audio version) is a wonderful read for families, especially older tweens and teenagers since it's focus is on giving and sacrifice to make others happy.
Life and Adventures of Santa Claus by L. Frank Baum is a fun story about how Santa became Santa.
Lesser Known (but Awesome!) FREE Christmas Stories Online
If you're looking for a new book that your kids might not have read, try a few of these read aloud stories:
Family Christmas Online
This site includes both illustrated and text-only Christmas stories and they add new ones each year. Here are a few that kids will enjoy:
The Tailor of Glouchester (beautifully illustrated version!)
Babouscka: A Russian Christmas Story (a classic cultural tale!)
Father Christmas by A.A. Milne
American Literature also has a nice Christmas Stories for Children collection which includes many holiday classics! I really like this site since they include the original illustrations with many of the book text too.
The Little Match Girl – I know this is a classic story but I always found the beginning very sad as a child so if you've never read this, read it to yourself before reading to a child!
Barnes & Noble Nook Reader: If you have a Nook, Barnes & Noble has a few free holiday titles available:
For younger kids:
For teens:
The Path to Christmas: A Short Christmas Play
Santa's Greatest Gift by Rebecca Whitecotton
A Camp Edson Christmas by Cynthia Davis
The Children's Library has a wonderful collection of culturally diverse literature in many languages will illustrations! While I really love the books offered here, sometimes the site can be glitchy and go offline. If that happens, just visit one of the other website we've highlighted and come back to this later.
For the holidays, try these stories (written in English but some can also be found in French, German, Dutch and other languages):
Free Read Aloud Books & Audio Books for the Holidays

If you'd rather listen to a book, there's also a great selection of FREE downloads for your iPod, iPhone, Android, Kindle & mp3 (the text link will take you to a download for the audio file).
Also visit the Free Read Aloud Stories for Kids too!
Storyline Online has two books that are read via videos by celebrity readers! Kids can enjoy both: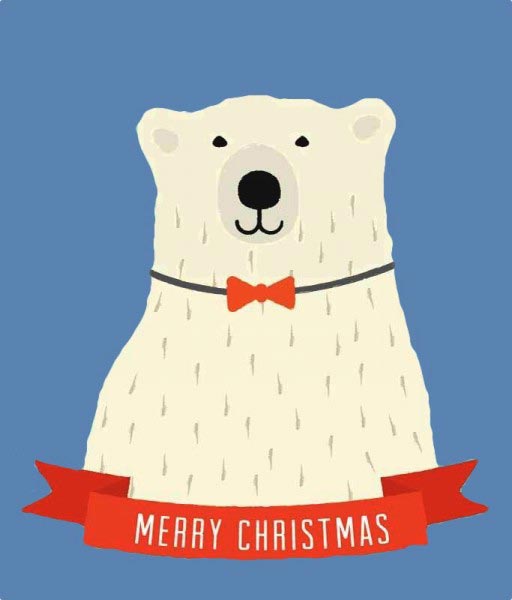 Image credit: Storynory
StoryNory has a wonderful selection of short holiday audio books that are perfect for kids to listen to this time of the year!
With more than 30+ holiday books, this is definately a site to bookmark for kids who love to listen to a good tale!
A few highlighted titles you'll find on this website:
A Christmas Nutcracker
Christmas in Iceland
The Elves & the Shoemaker
The Snow Queen
More Christmas Audio Books
Plus a few classic Christmas books that are perfect for a long holiday car ride too!
A Christmas Carol at iTunes
Yes, Virginia, There is a Santa Claus at Loyal Book/Books Should be Free
Robert Munsch reads one of his own – listen to 50 Below Zero at his website
Little Women (which includes a great Christmas chapter) at Books Should be Free
The 5 Little Peppers and How They Grew (includes a few great Christmas-themed chapters) at Books Should be Free
The Christmas Angel at Books Should be Free
And our last little treasure this season —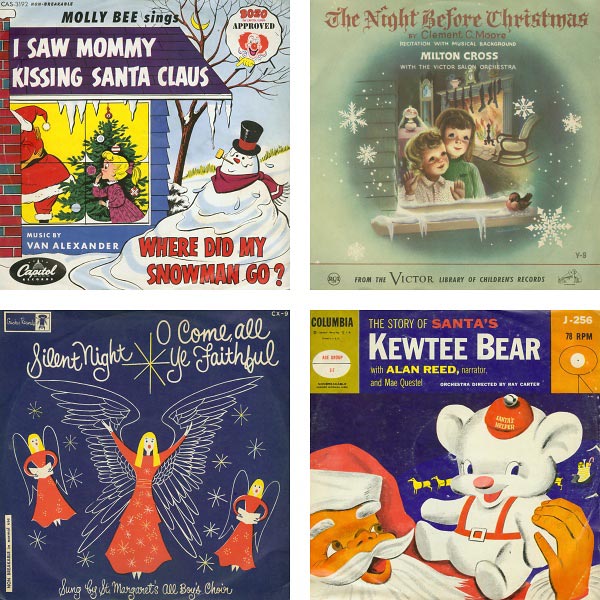 Kiddie Records Weekly is a really fun site with vintage Christmas music! And quite a few of them include the recorded Christmas stories we listened to as kids.
Remember those old records — yes, records! And some of the songs sound like a record with that scratchiness. There are some great old songs and carols that kids will enjoy, along with the cover art.
Try starting at Week 48 with the Assorted Holiday Singles!
Wishing you all a Wonderful Holiday Season!
~ Jacquie
More Christmas Activities:
25+ Free Printable Christmas Activities
40 Totally Useful Christmas Stocking Stuffer