40 creative & useful stocking stuffer ideas for preschoolers, big kids, tweens & teenagers!
The art of the filling a stocking — there's a fine balance to be one of Santa's helpers, isn't it?! Coming up with creative stocking stuffer ideas for kids takes some creative thinking.
The goal is to turn an empty Christmas stocking into a magical memory for the kids AND not just include a bunch of junk that will break or be tossed aside after a few hours.
Add to that the kids' interests change every year plus there's always that holiday budget to consider 😉
Not to mention, I know we'd all rather be enjoying the holidays with our kids instead of racking our brains for what to tuck in a stocking.
So let's look at some fun but practical stocking stuffers that the kids will LOVE! We've searched lists and polled kids to find items that are sure to please on Christmas morning!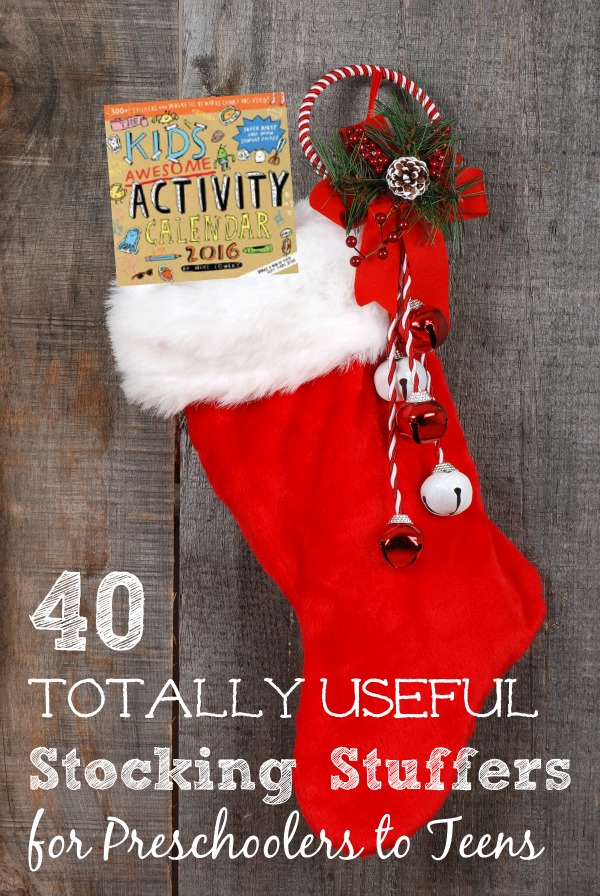 40 Useful Stocking Stuffer Ideas for Kids of All Ages
I like to think 'fun' even with these useful items.
You know, the items that the kids see in the store and say "Ooo! I like that!" but might not be something you buy on a regular basis. Something useful that they'll keep longer than a week 😉
And within my budget too (so not those ridiculous "this should really be a gift and not a stocking stuffer" ideas).
Below is an age-by-age guide to the BEST fillers for those stockings along with affiliate links for some of the items so you can easily learn more about our recommendations.
Stocking Filler Ideas for Preschoolers
Toothbrushes — Keeping their teeth clean just got a LOT more fun with these character toothbrushes!
Got a Star Wars fan? How about a Yoda toothbrush! Or this fun Frozen toothbrush for kids who love Anna & Elsa.
Band-aids — Another great health item to include is BAND-AIDS!
What kid wouldn't love to have a box of band-aids for all those bumps and bruises — this has been a big hit with our kids. A few of our favorites include: Paw Patrol band-aids, Princess band-aids and Toy Story bandages.
Fun holiday socks — a set or two of Christmas socks is perfect for kids this age (maybe they'll actually keep something on their feet if they know it came from Santa 😉
Books — We've always loved to find books in our stockings too! But you have to find ones that are just the right size so a mini-sized Christmas book is a great way to inspire the kids to read this winter.
Winter Gear — mittens, hats and scarves with their favorite book or tv character will keep them warm and smiling.
Kid-size Kitchen Items — how about getting the kids to help more in the kitchen? A kid-size apron or set of measuring cups
Cup & Snack combo — perfect for kids who are always on the go! They can carry their favorite drink & snack in a cool canteen cup.
Flashlight — kid-sized flashlights are perfect for evening walks, camp-outs and reading sessions in the tent!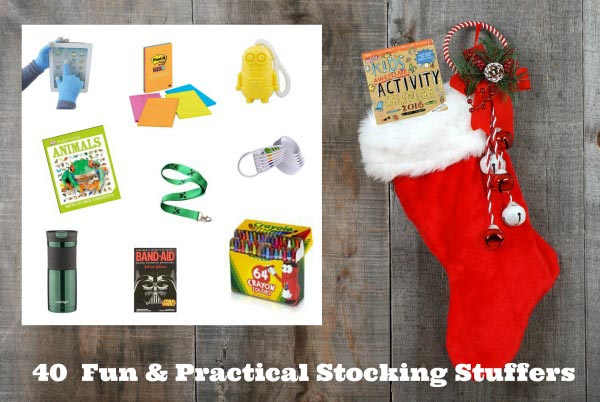 Great Stocking Stuffers for Kids ages 6 – 12
Personal Items — always a big hit with kids of this age! Try colorful headbands or hairbands, mini-lotions or chapstick for the cold winter months. Items like hair gel, Minion bath soap and Axe anything (if you have a boy this age, you know what I mean 😉
Mini-Books — When you're a 'big' kid, it seems that mini things are all the rage! Tuck in one of these AMAZING DK Pocket-size Guides for their favorite topic. And if you have a bookworm, book lights are also great for this age — especially the recharable ones!!
Band-aids — yes, still popular! Less of the character variety and more along the lines of neon band-aids or these cool solar system band-aids.
Accessories — purses, belts, hats for their favorite sports team and watches are great for this age group! Kids watches are especially useful as many of them are learning to tell time AND beginning to add afterschool activities to their schedule (so being on time gets more important 😉
Winter Gear — mittens are out and gloves are in for this age! A pair of colorful insulated gloves or winter headband is also a useful and very 'Santa' idea. And for kids who refuse to dress warmly, how about handwarmers or bootwarmers for a little extra warmth?!
Hobby Items — kids of this age are just beginning to start collections and form hobbies so why not feed that passion!
A Kid-size Tool Set — this has to be hands-down one of the best things our kids have found in their stockings! Mini tool sets encourage them to help out around the house and learn how to
Water bottles — perfect for kids who play sports or those who need a water bottle for their desk at school.
School Supplies — they go through them so quickly, mid-year is the perfect time for a new set of crayons or some fun pencils and erasers
Calendar — start them planning early with a fun themed calendar!
Stocking Stuffer Ideas for Tweens & Teenagers
Earbuds — oh my goodness! I think I would include 2 sets of earbuds in every stocking knowing how quickly they go through these! 🙂
Favorite gum/mints — teens like to have something to chew on or freshen their breath so tuck in a few of their favorites.
SOCKS! Seriously, such a trend among tweens, teens and college students! Try a festive pair of Christmas socks or some warm & colorful Winter socks this year.
Planning Supplies — if they don't have one, a yearly planner is perfect for keeping their social (and academic) life organized. Plus a set of colorful pens to keep them inspired to fill in that planner!
And these lined sticky note pads are great for daily to-do lists.
Lanyards — the perfect solution for all those keys & ID's that go missing! Lanyards with their school logo, favorite band or sports team are a good choice (call the school office to see if they take orders before the holidays!).
Tech gloves — gloves that allow you to text while keeping your fingers warm (because if they can't text with them, chances are they won't wear them right?!)
Phone case — dressing up and protecting your favorite accessory is a big deal!
Think outside the box with these and try a phone case for their favorite tv series (such as Game of Thrones) or book series, or better yet, a non-destructible Otterbox case. (Be sure you know their EXACT phone type/size before ordering these)
Another great phone item that are inexpensive & SUPER popular are the cell phone pockets (those flexible plastic pockets that attach to the back of a phone and hold school IDs, license and debit cards).
Mini grooming kit — unlike their younger selves, tweens & teens are actually interested in their appearance so a grooming kit will come in handy.
Catch up over Coffee — most older kids would welcome an invitation for some one-on-one time at your favorite coffee/smoothie joint! And don't be a parent that says "no, that's not my child" — give the gift and see what they say!
Travel Cup — whether it's for coffee or water, a travel mug comes in handy for all those study sessions and times they want to bring a drink to their room (less spills on the carpet to clean up!)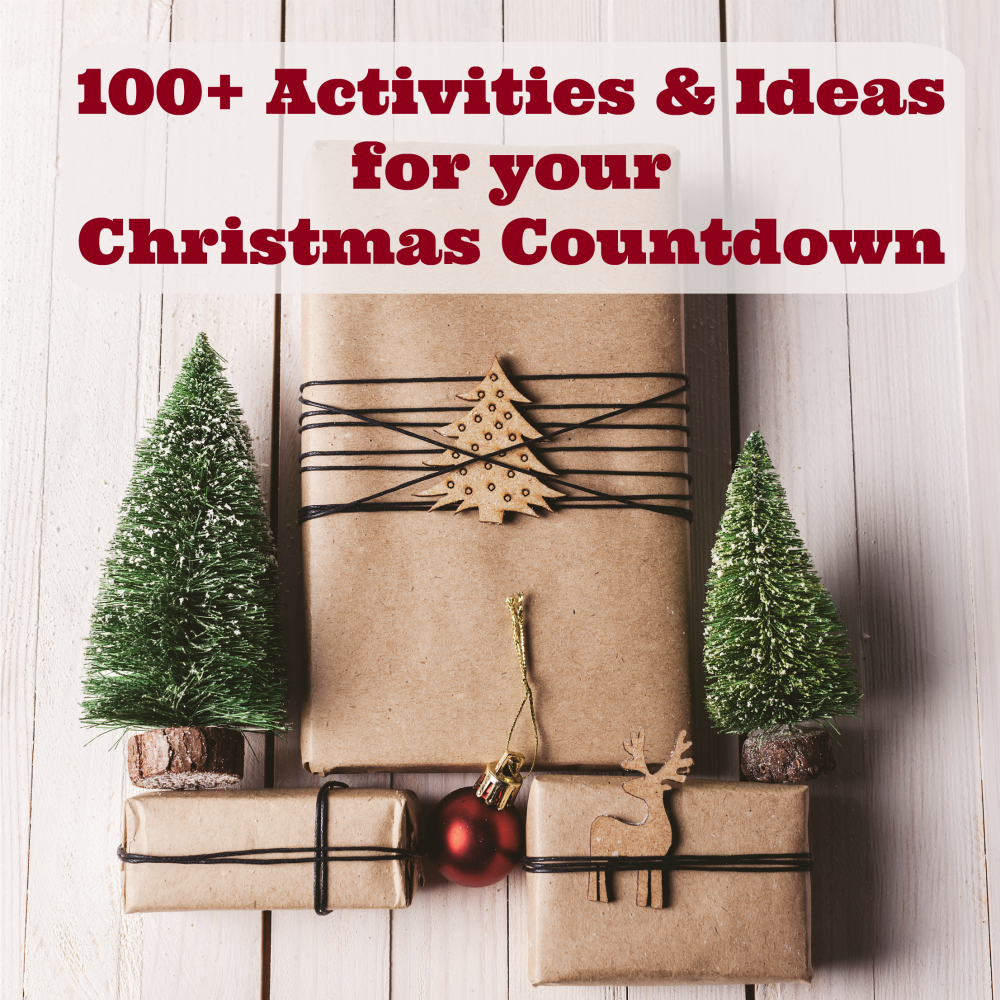 More Christmas Ideas & Stocking Stuffers!
100 Ideas for Your Advent Countdown
20 Great Stocking Stuffers for Kids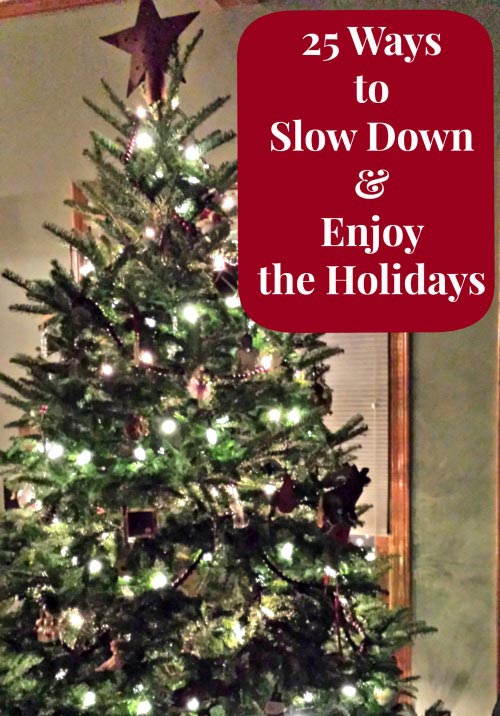 Get Ready for the Holidays:
25 Ways to Slow Down & Enjoy the Holidays
30 Service Projects & RAKs for Families to do Together