Christmas is a wonderful time to introduce your kids to traditions and cultures from around the world!
If you think about many of the holiday traditions you have in your family, I'll bet they were handed down through generations and have some type of connection to your heritage.
For example, our Christmas Eve menu and activities are part of my Italian heritage. And many of the decorations we use in our home can be connected to different countries around the world.
Today's activity is a fun way to inspire some learning this holiday season and perfect if you're celebrating the 12 Days of Christmas!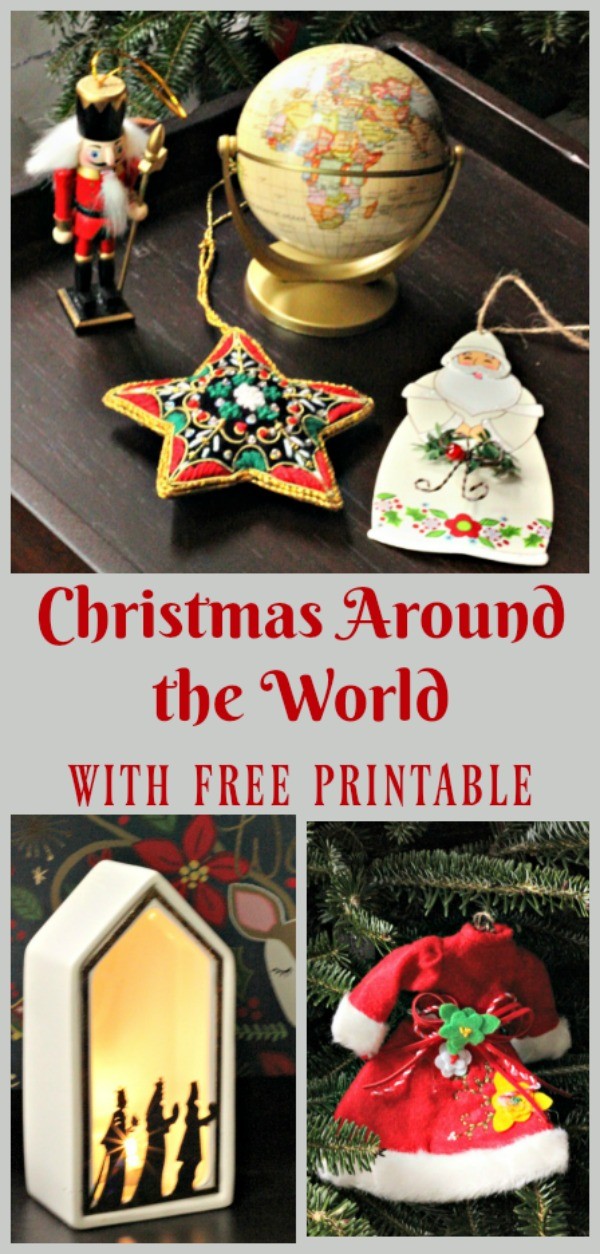 Christmas Around the World Activity
We're partnering with #AtHomeStores today as part of the #MyReason for the Season campaign to show how inspirational seasonal decorating can be for the whole family!
When I married my husband, we had this moment when we were looking at all the boxes of our stuff as we unpacked in our new home.
I think he had four boxes of items while I had a LOT more than four (more like fourteen)! He coined the phrase "cute but useless" to refer to many of my cherished knick-knacks and decorative items as I began to sort through our belongings.
It's a wonder I didn't file for divorce at that moment 😉
I was quick to point out that these beautiful items all had a purpose — they each came with a memory, they made a house a home and they brought that cozy feel to our rooms each time I decorated for an upcoming holiday.
After a few months of living in a home that was decorated for the seasons, he was won over.
At Christmas especially, I love to introduce our kids to our family's heritage and cultural traditions around the world using many of our decorative items — ornaments, photos, wall hangings and an elf that's been passed down three generations (waaaay before Elf on the Shelf was even a thing!)
Here is some inspiration (along with a free printable Christmas Around the World game) that will infuse a fun multicultural discussion to your holiday decorating.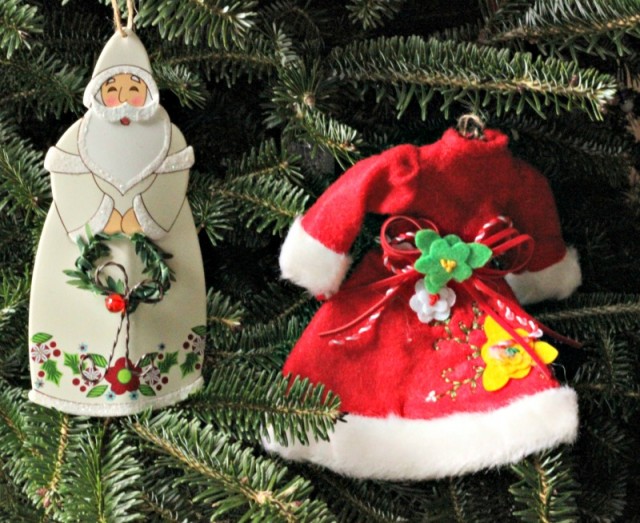 Two very popular items that are steeped in Christmas tradition are Santa Claus and clothing.
This Old World Santa ornament from AtHome Stores shows that Santa hasn't always worn red — in European countries, he's more likely to be dressed as a saint in a long white robe and pointed hat called a mitre. And he's also not called Santa Claus around the world — he has many names as we'll share below with our game.
The beautiful red dress reminds me of stories I've read about Scandinavian culture and how red is a traditional color of Christmas in many countries around the world.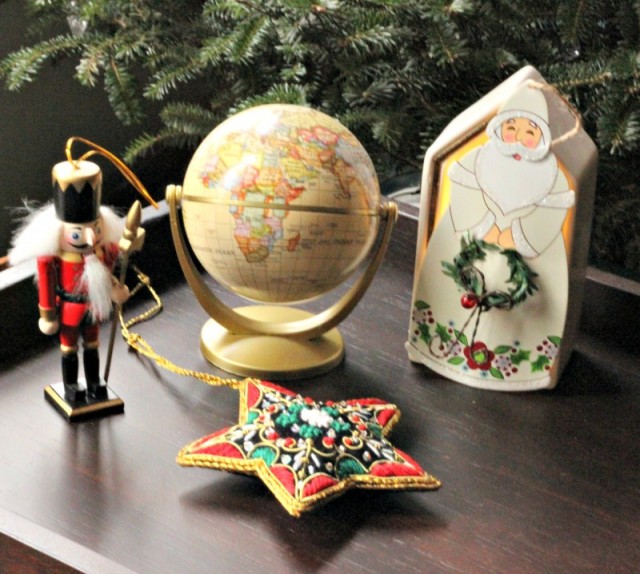 Christmas Decorations Around the World:
Grab a map or globe and identify where your ornaments or decorations originated!
You might choose to identify where you purchased the ornament (or where a relative bought it for you) or look closely at the ornament and research it's symbolism at Christmas.
For example, Nutcrackers are a good luck symbol in Germany and are said to help protect your home. And they are the popular symbol in the well-known ballet, The Nutcracker, which was first performed in Russia in the late 1800s.
If you have a nutcracker ornament or nutcracker, kids can locate both countries on your map or globe.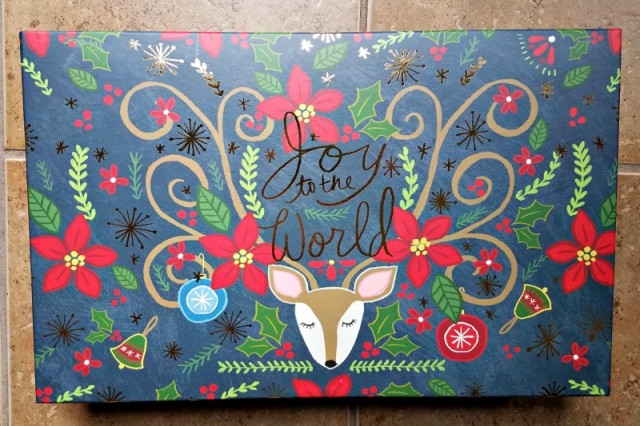 Christmas Colors & Symbols:
Even a beautiful Christmas box holds secrets to traditions and culture from around the world!
You'll see this box showcases a number of holiday symbols:
Bells — in Victorian times, it was popular to bring hand bells when people went caroling. And many churches ring a bell at midnight on Christmas morning to welcome the day.
Holly — also known as mistletoe is well-known for being hung in doorways. If you are caught underneath the branch, someone will come kiss you. It was people in the United Kingdom and Germany who first used holly as decorations in their homes.
Poinsettias— one of the traditional Christmas flowers in Mexico and associated with Christmas and gift-giving
Ornaments — both evergreen trees and the idea of hanging decorations on them heralded from Germany
Reindeer — although they've been around for eons, reindeer are usually associated with Scandinavian countries. The tradition of reindeer pulling Santa's sleigh actually began in the 1800's in newspaper stories written and published during Christmastime.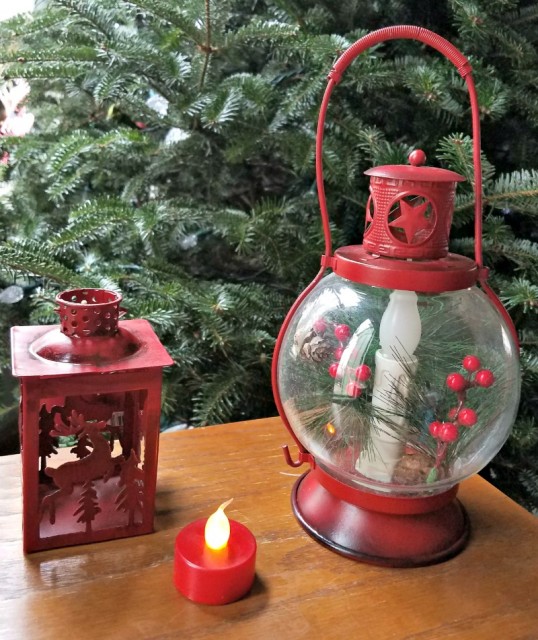 Lanterns and candles are widely used in Christmas & holiday celebrations around the world too!
In Sweden, St. Lucia Day is celebrated on December 13th when the oldest daughter in the home dresses up in a long white robe and evergreen crown with candles.
Candles were also used to decorated Christmas trees (until Christmas lights were invented). During the celebrations of both Hanukkah & Kwanzaa, lighting candles is a main focus of the holiday activities.
Christmas Eve processions and parades will frequently use candlelight and lanterns as people march and sing carols to welcome the holiday. Many churches use candles to symbolize the birth of Jesus and candlelight services held at midnight are popular in countries around the world.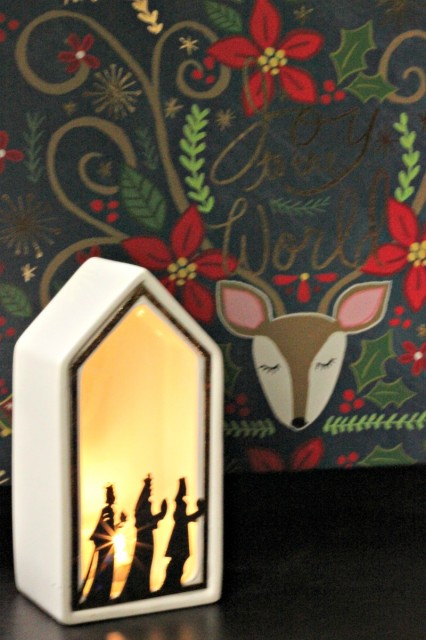 And the nativity and three wise men are also known in many cultures as a Christmas symbol. In fact, in some countries like Spain and Mexico, gifts aren't opened until January 6th (the Feast of the Epiphany) which is the day the three Wise Men are said to have reached the stable and visited Jesus to give him their gifts of golf, frankincense and myrrh.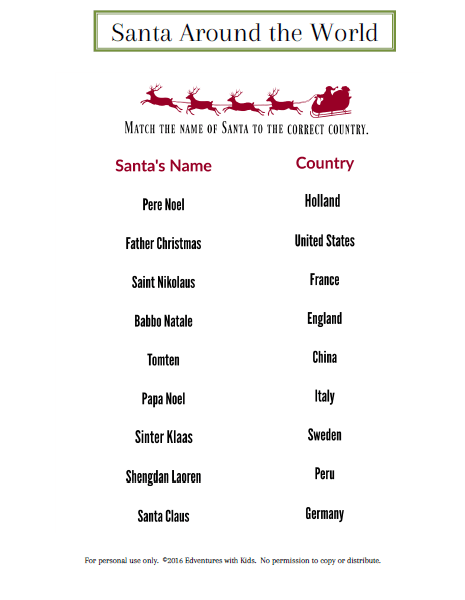 Santa Around the World
Here's a FREE printable game to play during the holidays too!
Have your kids match the various names for 'Santa Claus' to the correct country as they learn about Christmas around the world.
The printable set also includes both the printable game and the matched answers too so everyone can learn Santa's name around the globe 😉
I love quick learning activites like this that expand a child's understanding of various cultures and traditions.

What holiday decorations hold the most inspiration for you?
More Christmas Around the World Fun:
Christmas Around the World: Italy
A Christmas Map & Geography Challenge