A guide to the 15 best Children's Magazines for toddlers, preschoolers, big kids & tweens!
When my kids were young, I loved to take them to the library.
We would search the shelves for our favorite books and attend storytime sessions.
And sometimes we would explore a new area of the library — which is how we found the children's periodical section on one cold and snowy Tuesday.
It's kind of hidden at our library, tucked back behind the non-fiction books in the corner. But once you know where to look, there's so much to see!
So on that first day, we checked out a copy of Ladybug Magazine for Kids. We read the short stories, enjoyed poems, sang songs and challenged ourselves with the puzzles.
And we put the magazine shelf on our weekly list of places to explore!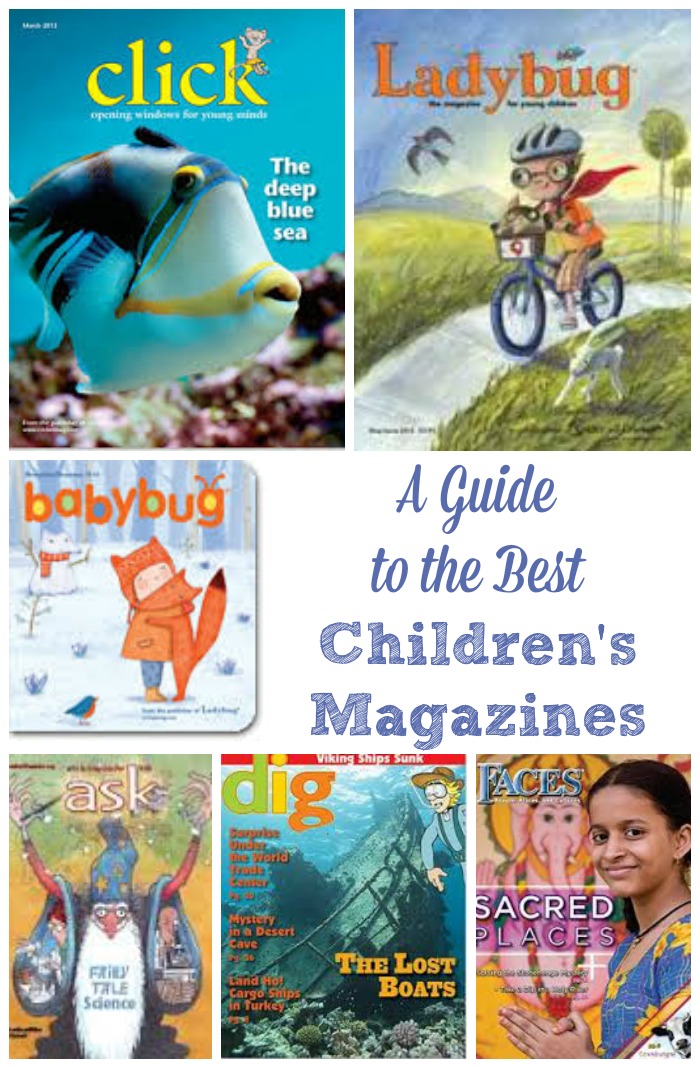 A Guide to the Best Children's Magazines
What do we love about children's magazines?
They offer a wonderful variety of literature for kids!
You'll find poems, stories, word games and music all in one issue. Plus a beautiful array of illustrations included on almost every page. Sometimes kids are more drawn to the pictures than the text.
And most periodicals are published every month or two so you'll find seasonal and holiday related reading material that allow kids to explore the changes they see going on in their world.
We really love the idea that it's easy to pick up and put down a magazine. We will often take them in the car when running errands. While standing in a check-out line, I can easily read through a poem or two.
And as our kids have gotten older, it's great for them to have magazines in the car — they can read a short story or two on the way to activities and not feel compelled to "keep reading" 🙂
Plus, magazines are SUPER easy to pack!
They are perfect for plane trips and long car rides.
Here's a list of the magazines we have read and LOVED over the years. I've included affiliate links along with information on any *free* sample publications that are available.
Our best advice when choosing magazines — just like books, look for periodicals that capture your child's interests! If they enjoy science, go for a periodical that shares STEM articles. If they enjoy fiction stories, look for a magazine that shares stories and poetry.
Babybug & Ladybug Magazine for Toddlers
For younger kids, our favorites are Babybug
(for babies & toddlers) and Ladybug
(perfect for ages 3 – 6 years old) magazines.
The illustrations are GORGEOUS! And there's always seasonal material. Kids will love the short stories, poems and picture puzzles. And we have kept ours for years — I would store them with our other holiday books and we would re-read them each year.
Read a free issue of Ladybug or flip through the pages of Babybug.
Both magazines come in English or Spanish and you can also get digital copies if you don't like to store paper.
Science & History Magazines for Children Ages 5 – 10
The kids also loved reading National Geographic Little Kids and National Geographic Kids.
National Geographic Little Kids introduces toddlers & preschoolers to the world of animals with beautiful color photos, matching games and rhymes. We love the details of the close-up pictures! Older animal lovers will enjoy National Geographic Kids which includes both fiction and nonfiction stories, jokes, puzzles and fun facts! Each issue also includes cool crafts or science experiments that kids and parents can do together.
Ask
is one of those magazines that has such a perfect title for kids — since they are always asking questions I can't answer 😉 It's perfect for kids ages 6 – 10.
Each issue is focused around a theme, and helps to answer all those questions that kids love to 'ask'! Also a great balance of text and pictures on each page. Here's an awesome look inside the magazine!
Click
is a magazine that focuses on science, nature and the environment. It introduces kids to current topics and issues through the use of stories and activities.
My kids absolutely LOVED this magazine — not only the content but all the great photography too. It's perfect for kids ages 3 – 7 years old. Read a sample issue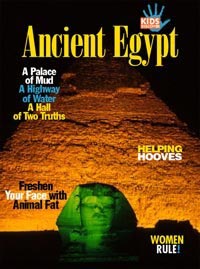 Another of our most favorite in-depth magazines is Kids Discover. They have such awesome topics (ancient civiliations, in-depth STEM ideas) along with puzzles and activities. This is a great non-fiction read and I'm sure you'll find at least one issue that your kids will obsess about 😉
We never had a yearly subscription — instead I would pick up the issues that included a topic my kids were crazy over. And now they are putting all their issues into apps for the iPad — AWESOME ones!
Check out their sneak peek into Ancient Egypt!
If you have kids who love puzzles, jokes, comics and hidden picture challenges than this is the magazine for them! Highlights For Children
is probably one that you remember from your childhood.
There are still some old favorites (the Timbertoes) and lots of new activities, nature and craft ideas. This is a very dense magazine with TONS to read and do each month.
Ranger Rick
is another favorite among kids ages 5 – 12. Issues teach children about nature, helping the environment and outdoor adventure.
We love the photos, puzzles, activities and great facts about animals. I also like that there's an online version available with monthly activities, parent and teacher sections and sneak previews for upcoming month.
Magazines for Middle School Kids
If you're looking for a magazine that will introduce your kids to cultures around the world, you'll really enjoy Faces. Kids ages 9 and up will enjoy reading about daily life along with traditions and history of people and places from around the globe. There are really nice photos in each issue too! Enjoy reading a free issue of Faces online.
When kids get into the tween years, they begin to gravitate to stories about kids like them (and by like them, I mean the same gender — both of my kids went through the "I don't like girls/boys" stage and their reading habits followed suit for a while 😉
My daughter really likes the American Girl
magazine. She began reading it at age 9 which I think is right around when girls would begin to enjoy the stories, puzzles and upbeat content. I love that the magazine encourages creativity in girls by offering crafts, activities, games and website links to more fun!
My son enjoyed reading Boys Life
(he started reading it around age 7 — it came as part of our Cub Scout membership at the time). It really offers some great projects and activities for boys! The articles focus on science, outdoors, sports and history — it's a pretty well-rounded magazine.
Kids who love to explore ancient societies will really love the stories and in-depth details in Dig Into History
. This is a great magazine for kids ages 8 – 14.
The magazine focuses on archeology, ancient civilizations & new discoveries and includes activities and maps. Dig into an issue of Dig for a preview.
Cricket
is a magazine that my daughter really enjoys but my son wasn't crazy over — and I think it's because my daughter loves to read, act and sing whereas my son was only a reader (and strongly in the science fiction area). Older kids (ages 8 – 14) will like the various poems, stories, songs & crafts; the magazine also includes a contest for kids in each issue.
Muse
is one that my science-loving son enjoyed reading for a while (during upper elementary and middle school). The magazine includes a variety of articles, from poetry to science to music. Topics are more advanced and have included genetics, physics and visual arts – it's really designed to stimulate thinking. Flip through an issue of Muse.
Odyssey
is another one that my son really enjoyed (I would say it's best for kids ages 11+). The magazine highlights the hottest trends in science, robotics and technology — it gets really detailed in the topics but in a way that kids can really grasp the issues.
Are you a book lover? Try Audible and Get Two Free Audiobooks
More Reading Ideas for Kids
Gift Ideas for Bookworms that aren't Books!