Today we're featuring our book/activity idea for the Poppins Book Nook, a monthly book club that introduces new books and hands-on fun for your kids.
This month's theme is Dinosaurs and we'll be connecting with a number of fun blogs that will each share a dinosaur book & project you can try at home.
We decided to focus our project on the people who find dinosaur fossils – the paleontologists. There are many places where kids can pretend to be paleontologists and dig up dinosaur bones. You can visit science museums, natural history sites and even use the sandbox in your own backyard for a dino dig.
During our upcoming summer vacation, we will be visiting Mammoth Site in South Dakota and my daughter will be participating in the Jr. paleontology dig (she's very excited). We are also visiting other areas in the Black Hills which were popular sites for finding fossils. So before our trip, I wanted her to learn a little more about what it was like to search for real fossils.
Learning about Paleontology
To begin our dig, we decided to use the 10 feet of dirt that was dumped on our back patio during some recent and not-so-welcome work on our house. If you're a mom like me and not that crazy over dirt, you'll commiserate when I say that I was NOT happy to know there would be huge dirt piles around our house for a week (and during a rainy week none the less so I was constantly cleaning muddy footprints).
But when life hands you lemons, you make lemonade. When it hands you a pile of dirt, you let the kids excavate for fossils!
We began our dig by talking about what paleontologists do – how they search for animal remains in order to help us learn more about the history of the earth and previous inhabitants. Two wonderful books we found that you can pair with a 'do your own dig' project to learn about paleontologists include (these are affiliate links to Amazon in case you'd like to learn more about our book choices):
Stone Girl Bone Girl: The Story of Mary Anning
and The Fossil Girl: Mary Anning's Dinosaur Discovery
by Catherine Brighton. Both are wonderful books that we loved because they highlight the story of a young girl who found fossils and made significant contributions to science. I love introducing my daughter to female scientists.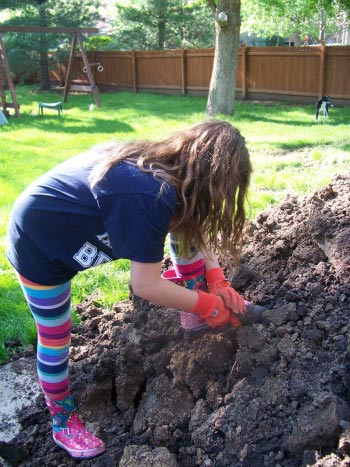 Here are a few things we learned as we read:
Don't just grab a shovel and dig. You want to be careful in case you unearth anything or do find a fossil. Fossils shouldn't be moved from their original position as they could lead scientists to more clues in the surrounding area.
Dress for the project – wear boots or rubbers to protect your feet. Make sure to have gloves because you'll get dirty. And most paleontologists also wear safety goggles to protect their eyes.
Have the right equipment – you'll need a few things for your dig such as a small shovel (preferable metal – we used a garden hand shovel), a small brush and fossil dig tools which usually include a small wooden pic and hammer. We had some on hand from a fun dig your own fossil kit that the kids had completed. Not to mention, it's just more fun if you have cool tools to use.
I'm sure you're dying to know if we found anything. We did find some really cool rocks but we're not sure if any are actually fossils (there's one potential in the bunch so I'm going to take it to someone who might know more).
We did have a ton of fun and learned a little in the process so overall it was a great success!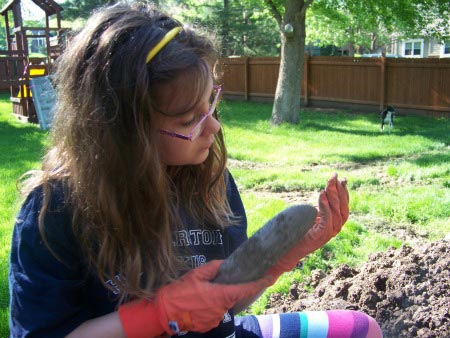 To experience your own fossil dig, try one of these simple ideas:
In the Sand
Bury plastic dinosaur bones or other neat items in a sandbox or at the beach. Don't let the kids see where you place them so that they will be surprised when they 'unearth' the items.
Search for real fossils
Kids might be able to find real fossils at creek or river beds, or in large piles of dirt (although I don't recommend having work done on the house JUST to find fossils 😉 Spend an afternoon at the creek searching for potential fossils. If you search closely, you might be able to find limestone rocks that have plant fossils.
Use a Dino Dig Kit
Both of my kids have enjoyed using dino dig kits that you can find at most toy stores and also online. Here's an example of one that we've used (please note – this is an affiliate link): Smithsonian Diggin' Up Dinosaurs T-Rex
Go on a (pretend) Dig
You can also visit a number of locations that host fossil digs. Check with your local children's or science museum to find out if they have a dino dig or fossil area available.