Since October is Fire Prevention Month, I thought we'd share some fun activities for kids to learn about fire safety.
It's important to teach children these life skills and help them be aware of who in their community can help them & keep them safe.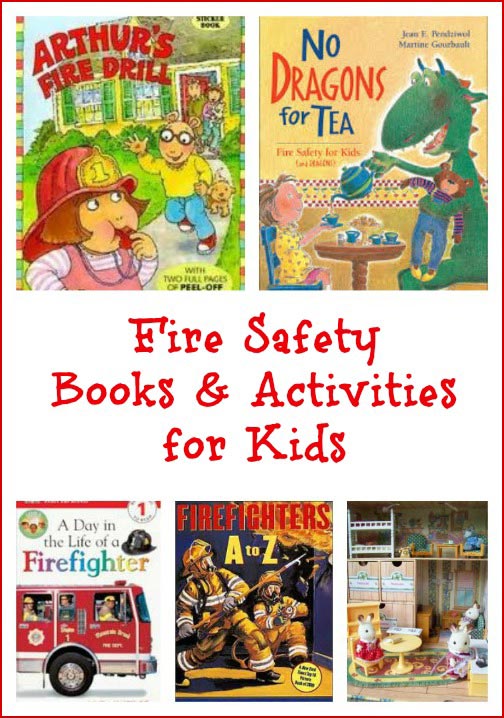 Fire Safety Activities for Kids
Fire safety and prevenion can be a tough lesson to teach because many children will get scared about their house catching fire.
You want to make sure they understand what to do without scaring them in the process (not always an easy thing with kids so make sure you let them ask all the questions they need to about staying safe).
So today, we're sharing great books, hands-on activities and some printables that can be used at home, in the classroom and with kids of all ages!
Books about Fire Safety
We always like to start learning with a book — stories are a great way to introduce new ideas while giving kids a chance to ask questions & acquire new vocabulary in the process.
Here are some of our book recommendations along with affiliate links to the Amazon listings for each one so you can learn more about them.
No Dragons for Tea: Fire Safety for Kids (and Dragons)
is a really cute way to talk about fire safety. A little girl invites a dragon for tea. While visting, the dragon sneezes and the table catches fire but our little heroine knows just what to do. A fun read to begin a discussion about fire safety.
Arthur's Fire Drill
has been one of our favorite fire safety books with both of my kids. This is a Step-into-Reading book that can be used as a read aloud and is also great for kids who are just starting to read on their own. AND it comes with stickers (always a bonus!).
The story follows D.W. who doesn't want to go to school for the fire drill because she's afraid. So big brother Arthur teaches D.W. about fire safety at home. It's a great story about how kids can help one another learn important safety skills.
Stop Drop and Roll (A Book about Fire Safety)
is another wonderful book to use — remember when I mentioned that some kids are scared when discuss fire? This is the story about a young girl who worries about fires but realizes that learning what to do will help her worry less. I'm sure the kids will want to try the Stop, Drop & Roll technique once they read the story!
For kids who want to learn more about what firefighters do, try Firefighters A to Z. Read along as these community heros rush out to save others, slide down fire poles, drive the engines and keep the community safe.
Another fun read that showcases the job of a firefighter is the DK Readers: Jobs People Do — A Day in a Life of a Firefighter. Kids will enjoy the real life photos throughout the book and also appreciate the details they can see in each picture. This is a Level 1 Reader with some great vocabulary boxes that help to explain some of the terms used throughout the book.
Printable & Apps for Fire Prevention
Free Coloring Book
FEMA has a wonderful Sesame Street Fire Safety coloring bookFire Safety coloring book and Fire Safety activity book for kids! You can print the pages that you'd like to do with your child.
You can also find coloring pages & printable games at FireSafeKids.org!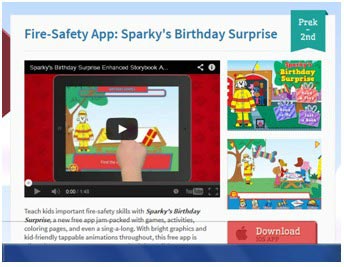 Free Fire Safety App
Kids can also learn while they play with Sparky and this free Fire Safety App from the National Fire Protection Agency. Sparky will teach fire safety skills on this free app for both iPhone and Android.
Safety in the Kitchen
Sparky's website celebrates National Fire Safety Week and has some wonderful printables and kitchen safety information for kids & families.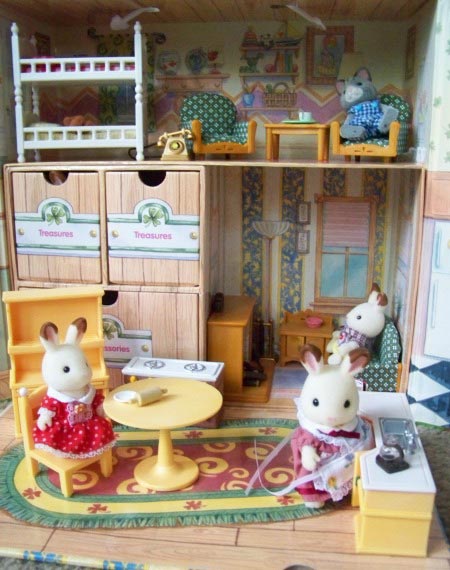 Hands-on Fire Safety Play
One fun way to talk about what the family would do in case of a fire is to use one of your playsets for a mock fire drill. We pulled out our Calico Critters Carry and Play House
(love this cute little set!). You can also use lego, playmobile or any other type of play set you have at home.
Have the kids set up the playset and play for a little while.
Then ask them:
"What should the people/animals do if there was a fire in the house?"
Let your kids act out what they've learned from the books & activities you've discussed with them.
If you're looking specifically for a fireman playset, I would recommend looking at the LEGO DUPLO My First Fire Station
or the Fireman Sam PontyPandy Multi Rescue Playset
.
Smoke Dectectors, Mock Fire Drills & Escape Plans
It's important to remember to check the smoke detectors & carbon monoxide detectors a few times each year. One of the unwritten rules is to replace the batteries twice a year when you change the clocks.
It's also important to make sure the kids know what a smoke detector sounds like if it ever goes off — it's loud and their first reaction may be to cover their ears instead of leaving the house. So take a minute to press the 'test' button on the detectors not only to test them but also to let the kids hear the warning sounds.
Have a night or two where you host a 'mock' fire drill at home too. Discuss an escape plan with your kids — what should you do if you hear the smoke detector, where should the family meet when you exit your home and all the details about not going back for a favorite stuffed animal or blanket.
Visit the National Fire Protection Agency for a good overview of a Basic Fire Escape Plan for Families.
More Life Skills for Kids
Books to Read for Veterans Day
Money Skills, Map Activities & Healthy Behaviors
More Community Helper Activities
Fun Ways to Learn about Community Helpers

Please read the following guidelines for sharing:
By linking up, you are giving me permission to share your post including one photo in our weekly feature post and on social media channels.
Each of the host blogs will feature some of the outstanding posts the week following the linky!