Grab this FREE printable Halloween Candy Scavenger Hunt with clues & riddles that let kids trick or treat at home!
I'm so excited about our final Halloween 2020 FREE printable activity!!
I know the holiday is going to look different for so many families this year BUT that doesn't mean it still can't be just as fun!
And the *newest* activity we have for you will be the icing on the cake when it comes to celebrating Halloween at home this year -- a "Trick or Treat at Home" Candy Scavenger Hunt for kids of all ages!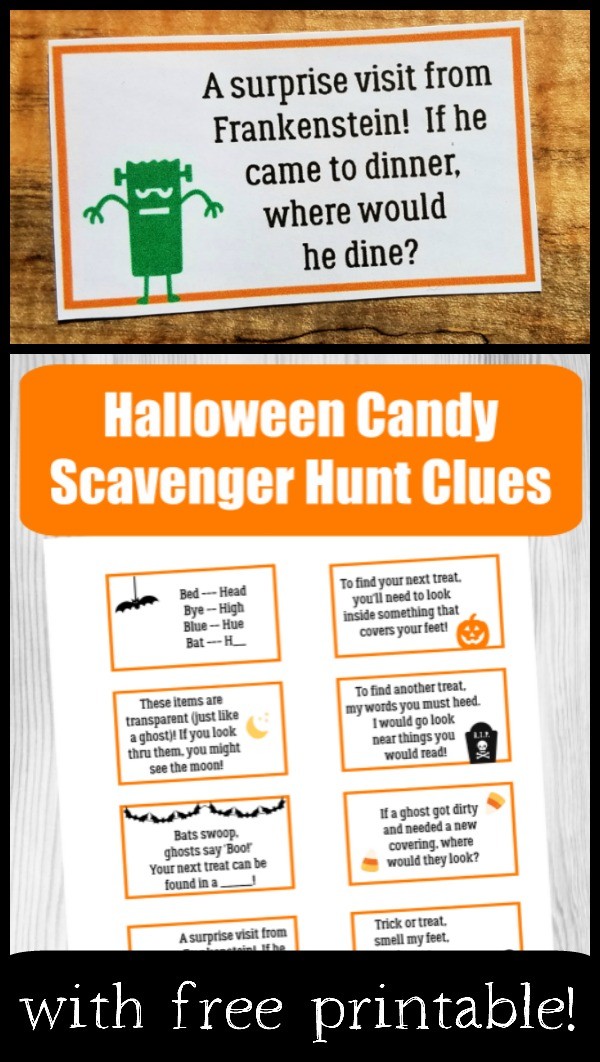 Halloween Candy Scavenger Hunt
Yep, Halloween 2020 is going to be a little strange so I really wanted to come up with some creative activities for kids and families to enjoy together. While we already have some really fun ideas for hunts at this time of the year -- be sure to check out the other FREE printables:
I also wanted to be sure we had an indoor scavenger hunt since the weather on Halloween can be a tad unpredictable ;)
So as I thought about what type of indoor hunt would be a fun idea this year, I realized that one of the biggest challenges we are all having is the whole "do we trick or treat or not??!!"
I know -- it's a BIG struggle for a lot of us who are trying to balance safety with some sense of normalcy when it comes to celebrating some of the holidays. And that's when it hit me -- what we need is an indoor "Trick or Treat" Scavenger Hunt that kids can do!!
So here you go -- a fun way for kids to Trick or Treat around the house. This is universal scavenger hunt meaning that it will work in ANY home. You can use all the clues or just some of them plus there is NO order to the clues & riddles so it's really easy to set up too!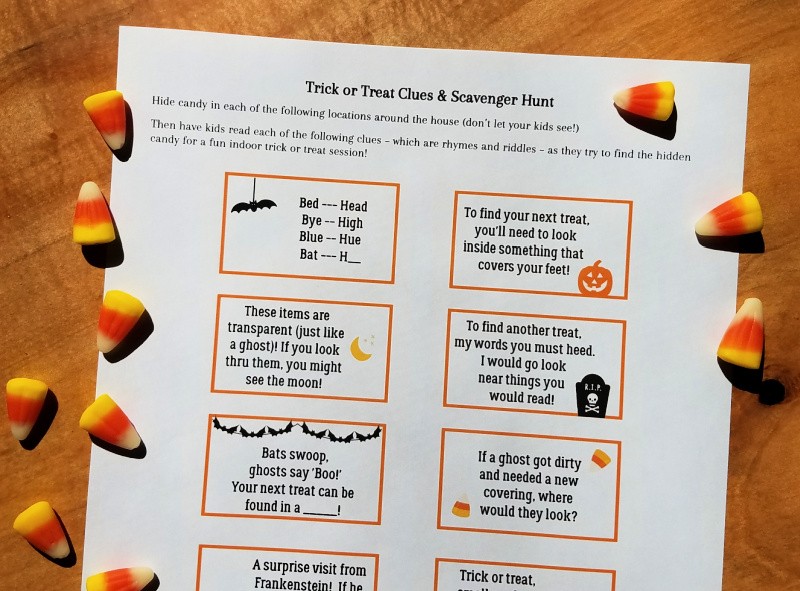 Setting Up a Candy Scavenger Hunt
Getting things set up for this hunt can be done in minutes! Seriously, it's as easy as 1 - 2 - 3:
First, print off the free set of clues and riddles (you can get those below) and decide how many hiding places you want to have for your kids (or teens or husband - you can use this hunt with anyone who likes Halloween :)
Second, choose what types of 'treats' you want to hide. The hunt includes 10 printable clues and riddles BUT you can use a few of them more than once since they are general hiding locations.
Next (without the kids seeing you do this) hide the treats in the locations listed next to each clue on the printable sheet.
Now you're ready to start the scavenger hunt!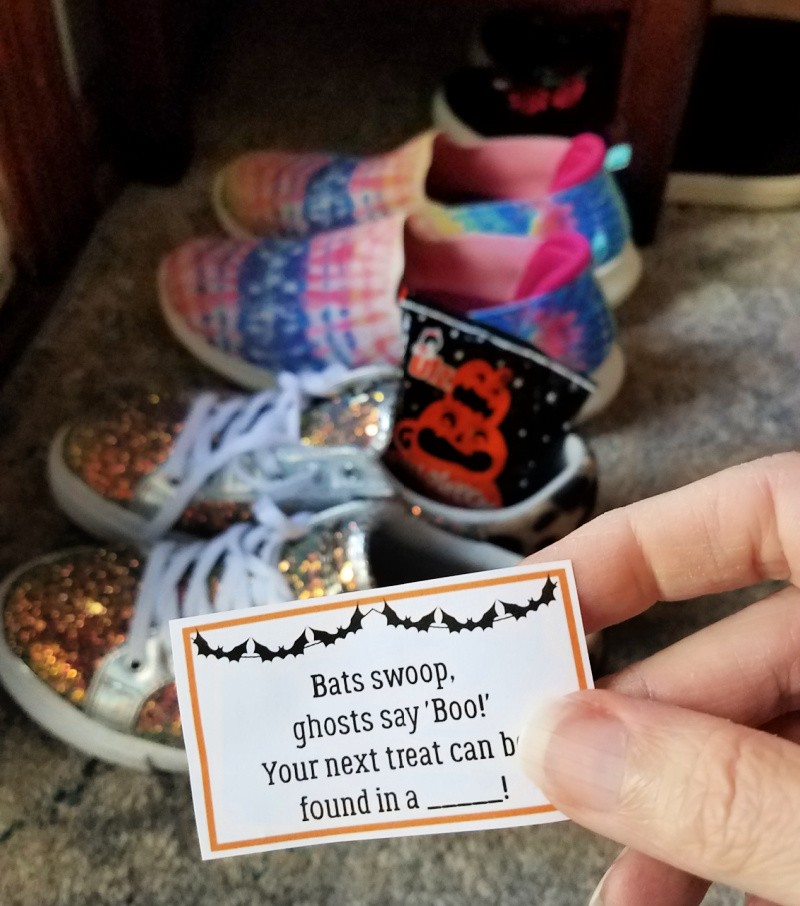 How to Trick or Treat at Home
As I mentioned, you don't have to give out these clues in any order -- I needed this to be an EASY hunt for all us parents. So you get to sit on the couch and enjoy the chaos while the kids run from room to room trying to find their treats!
To get your kids started, either hand them a clue and send them off to find each treat OR put all the clues into a plastic pumpkin, witch's hat or other fun Halloween-type bin and have them choose out one clue at a time and then go search for their treat.
You can also add in a few 'tricks' to the hunt if you'd like to (after all, it is a trick or treat hunt right?)
One of the tricks that I use (especially with older kids) is making the hunt a little hard. For example, you can see in the clue above that kids have to decipher the clue (the answer is 'shoe') and then go look -- and for my kids, we have a LOT of shoes. So I do not make it easy for them ;) If you have younger kids, you might want to put the treat in their shoe - for older kids, put the treats in any shoes so they have to look for a bit (don't worry, they will look - candy is at stake here!)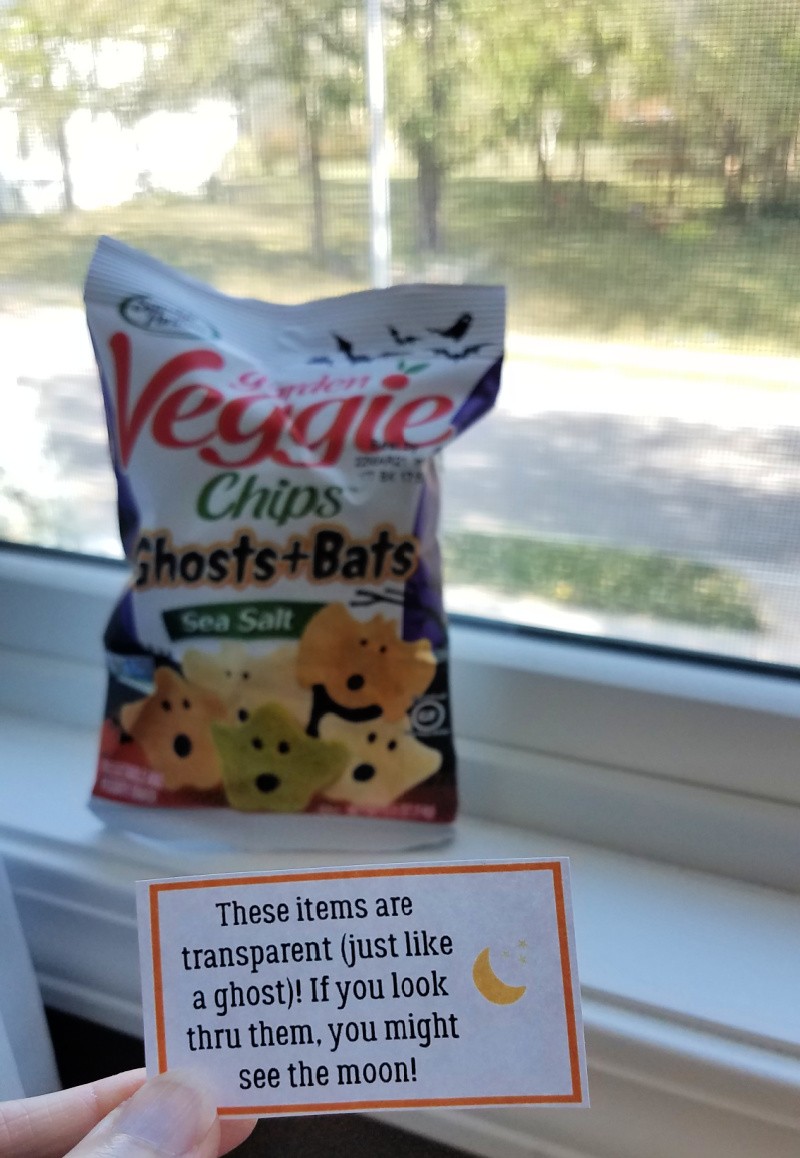 Here's an example of one of the riddles included in the hunt -- "These items are transparent (just like a ghost!) If you look thru them, you might see the moon!" This is an example of a clue that can be used more than once because chances are, you have quite a few windows in your house.
You can also see in the photo that I don't hide only candy -- I also like to have some Halloween Treats that are not Candy like themed snack items, small Halloween toys, etc.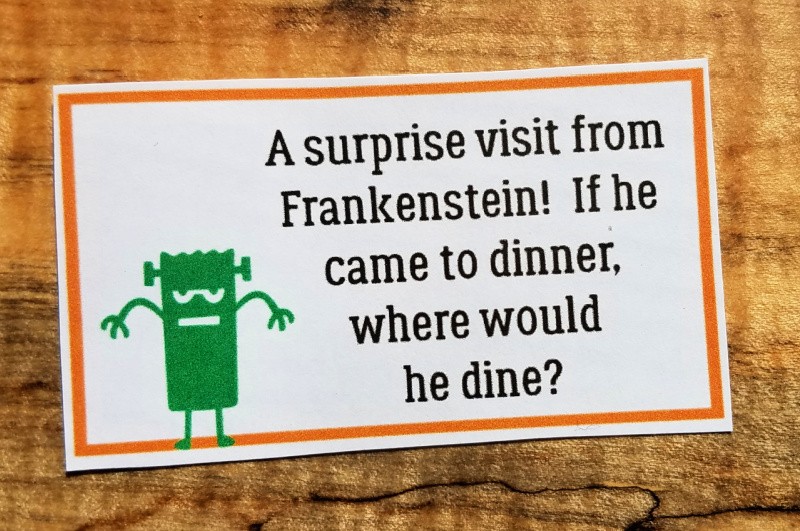 When I created the clues, I also wanted to be sure the hiding places were open-ended too so the scavenger hunt could be used in any indoor location. For example, the clue above will lead kids to where they eat -- I don't know where that is at your house but I'm sure your kids know ;)
We usually eat at our kitchen table so I could hide the treats on the chairs that are pushed under the table. But you know what I did -- I taped the treats to the underside of the table (lol!) Because if you want candy at my house, you've gotta work pretty hard to find it ;)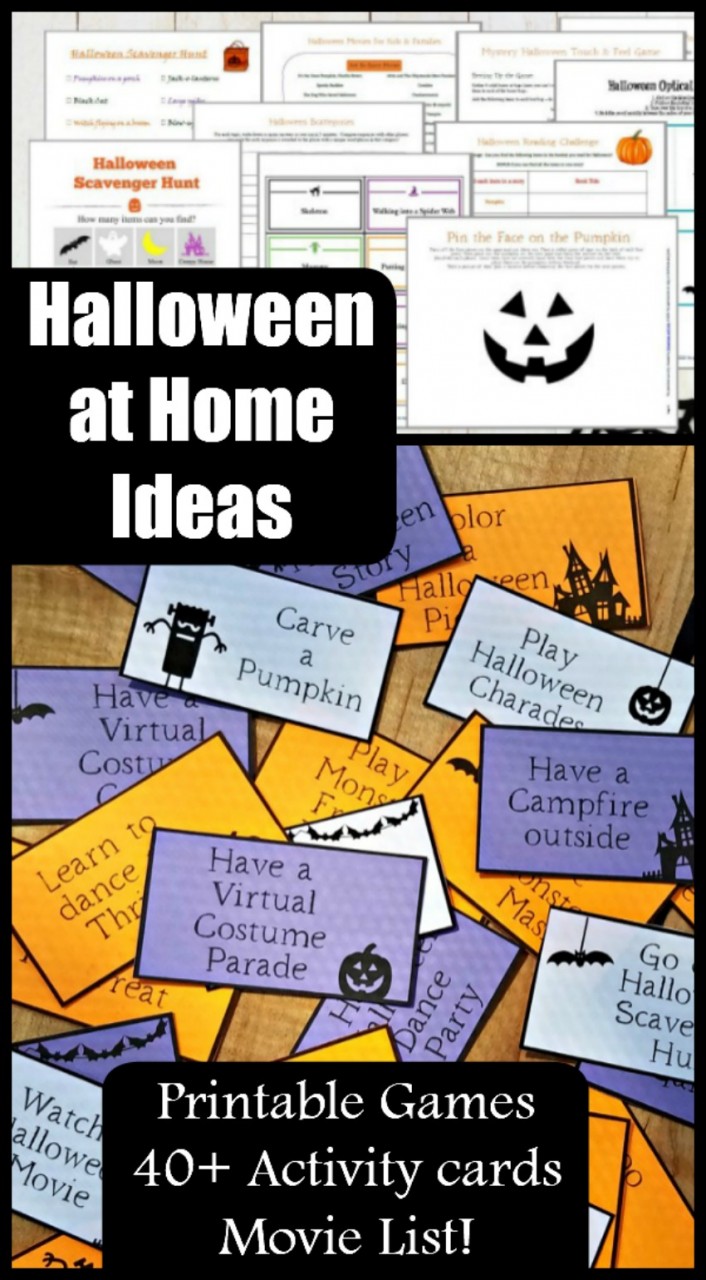 More Fun Ways to Celebrate Halloween at Home
We've got a TON of fun ways to celebrate Halloween close to home this year!
In addition to Trick or Treating around the house, hop over and take a peek at the printable Halloween at Home Games and Activities for the whole family! In fact, you can use some of the printable activities in this pack as some of the 'treats' kids can find too.
Grab your FREE copy of the Halloween Candy Scavenger Hunt here!
More Scavenger Hunt Ideas:
Free printable After Dark Scavenger Hunt for Kids
Fall Scavenger Hunt for Kids (with free printable!)