Grab this FREE printable Halloween Scavenger Hunt for kids and see who's 'haunting' your neighborhood!
One of my favorite things about Halloween hunts is unlike many of the regular scavenger hunts for kids, these can be done during the day OR at night! And if you do them at both times, chances are you'll end up finding a lot of different items too.
This is a great activity to do during the weeks leading up to the holiday and is also a fun idea for Halloween parties too!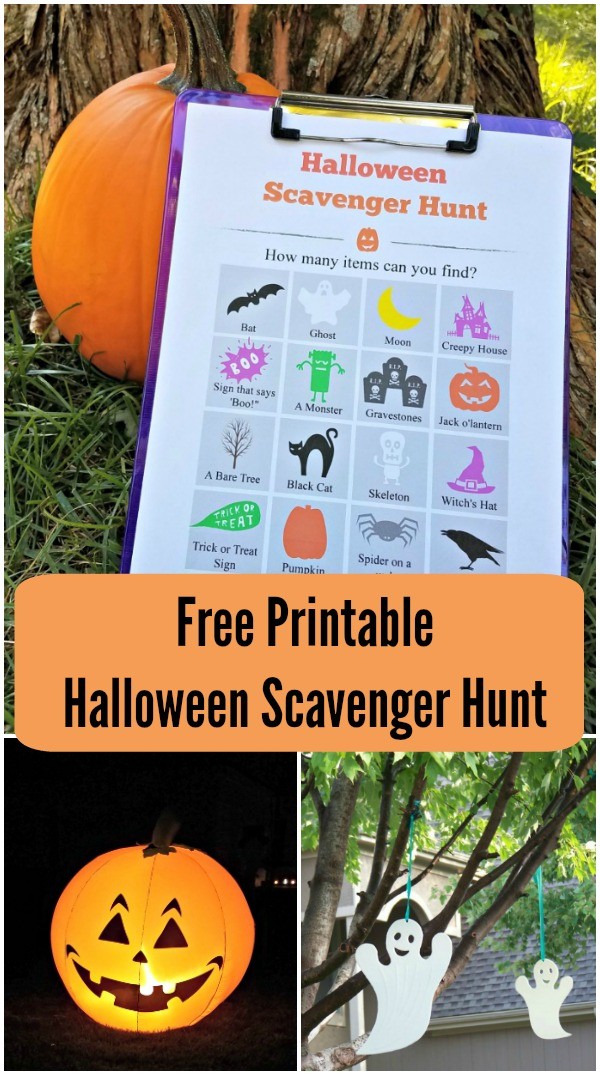 Halloween Scavenger Hunt for Kids
Even though we already have an awesome Halloween Scavenger hunt list that's great for families, tweens and teens to do, I also wanted to create one with picture clues so younger kids and non-readers could easily do this on their own.
This is a fun activity to do around your neighborhood, in the hallways at school or during a Halloween party. We've even outlined some fun variations below on how to use it with groups or teams too!) It's also a great family idea if you're looking for an alternative to trick or treating too. And if you're planning to spend Halloween at home this year, but sure to check out the Halloween Printable Activities & Countdown with TONS of fun ideas for families!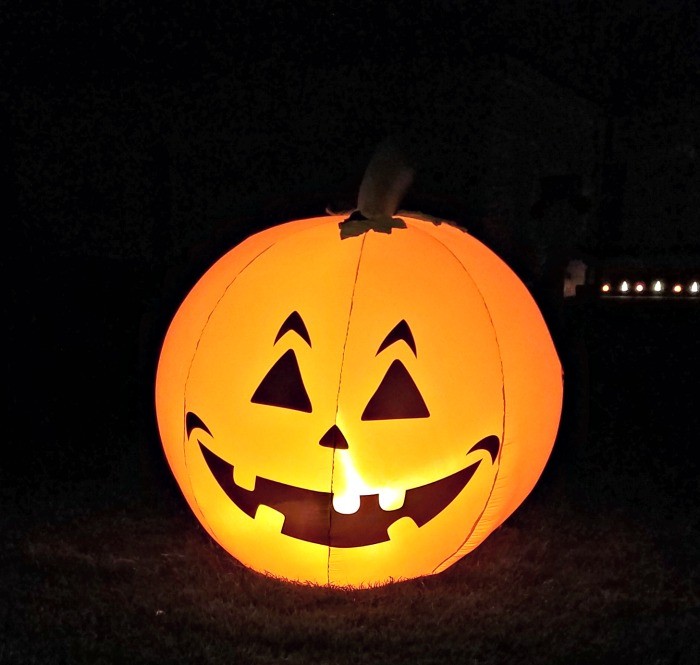 Halloween Scavenger Hunt Tips
Here are a few tips & list of things to bring including affiliate links to a few of our favorite items:
Dress for the weather before heading out on this hunt.
If you have more than one person who wants to find the clues, bring along a different colored pencil for each player.
Take along your phone or camera — this is really easy to turn into a photo scavenger hunt or a self scavenger hunt!
Fun Things to do with a Halloween Scavenger Hunt
And (as always) pair this hunt with one of your favorite Halloween books! Here are a few new Halloween reads that are more silly than scary!
The Scariest Book Ever — is anything but that! The funny ghost narrator (who refuses to go to the next page even if you turn it) keeps warning readers that something scary is sure to happen however readers will only be delighted with the clever text. It reminds me of the classic The Monster at the End of this Book and is perfect for younger kids!
How to Make Friends with a Ghost – a kids guide to making friends with a ghost (should you ever have the chance!) With adorable illustrations and some funny tips (like how to tell a real ghost from a towel :), this is sure to be one you're kids will want to read each year!
Skeletons are NOT Scary – Did you know that skeletons like the playground, play dress-up and take bubble baths?!! A very funny look at why you should NOT be afraid of skeletons. It's sure to help ease the fears of young kids and make them giggle.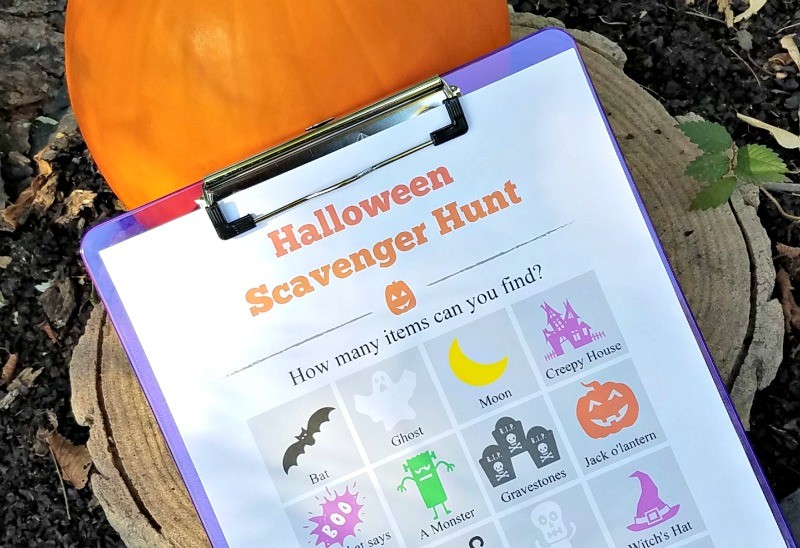 Clues to Find on a Halloween Scavenger Hunt
The fun part of this scavenger hunt is that many of these clues can be spotted during the day or at night! Here are the items you'll look for on your hunt:
A bat – either a decoration or, if you're lucky, a real one!
A ghost — hopefully NOT a real one!
the Moon (yep! you can spot this during the day in the Fall too)
a Creepy house
a Monster
a Sign that says "Boo!"
a Pumpkin — this is a harder one to find the closer we get to Halloween since most of the pumpkins get carved 😉
a Jack o'lantern
a Skeleton
a Witch's hat
Gravestones (bonus if you find one with your name on it!)
a Black Cat
a Spider on a web (either real or a decoration)
a Raven (tell kids this is a large, black bird)
and a Trick or Treat sign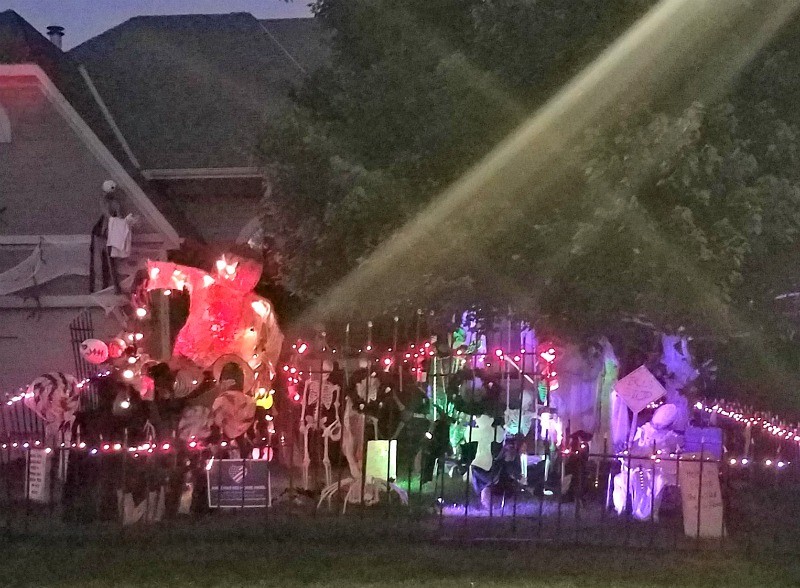 Scavenger Hunt Variations to play with Kids, Tweens & Teens
Like I mentioned above, this is a really easy hunt to tweak for kids of all ages!
Halloween Photo Scavenger Hunt: Instead of checking off each of the items on the list, have kids take a photo of each clue!
Halloween Selfie Scavenger Hunt: This is super fun to do especially if you're all dressed up too (kids don't need any excuse to wear their costume, do they. 😉 Have each player take a selfie with each of the clues on the list.
If you want to use this as a party game, split kids into 2 groups and send them out to find all the items. And the selfie photo has to include ALL members of their team in the photo with the clue!
And if you're looking for a fun indoor trick or treat hunt, try the Halloween Candy Scavenger Hunt with FREE printable clues!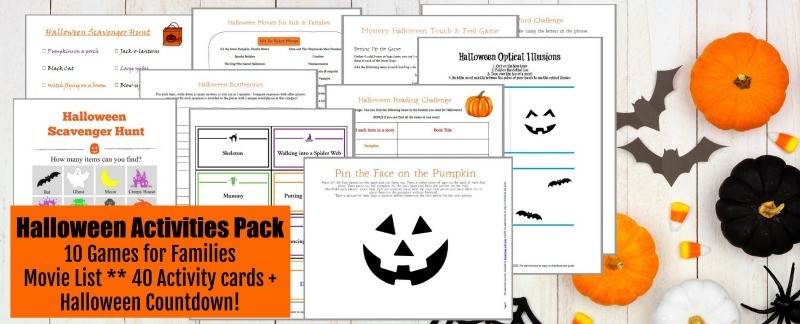 More FUN Halloween Games
And if you're looking for more fun ideas for Halloween (especially if you'll be celebrating at home) check out these Printable Halloween Games & Activities!
Grab your FREE copy of the Halloween Scavenger Hunt and enjoy!!
More Halloween Activities:
Free Printable Halloween Word Games