Try some of these Trick or treat ideas instead of candy — both non edible and alternative Halloween treats for kids!
Let me tell you about the year I handed out pretzels for Halloween — It's a HUGE family joke my kids bring up every year now 🙂
To my defense, they were pumpkin & bat shaped pretzels in these cute little Halloween-themed bags …. BUT that did not seem to impress MY kids at all.
All I heard was "What if my friends stop by? They'll think you don't like Halloween?"
Well, that's totally not true given some of the fun ways we hand out candy and the cool Halloween decorations we have at our house!
But I wasn't going to waiver — I was going with pretzels that year!
Every other house would hand out candy so there would be more than enough of that to go around, right?
Then came Halloween night …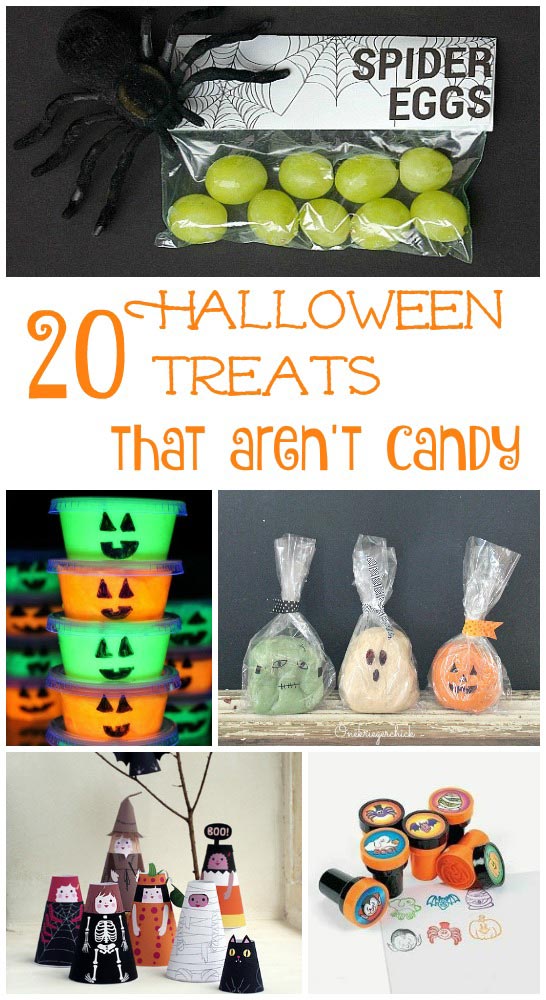 20 Candy Alternatives for Halloween Treats
At first, it wasn't a big deal.
The pretzels were in a Halloween-themed package so trick or treaters would take one, I would hear a muffled 'thank you' from behind the mask and that was that.
Until some of the older kids came to the door…
"Don't you have any candy?"
I was a little worried after that question was asked a few times but politely replied that we had other fun treats instead.
But then came the dragon — the cutest little dragon with a long tail that Mom had to help him pull onto the front porch.
And do you know what he asked?
"Can I have something NOT chocolate? I can't eat chocolate."
It was like the Halloween ghouls were smiling down on us 🙂
He was so happy that I told him he could have 3 bags of pretzels and his Mom was so thankful — she told me that not many houses they had visited had non-chocolate treats.
I knew someone else would appreciate my batty pretzels!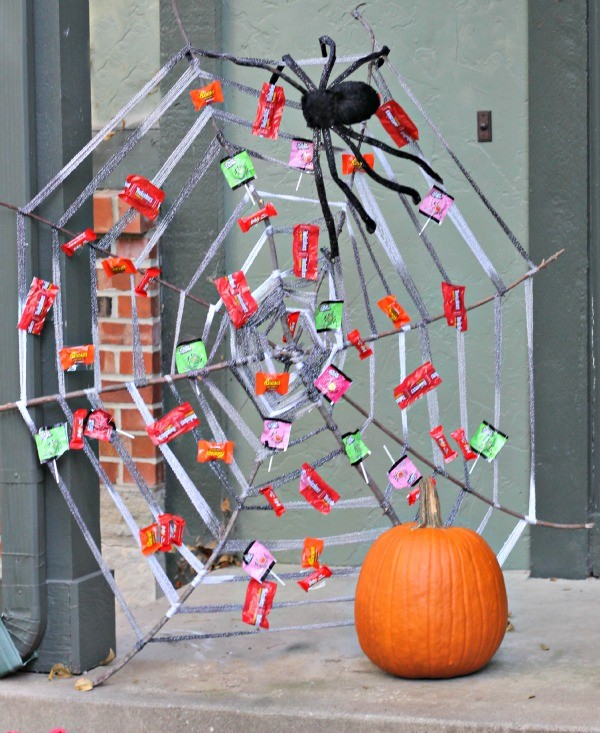 I will say, that was the last year I handed out ONLY non-candy items – now I try to balance with having a little bit of both on hand — some candy, some healthy treats and non edible items too — along with a fun Halloween experiment for trick or treaters like our DIY Spider Web candy holder! (psst… you can find large spiders and outdoor webs at many stores too!)
I love having some non edible treats for all those cute little dragons and witches and such. So here are a few of our favorite no-candy ideas for trick or treaters including affiliate links or links to the details on how to make the items at home.
Sometimes I'll have Halloween hand puppets or themed tatoos or mini playdough containers. Just small little treats that aren't expensive but are super fun for kids who either don't eat candy or can't eat candy!
And so many of them are perfect for class parties or Halloween night festivities!
Non-Edible Halloween Treats
Print off these adorable Halloween Paper Dolls from Mr. Printables.
And I love these Halloween mini spring toys!
Halloween Stamps are also a creative treat for kids! You could hand them out with mini Halloween-themed notebooks 🙂
Make DIY Monster Pencils like these at The 36th Avenue.
Halloween Bubbles are also a wonderful surprise.
Handmade Charlotte also has this great set of free printable Halloween stacking blocks younger kids would love!
These DIY Playdough Treat bags from A Krieger Chick are just an awesome idea!
If you don't have time to make some, try the Mini Halloween Play-doh canisters.
I don't know what it is about these but kids just LOVE Glow in the Dark Vampire Fangs! Seriously, my kids wear them for weeks!
Learn, Play, Imagine has an awesome recipe for Glow in the Dark Slime that would be a great treat!
Another BIG hit at our house — Halloween Tattoos! My kids would wear these year round if I let them.
And let's not forget these fun Bats & Spider Glow Sticks which are especially fun on dark nights 🙂
Then even make Halloween Trick or Treat Crayons which can be paired perfectly with these free Halloween coloring pages at Cool Mom Picks!
Or if you want a variety of non-candy treats, try this Mega Halloween Toy Assortment.
No Candy (but Edible) Halloween Treat Ideas
These ideas are great for class parties, after school snacks or to hand out as treats:
Much to my kids shagrin, here are the infamous Halloween Pretzel packs 🙂
Kids also enjoy these Halloween Fruit Snacks — or if you don't want chewy items, try the Annie's Halloween Bunny Grahams.
I love this idea from Southern Blue Celebrations — Jack o'lantern Orange cups!
They even make Halloween-themed Garden Veggie Chips! (shh..don't tell your kids what's in them 😉
If you're looking for a healthy, fruit option — print off these fun signs from Meaingful Mama and hand out Spider Eggs! She also has a wonderful free printable for 'Spider Guts' if you are using applesauce or fruit pouches for treats.
If you're hosting a Halloween party, these healthy Halloween Treats also make a great options.
See, SO many great alternatives to candy — I'm sure there will be more cute little dragons out looking for treats this year 😉
Happy Halloween!
~ Jacquie
More Halloween Ideas:
31 Free Halloween Printable Activities
55+ Free Pumpkin Carving Stencils