Browse the *newest* set of AWESOME Halloween printable activities and games!
We've pulled together a great set of activities that are perfect to enjoy all day long!
* Scavenger Hunts * Word Games * Easy Science Activities * Party games to play with Family *
AND a DIY Countdown that can be done on Halloween day or leading up to Halloween too!
All games & activities can be done in the house, in your yard or outdoors close to home — a safe and super FUN alternative to traditional parties and trick or treating.
I promise – Halloween is going to be a BLAST this year!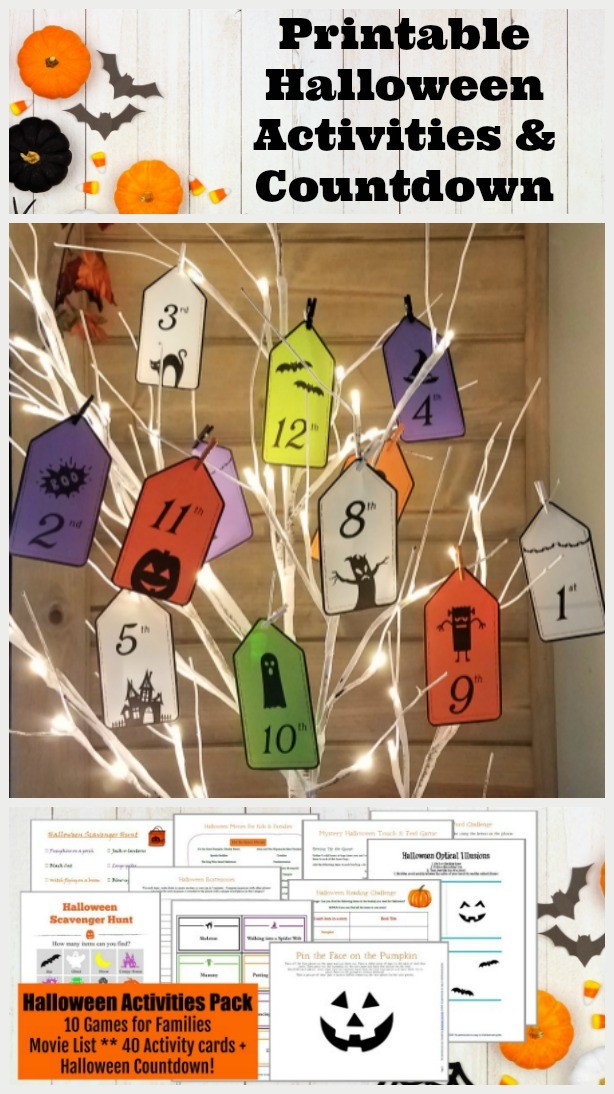 40+ Printable Halloween Activities & Games
This isn't the first year we've decided to celebrate Halloween at home. One year, we had rain on Halloween — and not a small amount, I'm talking a torrential downpour! No one was going out that night.
The kids started to get disappointed so we quickly turned the tide — we put on our costumes, took pictures & had a spooky dinner together. Then, we lit the pumpkins on the covered porch, watched Halloween specials together (with popcorn & toasted pumpkin seeds) and played a few Halloween games. Plus we had a fun Halloween-themed read aloud session with their favorite books too.
And we let them trick to treat from our candy basket (since I had already bought the candy) at various times throughout the evening. We had such a great night!
Since kids LOVE to do countdowns, we thought this year was the perfect opportunity to get the Halloween Countdown & Activities started. Who knows — it just might be the *newest* family tradition you want to carry on from year to year!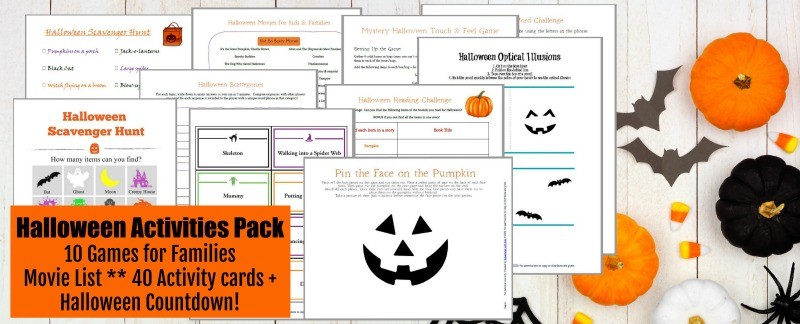 Printable Halloween Games & Activities
The Halloween Countdown & Activities Pack has everything you need to count down the days until Halloween OR to use as fun "Halloween at Home" celebration! This packet includes the following printable items:
13 Numbered Tags for a Halloween Countdown
40 Halloween Activity cards with pre-printed activities
10 Blank Activity cards to use for favorite family Halloween traditions
Halloween Scavenger Hunt challenge (great for older kids & adults!)
Halloween Scavenger Hunt (traditional game with picture clues)
Halloween Charades/Pictionary cards
Halloween Reading Challenge
Halloween Movie list for kids, tween, teens & families
Halloween Word Challenge
Halloween Scattegories game
Pin the Face on the Pumpkin game
Halloween Word Search
Candy Guessing Game
All About My Pumpkin STEM Activity
Halloween Optical Illusions
Mystery Touch & Feel Game
Similar to the New Year's Eve activities and countdown, the Halloween Activities & Countdown are a great way to enjoy festivities and family time on October 31st!
It's super EASY to plan this out since many of the activities require almost no prep at all!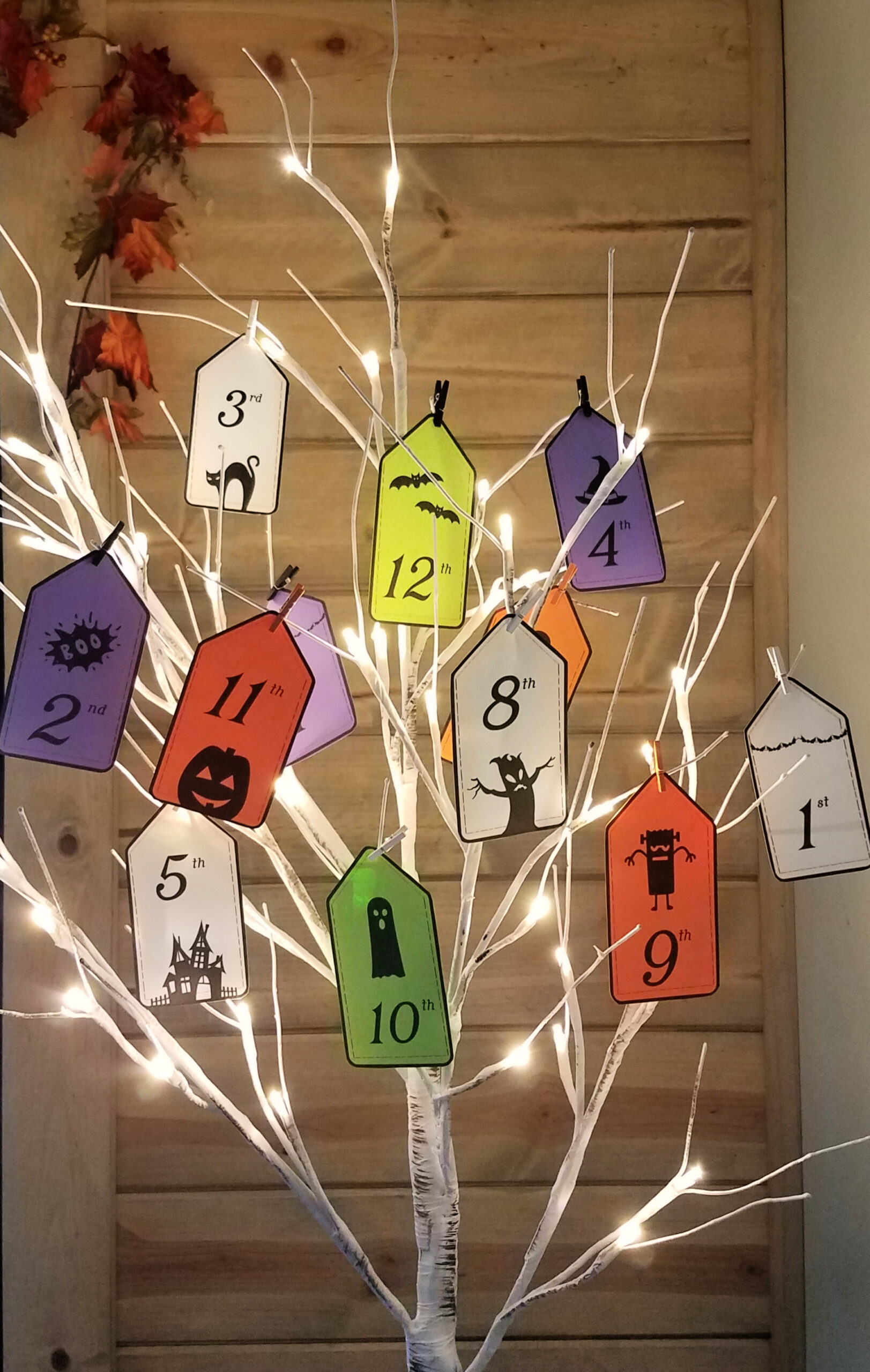 DIY Printable Halloween Countdown Activities
Use the Halloween Countdown & Activities Pack to create a DIY Halloween countdown with activities & games that are perfect for celebrating! The numbered tags can be hung on garland, clipped to a "Halloween tree", taped to a door or wall, or hung with magnets on your refrigerator.

You choose the number of days or hours you'd like to have in your countdown – just cut out the numbered tags and activity cards you would like to do with your kids.
Countdown for Halloween Day: Let's say Halloween is on a Sunday (like this year 🙂 and you want to go all out with something fun to do each hour of the day. Just browse the Halloween Activity Cards for the ones your family will enjoy, and attach one activity to the back of each of the numbered tags. Begin with tag 1 (or the 1st activity of the day) and do an activity per hour throughout the day or evening.
Or if you want to celebrate starting in the afternoon or evening, then adjust to do one activity each half hour or so.
Countdown the Days to Halloween: Use the numbered tags and activity cards to count down the 13 days before Halloween. If you will be counting down the days, start with 13 and count down to 1 (so 13 days until Halloween, 12 days, etc.).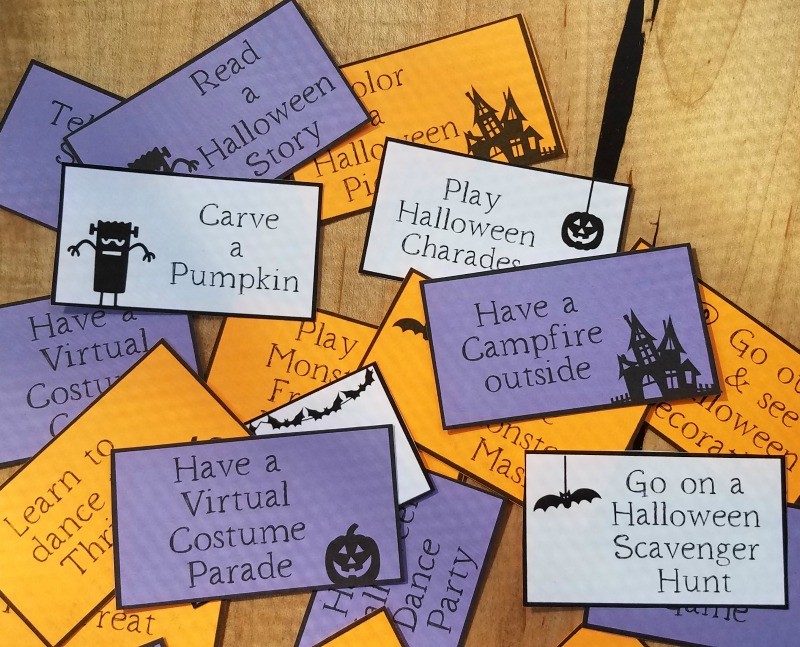 Fun Halloween Activity Ideas
The Activity Cards are one of the best parts of the pack — 40 ideas on fun things to do for Halloween! We've included both tradiional activities along with some creative ones such as:
Have a spooky dinner by candlelight
Go on a scavenger hunt (free printables included!)
Play a Halloween game together (you'll find 8 printable Halloween games included in the pack!)
Carve a pumpkin (download some of these FREE Pumpkin Carving stencils)
Have a Halloween Dance party
Toast pumpkin seeds
Watch a Halloween movie together (we've included a list of movies ideas for you too!)
Activities and ideas for all ages are included in the Halloween Countdown & Activities Pack!
Need to keep the kids busy on their own? Give them the printable Halloween Reading Challenge and a stack of books! Or use one of the other easy activities they can do independently.
If you have tweens & teens, they'll love the Scavenger Hunt Challenge! There are also Activity Cards for "hosting a Virtual Costume Contest" with friends, learning some cool Halloween dance movies and more — encouraging older kids to do some planning for safe ways to celebrate with friends & family. Plus, the movie list includes films for older kids too (with some of the scarier movies that tweens and teens love!)
Another fun ways to use the Halloween Countdown & Activities Pack if you don't want to do a countdown is to:
cut out activity cards for each Halloween activity you would like to do
place them all in a plastic pumpkin or Halloween-themed container
have your kids choose a card (without peeking) and enjoy the activity together!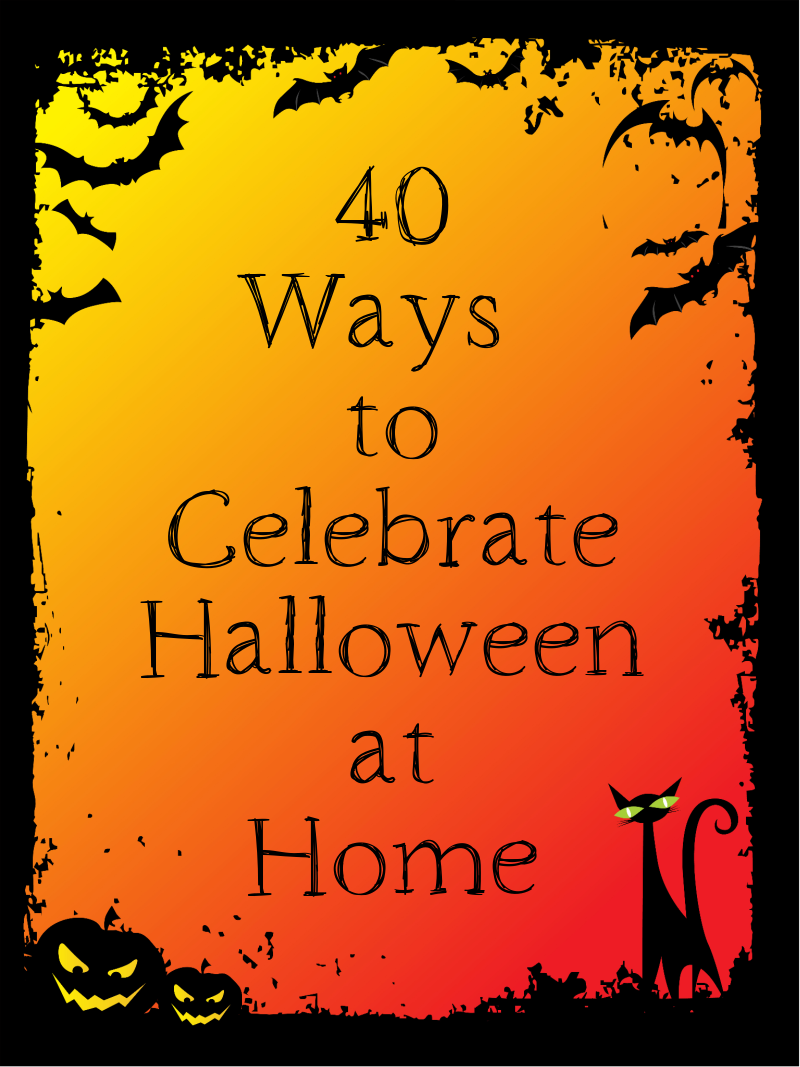 How to Celebrate Halloween at Home
The Halloween Countdown & Activities Pack is perfect for celebrating Halloween at home! All activities can be done either in the house, in the backyard or outdoors around your neighborhood.
If your family is planning to celebrate at home this year, you've got a whole day to enjoy together. And I know so many parents are worried about the lack of Halloween activities being offered this year — so why not spend the day creating some new memories!
So, no matter how you choose to spend Halloween, let's worry less and focus more on some of the fun we can create this year!