Not sure what to do with all the Christmas projects and winter crafts in your house? Try these ideas!
If there's one thing we have a lot of in our house, it's kids' artwork!
They are always making such cool projects at school and I never want to just throw it away so I have quite a bit around the house. However, it's not always easy to display, store and save artwork — those 3D projects are really a challenge 😉
This is one of the reasons that I really enjoy pulling out seasonally themed art projects and displaying them during the holidays.
---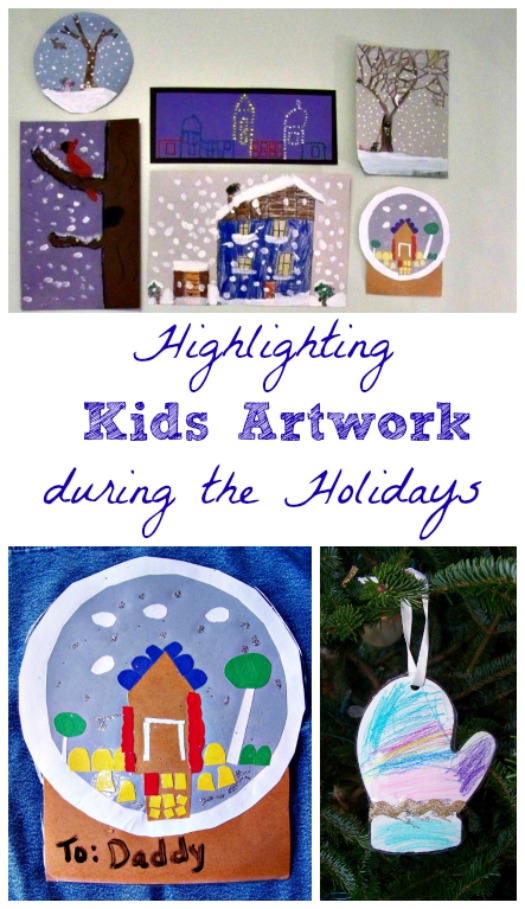 Christmas Art & Winter Crafts: Display Ideas
With so many projects, I needed some additional ideas for integrating it into our holiday decorating.
I was looking for practical ways that we would be able to feature some of their creations other than just handing them on the fridge so in addition to project ideas, we're also including affiliate links to items that will help with organizing and storing kids' artwork.
After some brainstorming and input from the kids on WHERE they wanted to see their pictures, we came up with these ideas:
• Create a themed wall of artwork
• Use smaller pieces for tree ornament crafts
• Make window decorations
• Craft handmade gift tags
• Give some of the art as gifts
This is so fun for kids that we will often include it as part of our Christmas activities so they can help with the decorating (and crafting) projects!
The first thing we did to get started was to pull out ALL of the masterpieces the kids have completed over the years — whew! Not for the faint of heart 🙂
You'll find that kids will have emotional attachements to some of their artwork — memeories made while creating it or pieces of art they think represent them really well. Do NOT cut or alter artwork without asking your child first (a word to the wise 🙂
We don't want any tears during a process that is really more of a fun time for families.
A quick word on ways to store kids' artwork:
I have an Art Porfolio
where I keep all the drawings, paintings and other artwork that comes home each year. We hang it around the house to display for a few weeks and then when the next set comes home, I take the older pieces and file them in the porfolio — easy, peasy & has lasted for years!!
Then during the summer, we pull out all the items and I ask the kids to choose their favorites! If we have something that doesn't store easy, we take a photo of it so the kids have a momento of the item.
After the weed-out process, we have a more manageable portfolio.
Giving Artwork as Gifts
Our kids enjoy giving their art to family members and most grandparents would really love to display items at their house too. Here are a few great display ideas that make great gifts along with affiliate links for your convenience:
Store & Display Art Cabinet Frames
Themed Art Walls
The first thing I do is choose a theme — for example, the photo above is our 'Winter Wall'.
Sometimes it might be a snowman theme or a reindeer theme — choose something that will work with a large group of their pictures.
Then we created a collage on the wall at the top of our stairway (we use painter's tape so it doesn't damage the paint on the wall). Notice that I didn't frame any of the projects — it's really not necessary if you have a rotating art wall and work pieces into a group.
The advantages of themed art walls:
• the artwork can be seen by many people and it looks like a mini-gallery.
• the theme helps the kids and I to choose which pieces to display together.
• by doing a simple collage wall, you can rotate it throughout the year.
Using Smaller Pieces for Holiday Decorating
Integrating artwork around the house (as ornaments or window decorations) is really easy.
First, ask the kids what artwork they don't mind altering a little. We gathered some of our smaller pieces (and also 'damaged' artwork) to use in various ways.
The poinsettia picture above was one that I LOVED but when it came home from school, there were a number of tears in the yellow paper since it was stapled to a bulletin board.
As you can see in the photo collage, we used packing tape (but you can also use contact paper) to cover the smaller artwork. Lay it out with the sticky side up and place the artwork on the tape. Then cover the back with tape too.
Use scissors to trim up the edges of the tape and punch a hole in the top.
Super easy! And durable!
Here's an example of how to use a handprint or spongeprint piece of artwork — we took a tree and traced it over the handwork painting my daughter had completed when she was young and then cut it out.
I love the texture of the new tree – very unique 🙂
Tree Ornament Crafts

Kids can hang them on the tree or you might even let them have their own small tree in their room or playroom to decorate!
Crafting Window Decorations

We decorate the doors in the house when we have guests for the holidays. String a nice ribbon through the punched hole and you can easily hang them from doorknobs, or display them on the windows.
Another Idea: If you punch a hole on each side of artwork, you can connect them with ribbon and you'll have a beautiful artwork garland to hang!

Making Gift Tags
This is a favorite of mine!
If you use a dry erase marker, the covered artwork can double as gift tags!
And with dry erase, you can remove the ink with a little water and reuse the tags each year!!
If you use a Sharpie, it will be permenant but what a lovely way to tag a present for grandparents – I guarantee they'll love the tag more than what's in the box 🙂
Get Ready for the Holidays:
25 Ways to Slow Down & Enjoy the Holidays
30 Service Projects & RAKs for Families to do Together
100 Ideas for Your Advent Countdown
20 Great Stocking Stuffers for Kids