Winter usually means more time indoors so it's always nice to have some quick & easy ideas on hand!
Print off a variety of these FREE fun & learning activities and keep them in a basket. Your kids can choose a few to do each day — it will keep them thinking, reading and writing during those long winter days.
---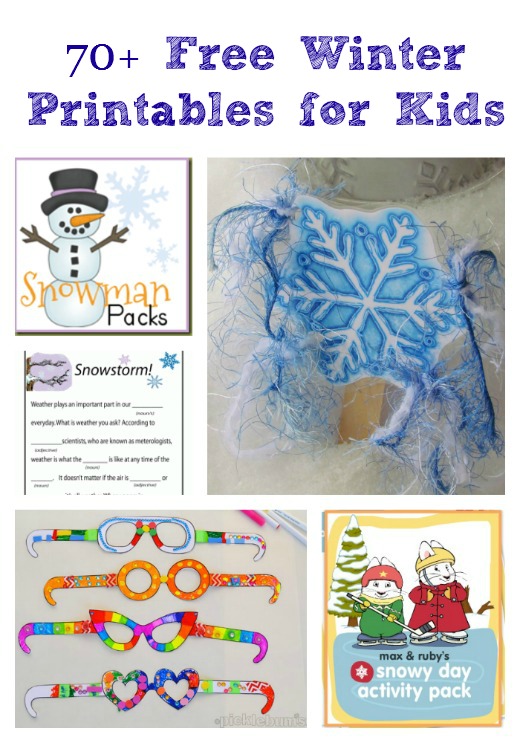 Reading, Writing & Math Winter Printables
Dot Marker Winter Pack from 3 Dinosaurs
Print this Animal Observation Journal and kids can track animal behavior while on a walk or while looking out their windows!
Snowman Packet with lots of math & abc practice from Royal Baloo
Max & Ruby Snowy Day Activity Packet from Nick Jr.
Awesome Winter Thinking Book with lots of writing & drawing prompts from Thinking IQ
Early Reader Penguin mini-book from Preschool Powol Packets
Some fun & funny Winter Mad Libs from Classroom Jr.
What I loved about Christmas make-your-own-book from Things to Share & Remember
Science fun with this Winter Observation Journal from The Educator's Spin on It
Mickey & Friends Winter Day Activity Book from Disney Family
Winter Pack with 230 pages for kids ages 2 – 8 years from 3 Dinosaurs
Fun Mitten packet with math & reading activities from Royal Baloo
Plus 19 more fun winter reading and writing worksheets from All Kids Network
And be sure to try these 30 Free printable Winter Games & Activities for more learning fun!
Printable Winter Crafts
One of my favorite sites for printable crafts is Mr. Printables! They are always beautiful & have lots of creative ideas — here are a few for winter:
Create Your Own Paper Nature World
Make your own Snowflakes & song/poem from Things to Share & Remember
Kids will go crazy to decorate your own paper glasses from Picklebums
And I LOVE the projects in this list of 50 printable Forest Animal crafts & activities — such cute ideas!
How about a fun game of Winter Bingo with these printable cards from Making Friends
Create your own city with these printable roads from Picklebums!
Beautiful Toy Store Coloring sheet from What do We do All Day?
40 fun winter printables from your favorite shows at Nick Jr.
And a huge selection of great printable activities that match with the kids favorite books like Magic Tree House, Dr. Suess, Junie B., Sesame Stree & more!
More Free Printable Activities:
40 Free Road Trip Printables for Kids
12 Months of Scavenger Hunts {50+ free printable hunts!}
You might also like:
100+ Free Printables & Web Activities for Kids Books