Did you know that March is National Reading Month?
It's a great time to think about what it takes to raise a child who reads and loves books.
5 Tips for Raising a Reader
Reading is such an important skill for kids that it deserves some extra attention. Every family needs to decide how to integrate literacy and books into their daily life (yep, I said daily – that's one of the keys to raising a reader).


Here are a few tips on how to raise your child to be a reader:
1. Read Something Every Day!
This is a biggie – kind of like brushing your teeth. Reading something every day helps kids to develop good reading habits. Try cereal boxes, street signs, books, comic strips — anything that brings you and your child joy.
2. Have Books in your Home
This might be your own library or collection, books that the kids bring home from school or ones that you borrow for the local library. The key is to make books available at home. Kids who read have easy access to reading material – so books in the family room, bedroom and heck, even the bathroom make it more likely that kids will use them.
3. Set a Time to Read
Whether it's storytime before bed, read aloud time on the weekends or quiet time when kids can read on their own – having some time dedicated to read shows kids how important it is to spend time with books. Once our kids outgrew their naps, we instituted 'quiet time' in their rooms. It was a time for them to look at or read books and just chill – they loved it (and still do!).
4. Visit Your Local Library
Try to schedule weekly visits to the library. You might participate in a storytime session or just spend some time browsing the shelves. Library visits help kids to gain knowledge about how to find books, expands their understanding of the types of reading materials that exist and connects them with others who love to read.
5. Make It Fun!
I know that sometimes reading can feel like a chore. Trying to get an active child to sit still and practice reading is something we struggled with for months! And not all kids enjoy cuddling on your lap for storytime.
Sometimes you have to mix things up and keep it interesting – add a fun activity, read with crazy voices, have the kids choose the book they want to read instead of one that's been assigned at school. Believe me, a little fun goes a long way.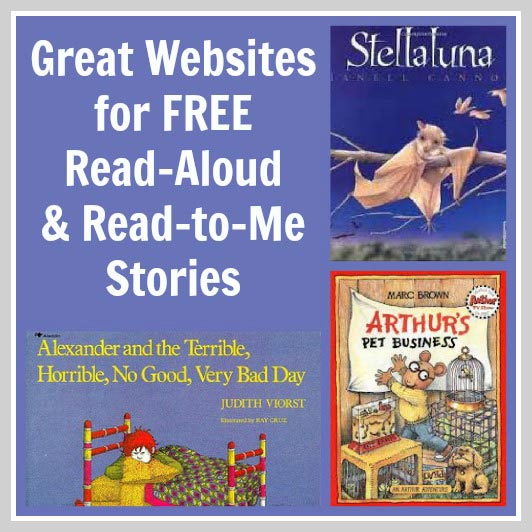 Fun Reading Resources
8 Things to Get Caught Reading
Great Websites for Free Read-aloud & Read-to-Me Stories
100+ Dr. Seuss Book & Activity Ideas
7 Ways to Turn a Book into an Adventure
Join the Monthly Online Book Club for Kids
Read the Book, See the Movie – 100+ Kids Books Made into Movies
Favorite Book Blogs
If you're looking for more recommendations for great books to read with the kids, you'll want to visit these wonderful blogs:
What We Do All Day
Booklists galore at What We Do All Day! Want to know the best books from the 1950's? They've got it! Kids love dragons – booklist for those! Great lists of for both picture books 7 chapter books can be found.
No Twiddle Twaddle
Every week, No Twiddle Twaddle pulls together some AMAZING free booklists for Kindle e-books! If you have a Kindle, this is a great resource! There are also some great books reviews and book activities that you'll enjoy too.
Pragmatic Mom
Visiting Pragmatic Mom is like having your own librarian for your kids 🙂 Really, she and her kids are HUGE readers, and we all benefit! If you need an idea for a reluctant reader, recommendations for an good easy reader series or a review of the newest chapter books — you'll find it here!
Reading Confetti
If you are looking for ways to bring a book to life, Reading Confetti has more than 100 ideas for you! Organized by book title, you can easily find some fun kid-friendly activities for many popular kids books!
Growing Book By Book
If you're looking for book ideas for the youngest readers, stop by Growing Book By Book. You can find book reviews and ideas for wonderful picture books. And one of my favorite features is the printable Monthly Table Topics – great ways to kick-start conversations with the kids!
Best Blog for Kids Who Hate to Read
Really, the title says it all – the Best Blog for Kids Who Hate to Read introduces great books that kids will really enjoy! In addition to books, there's also lots of great tips on how to get kids interested in reading.
What tips do you have for raising a child who reads?