Both of my kids are huge fans of non-fiction books & stories. When they were younger, neither was interested interested in the fiction readers that came home from school. It was a big struggle to get them to practice reading every night until we learned of their love for nonfiction.
They enjoyed reading and learning about real life events, exploring animals, people and the history attached to various stories.
So I was thrilled when I was asked to participate in this sponsored project with GenZ Online, a new website for families — it's all nonfiction stories that are geared towards what kids love to learn about and what they want to read!
GenZ Online has stories for kids of all ages and we even have a wonderful giveaway for 3 of our readers today + a great discount code for everyone!
Get to Know GenZ Online
GenZ Online has a variety of resources available for families —
Read Alouds for Grades K – 2
Read Together for Grades 3-5
Current Event Articles for Middle Schoolers
Test Prep Options for High Schoolers
We were asked to review the stories for Grades 3 – 5 but all the stories offered on the site are nonfiction and help to build vocabulary and discussion skills with kids.
What We Loved: My daughter was really intrigued with the variety of topics and stories offered on the site. The stories are short and very engaging too. I loved the fun learning that was built into each story — new vocab words, conversation starters and fun facts along with puzzle or quiz. Kids can earn 'zoints' (points) for reading stories and completing the puzzles.
Kids of this age are more aware of the world around them and really want to learn more about real life events. But at the same time, I'm not ready to let me kids read anything and everything in the newspaper much less watch the news. GenZ Online is a great way to introduce them to interesting and age-appropriate reading material.
Want to learn more — your kids can visit & Try GenZ for Free today!
Exploring The Hope Diamond
GenZ asked us to choose a story to read together and then create an activity to go with the story. We actually read a few stories before we chose the one we would highlight and man, did they lead to some interesting discussions! We finally chose The Deadliest Diamond, a story about the famous Hope Diamond.
I even learned quite a bit about the Hope Diamond as we read. I had no idea the stone is thought to be cursed! It was a great story – slightly creepy and we were quickly roped in to read more (perfect for kids).
The diamond was stolen, bought, sold and moved around the world. It was also cut down from it's original size. And there were a number of deaths and injuries that occurred among the various families and individuals who owned or transported the diamond.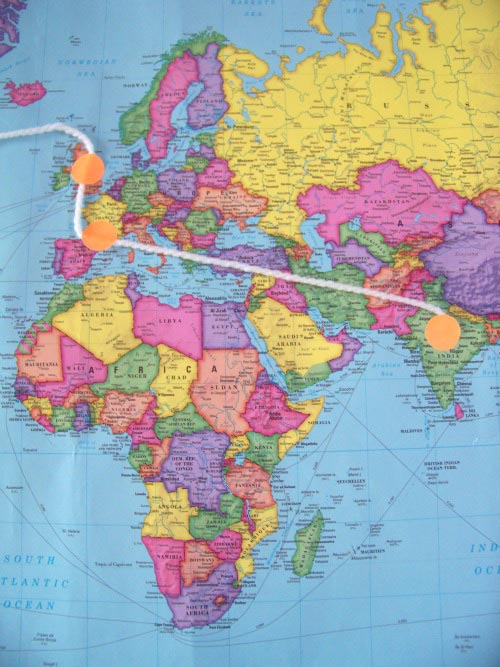 Tracing the Diamond's Route
The first activity involved a little geography — kids can use a world map to trace the route the diamond travelled over the years. The Hope Diamond was first found in a statue in India. It was then brought to France, sold to an individual in London and exchanged hands a few more times before resting at it's current home in Washington DC.
For the mapping activity, you will need a long piece of string or yarn and small stickers. Beginning at the original location (India), place the yarn on the country and attach it to the map using one of your stickers. Then extend the yarn to the next country along the diamond's route. Find and mark all four countries mentioned in the story (above).
Make Your Own Necklace
I don't know about you but I would never want to wear the Hope Diamond after learning about the curse. However, these cool vintage bottle cap necklaces would be fun to make and wear! Watch this video by Dollar Store Crafts to learn how easy it is to create your own necklace — and if you like, glue a gemstone to the bottlecap after it's been pressed or add glitter for more of a sparkle.
How are Pencils & Diamonds Similiar?
Another interesting tidbit that we learned is that the material in pencils (graphite) is the same material that's found in diamonds. Yep, hard to believe. The difference is the way the atoms are arranged when the graphite forms.
Kids can learn more about how diamonds are formed along with their history at ThinkQuest Diamonds for Kids.
The Hope Diamond is currently worth $350,000,000 dollars and a pencil is only worth .10 cents. How about a little math for the kids:
How many pencils could you buy for the current value of the Hope Diamond?
More Cool Curses
If your kids enjoy a good mystery, try a few of these real-life curses – we've included affiliate links so you can review the details of each recommended book:
The Curse of King Tut's Mummy
The Mummy's Curse (Torque Books: The Unexplained)
Readers: Bermuda Triangle
Summer Special & a Giveaway
GenZ is running a Summer Promo special — get started with 20 amazing stories for only $3.99 when you register and use the code SUM20. And as I mentioned earlier, 3 lucky readers will win a summer special of all 20 stories — just enter the giveaway below.
Make sure to swing by these other wondeful blogs to see the fun activities for all five stories — you can also enter the giveaways at each site too!
Monday, July 29 PragmaticMom on the The Lost Atocha Treasure
Tuesday, July 30 Artchoo! on The Invention of Velcro
Wednesday, July 31 No Twiddle Twaddle on Christian the Pet Lion Returns to the Wild
Thursday, August 1 KC Edventures on The Deadliest Diamond
Friday, August 2 Mom to 2 Posh Lil Divas on Anita and Arabella in Space
We'd like to thank GenZ Online for sponsoring this post. We were provided with complimentary access to the online stories along with 3 Summer Packages to giveaway to our readers. All ideas and opinions are my own and I only recommend products that I have used and thoroughly enjoyed!