This week's linky will Discover & Explore Boats, Water Fun & Things that Float!
Kids can explore a number of science and engineering ideas by trying to build their own boat and playing around with the concept of sink and float.
How heavy is an item before it sinks? And what type of materials can be used to make a boat that floats?
Science Fun: Create Your Own Boat
We wanted to test our sink & float theories and boat 'contraptions' so we created a few of our own ships and headed to the pond at our local park.
First, we discussed what we had in the house that might float. You can test this concept with the kids by filling a sink or a small tub with water and testing the items you find around the house.
Note from the Fun Police (that's what my kids call me when I do these warnings):
Since this activity involves large amounts of water, young children should be supervised at all times! I warn you that small kids will try to 'chase' their boats as they float away in the pond or lake so if you have a non-swimmer, have them wear a life vest when they are near the water. 🙂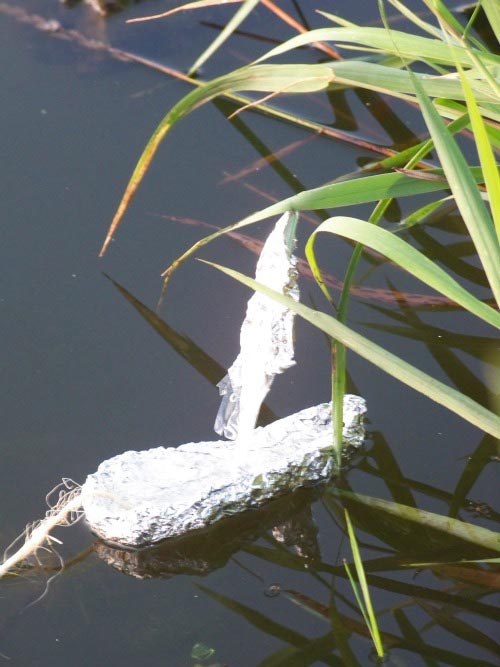 My daughter knew right away that she wanted to create a boat out of tin foil. Something easy that she could mold (and remold) into the shape she liked. I asked her why she chose tin foil and she told me because it was light.
Science Lesson 1:
As you try putting different objects in water, ask the kids to tell you why some items sink and others float. Items that float are have less density than the water. Density may be difficult for kids to understand — it's the amount of mass that makes up an object.
For example, a rock is solid all the way through whereas a plastic easter egg of the same size is only filled with air in it's middle. So the rock has a higher density than the plastic egg, even though they are the same size.
Many kids will convey the ideas of "being lighter or heavier" as to why things will sink or float. Explain that the weight of an object is usually related to it's density. You can introduce other science concepts as they grow and continue to ask questions adding on to the knowledge they have already acquired.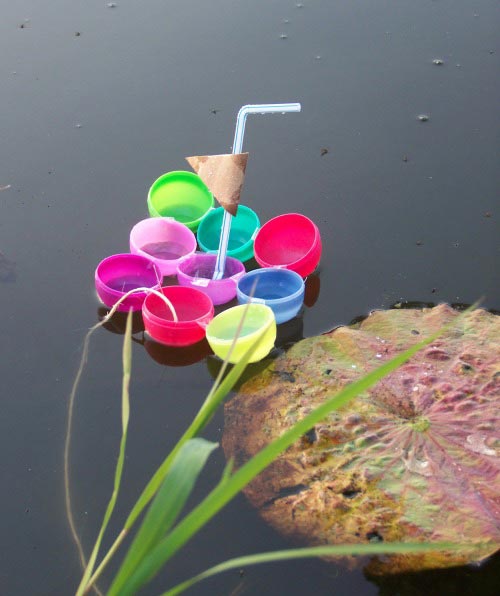 I decide to make more of a raft — out of plastic Easter eggs! (I have so many of the darn things that I create unique ways to use plastic eggs). I just connected them with packing tape to hold them together. And don't forget to tie a string to your boat in order to be able to pull it back to shore when you're done sailing.
My daughter told me she didn't think my boat would float — she thought it would have water splash into the openings and sink the raft. Good observation as water can easily get into the open part of the eggs. But it did float (chalk up one for Mom 😉
Science Lesson 2:
This type of boat introduced a second discussion about surface area. When I tried to float one open egg, it quickly turned over and sank. But when a few are tetthered together, the surface area of the raft was increased and the eggs didn't tip.
Surface area is another concept to explore with floating. For example, if you are in the pool and rest on your back, you are more likely to float than if you were on your side. You can show kids the same concept if you use a paper plate — placed in the water sideways, it will sink. However, if you lay it on the top of the water thus increasing it's surface area, it will float. Another fun discussion is snow shoes and how they keep you from sinking into the snow.
A Few Great Boat Books
Please note that some of the links in this post are affiliate links for your information and convenience.
Of course I wanted to share a few of my favorite books:
I really enjoyed T Is for Tugboat: Navigating the Seas from A to Z
. It has wonderful illustrations and kids learn a great deal about boats and navigating on the ocean. The book has a great vintage feel as you read and introduces you to all types of ships, parts of the boat, morse code, knots and many other boat-related terminology.
A classic is Three Days on a River in a Red Canoe which is a fun story about a 3-day family vacation. Follow along as the family in the book takes a canoe & camping trip along a favorite river. This is a Reading Rainbow book too!
Paddle-to-the-Sea
is an award-winning story and a very unique combination of a chapter-picture book. A young boy carves a canoe and it's rider whose name is 'Paddle' out of a tree. He then sets the small boat afloat in Lake Superior. Paddle journeys through all five of the Great Lakes and then out to sea — a fun adventure story for kids!
Stop by Fantastic Fun & Learning to see what Boat & Water Fun they are exploring this week!
Show Us Your Boats & Water Fun
We'd love to have you share your posts on boats, water fun, sink/float and other fun ideas that fit this week's theme.

Upcoming Themes:
Currently Open – Space Exploration
August 7th – Camping Fun
August 14th – Back to School
& NEW Surprises for the Linky
Please read the following guidelines for sharing:
Share family-friendly posts related to the weekly topic — kids activities, crafts, recipes, nature outings, printables, etc.
By linking up, you are giving me permission to share your post including one photo in our weekly feature post and on social media channels.
Visit 2-3 other posts that have linked up, find some new ideas & meet new friends!
If you'd like, grab a button for your post — we love to share and want to find lots of great activities to highlight for you!
The linky will be open for 2 weeks so feel free to come back and link up any new posts.
Each of the host blogs will be choosing a few great ideas to be featured in a round-up post and pinned the Discover & Explore Pinterest Board!
If you aren't already, please remember to follow us on Pinterest so you're sure not to miss those feature posts. You can also find us on Facebook and g+ too!