Birthday season is coming for our family.
Well, make that Birthday Season for everyone in my family BUT me.
I celebrated my special day last month – super great day! The kids made me pancakes and I didn't have to run one errand all day long (now that's a birthday).
So Spring is my time to focus on creating special days for my family.
But we're not the only ones celebrating a special day!
This week, we are celebrating a special birthday with author Natasha Wing. Her newest book in "The Night before.." series is out – The Night Before My Birthday "The Night before My Birthday".
And one of our lucky readers will Win a special birthday box so they can celebrate too!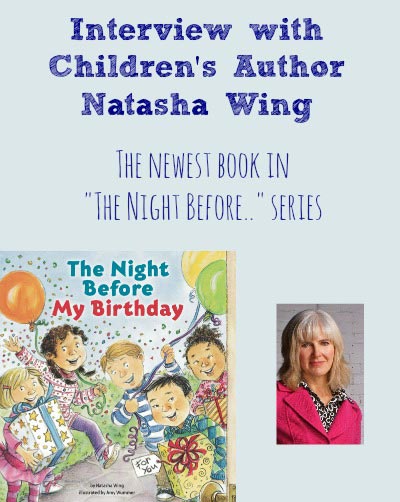 The Night Before My Birthday
An Interview with Natasha Wing
In honor of the new release and all this birthday fun, Natasha graciously granted us an interview and shared a little about her books, her favorite birthday memory and what it's like to be a children's author.
How did you come up with the idea of writing "The Night Before" series?
Natasha: I like Easter and wanted to write an Easter book. I thought about how I felt as a kid waiting for the arrival of the Easter Bunny and it felt a lot like waiting for Santa Claus. So I flashed on The Night Before Christmas and wondered if I could do an Easter version of that.
My first attempt was to do a Southwestern setting since I used to live in Arizona. The Easter Bunny was a jackrabbit and people lived in adobes. After The Night Before Easter
was published it turned out people really liked it so my editor, Jane O'Connor who wrote Fancy Nancy, asked if I would write a Halloween one. Then it went on and on from there, and we started including back-to-school themes.
Which of the books in the series is your favorite? Why?
Natasha: I'd have to say The Night Before Easter
since I love the illustrations and the artist's depiction of the Bunny. My husband's is The Night Before the Night Before Christmas
.
Edventures with Kids: I have to say that the Easter book is one of our favorites too! We also love the The Night Before Summer Vacation
since we travel quite a bit.

Do you have any favorite birthday memories?
Natasha: Since my birthday is the week before Valentine's Day, my mom used to make heart-shaped cakes and frost them pink. To this day my favorite colors are red and pink. Another memory was getting a silver dollar from the boy I had a crush on.
I always think it's interesting to know what children's books inspired authors. When you were a child, what was your favorite book?
Natasha: I had a few. I loved Dr. Seuss's books. I also had Cinderella with a pop-up pumpkin in the back. I also liked The Pokey Little Puppy.
Were there any authors who inspired you to become a writer?
Natasha: Yes. I had a magical moment when I picked up Chris Van Allsburg's The Polar Express at a Christmas faire. A twinkly white light surrounded me and I can remember thinking that I wanted to make magic for kids like his illustrations do. I now have a signed copy of his book.
Will you give us a sneak peek — What book/project are you working on next?
Natasha: The Night Before Hanukkah is in the illustration stages and I might write one about the night before the dance recital. I also turned in a manuscript to my agent about a wire sculptor who makes life-sized animals by twisting wire together. Artists fascinate me.
Thank you so much for celebrating with us — We can't wait to read the next installment!
Be sure to visit Natasha's website to keep up with all her latest projects & books!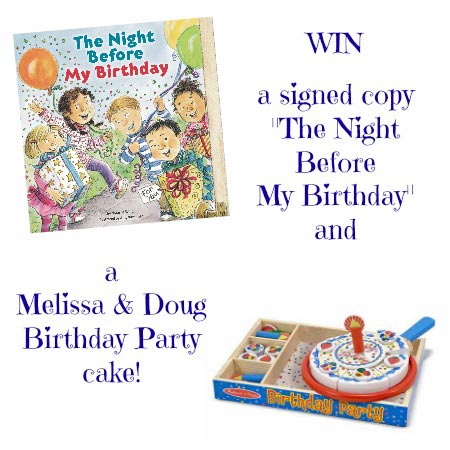 Birthday Box Giveaway
Let's celebrate with a super giveaway today too!
Natasha has sent a signed copy of her newest book and one of our favorite toy companies, Melissa & Doug, are including their wonderful Birthday Party cake too!
Melissa & Doug have a fun Birthday Club — register to receive a sneak peek at new items plus special promotions and discounts.
Be sure to enter the giveaway below –
You might also like:
Free Printable Valentine's Scavenger Hunt