Not long ago, I walked into our playroom to find my daughter surrounded by all her cooking items and talking aloud to no one. I just smiled and she smiled back.
"What's up?", I asked.
"I'm doing a cooking show!"
I guess I had been mentioning Rachel Ray quite a bit (I mean, it was the holiday season and I'm more likely to search for new recipes and tape some of the food shows).
So I hung around for a while to see what she was cooking up and find out if I could pick up any tips 😉
Pretend play is such an important part of a child's life, creativity and growth.
It allows them to imagine and practice for the future. It encourages them to use their creative mind and ask questions. And it proves to us adults that they are paying attention to what's going on in the world around them — really, you never know when they are absorbing information!
If you're looking for research on the subject of pretend play, read this article on The Need for Pretend Play from Psychology Today or this great piece that was published in the Smithsonian — Let the Children Play, It's Good for Them.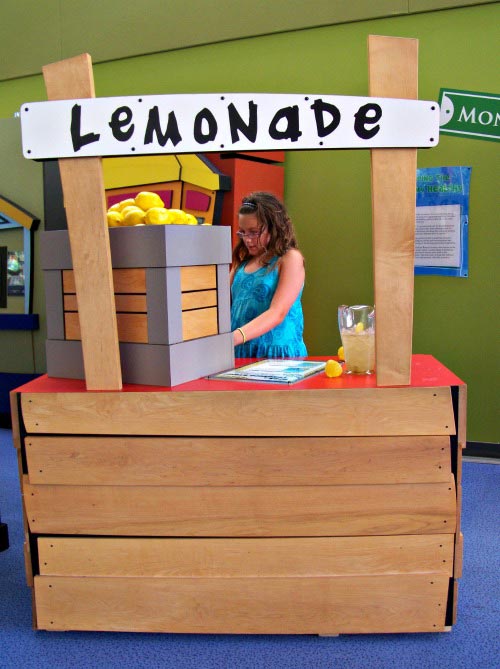 I also think the idea of pretend play is why children's museums are so popular. When I was younger, a museum was a place to visit & look but not touch. Now, there are so many wonderful children's museums and exhibits that encourage kids to pretend. The pretend Lemonade Stand was a big hit on a recent visit to the Topeka Children's Museum. They have a number of hands-on areas that encourage kids to play & learn.
You'll find Invitations to Play at a number of places — science centers, art museums, libraries.
Many organizations realize that offering these opportunities are a great way to engage kids in being curious and creative. For example, one of our local art museums has a wonderful play area for kids of all ages where they can practice the various art techniques that are displayed in the galleries.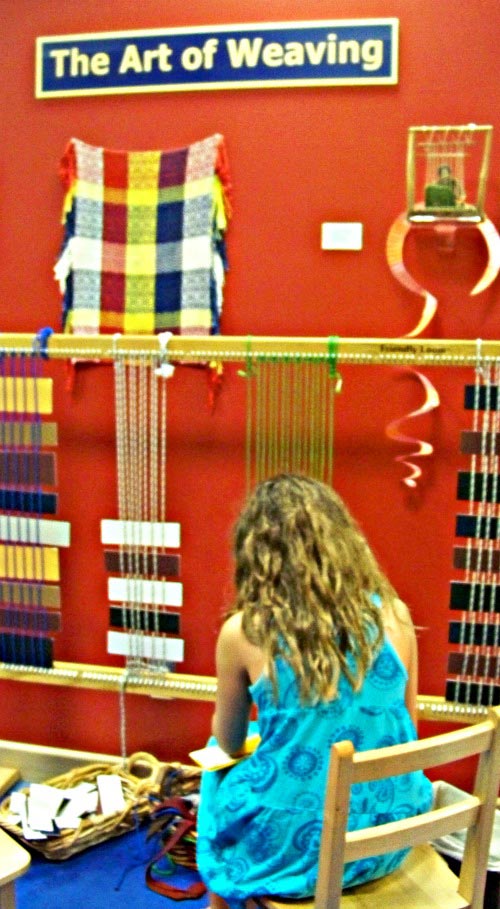 There are so many benefits to pretend play — language development, repetition of social skills and development of creative skills that allow kids to 'think on their feet' later in life are just a few.
And best of all, it's so easy to encourage! Pretend play doesn't require any specific materials or special set up.
Just let the kids lead! Maybe they'll want to play 'Zoo' one day and pretend they are animals. They might want to play doctor or mimic another adult role that they admire. Or maybe they'll want to host their own cooking show 🙂
Fun Ideas for Pretend Play
This week's theme for the Discover & Explore linky is Pretend Play — share your ideas and activities below!
Fantastic Fun & Learning ** Buddy & Buddy ** Fireflies and Mudpies

Please read the following guidelines for sharing:
Share family-friendly posts related to the weekly topic — kids activities, crafts, recipes, nature outings, printables, etc.
By linking up, you are giving me permission to share your post including one photo in our weekly feature post and on social media channels.
Visit 2-3 other posts that have linked up, find some new ideas & meet new friends!
If you'd like, grab a button for your post — we love to share and want to find lots of great activities to highlight for you!
Each of the host blogs will feature some of the outstanding posts the week following the linky!