I'm a list-making kind of girl. Pen and paper for me (my tech-saavy teen thinks I'm so old school!)
And every January, I have a penchant for making booklists!
We love reading at our house and are always visiting the library, looking for new books to devour. So I've found that having a list really helps. I have a list for myself and also encourage the kids to add to it so I know what books they're dying to read.
Why a book list?
Have you ever headed to the library with the kids only to return home with one of them saying "Rats! I forgot that I wanted to read …"
Or better yet, one of your friends recommends a great book that you know your dinosaur-loving kid will adore. And maybe they're old enough that their friends are recommneded books too.
Thus, the list — one catch-all place to keep those great titles. As an added bonus, you can use it as a checklist to see what you've read during the year and also track reading minutes for those school calendars.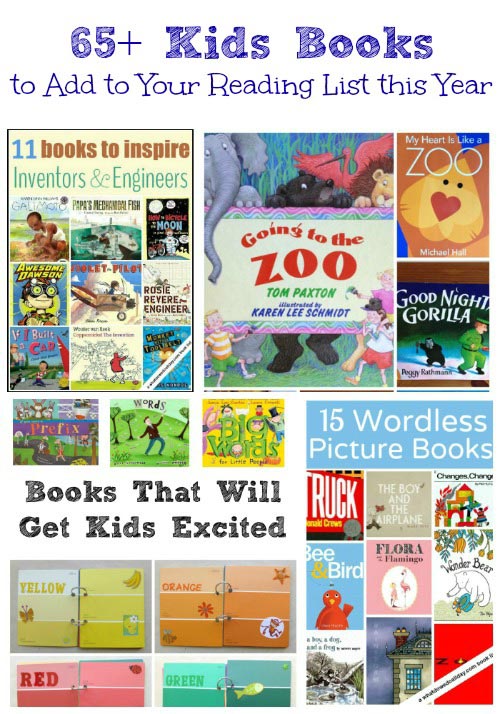 65+ Great Books to Read this Year
Some of my favorite Kid Lit Book bloggers linked up their booklists to last week's Discover & Explore linky so I jumped right on those — which amazing books hadn't yet made our list!
I love to hear what other Kid Lit fans recommend so I decided to feature some of their great booklists this week — I promise that you'll find more than a dozen great reads the kids will LOVE!
Growing Book by Book always has such great ideas for cool new books! Try a few from their list of Books that Get Kids Excited about Vocabulary to add more fun words to the kids repertoire!
Erica from What do We do All Day? loves making book lists too! I'm sure she has more than 50 amazing lists on her blog.
One of the ones I like best from this past year is her 15 Wonderful Wordless Picture Books. 'Reading' a wordless book can be intimidating for some but don't let it scare you off — have the kids make up the story as you go along. It's a great way to work on creativity and imagination.
Another booklist that I loved was 11 Books to Inspire Inventors & Engineers. I'm a big promoter of being creative and STEM activities so anything that encourages kids to "think outside the box" and learn some science is right up our alley!
And speaking of science, Afterschool for Smarty Pants has a wonderful list of Books with Science Experiments for Kids! You'll find a lot of simple, fun and exploratory ideas in these fun and colorful books.
Bambini Travel shared a fun list of 10 Great Books about the Zoo. It's always fun to link books to fun family outings or field trips and they've included quite a few of our favorite animal reads!
Maybe you're looking for some fun activities for pair with great books? Check out the Eric Carle books & activities from Fun-a-Day or the Montessori Inspired Literature Activities from Living Montessori Now.
And if the kids would like to create their own book, take a page from this idea at Craftulate — Create Your Own Color book using paint swatches!
Do you have any books to recommend? Leave us a comment — We'd love to get them on our list!
You might also like:
Wonderful Vintage Winter Books for Kids