I love reading new books, especially new Christmas books that I can share with the kids!
Now don't get me wrong, we certainly have our favorites at this time of the year — you can see many of them on the 30 Books about Your Favorite Christmas Traditions — but there's something about a new story during the holidays.
It's almost like an early gift that we can open and enjoy!
---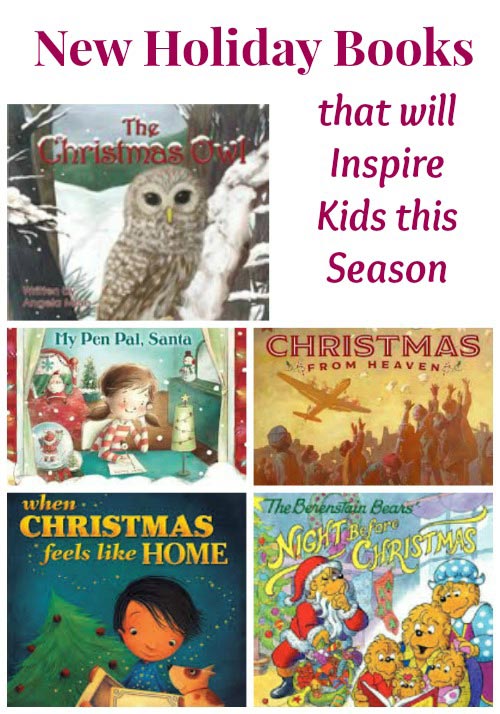 New Christmas Books to Inspire Kids this Season
I thought I would share a few of these new reads so you'll know what to look for at your next library visit. These are not your 'run of the mill' holiday stories — instead we were looking for books with inspiration of the meaning behind the holidays.
I've included affiliate links so that you can read more about each item and choose a few favorites to add to your reading list this year.
The Christmas Owl
by Angela Muse is the story of an injured barred owl who must rely on the help of strangers until he is able to fly. The owl asks for help from four other animals who each provide him with food and shelter, and in return the owl thanks them once he is able to return home.
The Inspiration: It's a wonderful story about helping others, friendship and making sure to say 'thanks' to those who have helped you. A great read for kids ages 3 – 7.
This next book is one that would be a big help to kids who have recently moved. When Christmas Feels Like Home
by Gretchen Griffith is the story of a young boy and his family moving to a new country. Eduardo's family has moved from a small village in Mexico to the United States and it just doesn't feel like home. But his parents assure him that "when trees ride on cars", everything will be ok. I love the Spanish words shared thoughout the story too!
The Inspiration: If your kids have new friends in class or in the neighborhood, ask them to make a little extra effort to reach out and welcome them. It's hard to celebrate the holidays in a new place but new friends certainly make things easier. Perfect for kids ages 4 – 8 years.
I'm a sucker for books that share real life stories in a way that appeals to kids – I love that they learn a little history as they enjoy a book! Christmas from Heaven: The True Story of the Berlin Candy Bomber
by Tom Brokaw (yep, the famous news reporter!) is based on actually events that took place during WWII. When an American pilot starts up a conversation with some German children, no one could have imagined that it would turn into one of the most well-known 'candy drops' in history!
The Inspiration: Even small gestures can make a big difference in someone's life — think about small ways you might make the season happier for others. Though it's a picture book, this is a story that can be shared with kids of all ages!
Are you as excited as I am that the Bears have a new book?! The Berenstain Bears' Night Before Christmas
is a fun retelling of the famous poem by Clement Clarke Moore. Besides being a wonderful way to share this story with the kids, the book also discusses the idea of traditions and some 'old fashion' fun.
The Inspiration: Starting a new tradition together as a family! A story that will be enjoyed by kids ages 2 – 9 years (or anyone who's a fan of the Berenstain Bears!)
This book is just too cute for words! My Pen Pal, Santa
by Melissa Stanton will quickly become a holiday favorite. When Ava writes Santa a letter AFTER Christmas to say "thanks" for her gift, it sets of a great pen-pal exchange for the whole next year! Ava shares all the important things happening in her life and it's fun to learn a little more about Santa through his letters too.
The Inspiration: Reach out and get to know others — and be inspired to write! All Santa believers will enjoy this one 😉
You may also like our Finding Free Christmas Books Online for Kids list — lots of great reads for your phone, tablet, Kindle & computer!
Be sure to visit all our other book lists too!
More Christmas Activities:
25 Ways to Slow Down & Enjoy the Holidays
30 Service Projects & RAKs for Families to do Together
100 Ideas for Your Advent Countdown
20 Great Stocking Stuffers for Kids