Let's talk Gingerbread Houses today!
Tis the season for family-friendly activities and building a gingerbread house is a time-honored tradition for so many families.
Not to mention, it's a SUPER fun lesson in engineering principles for kids! Testing out how to balance the walls, construct a roof and put together a fun little structure is the perfect intro to some of those basic physics principles.
And while I love all the building, learning & family connecting — I'm not a fan of all the sugar icing and candy add-ons when the kids are already coming home telling me about those 'surprise' cookie and candy treats at school.
But there has to be a healthier option for these adorable little abodes, right?
YES! We found some amazing edibel items to use as you construct a gingerbread house that's also a super healthy snack option too!
---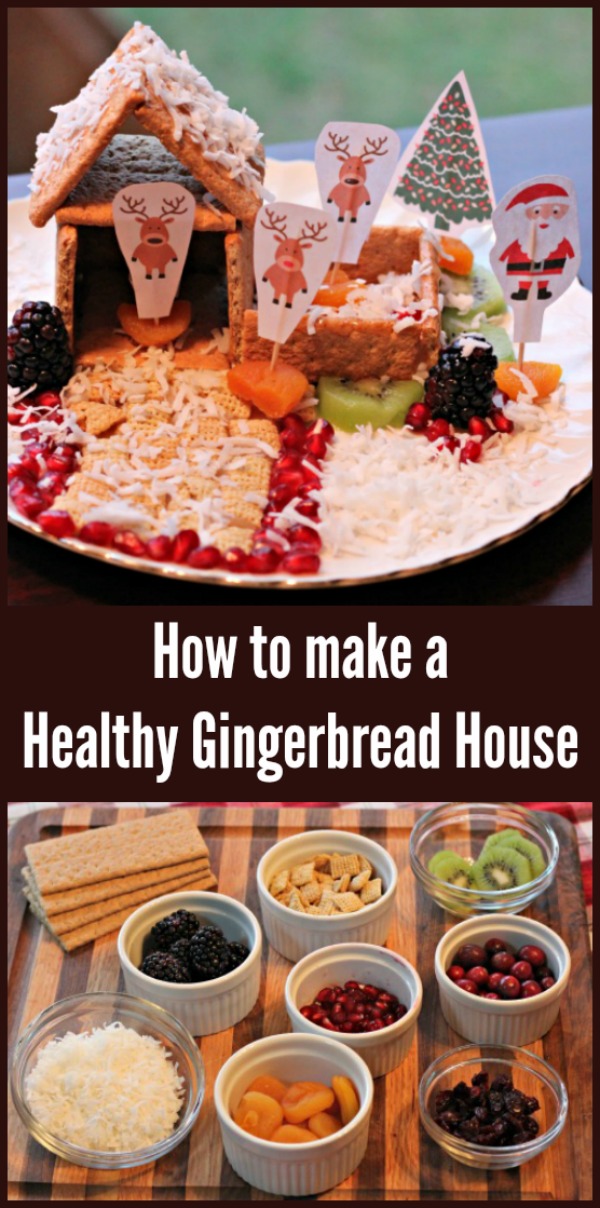 Healthy Gingerbread House Ideas
We considered three things when putting together ours houses this year:
1. Fruit needed to be included! Not only is it healthy but it's also so colorful 🙂
2. The house should be something we can do spur of the moment AND be edible — using graham crackers was a great option so we didn't have to add in a baking session.
3. We needed to find an option for something healthy for 'glue' in place of the traditional high sugar icing — this was a must!
First up, make a list of what fruit (both fresh & dried fruit options) your family might like to use for your gingerbread house. We're including affiliate links for a few of the items we used to help you with your shopping list.
Think colorful!
Fruits like cranberries, blueberries, blackberries and kiwi will add some seasonal color to your house and many can be found in both fresh and dried options. Dried cranberries are a popular snack with kids.
As you can see from our 'decorating materials tray', we also chose to add some shredded coconut (which looks a lot like snow 😉 & cereal (rice chex have a gluten free option!) to our decorating items. Another option is to add whole nuts too (whole pecans can look really nice when used as roof shingles) or seeds.
We also chose HoneyMaid Graham crackers as they have no high-fructose corn syrup, saturated fat or cholesterol.
Now for the tough part — how to stick this all together??!!
We decided to implement a mini-science experiment to see what sticky substance might be our best 'house glue'.
We set up a plate and used peanut butter, honey and pure maple syrup to connect a few graham crackers together.
Then we left it for an hour to see which dried and worked the best.
Bleah! We didn't have much luck with any of these items.
The honey was the most successful but still didn't hold all of the crackers in place as it dried. The syrup didn't harden at all so that was a complete bust. And the peanut butter didn't secure the crackers in place so they were just leaning on each other.
So back to the drawing board.
After talking about 'sticky' food for a while, we decided to look for a type of healthy caramel that would harden and not be too hot to work with as we built the house.
We found an amazing recipe at Southern In-Law for a vegan & sugar free Caramel Sauce that uses coconut milk and real maple syrup instead of sugar.
BINGO! We now had our 'house glue' 🙂
The caramel sauce cools fairly quickly and we found that it is best applied with small paint brushes (new ones, of course 🙂
We used one graham cracker for the base of the house and then began to build around it.
We also found it was helpful to use the caramel sauce under our main 'foundation' areas in order to hold them all in place.
Here's where I have to tell you that we're pretty big reindeer fans. Or caribou fans if you prefer — there are actually two different names for the same animal.
So instead of building a gingerbread house — we decided to build a Reindeer Stable!
Be sure to lay out all your decorating foods so the kids can get creative about what they'd like to use (snacking is allowed! 🙂
We included both a covered and uncovered area for our deer, added some blackberry trees, kiwi grass, a pomegranate seed & cereal pathway and LOTS of coconut snow.
And then we added our reindeer (along with Santa too)!
You can print off these free add-on Christmas characters to use with your house. Just cut out the ones you'd like to use and then tape them to a toothpick and stick them in a piece of dried fruit (we used pieces of dried apricot) to give them each a base.
And it's easily paired with some of these wonderful gingerbread-man-themed books too:
Gingerbread Mouse
The Gingerbread Man Loose at Christmas
Gingerbread Baby
And one of our favorite (very clever) retellings is The Library Gingerbread Man
Dasher wasn't being too nice so he had to stay inside the fence for the day 🙂
Looks good enough to eat, right?!
Let me tell you — I was BARELY able to get pictures of this guy before the roof was torn off!
It was the perfect project for a not-so-perfect weekend day!
What healthy options do you use when building a Gingerbread House?
More Holiday Activities:
25 Ways to Slow Down & Enjoy the Holidays
30 Service Projects & RAKs for Families to do Together
100 Ideas for Your Advent Countdown
20 Great Stocking Stuffers for Kids
This shop has been compensated by Collective Bias, Inc. and its advertiser. All opinions are mine alone. #HoneyMaidHouse#CollectiveBias