Welcome to our first post in the Poppins Book Club!
This online book club is for kids from preschool to highschool – kids who love to do more than just read a book!
Each month, a new theme will be introduced and we encourage you to choose your own book (or two) to read. Parents and teachers will find lots of fun activities each month based on the theme – this month's theme is Knights, Princesses & Castles. If you're a blogger, connect your books to an activity or craft and share it during our link-up each month.
My daughter has always been a princess girl but this month, we chose to focus on castles. Really, next to the wardrobe, the best thing about being a princess is living in a castle, right!
So we set off to create our own castle.
It just so happens that we had a large box in the house this month that made the perfect start. I love allowing kids to be creative with a cardboard box!
You can use one large box or a few smaller boxes taped together for your castle.
Draw out a Design
She decided on a design for the castle – she wanted pointed turrets and small square 'bricks' along the top. She also wanted a working drawbridge and insisted on it being a very colorful castle (we sang songs from the Disney movie 'Tangled' while she decorated the inside walls).
I helped by using a box cutter to carve out the turrets, windows, drawbridge door and some of the details. Part of the fun with this project is the open-ended ideas that a box offers.
Allow Time for Creativity
The project took a week to complete. I allowed her to work at her own pace and put in the details she wanted for her castle.
And sometimes the creativity involves some help from Mom or Dad. For example, our working drawbridge – that needed a little thought on our part as to how it shoul be engineered.
How to Make a Working Drawbridge
My daughter created the cardboard loop at the top of the door along with a bent paperclip to secure the door when she was inside the castle. But she really wanted to control the door to raise and lower it. So, we attached a string to the paperclip on the door, strung the string through the cardboard loop and tied it around an unsharpened pencil.
The pencil with the string was then attached above the inside of the door with two more paperclips so it could easily be turned; as it's turned, the string is wound around the pencil and the door is able to be raised or lowered. Paperclips proved to be a good source for us as they are easy to secure in the thick cardboard and can also be bent to accomodate your needs. (We also placed duct tape over the edges to make sure they weren't sharp.)

Add the Details
Again, allow kids time to think through and add some of the details they love. For my daughter, it was murals inside and outside of the castle (think Tangled again).
She also wanted a 'knocker' on the outside of the drawbridge. So we searched the house and found an old metal piece from a trunk that fit the bill perfectly. Small details like these can be very exciting for kids.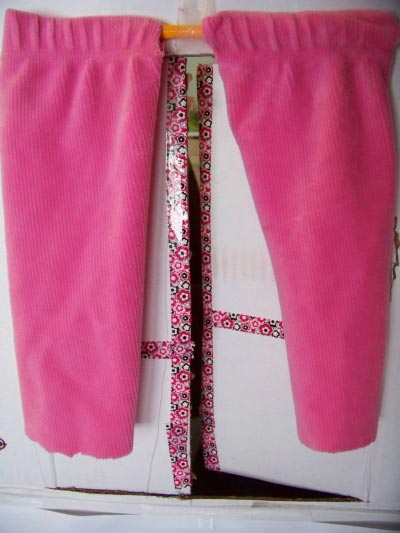 Another detail that was added were windows along the back of the castle. Since my daughter uses this as a reading nook, she needed more light inside. So we cut out a few bendable windows that would open. She took duct tape and outlined the windows "to add some color". And then we found a pair of old leggings that she cut open and attached to a pencil to hang as curtains.
I'm telling you, if you allow kids to think, try and imagine, you'll find they have great ideas!
Connect with a Book
We have a few favorite castle books that can be matched with this month's theme:
Tuesdays at the Castle
was a newer book that we found at the library. Princess Celie lives in a castle whose rooms change every Tuesday. Celie loves to map out all the changes in the castle and explore the new rooms and passageways. But then trouble strikes and Celie and her brother must work together to save their kingdom. It's a fast moving, easy read and we love the action that was tied in with the fantasy. It would also make a fun read-aloud for older kids.
We are also big fans of the DK Eyewitness books! In Castle (DK Eyewitness Books)
, we learned about some of the different features found in castles. And the vareity of castles that have existed over the ages. It was also fun to learn about the different places in a castle – you often think of defending a castle but not where the food is cooked – this book covers it all.
We have some great projects for you this month!
Browse the blogs below for some fun crafts & activities on princesses, knights & castles.