As I'm sure you've heard (with all the store displays and multiple notes coming home from school about upcoming events) — the holidays are coming!
To help with your planning, we've pulled together a list of all the holiday events and activities around Kansas City for you to use as a reference over the next few months.
There's always so many things to do – baking, shopping, decorating — but even more important is taking some time to connect as a family and enjoy some of the fun Kansas City has to offer this season.
Kansas City Holiday Activities
I know, I give you this huge long list of all these wonderful activities and two things probably come to mind — "How can we fit it in our schedule?" and "How do we choose?"
Two tough questions — but I do have a few suggestions:
First, do what feels right this year!
The beauty of many holiday events is that they happen every year. I have to tell myself this each year because having some down time at home to sit and enjoy a cup of cocoa & story with the kids is just as much fun as visiting Santa in my book 😉
And how to choose?
I would start by asking the kids. Have a quick family meeting one night — bring a list of possible activities or brainstorm your own list and see what items will fit into your calendar. You might be surprised at what the kids want to do — last year, the activitiy on the top of my daughter's list was going ice skating (I would have NEVER guessed that)!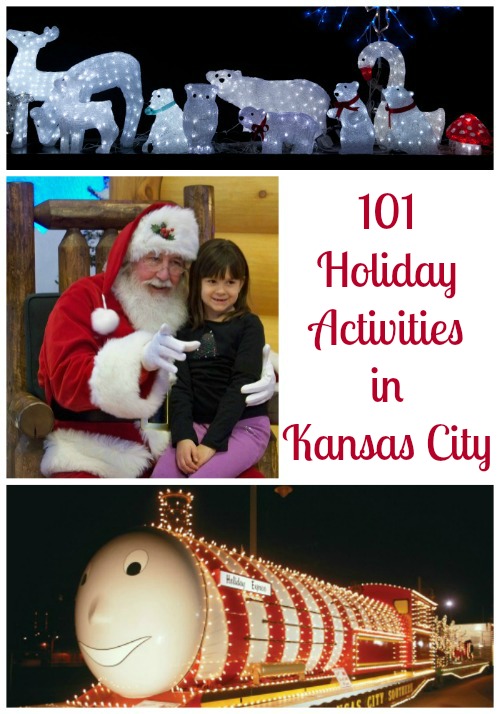 Holiday Events & Activities in Kansas City
In addition to the activity listing here, we also have event listings for both November & December with more family fun ideas!
Holiday Lights
A family favorite activity — put the kids in the pj's one night and drive around to see some of the light displays.
Christmas in the Park (Nov. 26th – Dec. 31st)
Individual Light Display — this is BY FAR the BEST list of individual light displays in KC, Topeka & Lawrence! We use it every year to find new places to visit — please be polite when touring personal light displays and remain in your vehicle unless you are invited onto the property. (self-guided tours throughout Nov & Dec)
Holiday Lights on Farmstead Lane — Deanna Rose Farmstead may not be open during winter but they sure do put on one heck of a light display! Drive in, tune your radio and watch the light & musical show this season.
So-Kar Aglow – walk through the lights and visit with Santa (Dec. 4th)
Light up the Night in historic Parkville for a beautiful lighting ceremony, music and open houses!
Country Club Plaza Lighting Ceremony on Thanksgiving night
Luminary Walks
Enjoy some peaceful time outdoors among the lights —
Includes carolers, bonfire, hot cider and Santa. Admission charged.
A FREE family event on Thanksgiving weekend but the museum stays decorated throughout the season so visit anytime to see the beautiful trees!
Outdoor Activities
Visit the Elk & Bison at the Native Hoofed Animal Enclosure – attraction is open year round and you can feed the animals if they are close to the fence-line!
Kansas City Zoo's Holiday Wild – meet Santa & enjoy some holiday activities
Ice Skating — Enjoy some fun on the ice at these outdoor rinks – be sure to bundle up and bring some cocoa!
The Ice at Park Place in Leawood
Photo credit: KC Southern
Christmas in Kansas City
So many fun family activities from Santa to a train ride, visits with the Grinch or the Fairy Princess.
Trains for the Holidays
Santa Claus Express at the Midland Railway
Santa Trains at Belton, Grandview & Kansas City Railroad
Kansas City Southern comes to Union Station Dec. 16th – 20th & many other locations in the Midwest!
And the kids will really LOVE some of the train events at Union Station!
Visit with Santa
Santa will be very busy this year! Here are some of the locations he'll be visiting around Kansas City:
Santa's Wonderland at Bass Pro Shops – located in Olathe & Indepence, you can visit with Santa, receive a free photo & enjoy some great holiday activities. FREE event is held Nov. 10th – Christmas Eve
Visit Santa & Mrs. Claus – Enjoy seeing both Santa & Mrs. Claus at Shawnee Town on Dec. 6th. The evening event also includes caroling, sleigh rides, kids activities and more!
Breakfast w/Santa at Ernie Miller – Dec. 12th (registration required)
Santa Arrives at Crown Center — he will then be available to visit with children every day until Christmas Eve
Breakfast w/Santa at Powell Gardens — enjoy the beautiful gardens when you tell Santa your Christmas wishes (registration required)
Breakfast w/Santa at Mahaffie Stagecoach – music and a photo included too! (registration required)
And if you're not up for Santa, Mahaffie also has a wonderful Holiday Tea & ornament-making event (registration required).
More Holiday Festivities

City Market will once again host Whoville Holidays where kids can meet the Grinch, make an ornament and visit Cindy Lou Who's home! Held Saturdays from Thanksgiving until Christmas. Event is free but donation of canned goods or new toy is requested.
Enjoy an old fashioned Christmas with ornament-making and 1904 activities at the one-room Lanesfield School on Fridays, Saturdays and Sundays during the season.
Union Station has a special holiday movies & planetarium shows!
And be sure to explore some of the amazing outdoor Nativity walks held in the area — learn about the birth of Jesus and how Mary & Joseph got to Bethlehem:
Journey to Judea (Olathe)
Walk thru Bethlehem (Leavenworth)
Journey to Bethlehem (Kansas City)
Visit the Fairy Princess
A special Kansas City tradition, you can see the Fairy Princess at two locations:
Holiday Theater & Music
Rudolph the Red-nosed Reindeer
One of Kansas City's favorite children's theaters is putting on a favorite holiday musical — the Coterie Theater is showing Charlie Brown Christmas — the perfect way to celebrate the season & a great family show!
Tuba Christmas
Enjoy holiday music performed by more than 100 musicians at this annual event! Two performances for Tuba Christmas will take place this year on December 6th & 9th. Event is free to attend.
A Pirate Christmas

Kid-friendly stage production of The Best Christmas Pageant Ever – great for kids ages 2 – 7 years.
The Nativity
Paul Mesner Puppets puts on an outstanding version of The Nativity that's perfect for families for one weekend each holiday season!

Celebrate New Year's Eve with the Family

Wonder Eve at Wonderscope – great daytime countdown to New Year's for kids & their families.
Not up for going out? Create your own New Year's Countdown at home with the kids!
For more fun places with Christmas themes, visit our November events & December listings!
And be sure to check back as we'll be updating the listing throughout the season!
Happy Holidays!
You might also like:
Gifts that Inspire Creativity in Kids