Well, today's the day! It's the last day of school for the kids here.
As I put the finishing touches on this post, my oldest is completing his final exams and my youngest is enjoying the school talent show.
They will both come home with light backpacks, a smile on their faces and to our familiar family tradition of yelling "We're on VA-CA-TION!" as they enter the door!
And as promised, I am sharing our Summer Adventure List with you! I hope you have been working on yours (I know many schools are still in session until June so keep brainstorming about all those fun activities you'd like to do this year).
I'm also connecting up with Jenny of the Happy Family Movement who hosts an AWESOME yearly Summer Bucket List event on her blog! Head on over, join the challenge and see what other families have on their bucket lists this year.
In my earlier post, I shared some details about how to make a creative bucket list — we opted for one that resembles the periodic table. Whether it's a list on the fridge, one on a chalkbaord or something a little unique, having someplace to store all the activities you'd like to do this summer is a great tool for making some memories.
You can also check out my Summer Bucket List board on Pinterest for 50+ fun ways to create a list and great ideas to consider for some summer fun.
Our Summer Bucket List
So here's what we'll be up to this summer — I've sorted them by the categories we use when we brainstorm ideas:
New Adventures
Visit a Cave
See Mount Rushmore
Hike in a new National Park
Ride an Alpine Slide
Go to SeaLife Aquarium
Try Archery
Visit someplace new in town & explore a new playground
See Monsters U. and Percy Jackson at the movies
Go Canoeing or Kayaking
Complete a Fun Run
Fun Favorites
Shop at the Farmer's Market
Weekly Bike Ride on the trails
Play the License Plate game
Sleep in!
Find 3 geocaches
Attend an outdoor theater show
Create some cool art projects
Reading time in the hammock
Visit the Natural History Museum
Make s'mores
Spend a day at the zoo
Go horseback riding
Swim at a fun pool
Go to the library book sale
Attend some cool kids workshops
Visit Burr Oak Woods Nature Center
Stay up late and watch fireflies
Create Chalk Art
Have a Lemonade Stand
Make some fun desserts
Do some vintage crafts
Have breakfast outside
Go berry picking
Camp-out one night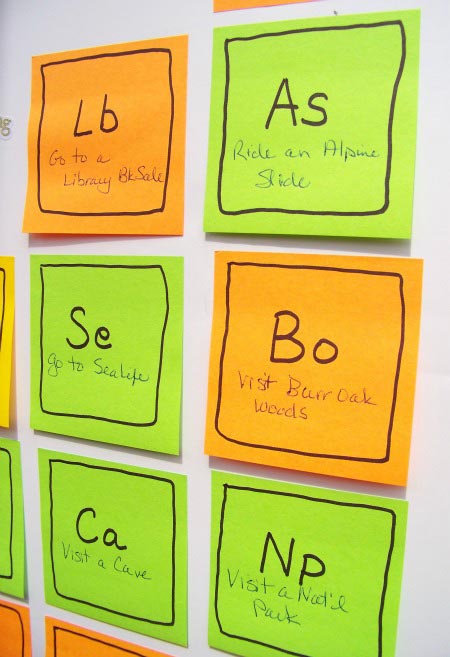 Fun Things to Learn
Participate in the Virtual Science Fair project (open to everyone so join us!)
Become a Junior Ranger at a new park
Learn to type with 2 hands
Complete a Science Project
Get a Driver's License (my teen)
Learn to do a handstand
Get to the next swim level and learn to dive
Have an ancient Greek camp at home
Do a coding project
Read 200 books for summer reading program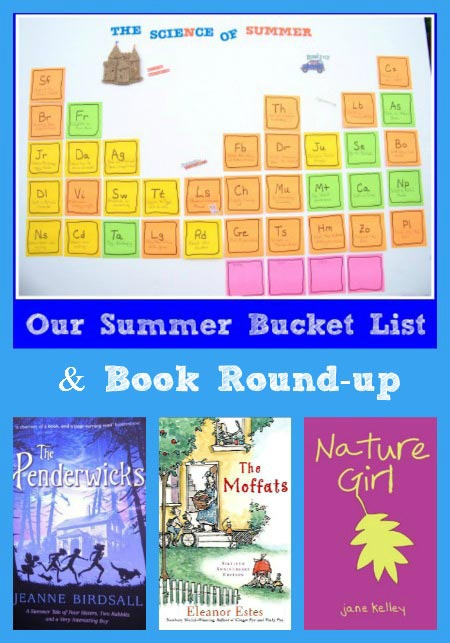 Summer Book List
This is an ever-evolving list as we are big readers, but here's a peek at what we'll be reading (and re-reading) this summer. Each of the book covers is a clickable affilate link so that you can read more about it to see if it fits your summer reading list too —
So what great activities do you have planned this year? Any books on your 'must read list? I'd love to hear about your summer bucket list!