Grab a cup of cocoa and enjoy a few of these classic Winter books for kids this week!
I don't know about you but one of the first things that comes to my mind when winter hits is cuddling up under the blankets with a good book or two. And it's an especially great for a fun snow day activity!
So I thought I would share our Vintage Winter Book List this week!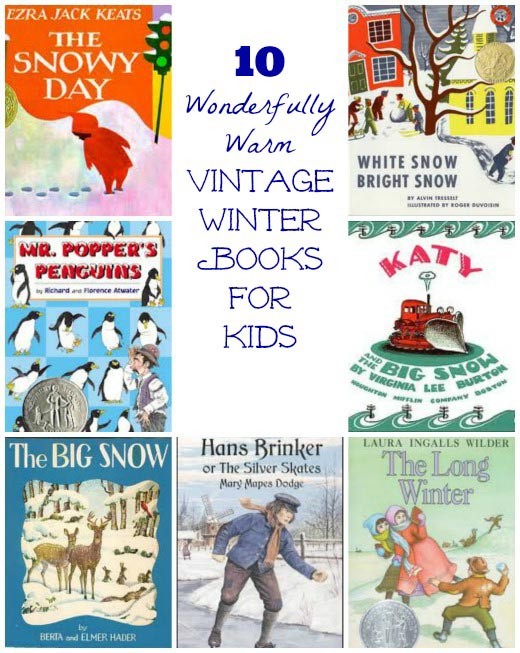 10 Classic Winter Stories for Kids
You may have fond memories of a few being read to you as a child and honestly, that's one of the reasons I share these lists. Reading a childhood favorite means you're likely to share some of the wonderful memories from your childhood too. And kids love to hear stories about when their parents were younger (even if they do think we lived during the dinosaur age before cell phones and Google 🙂
Here's a list of books we love to cozy up with (blanket and hot cocoa recommended) — I'm including both picture books and chapter books along with the affiliate links to each in case you'd like to learn more about the story.
As you may remember from our Classic Summer Books and Cozy Fall Classic Books, the titles that I choose for these lists are at least 40 years old (with many are much older than that!). Most of the stories have stood the test of time being reprinted throughout the years — all are still wonderful stories to share with your kids.
Winter Picture Book Stories
Celebrating more than 50 years as a childhood favorite, The Snowy Day is just as relevant to today's child. During winter, one of the best play opportunities is a newly fallen snow. Making footprints, finding treasures covered in a white blanket and enjoying the quiet beauty of nature. This is a classic to read over and over each winter! Published in 1962.
And did you know that Amazon made this book into an adorable animated mini-movie?! You can see it at The Snowy Day special.
This is the story of a small town, it's residents and the beauty of the last snowstorm of the season. With only a few colors dotting the illustrations, White Snow, Bright Snow allows the reader to peek in the windows and exploring how each member of the town approaches the snow — is it enjoyed? Does it cause more work? You'll find yourself whispering the lines as you read through the night-scaped pages and rejoicing with the coming of Spring! Published in 1947.
If you enjoy this book, I'd also recommend The Mitten by the same author (a newer winter-themed read).
This is a longer picture book but SO worth the read! The Big Snow explores how more than a dozen animals prepare for winter and then weather the first snow of the season. I absolutely love the illustrations in this story — most are in black and white with a few watercolor pictures sprinkled through the story. Kids will really enjoy the details of the animals behavior and seasonal changes. A great fiction book to kick off a science discussion! Published in 1948.
If you have snow in your area, pair this book with a walk to explore animal tracks in winter!
Katy and the Big Snow conveys great messages to kids — helping others, being brave and knowing that even when you are faced with an obstacle, you can find a way to overcome it! Katy is a big tractor that pushes a plow during the winter in order to clear the roads for the townspeople. She's brave, she's determined and she won't let a little blizzard dampen her spirit! Published in 1943.

A wonderful combination of picture & chaper book, Paddle-to-the-Sea is an award-winning story about the travels of a toy canoe & its passenger. During the midst of winter, a young boy carves a small wooden canoe. He then names it Paddle-to-the-Sea and sets it on a snowbank above Lake Nipigon. As the snows melt, Paddle begins his journey through all five of the Great Lakes and out to the ocean. It's an amazing book to tie into a lesson on geography and can easily be read over a number of days as kids will be captivated by each mini-adventure Paddle has on his journey. Published in 1941.
Are you a book lover? Try Audible and Get Two Free Audiobooks
Classic Winter Chapter Books & Read Alouds
Just in case you didn't know, Mr. Popper's Penguins began as a book. Yep, that movie about a quirky wanna-be explorer who receives some penguins as a gift is one great read! Kids will love hearing about the antics of a troop of penguins that are trained by Mr. Popper, a house painter. And parents will enjoy some of the laughs that go along with this easily read story too. Published in 1938.
This is a great book-to-movie activity — pair it with the movie Mr. Popper's Penguins or some of these fun penguin activities!
When Marley's father returns home from World War II, her family decides to move from the city to their Grandmother's house in the country. Miracles on Maple Hill shares the life of Marley and her brother as they learn what it's like to live in a small community and around so much nature that there seems to be small miracles happening all the time. My favorite part of this story is the maple sugaring that happens in the town and how much work goes into bottling a jar of syrup! Great for kids ages 9+. Published in 1956.
Set in South Dakota during the severe winter of 1880, The Long Winter (A Little House book) is a wonderfully historical book about the Ingalls family and their struggles and celebrations that year. Remind the kids that back then, there were no plows to clear the roads,no phones to connect us and everyone traveled by foot or horse. So when a brutal snowstorm hits the town, all supplies are cut off and the residents must find a way to survive winter. The Little House books make great family read alouds! Published in 1940.
Snow Treasure may be more difficult to find but a great reward for those who are able to track it down. Older kids (ages 8+) will enjoy this story set in 1940's Norway. When the Nazis occupy Norway during WWII, several children use their sleds to sneak the city's gold bars and wealth past the German soldiers. Kids will really be drawn to the idea of being involved in such a mission! Published in 1942.
I'm sure you remember this title — Hans Brinker, or The Silver Skates — even if you don't remember the story. Hans wants to enter the ice skating race to win the coveted prize of the Silver Skates. But Hans must work to support his family since his father is very ill. A tale of honor, family and miracles. Plus it's a great story that shares some of the cultural ideals and takes us to another part of the world. Published in 1865.
For more classic books to read to the kids, see our list of 50 Best Read-Alouds for Kids!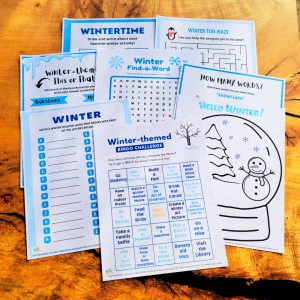 And take a peek at these fabulously FUN printable Winter Games and Activities too! It's a great way to entertain kids (and adults 😉 on those cold, indoor days.
More Classic Book Lists for Kids:
14 Wonderful Winter Books for Kids & Teens
13 Classic Spring Books for Kids
Around the World in 30 Books — A Trip across the Globe