Browse these favorite classic Fall and Halloween books for kids – vintage stories that you'll remember reading as a child!
I love sharing classic books with my kids, especially ones that I enjoyed as a child and Fall books are my favorites!
So I've started a quarterly series on great Vintage Kids Books to feed my need for nostalgic reading 🙂 If you missed the other lists for Summer, Spring and Winter, you can find out them all at Classic Kids' Books for Every Season!
My goal is to help parents & teachers introduce their kids to the books they loved to read and hear as children in order to provide a steady diet of classic literature in addition to the new and more contemporary books your kids love to read.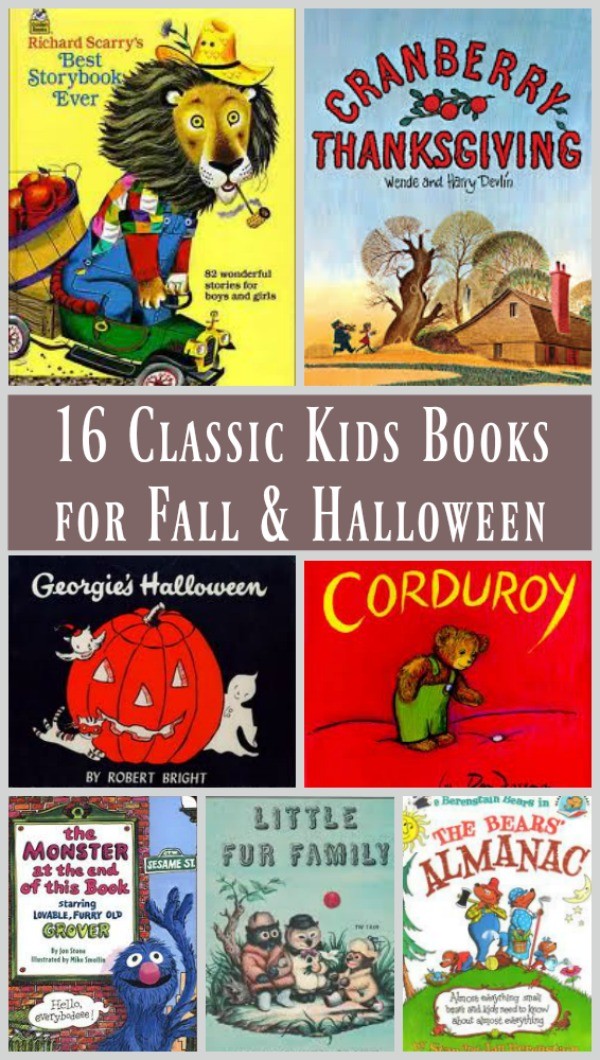 Classic Fall Books for Kids
Can I tell you how much fun I had pulling this list together?!
There's something so comforting about flipping through books that bring back memories of childhood.
The Fall books chosen for this list are at least 40 years old — a few are more than 60 years old — and yet, they are all still relevant and enjoyed by children today. I've included affiliate links for each to help provide you with more information on each of our selections.
Classic Stories to Start the Season
Whether it's time for the leaves to fall or school being back in session, there's always a book for the occasion!
I still have the original version of this wonderful book on our shelves! Richard Scarry's Best Storybook Ever! is no exaggeration — this is the best collection of stories! The treasury includes 82 stories and poems that feature all the seasons of the year but it's the warm illustrations and the inclusion of some great fall-themed stories that entice me to pull the book out again each autumn.
A few of my favorites from the treasury — Pierre Bear, the Country Mouse & the City Mouse, The Firemen to the Rescue, The Bunny Book and a few excellent ABC & 123 stories that remind me of back to school days. For the record, if I was stranded on a desert island with kids and could only bring one children's book, this would be the one 🙂 Published in 1969.
One of the 'youngest' books on our list but also one of my favorites from childhood gets first billing. The Berenstain Bears in the Bears' Almanac by Stan & Jan Berenstain introduces us to a Year in Bear Country highlighting the changes of the seasons and many of the holidays they (and we) celebrate.
Although the story begins on January 1st — however, I think the sections covering Autumn are the most memorable — the rich illustrations of falling leaves, back to school, Halloween celebrations and the phases of the moon are my favorite. Published in 1973.
This book is very hard to come by but many libraries will still have a copy. You can also try The Berenstain Bears' Big Book of Science and Nature for one with similiar nature/science themes.
Although this is a chapter book, it's one with short chapters and pencil illustrations that will appeal to kids of many ages. In my opinion, The Hundred Dresses should be a must-read for all kids before they hit middle school. It's a story about accepting others, making friends, being who you are despite what others think and not doubting your others.
It made our list as a great book for back to school time. As a read-aloud, it offers wonderful opportunities for discussions on how to treat others. Published in 1944.
Another chapter book that works beautifully as a read-aloud, Ramona the Pest is the story of a young girl who lives life to it's fullest. In this book, Ramona is starting school and like many children, she's both excited about the prospect and unsure in some of her new roles.
Younger kids will appreciate the story as they too go through adapting to a new environment. Published in 1968.
Why did The Fire Cat make our list of great fall books? October is Fire Prevention Month so I thought it was fitting to include for our autumn reads.
Pickles is a cat who wants more from life but all he knows how to do it chase other cats out of the yard. But one day, he gets stuck in a tree and the fire department has to be called to get him down — and Pickles learns there's wonderful ways he can help others. The book is an easy reader with very few words for any child just beginning to read on their own. Published in 1960.
Cozy Kids Books for Autumn
I really didn't plan to have so many books with main characters who were bears — must be their fuzzy coat and friendly ways that bring back good memories 😉
The Little Fur Family is one of the early touch and feel books. Readers will experience a day in the Fur Child's life as he plays in the woods, lives by candlelight and bathes in an old-fashion tub. It's similar to what we now know as board books for young children.
Written by Margaret Wise Brown (the same author of Goodnight Moon), it has beautifully rhyming text and a soft feel to the illustrations. Younger kids will find comfort in hearing the story read and re-read. Published in 1946.
Home-cooked meals, family visits and goblins are what put Little Bear's Visit by Maurice Sendak on the list for autumn.
Many of our kids know Little Bear from his popular television series but they should be introduced to his original beginnings as a book character. Mother Bear, Father Bear and many of Little Bear's friends enjoy simple pleasures in this book with multiple stories. Published in 1961.
Another oldie but goodie Golden Book, Good Night, Little Bear is a cute story about a little bear who doesn't want to go to sleep — and papa bear who tries all kinds of things to get him to bed. With warm illustrations by Richard Scarry, this is a true classic.
If you've ever had trouble putting a little one to bed, this is a book for you! Published in 1961.
I'm sure you recognize this little bear who one of the most famous teddy bears in children's literature.
Written by Don Freeman, Corduroy is the story of a stuffed bear who lives in a department store and who hopes that one day someone will choose to take him home. Enter Lisa, the little girl that first sees him on the store shelf and wants to bring him home. It's really a wonderful story of friendship! Published in 1948.
And from one of my favorite authors, Bill Peet introduces us to Merle the High Flying Squirrel. Merle lives in the noisy city where it's dirty and congested. He wants to move out west and live in the big green trees he's about from others. But getting out west is quite an adventure for a little squirrel.
Peet's books are always longer picture books (if you use them as a read-aloud, you might want to split it up between two sittings) but I love that they stretch a child's vocabulary. And his illustrations are so engaging that you're immediately drawn in to the story. Published in 1974.
Are you a book lover? Try Audible and Get Two Free Audiobooks
Classic Halloween Books for Kids & Families
Some not-so-spooky stories with just enough 'spirit' to celebrate All Hallow's Eve.
Do you remember Georgie the ghost? To me, this was one of the original Halloween stories. Georgie's Halloween was published at a time when there weren't many stories for the holiday.
Georgie is a ghost who haunts Mr. Whittaker's house but he's such a cute and quiet ghost that no one's afraid of him. Kids will enjoy the illustrations which only use a few colors throughout the book so as not to distract from the text. And Georgie's friends, Oliver the Owl & Miss Hermann the Cat, have fun adventures with him. Published in 1958.
If you think you recognize the illustrations, I'm sure you do! The Witch Next Door is by none other than Norman Bridwell, the author of the popular Clifford the Big Red Dog series.
When a witch moves in next door, two children are curious about their new neighbor. They soon learn that she is a good witch who does things to help others. Published in 1969.
Similiar to Georgie, Dorrie is a good witch who is learning her way. The books are also known as Dorrie the Little Witch and are part of a series all about her and her witch friends. I remember visiting the library every October and checking out the whole series to read in a weekend — and that was back when there was a limit to the number of books you could check out in one visit 😉
In Dorrie and the Witch Doctor, Dorrie is not feeling well during her Aunt's visit so the Witch Doctor is called to diagnosis the issue. And as in all the books, something funny always happens! Published in 1967.
I'm sure you knew this book would make the list — an although not a Halloween book, it does has a 'scare you' theme. I think that The Monster at the End of This Book is probably one of the most well-known Golden Books for our generation.
It's the hilarious story of Grover (a monster from Sesame Street) who is told that when we get to the end of the book, we'll see a monster — and he's scared of monsters. So he keeps telling the reader to NOT turn the page, "don't read anymore". I rarely recommend any book that is based off a television series but this one in a million – Kids (and the adults who read it) adore this book! Published in 1971.
Thanksgiving Books for Kids
We give thanks for food, family and wonderful books to read together!
For kids who love a good mystery, Cranberry Thanksgiving is a treaure. Maggie and her Grandmother are inviting guests for Thanksgiving dinner and serving their famous cranberry bread made from a secret recipe. But when the recipe turns up missing, they suspect one of their guests is the thief! There is a great moral in the story — never judge a book by it's cover — that kids will learn as they read.
Also included is a wonderful recipe for homemade Cranberry Bread for you to use during the holidays. The book is part of a series which also includes Cranberry Halloween and Cranberry Autumn, both of which are more recently published stories. Published in 1971.
I saw the publication date on this song/story and couldn't believe how long it's been around — and still one that kids love to sing each year. Over the River and Through the Wood: The New England Boy's Song About Thanksgiving Day is a wonderful read that shares how much things have changed and yet, how much they stay the same.
You may have taken a sled to grandma's house instead of a car but you were still celebrating with family and some amazing food. Published in 1844.
You might also enjoy these 10 Thanksgiving Books about Gratitude & Traditions!
More Fall Books for Kids
14 Cozy Books that Celebrate Fall
The Best ER (Early Readers) with Seasonal Themes
Great Books to Take on a Leaf Hunt