Enjoy these gorgeous new books about Fall & Autumn for kids!
I love creating book lists and I think that some of my favorite are our Kids Books about the Fall & Autumn season!
There's just something about the gorgeous colors, seasonal changes and cozy text that make me want to cuddle up and keep reading (usually with a cup of tea for me a cocoa for the kids 🙂
Today's book list covers some of the newest reads you'll find out this season for your kids!
Fall colors, animal friends and inspiration for outdoor adventures await in the pages of a book …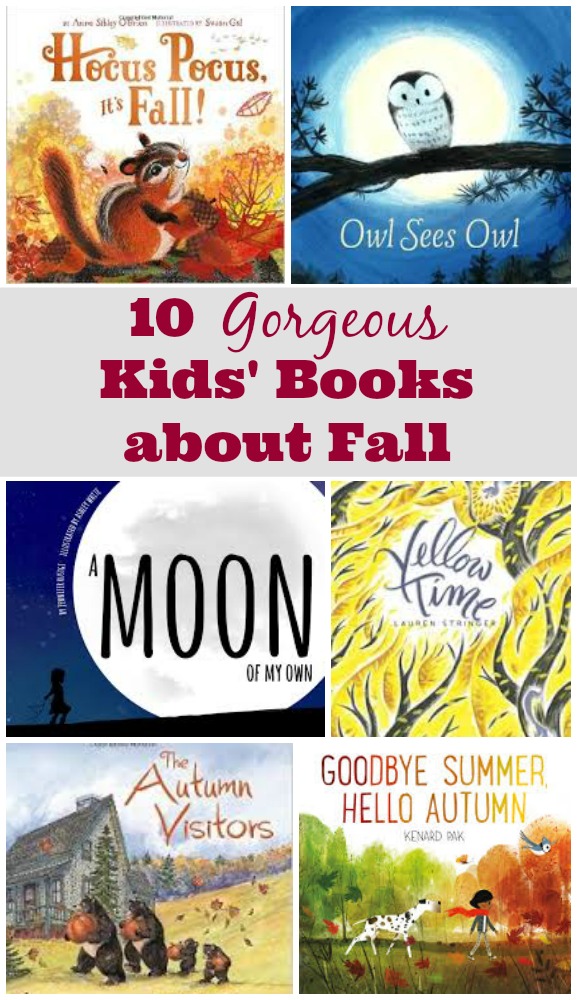 10 Gorgeous Fall Books for Kids
Although we are big fans of classic books (many of which we pull down from the shelves during our monthly book swap), we also love to see what new stories are out each year.
Sometimes new stories by favorite authors and other times we'll discover new illustrators and authors that quickly become family favorites.
You can see our list of Classic Fall Books for Kids (many I'm sure you'll remember from childhood) along with these 14 Cozy Kids Books that Celebrate Fall (curl up with a blanket & cider to read these!)
Today's list focuses on newer books for Autumn with GORGEOUS illustrations! Bright colors, vivid pictures and descriptive text to entice you to pick up a book and read! Here's a handful to add to your library list this season along with our reviews and affiliate links so you can quickly learn more about each one!
10 Picture Books about Autumn & Fall
Hocus Pocus, It's Fall! is a perfect example of a book that uses those gorgeous Autumn colors for that cozy feel while you read! Kids will love the double fold-out pages and simple text as they watch animals prepare for winter among the seasonal changes. Best for ages 3 – 6 years.
Pair this book with our FREE printable Fall Scavenger Hunt too!
There's something about Fall that makes me think 'owls'!
Maybe it's the fact that we're more likely to see & hear one on our evening walks. Owl Sees Owl is SUCH a fabulous read for a few reasons — first, the illustrations are just beautiful and second, it's written in reverso poetry (which means the words reverse halfway through the story — like a palindrome) so it's also a wonderful introduction to a new genre for many kids. The text is simple but delightfully descriptive too. Best for ages 2 – 7 years.
If you're also an owl fan, browse these fun Owl Books & Activities for Kids too!
If you haven't had the opportunity to read this new book, I'll let you know right now — it's a series that introduces one for each season! In The Autumn Visitors, our Bear family enjoys Autumn in New England — from the county fair to Halloween and then Thanksgiving festivities. And I love that the books in this series are mostly told via pictures with very little text (and some very funny pictures at that!) Seasonal perfection for ages 3 – 8 years!
The other books in the series include:
It's always easier to say good-bye to one season when you're excited for the next 🙂 Goodbye Summer, Hello Autumn follows a young girl as she walks through the woods noticing the Fall changes.
The beautiful illustrations will inspire readers to see who's making dens, looking for food and spot other changes in nature as we enter a new season. This is also one in a series – the next installment being Goodbye Autumn, Hello Winter is just as beautiful! Best for ages 3 – 7 years.
Are you a book lover? Try Audible and Get Two Free Audiobooks
If you have a child who just can't give up a favorite object, this one's for you! Bella's Fall Coat is the story of a little girl who has clearly outgrown her coat — but it's her favorite coat! One that was make by Grams just for her. Young readers will enjoy spotting not only seasonal changes but also patterns as they wonder how Bella will remedy her predicament. Great for ages 3 – 8 years.
Follow the children as they experience a sensory season — Fall (Seasons) (All Year Round) shares all the noises, tastes, sights and smells that our favorites in Fall. Young readers will be inspired to explore them in real life too! Great for ages 2 – 7 years.
I know orange might be a popular Fall color but Yellow Time shows us that it's the color that brings in the season! I love, love, LOVE that the story features a multiracial group of children who await that Whoosh! and Swoosh! of the falling leaves. Wonderful for ages 3 – 8 years.
This is our STEM-focused read — My Autumn Book shares how a young girl uses a camera and notebook to capture all the changes in nature that occur in Autumn. From geese flying south to the changing leaves, she creates a book of her research and findings. A perfect book for young scientists ages 3 – 8 years who adore the outdoors!
Read this story while exploring STEM in Autumn — 20 Fall Science Activities for Kids!
Inspire your kids to enjoy the season exercising with Trish's Fall Photography: A Kids Yoga Autumn Book. Trish & her father are working on a school project while they enjoy the beauty of Fall. Readers will love the seasonal yoga poses along with a parent/teacher guide that assists adult in introducing yoga to their kids. Perfect for ages 4 and up!
With the time change, Fall evenings are the perfect time to do some moon-watching! A Moon of My Own is a unique book that introduces both science and geography (awesome!). Follow a young girl on her imaginative travels as she visits all 7 continents as the moon phases change.
My absolute favorite thing in this book is the "Explore More" section which shares additional astronomy & geography activities families can do together. Amazing for kids ages 4 – 10 years!
This book also pairs perfectly with our 7 Moon Activities for Kids too.
More Fall Books for Kids:
The BEST Early Reader (ER) Books with Seasonal Themes