Enjoy these wonderful picture & chapter books about zoo animals before your next visit!
One of the most popular activities that I've seen on many summer bucket lists (including ours!) is a visit to the zoo!
We can't wait to head out to spend some time with our local polar bears, giraffes and monkeys this year.
We love to read a book before we head out to see our animal friends.
Or better yet, take a book with you on your next zoo visit and read it WITH the animals!
---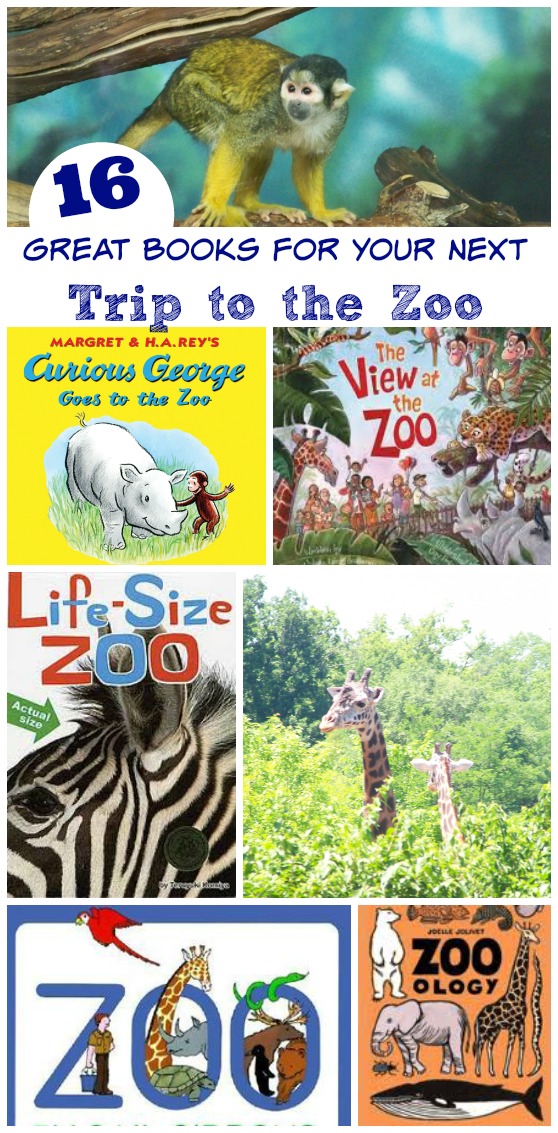 15 Books about Zoo Animals for Kids
Here are a few of our favorite zoo reads, both picture books and chapter books for read aloud or more advanced readers. We've also included affiliate links so you can learn more about each of our selections.

If I Ran the Zoo (Classic Seuss)
by Dr. Seuss is a classic zoo book! What kid wouldn't want to imagine all the wonderful things they would do if they were asked to be in charge of the zoo for a day 🙂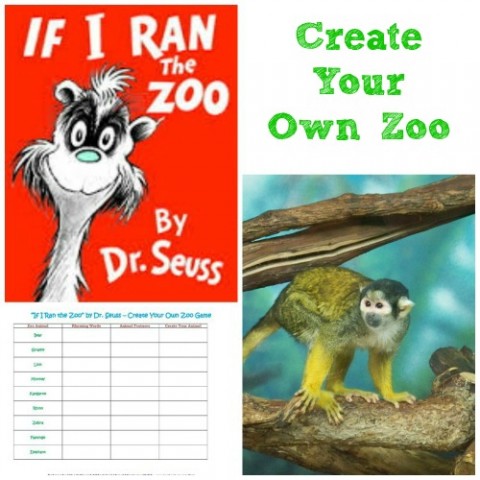 And be sure to print this free If I Ran the Zoo game to play after you read the story.
For kids who want to get up close with wild animals, I would recommend Life-Size Zoo: From Tiny Rodents to Gigantic Elephants, An Actual-Size Animal Encyclopedia
with photography by Toyofumi Fukuda.
These 20+ amazing photos show the details of many zoo animals from their eyelashes to tongues, along with posing some very interesting details about many zoo residents. Great for kids ages 3+ (really, this is a cool book even for adults!)
And for the younger set, try the DK
Wild Animals (Touch and Feel)
book.
We all know that it's not possible to pet most of the animals at the zoo, so this book introduces younger children to what they might feel like if they were able to get up close. Fun for ages 1 – 4 years.
The View at the Zoo
by Kathleen Long Bostrom is a humorous look at a visit the the zoo.
This very clever twist on "who's watching who" will leaving kids laughing and wondering if they are the ones on display. Fun for kids ages 3 – 8 years.
A favorite in our house when the kids were younger was the (almost) wordless picture book Good Night, Gorilla
by Peggy Rathman.
Follow the zoo-keeper and gorilla through the zoo as they put the animals to bed. An adorable book that's a must read for kids ages 1 – 3 years!
Zoo – ology
by Joelle Jolivet is one of those books that kids will read over and over.
First, it's a large (over-sized) book which allows the illustrations to be examined more carefully. Second, it allows kids to explore animals from around the world as they are shared in different ways, such as 'at night' and 'underground'. Adults and older kids will enjoy all the fun animal facts shared in the appendix. Wonderful for kids ages 3 – 9 years.
Zoo
by Gail Gibbons is an interesting non-fiction look at what happens during a day at the zoo.
Readers will get to see what happens from early morning until the zoo closes and the animals go to sleep. It's a fun way to learn about some of the behind-the-scenes activities that take place at a zoo. Recommended for ages 3 – 8 years.
If you're looking for some favorite book characters, here are a few enjoyable reads about zoo visits that kids will identify with as they tour the animals —
Eloise Visits the Zoo (Eloise Ready-to-Read) is perfect for those early readers! Follow along as Eloise & Nanny visit some of their favorite animals and see what activities they enjoy doing at the zoo.
Curious George Visits the Zoo
is a wonderful read for fans of our favorite monkey. George seems to be causing trouble yet again but the Zookeeper soon realizes that he's only trying to be helpful as he meets some of his animal friends.
Pinkalicious and the Pinkatastic Zoo Day is another Early Reader book which will entice fans of the series to start reading on their own. See what happens when they visit the monkeys — and then have to return to the zoo the next day!
We are big fans of Little Critter books — the kids find them very funny. Kids will love My Trip to the Zoo since it's all about animal noises 🙂
For the older set (kids who are reading chapter books), we've also got a few suggestions for great zoo mysteries!
The Capital Mysteries are a great series all around for kids starting early chapter books. In the Capital Mysteries #9: A Thief at the National Zoo, the kids have to solve the mystery when the Tiger's Eye jewel is stolen during a zoo event!
Kids who love mysteries will really enjoy The Secret Zoo. Noah & Megan live next door to the zoo and are noticing the animals' strange behaviors — then one day, Megan disappears! It's up to her brother and friends to solve the clues that lead them into the zoo at night to see if they can find her.
Another favorite mystery series — The Mystery of the Mixed-up Zoo (The Boxcar Children, No. 26)
are also trying to solve an animal mystery. There seems to be a LOT of zoo-based mystery books 🙂
Yep, still one more! This early chapter book series is also a great one for kids. In The Zoo Crew (Nancy Drew and the Clue Crew), Nancy & her friends spend a three days at a zoo overnight camp! They help the zookeepers, meet the animals and solve a mystery before heading back home.
And for some creative fun, take along the At the Zoo Scratch & Sketch (An Art Activity Book for Animal Lovers and Artists of All Ages) (Trace-Along Scratch and Sketch)
. Your kids will love to observe and scratch/sketch the animals they see on their visit.
I would also highly recommend this wonderful family movie (which originated from a book that's more of a teen or adult read) — We Bought A Zoo is an amazing story (based on Benjamin Mee's real life) of how a family came to buy a zoo. This is one of those movies that has something for everyone in the family and it helps that the kids in the movie include a young daughter and a teenage son who both add a lot of fun to daily life.
Be sure to print off the Zoo Scavenger Hunt to take with you too!
MORE ANIMAL ACTIVITIES FOR KIDS:
50 Forest Animal Crafts & Activities
40 Animal Habitat Projects & Crafts
MORE GREAT BOOK LISTS:

15 Fabulous Books about Forest Animals
10 Books for Your Next Camping Trip