Enjoy these Outdoor Fall Games for Kids this season!
Autumn is the best time to get outside & play some fun Fall games for kids!
So many things come to mind when the Autumn weather arrives -- getting outside more often now that it's cooler, helping the kids with their homework, football and fall holidays!
Seems like we are all spending more time with friends and family at this time of the year. So it's great to have some go-to fall games on hand for family gatherings, class parties or just those long, lazy weekends in the backyard.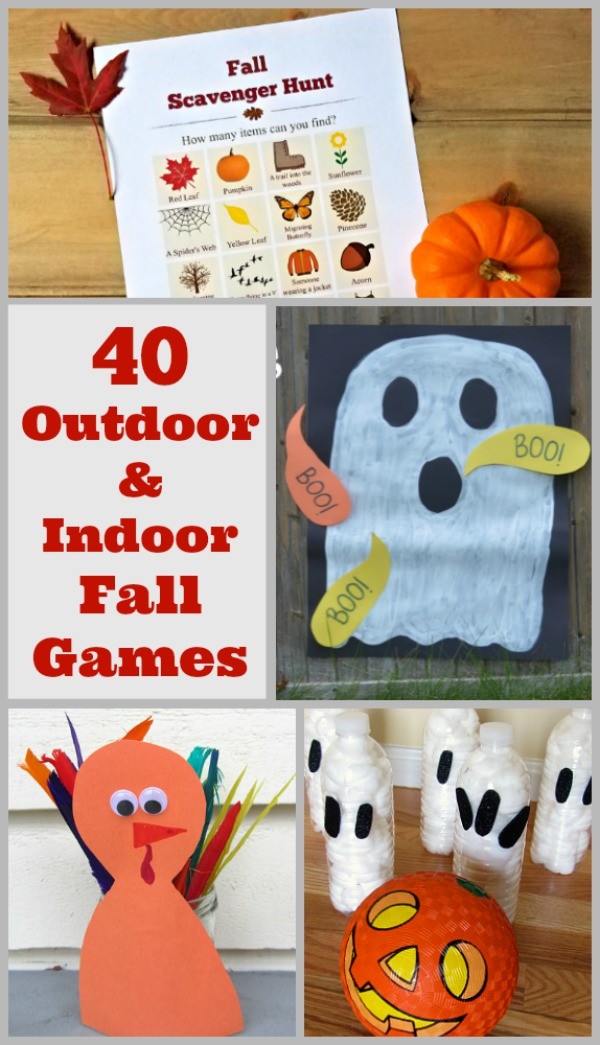 40 Games for Fall: Outdoor Activities for Kids
Honestly, life is just more fun when you play a game, right?!
Check out some of these creative ideas & seasonal ways to play. We've also included affiliate links for a few of our favorites too.
Whether you're looking for ideas for backyard games, class parties or holiday fun, we've got a great group of games that kids (& their adults) will enjoy!
Awesome Outdoor Fall Games
Get outside and enjoy the weather with these easy DIY fall games that can be played in the backyard, at school or in the park!
Fall Scavenger Hunt game | Edventures with Kids
Pine Cone Bowling | Red Ted Art
Pumpkin Ring Toss | Kid Friendly Things to Do
Fairy Tale Action Game | I Can Teach My Child
Autumn Scavenger Hunt | Modge Podge
Scarecrow Tag | Childhood 101
Fall Leaf Number Game | Toddler Approved!
Flashlight Tag & Ghosts in the Graveyard | Premeditated Leftovers
PLUS 18 Autumn Scavenger Hunt games to play!
And be sure to check out these 25+ Fabulous Fall Games in our Amazon storefront too!
Halloween Games & Activities
Halloween themed games that get kids moving and burn off energy, and entertain kids, teens and adults!
Halloween Scavenger Hunt | Edventures with Kids
Pin the Boo! on the Ghost & 9 More Halloween Games | Simple Play Ideas
Halloween Charade Game | Edventures with Kids
Ghost Bowling | No Time for Flashcards
Mystery Touch & Feel Game (great game for all ages!!) | Edventures with Kids
Halloween 'Candy in the Jar' Games | Edventures with Kids
Roll a Monster | 3 Dinosaurs
Halloween Charades (for younger kids) | Buggy & Buddy
Pumpkin Chuckin' | B-Inspired Mama
Lair of the Spider | chicken babies
Scary Witch Rhythm Game | Let's Play Music
Make a Mummy | Kids Activities Blog
And did you know that they make a Nightmare Before Christmas Monopoly game?!!
PLUS, check out the 40+ Printable Halloween Games, Activities & Countdown pack too!
Thanksgiving Fall Games
Bingo, scavenger hunts and more Thanksgiving-themed games for both kids and adults!
10 Printable Thanksgiving Games (for the whole family to play!) | Edventures with Kids
Thanksgiving BINGO | Crazy Little Projects
Thanksgiving Day Games & Activities | Edventures with Kids
Thanksgiving Scavenger Hunt | Blooming in Suburbia
Turkey Hunt | Bloom
Turkey Feather Hunt | No Time for Flashcards
Don't Topple the Teepee | Inspired Treehouse
And since we spend time with family on Thanksgiving, try the "Never Have I Ever" Family Edition Game for some great stories & laughs together!
PLUS 27 Free printable Thanksgiving Games & Activities for more fun!
Fun Fall Games to Print & Play
Fall Family BINGO | Edventures with Kids
Halloween Word Games | Edventures with Kids
Halloween Dice Game | Hands on As We Grow
Roll a Pumpkin Game | Happy Home Fairy
Halloween I-Spy | Simple Play Ideas
55 More Free Fall Printables for fun & games!
and don't forget about the printable Thanksgiving Games for Kids & Adults!
More Fun Fall Activities
30 Fall Games to Play at the Park
40 Fun Fall Activities for your Family