Tips on finding local nature centers and nature activities near you!
When I first started to stay home with our kids full-time, I knew that we HAD to get out of the house each week.
While I'll be the first to admit that there are so many fun ways to learn at home, kids quickly expand their understanding of the world as they have opportunities to visit new places.
That was always an easy task during the nice weather, but on hot or rainy days, it was more of a challenge to find fun places we could visit & explore (especially those that were in our budget and didn't involve a fast food location 😉
Then I came across a GEM!
We took a trip to our local nature center — and ended up spending 3 hours there!
This is why nature centers & animal sanctuaries made our list of 40+ FUN Places to Take Kids Near Me (psst… be sure to grab your FREE copy of the list!)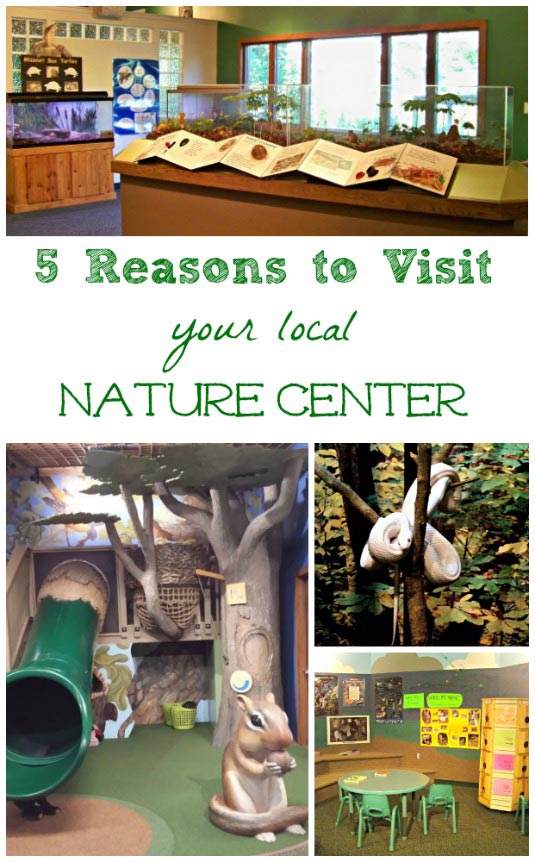 5 Activities at Your Local Nature Center
We only expected our first visit to be a short one but there was just SO much to do that I couldn't get the kids to agree we were done until they explored the whole darn place!
And then we were hooked — we found 3 more nature centers to visit during the winter months and more that following Spring.
Since many centers have both indoor and outdoor spaces, they are a wonderful resource for the colder months as well as during nice weather days.
All nature centers and natural areas will be different in what they offer but we've learned that many of them have some very similar nature-themed activities that kids really enjoy.
We're sharing our BEST tips on finding & visiting nature centers with your family along with details on what you'll discover at your local nature center and affiliate links for items that are perfect for your visit!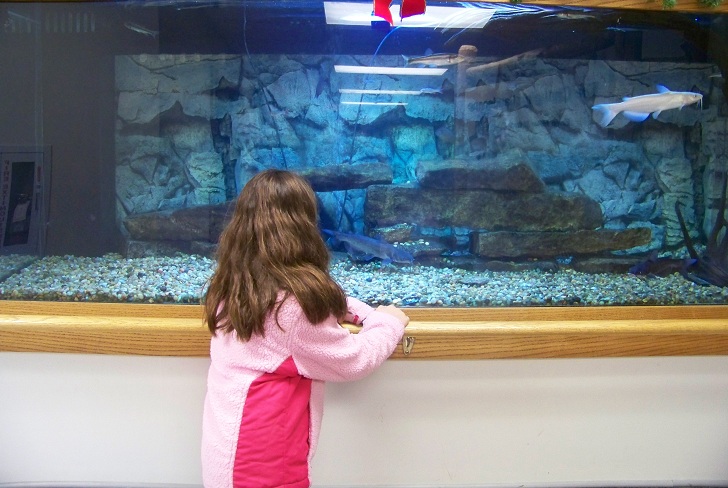 Tips for Finding Nature Centers & Activites Near Me
When I started this post, I decided to go back and count how many different nature centers we've visited with our kids over the years.
You see, nature centers really are located EVERYWHERE so we tend to gravitate to them during school breaks, over the summer, while on vacations and on rainy days.
All in all, we have explored more than 37 nature centers!
They are usually one of the first attractions I look for if we are in a new area.
Why?
First, most nature centers are free (woohoo!) and they usually stay open thoughout the year — which means they are an awesome place to take the kids on those cold or dreary days.
Second, they are a wonderful place to get up-close with animals.
While we really enjoy hiking and exploring the woods, you aren't always guaranteed to see animals. And zoos can be very expensive and very crowded — plus they have more exotic animals and your kids might tell you "But we see giraffes at every zoo!"
At local nature centers, you'll find animals that you probably won't see at home or at a zoo.
And the third reason we always enjoy our nature center visits — there is just SO much to do!
Here are a few items I recommend bringing on your visit along with affiliate links
a jacket (you'll be both inside & outdoors at the majority of these locations),
water bottles,
a snack (these combo water/snack bottles are so useful to have for day outings!)
sunscreen or bug spray if you plan to be hiking,
hand wipes (these are our favorite hand wipes — they have an awesome scent!) if you know you'll freak out when your kids get to touch a snake (or is that only me?? 😉
and super comfortable shoes!
During the summer we like to wear our sports sandals when we visit since they are good for hiking and walking through water (plus, they are closed toed shoes since some activities can't be done in flip flops). In the colder weather, good sneakers or sturdy boots are the way to go.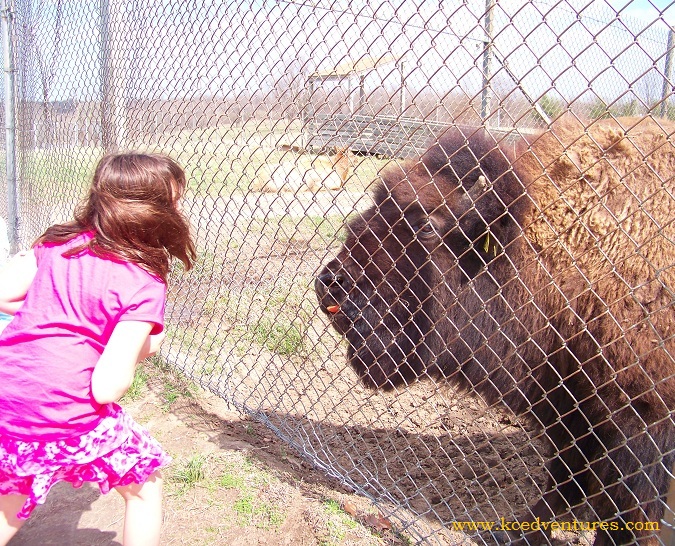 But first things first — finding a nature center near you!
I'll bet you'll be surprised at how many local nature areas that are near you once you start to look — search online for "Nature centers near me" or use a geographic terms like "Nature centers in northern Minnesota" if you want a broader list.
You can also use terms like "wildlife center", "animal sanctuary" or "nature preserve" too.
Here are a few resources that will help you locate a wildlife or nature center in your area:
Nature Centers in the United States
As I said before, many nature centers are free but there are a few that have admission fees — usually the larger ones that also have some spectacular programming so I never mind the charge if I know it will be a stellar experience. Be sure to visit the website (or call if you can't find them online) to see what programs may have fees at centers near you.
Here are some of the AWESOME activities you'll find at nature centers near you!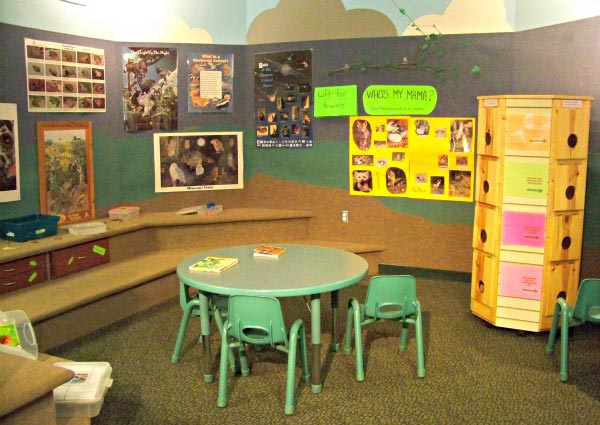 1. Hands-on Nature Activities & Sessions

There's always some type of hands-on learning area for kids to explore — you'll find nature posters, touch & feel areas with natural objects, books, puzzles, coloring sheets and so much more!
One of my favorite activities at the nature centers are their storytime sessions!
Story readers (who are usually rangers, conservation specialists and staff at the center) will usually choose a non-fiction story that introduces kids to a popular local animal. You could also read a book with your kids — these children's books about life in the forest would be very popular to read before or after a visit.
After the story, there's usually a meet & greet with some of the animals at the center.
We've had the opportunity to hold a snake, see an owl face-to-face and learn about various types of reptiles.
You can also see in the photo above that we've fed an apple to a bison (that was pretty amazing!) so you never know what you'll get to do during your visit (thus the need for comforable clothes and those hand wipes I mentioned ;)!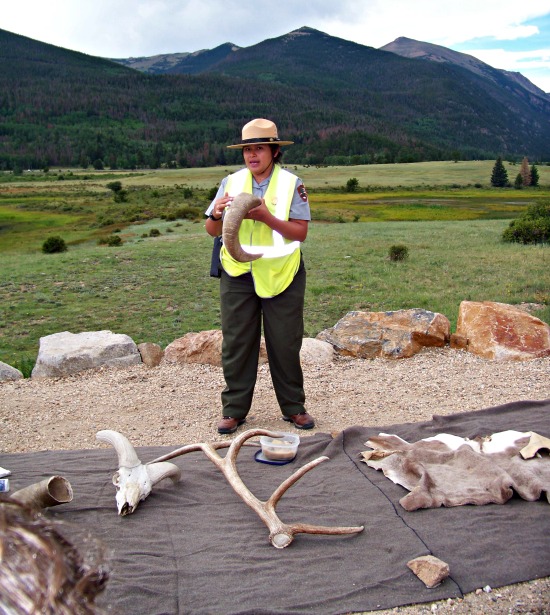 Many Nature Centers (especially those at state and national park locations) will also offer some excellent outdoor sessions and skill classes. You can learn more about these and will usually need to reserve a spot in the class. Read about why we love Junior Ranger programs too if your kids enjoy these types of activities!
Some of the skill sessions offered involved a more in-depth look at animals in your area and could include:
orienteering,
using a compass,
following a scat trail (yes, the kids LOVE to go look for animal poop!),
exploring animal habitats and
food chains in the wild
Some of the nature centers we've visited have also offer evening and nighttime classes in star-gazing, bats and nocturnal animal behavior.
Older kids usually love seeing what happens outdoors at night so these are great options for families to attend together. You can also take along this FREE printable Nocturnal Nature Scavenger Hunt to use during a nighttime visit!
2. Indoor or Outdoor Nature-themed Play Areas
Yes, many times nature centers will have some outstanding places for kids to play & discover! I love to find places that have natural play areas or are themed based on local habitats. We crawled through a worm tunnel at one center 🙂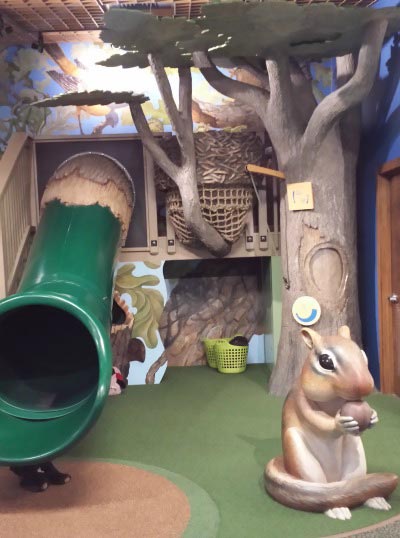 Sometimes you'll find a wonderfully themed indoor play area — isn't this one amazing! Kids get to pretend they are the size of a squirrel on a forest-themed playground.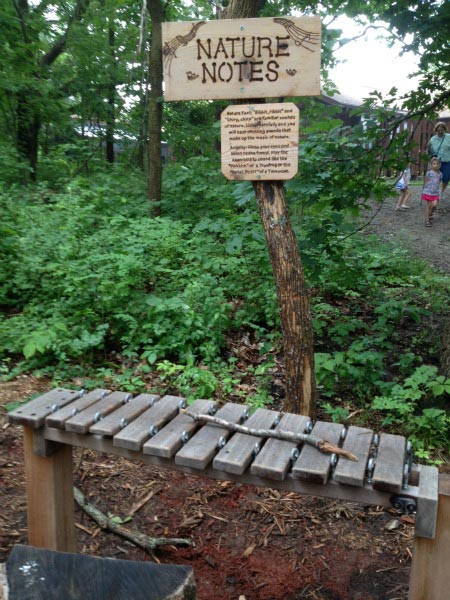 And other times, you'll find a great outdoor are to explore!
Many centers are adding outdoor items that are built from natural items. One of our favorites are the tree stump bridges and balance areas that we've found at most of the centers we visit. Again, a great place for those sports sandals or sneakers — not so much a flip flop area 😉
ps. Be sure to pack some water & a snack — we always seem to stay longer than we plan to and you can't really explore on an empty stomach!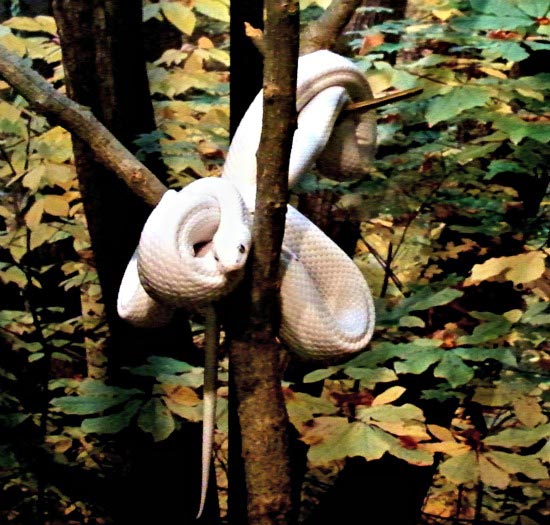 3. Local & Native Animals!
From fish to reptiles to birds of prey — nature centers are home to many of the wildlife animals that life in the area. You'll also find native rocks, plants and vegetation too.
If your kids have a favorite nature book (here's a list of our favorite nature and field guides for kids!), be sure to bring it with you! They can use it to scout our different rocks, animals or other items during your visit.
Unlike zoos and aquariums, a nature center is home to wildlife that live in that same geographic area. Many times, the staff at the center is trained to take in hurt animals, nurse them back to health and then release them back to their natural habitat. Other times, you'll find animals that aren't able to live in the wild so they call the nature center 'home'.
And most centers will NOT allow you to hold or touch the animals — since they are wild animals. Some do allow kids to get up close with them especially if they are animals that live at the center all the time (those that are not going to be re-introduced to the wild).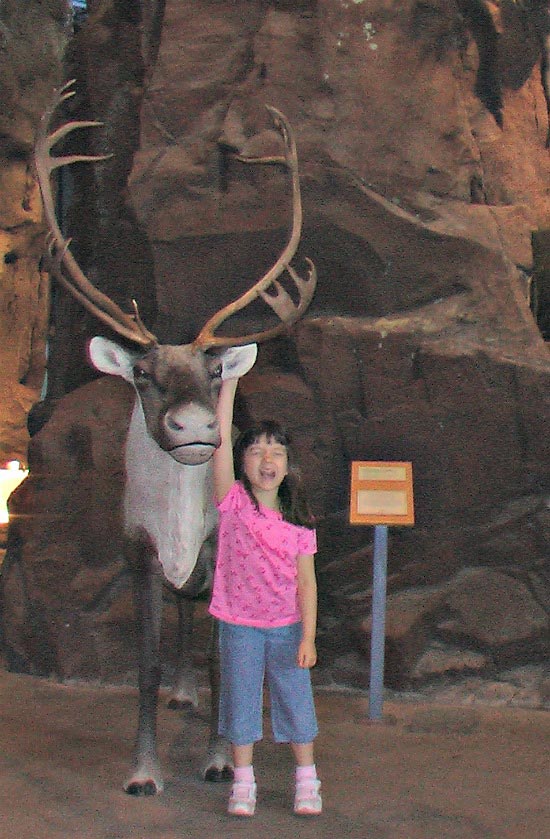 And you'll probably see many animal displays too! I'm always amazed at how many taxidermy animals are at centers. My kids love to measure their size to the actual size of a wild animal!
Our youngest thought it was awesome that she could stand next to a 'reindeer' at one visit 😉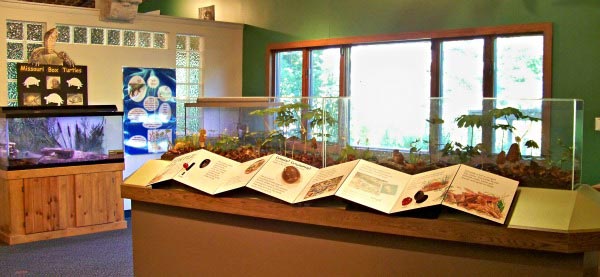 4. Natural Science Activities & Learning

In addition to the more formal classes, most centers will offer some one-your-own nature/science experiences. Ask staff if they have a scavenger hunt available, host geocaches on site or have a dedicated hands-on science room or area for the kids.
Many times, you'll find a magnifying glass, animal pelts, casts for animal tracks, fossils and many other natural items that kids can touch and explore.
Some centers will go all out and you could spend hours going through drawers and shelves of nature items!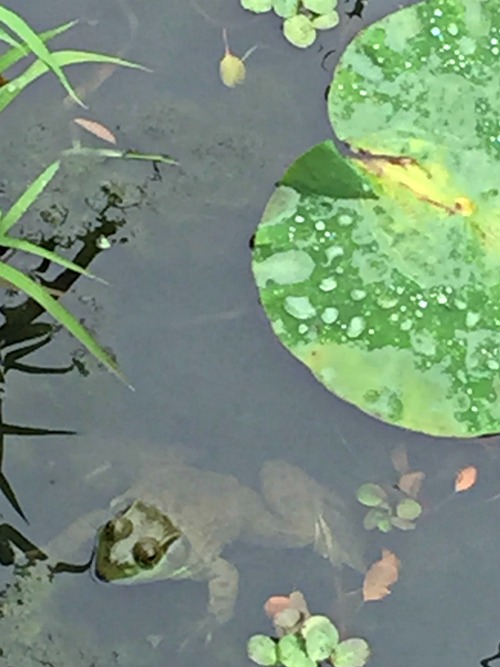 And don't forget to check the outside of the center where they may have ponds or other natural areas for live animal observation.
Take along this free Animal Observation printable and start a nature journal during your visit!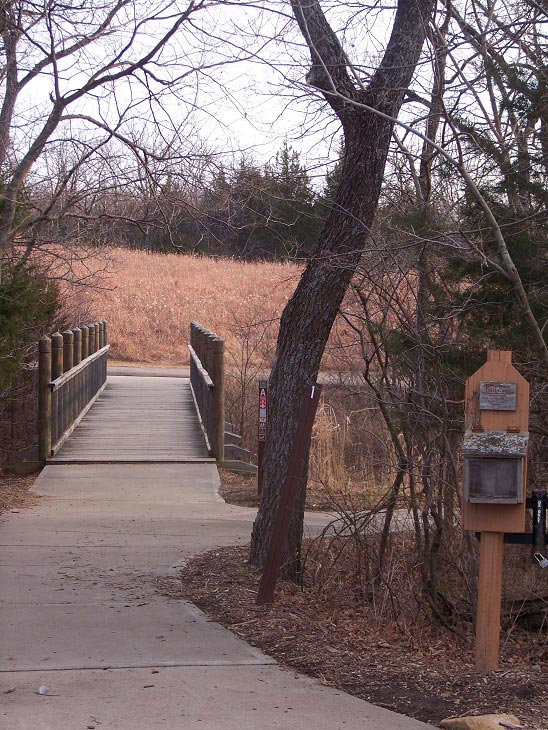 5. Hiking Trails & Walking Paths Near Me

Nature centers also offere a great opportunity to get some fresh air no matter what the weather.
Many will have paved trails (which are wonderful if you have a stroller or wagon with you) along with more natural trails and rough terrain if you have kids who enjoy a little challenge when they hike. Look for a map or markers that guide you along the trail.
And here are some great tips for hiking with kids — fun ways to keep them busy while you explore!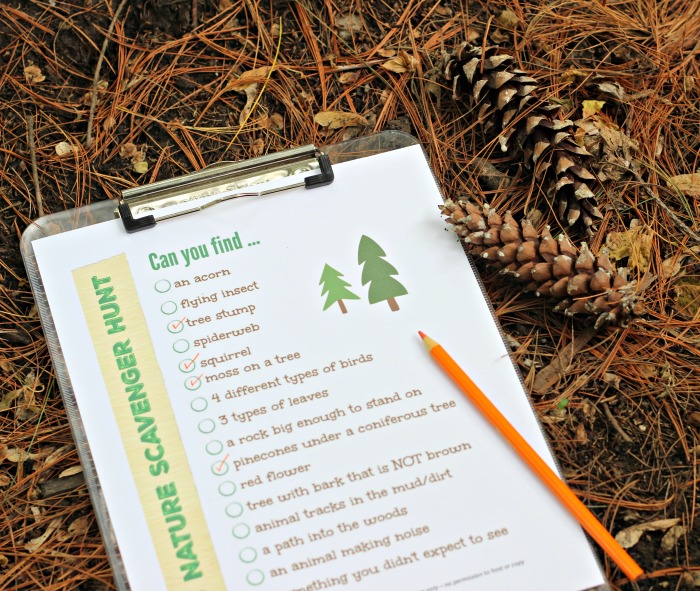 Grab a copy of this FREE printable Nature Scavenger Hunt and see how many items you can find on your hike!
Be sure to keep your eyes out for animals, signs and educational posts along the trails that show tree identification, birding areas and other habitat learning opportunities.
More Fun Places to Take Kids Near Me
For more ideas on finding great adventures in your area, print off the FREE list of 40+ Fun Places to Take Kids Near Me!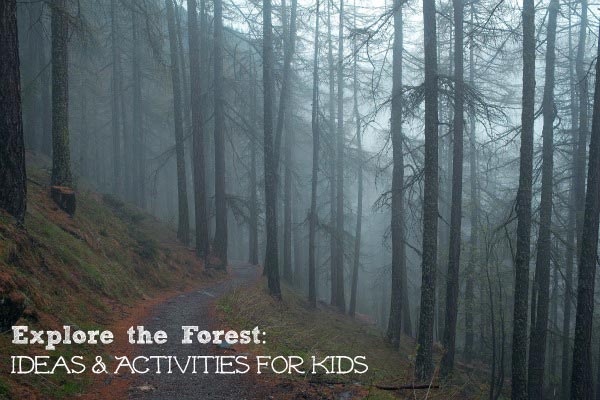 And if your kids love nature, be sure to follow along with our Explore the Forest series!
15 Fabulous Books about Forest Animals
50 Free Forest Animal Crafts & Activities
Explore the Forest: 7 Tips for Hiking with Kids
Animal Observations {or How to Increase Your Child's Attention Span!}