There's something nostalgic about back to school time.
I think it's because we all remember getting ready for a new school year —
…. saving those new shoes for the very first day so they'd be all shiny (at least until recess)
…. getting excited to learn who would be in your class and who would be your teacher
…. a brand new box of crayons!
And yes, I know that it's all about electronics and technology these days but I still think chalkboards and paper maps are super cool!
So as I pull out our breakfast chalkboard and school decorations since the kids are starting school next week (yikes!), I thought I would also share some of the wonderful free vintage printables and retro back to school ideas I found over the years.
Vintage Back to School Printables & Activities
Some beautiful free printables that can be included in your child's lunch —
Retro Lunch Cards || Mama Miss
ABC Flash Cards || Sweetly Scrapped
Lunch box fill-in Writing Cards || Rook No. 17
I'm totally smitten with this GORGEOUS library-card themed back to school countdown from The Idea Room! What a wonderful way to countdown to the first day. We're going to use them to chronicle the first few weeks of school (writing down some of the 'must remember' things that take place during those super busy days).
I love the DIY Cloth Napkins from Buggy & Buddy — having a colorful way to wipe your fingers helps to balance out all those plastic containers in the lunchbox.
Do you remember signing your name and waiting in line to get your book stamped? Who wouldn't enjoy making their own play library! The Best of Everything gives you all the details so you can play librarian at home.
Practice your scissor skills by cutting and dressing these classic paper dolls from Betsy McCall. You'll find her September – Back to School outfits here along with links for fun clothes that you can 'make' each month of the year.
And for everyone who remembers those Saturday morning cartoon sessions, be sure to share the amazing Schoolhouse Rock videos with the kids — you can find them all on YouTube. Talk about a fun way to learn!
Be sure to check out our list of Vintage Fall Books for some great reads — a perfect way to wrap up a long day at school.
Looking to Get Organized for Back to School?
I highly recommend the Makeover Your Mornings e-course! It really helped me to think about what I want to achieve early in the day and gave me a TONS of free printables & ideas on how to get organized!
It's only 15 minutes a day and is perfect for helping you tame the chaos that happens with back to school time.
Wishing you a wonderful beginning to the school year!
~ Jacquie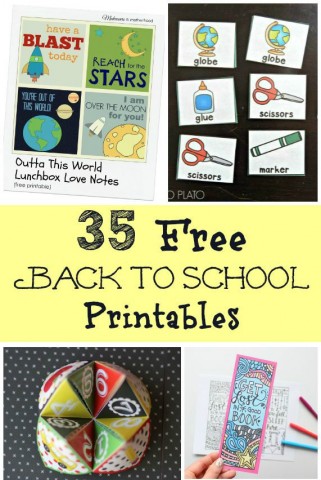 MORE FIRST DAY OF SCHOOL IDEAS:
35 Free Back to School Printables!
The Best Books for Back to School (Preschool to Middle School Reads)
10 Ideas for Spending Time with Kids during the School Year