A list of FUN things for kids to do on Thanksgiving Day!
So, you've got the turkey ordered, your guest list is all set and you know what you're making for dessert.
But have you thought about Thanksgiving Day activities for your kids?

Not to worry – we've got an awesome list of all kinds of things kids will enjoy — from printable Thanksgiving Games for kids and adults to creative ways to inspire them to chip in & help with the holiday festivities!
Kids Activities for Thanksgiving Day
It's always a great idea to have fun things for the kids to do while the turkey's cooking. Watching the parade and playing some football with the family are great traditional options but the day can be a long one.
Try adding in a few creative activities along with asking the kids to chip in and help with some of the "funner" parts of the holiday. Here are a few of our favorites along with affiliate links for items we love too.
Create with Butcher's Paper

I LOVE this stuff! Seriously! What a great way to give kids 'an open canvas'.
It can be found at any craft store or online — I've included an affiliate link for your convenience. You may also know it as Kraft Wrapping Paper
(but it will always be butcher's paper to me).
It's inexpensive and can be used in a number of ways:
√ Roll it out on the floor, provide them with some crayons and have the kids draw a huge Thanksgiving mural.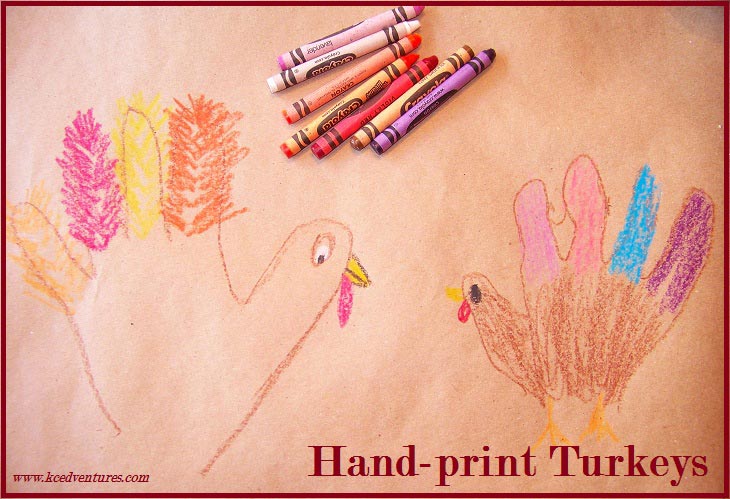 √ Put a large sheet across the table and ask each relative to create a handprint turkey. Kids can then cut out the turkeys and use them as 'name cards' for each table setting. Or, the turkeys can be hidden around the house for the kids to find (a turkey scavenger hunt!)
√ Cover the kids table in butcher paper so they can doodle during their meal.
√ If you have some paint and stamps on hand, you can have the kids create their own holiday wrapping paper – see this adorable example for Cookie Cutter Wrapping Paper from Red Ted Art!
Butcher or Kraft paper can be found at your local art or hobby store. It comes in a long roll.
If you know a butcher, you can ask them too!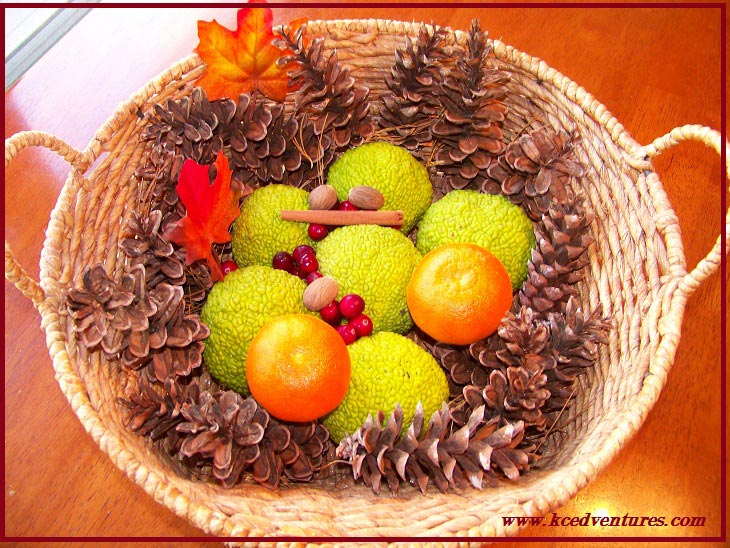 Help with the Thanksgiving Table

Kids love to help on big holidays. Asking them to set the table on a normal night is boring – but asking them to decorate a holiday table and they're all in!
Create a Nature Centerpiece

Give them a basket and send them outside to collect some nature items to fill the basket. Think pinecones, acorns, hedge apples, large colorful leaves, etc. This can be used as part of your centerpiece at the table.
Set the Napkins & Placemats
If you're using cloth napkins (and in this day of 'going green', I'd encourage you to consider it), kids will love choosing a fun way to fold the napkins and display them. Here are a few fun designs:
Turkey Napkin Fold from Between Naps on the Porch
Diamond Silverware Pouch from Holiday Napkin Folding
Clown's Hat from Christmas Magazine
Using colored construction paper, younger kids will also enjoy making these Woven Paper Placemats from Mess for Less!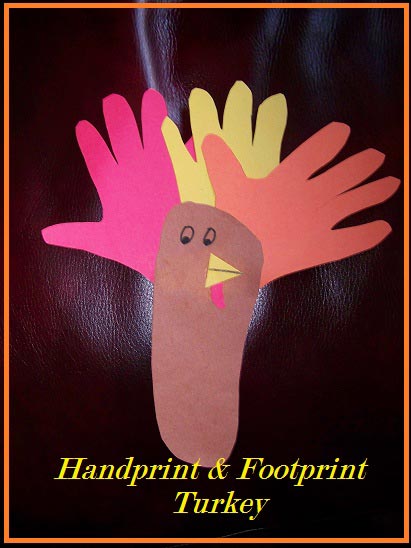 Make Fun Placecards
Kids can make turkeys from colored paper and label each with a name. The one above uses a tracing of their foot for the body, along with tracing their hands for the feathers. Kids can also trace the hands and feet of relatives so each person's placecard is a unique turkey!
My friend MaryAnne at Mama Smiles does a GREAT handprint turkey using different size tracings of each of her children's hands. This would be another cool way to make the turkeys — trace the hands of each guest and then mix the tracings as you put the turkeys together.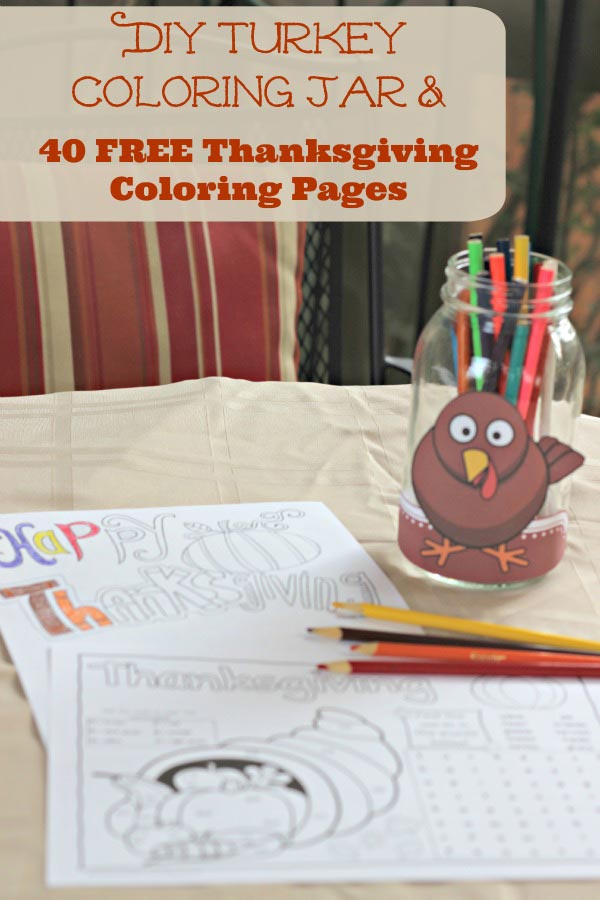 FUN & GAMES FOR THE FAMILY
It can be a little awkward to spend time with family you don't see very often and kids might feel a little uncomfortable trying to strike up a conversation with their relatives.
Try setting up a multi-generational coloring area (the newest craze sweeping the nation) with these free printable Thanksgiving coloring pages & fun Turkey Coloring jar.
Get Outside
No matter where you celebrate, plan to spend some time outside.
Take an after-dinner walk, or plan an evening stroll to see some of the holiday lights. Or maybe you have a sports-playing family and you'll plan to play some football or other active game.
The kids will also enjoy one of the Thanksgiving-themed Scavenger Hunts we have in our Autumn round-up!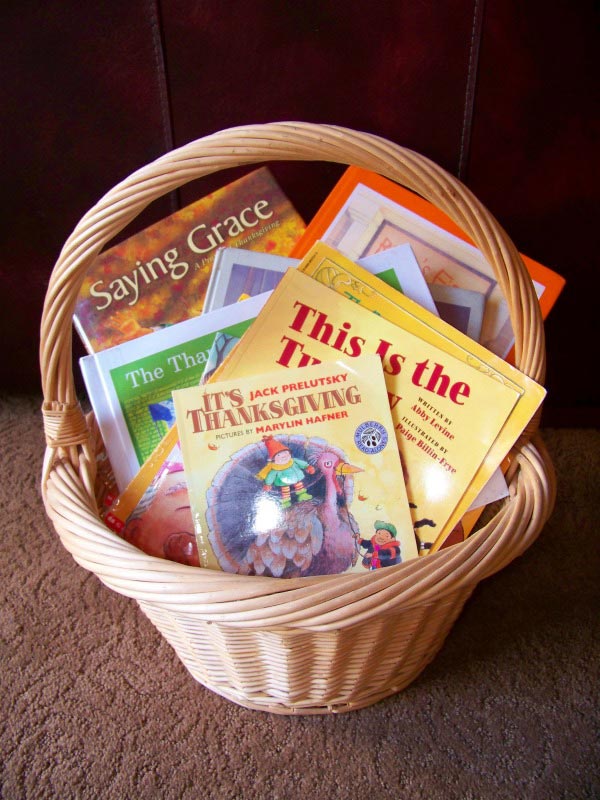 Put Together a Book Basket
Stop by the library and check out some fun holiday books (or check your personal book collection). Then put them all together in a basket for storytime sessions! If you have relatives visiting, I'm sure they'd love to take turns reading with your kids.
Looking for book recommendations?
Here's a list of 10 great Thanksgiving books for kids.
And print off our fun Thanksgiving Reading Challenge for the kids so they can hunt for turkey day symbols as they read 🙂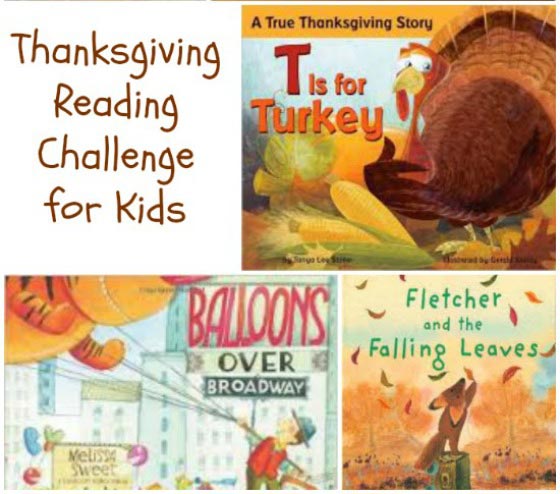 Everyone Loves a Game
If your looking for some ways to connect (sometimes it's hard for kids to strike up a conversation with a relative they don't often see), Disney's Spoonful has a printable Thanksgiving Bingo game for the whole family to enjoy. Just print the cards and play at the table.
I love the idea of family conversations at the holidays — it's a time when we can all get to know one another a little more.
Hosting a family trivia game is always fun and easy to do. Ask each guest to write down something that happened to them during the previous year. Put all the slips of paper in the jar, and then have each person choose a slip and guess who it belongs to! For example, the kids might write "I got an A in math", or "I was a ninja for Halloween". It always leads to some fun and easy conversations too!
Or if you'd rather learn more about the holiday, here's a printable Thanksgiving Trivia game from Alpha Mom that would also be a great group activity.
Wishing you a Happy & Enjoyable Thanksgiving!
~ Jacquie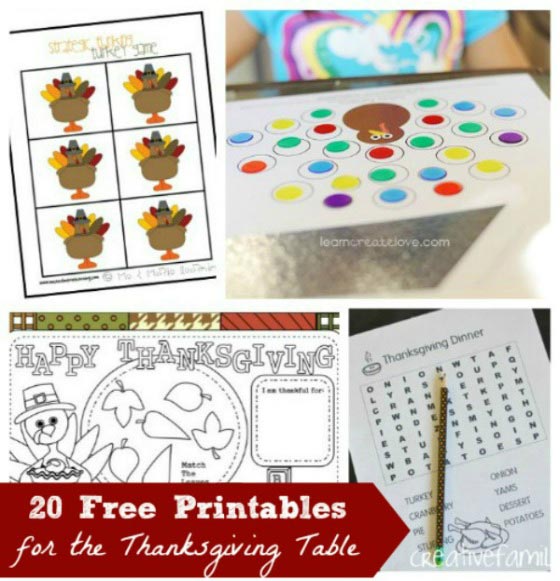 MORE HOLIDAY FUN:
20 Free Thanksgiving Printables
Finding Jingle Bells: An Alternative to Elf on the Shelf

25 Ways to Slow Down & Enjoy the Holidays