Kids will LOVE making this Turkey Puzzle Craft using nature items!
This creative idea is a fun thing for kids to do on Thanksgiving Day and can also be used as a kid-friendly way to decorate the Thanksgiving table.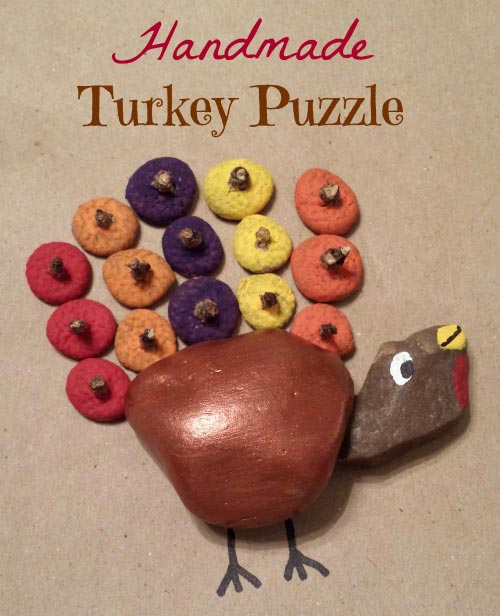 Handmade Thanksgiving Puzzle Craft
When I was growing up, Thanksgiving seemed like such a long day. Most of the adults were busy with baking and cooking, or watching football — and as a kid it seemed like FOREVER before we could sit down to eat all the yummy pies that were tempting us from the kitchen counter.
And now that I'm the one in the kitchen, I am reminded that having some fun activities for the kids makes the day much more enjoyable. I usually pull together a few indoor activities they can do on their own along with one outdoor idea and one the whole family will enjoy. This activity can cover all three areas if there's adults who like to craft too!
This craft is actually a two part activity and will not only give the kids some creative time but will also get them outdoors for a while too!
First, send the kids outside on a nature scavenger hunt to collect the supplies for the craft. If there's bad weather or you have younger kids, you can also collect the items ahead of time (but I always find that some time outdoors to burn off a little energy allows kids to take more time with a craft like this one).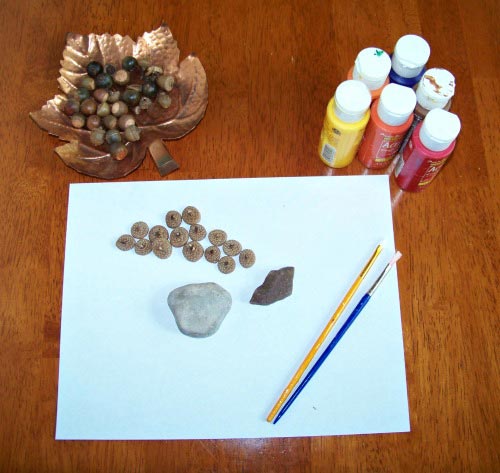 For each turkey puzzle, you'll need:
Two rocks (one large for the body and one smaller one for the head)
15 acorn tops (or more if you'd like more feathers)
Acrylic paints in various colors
Paintbrushes, smocks and paper to cover your work area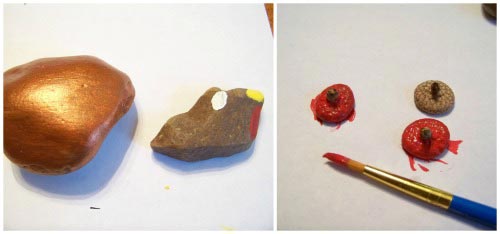 Now comes the fun part — painting! We chose to use a copper paint for the turkey's body. I used some traditional Thanksgiving colors (red, orange, yellow and purple) to paint the acorn tops which are used for the turkey's feathers. I like to encourage creativity so let the kids choose whatever colors they would like to use. the beauty of the acorn tops is that you can hold those small stems while you paint the cap.
For the turkey's head, just add an eye, beak and gobbler with either paint, paint pens or even sharpie markers would work on the rock.
As you can see below, my daughter took a different route and used some bright neon colors for her turkey. She's a stand-out kind of girl so it's the perfect turkey for her 🙂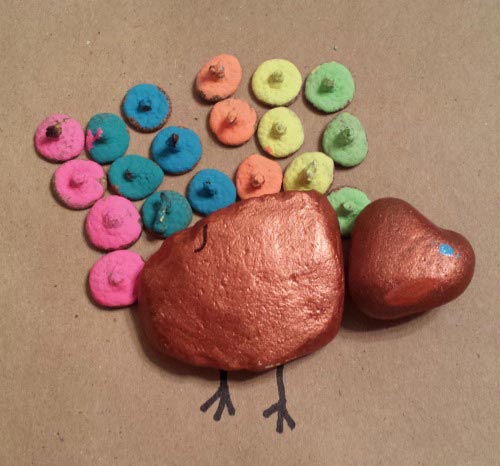 And she also has the best ideas! As we were drawing feet on the paper for our turkeys, she suggested that we use small sticks for their legs — BRILLIANT! So we will grab a few for the big day since that really would make a great addition to this nature-themed craft.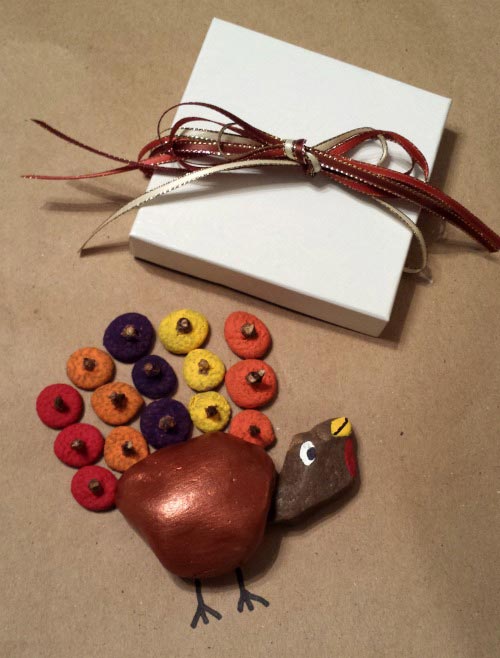 If you'd rather make the craft ahead of time to surprise the kids, it also makes a fun activity to keep them busy at the Thanksgiving table. I tied a ribbon around a small box and enclosed all the pieces so it will be ready for us to take out on Thanksgiving Day.
More Thanksgiving Activities