A FUN & free printable Thanksgiving book challenge for kids that will inspire more reading this month!
I love to have a variety of free printable Thanksgiving activities on hand this month. This Thanksgiving Reading Challenge is the perfect way to be sure kids are getting in some much-needed reading time this month!
If you're a teacher, this is a wonderful idea for extra credit over the Thanksgiving break! If you're a parent, it's a great way to slow down for some one-on-one time with the kids.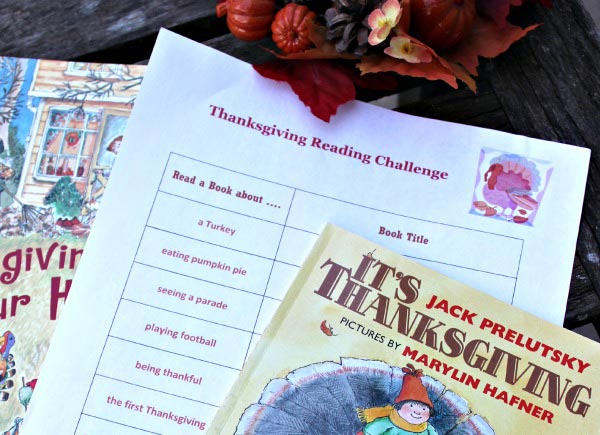 Thanksgiving Books for Kids & Reading Challenge
It's less than two weeks until Thanksgiving!
For my husband, that means turkey 🙂
For me, it means an extra piece of pie!
And for the kids, it means time off from school (yea!) They are counting down the days until their Thanksgiving holiday.
As holiday time approaches, our schedules kind of go kaplooie — you know what that's like, right? You plan to have regular reading time and before you know it, it's 30 minutes past bedtime and the kids still haven't brushed their teeth.
And then there's those days off from school — they can be so much fun and yet seem so long when Mom's cooking for a crowd.
Pass that love of reading to others in the family — challenge your kids to have each visiting relative read them a book from one of the categories on the list!
Just print off the Thanksgiving Reading Challenge page below and then head to the library or search your own bookshelves for stories about Thanksgiving. We've included some fun book suggestions along with affiliate links for each of the categories on the challenge.
And if you're looking for more fun games & activities, browse these 10 Printable Thanksgiving Games for Kids & Adults — perfect if you're hosting the family this year!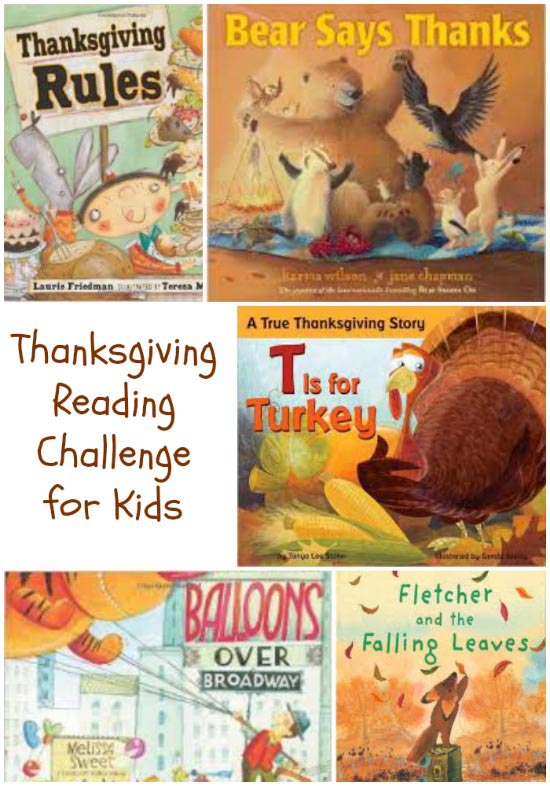 25 Thanksgiving Books for Kids

So here's the challenge — have your kids read a story that includes each of the popular Thanksgiving Day traditions listed on the printable below!
And no cheating — one book for EACH tradition (I know how those little minds think 😉
This is an awesome way to introduce new seasonal books and keep kids focused on reading over their Thanksgiving break — you know, when you're focused on all that cooking!
Here are a few of our favorite books in each category —
A Turkey
The biggest symbol of Thanksgiving so a must read!
Turkey Trouble
T is for Turkey: A True Thanksgiving Story
'Twas the Night Before Thanksgiving
Eating Pumpkin Pie
Or any book about pie will do — choose your favorite 😉
Perfect Pumpkin Pie
I Know an Old Lady Who Swallowed a Pie
Seeing a Parade
Always a tradition at our house — it's not Thanksgiving without the parade!
Balloons over Broadway: The True Story of the Puppeteer of Macy's Parade
Milly and the Macy's Parade
Christmas Parade
Playing Football
Turkey Bowl
Miss Nelson Has a Field Day
Dino-Football
Being Thankful
Always a great topic to introduce at this time of the year. If you're looking for activities to tie in during the month of November, try these 7 Gratitude Activities for Kids.
Ten Thankful Turkeys
Being Thankful
Sarah Gives Thanks: How Thanksgiving Became a National Holiday
The First Thanksgiving

These books introduce why we celebrate Thanksgiving and how it came to be a national holiday.
The Very First Thanksgiving Day
The Thanksgiving Story
The First Thanksgiving: A Lift-the-Flap Book
The First Thanksgiving
Spending Time with Family
So many funny books about family coming to visit!
The Night Before Thanksgiving
Thanksgiving Rules
A BIG Thanksgiving Dinner
Who can resist that wonderful food!
A Turkey for Thanksgiving
Bear Says Thanks
Thanksgiving Graces
Falling Leaves
You will also enjoy these Leaf Crafts & Activities if you're looking for some fun outdoor projects.
Fletcher and the Falling Leaves
The Fall of Freddie the Leaf: A Story of Life for All Ages
Need more book ideas? Visit 10 Thanksgiving Books about Gratitude & Traditions!
Here's your FREE printable reading challenge! Time to hit the books 🙂
Are you a book lover? Try Audible and Get Two Free Audiobooks
MORE Holiday Ideas:
20 Free Thanksgiving Printables
Finding Jingle Bells: An Alternative to Elf on the Shelf

25 Ways to Slow Down & Enjoy the Holidays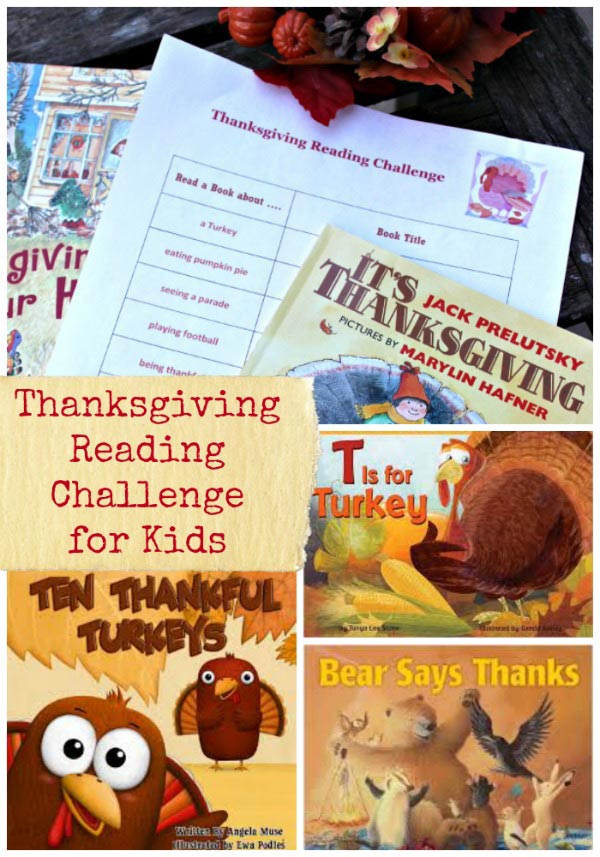 Enjoy your Thanksgiving holiday!
~ Jacquie