During November, we will be sharing a number of ways that kids can learn about gratitude and giving to others. I'm thrilled to be part of the #SimpleGiving Champions for Kids campaign sponsored through Collective Bias® and share my ideas about how families can support local schools and children this month.
Giving to others is such an important life lesson. And as parents, it's up to us to model and teach this skill to our kids.
No pressure really, kids have this amazing gift of knowing when to reach out to others. I see it all the time when a young child gives someone a hug or kiss, when friends at school help others to carry their heavy backpacks or in the excitement you see on a child's face when they've made a special picture or gift and just can't wait to bless the recipient with their wonderful work.
Giving is really second nature for kids — what we need to explain to our children is that there are times when you can't see what others need. But the needs are still very real.
To introduce this topic with our kids, I love to get the family involved in events and campaigns that support members of our local community. Kids are very 'live in the moment' type of learners so it's great to find opportunites such as a food drive or donation campaign to begin a conversation about what people need.
The Champion for Kids Simple Giving campaign is a wonderful way to help schools and children in your community while also teaching kids about the needs of others. I know it can be a challenge to find ways to get involved in service with young children — this campaign is a great opportunity for families with kids of all ages!
The campaign hashtag of #SimpleGiving is so true! This is such an easy way to give to others in your community. Visit your local Walmart store and find these purple bins (or some stores will have big purple pallets of items too). The bins are full of Unilever and Kimberly Clark personal products.
As you can see on the bin, the idea is simple:
1. Choose which items you'd like to donate.
2. Purchase those items.
3. Drop the items into the donation bin on your way out of the store.
What could be easier!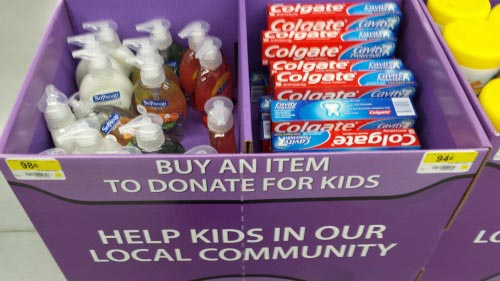 There were a number of items for us to choose from ranging in price from $.97 to $2.97 which makes giving even easier. You'll find toothpaste, tissues, hand soap, body soap, deoderant, hand wipes and other products that are used in classrooms or at home.
And here's one of those teaching moments — all of the products are items we use at home (and I'll bet the kids don't even think that others may not have these items available at their house). This could jumpstart a great discussion – how would your child feel if they weren't able to brush their teeth or use deoderant every day (let me tell you, for teens and tweens this is a big deal).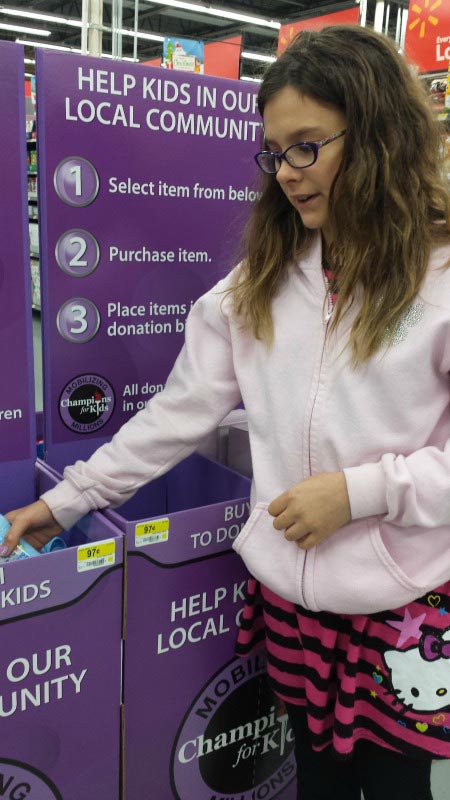 We got right to work loading up our basket! Another great oppotunity is to sneak in a little math 😉 For younger kids, you can ask them to choose a certain number of items and have them practice their counting. I gave my daughter a budget for what we wanted to spend on the items and had her add them up as she filled the basket.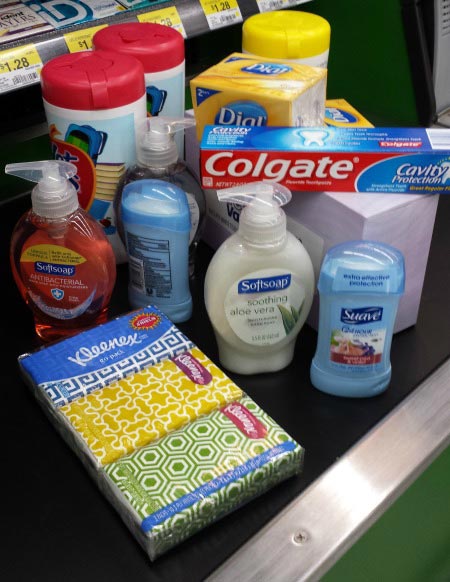 Time for checkout! We always choose the self check lanes as the kids just love to run the scanner themselves. In fact, she was so quick on scanning the items that she had half of them checked out before I could even get a picture 🙂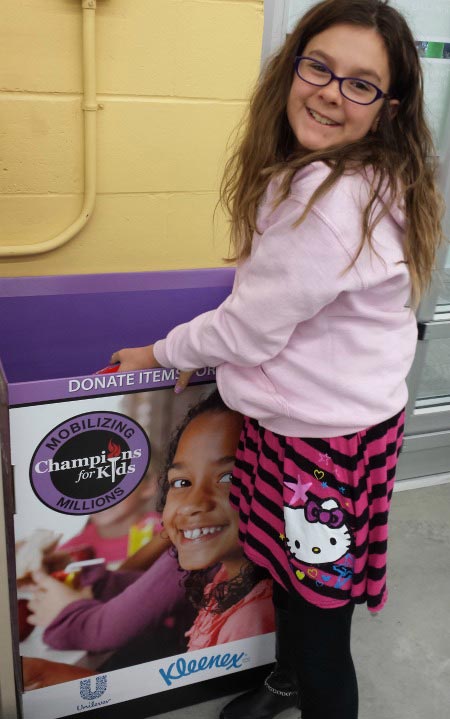 Last stop — the Champion for Kids purple bins are located on your way out of the store. Just stop and drop in your donations. Totally #SimpleGiving!
And the part I love the most is that all donated items go directly to schools and families in your community!
If you'd like to learn more about the campaign, visit Champions for Kids on Facebook and become part of this wonderful community.
So be sure to add it to your shopping list this week — eggs, bread and #SimpleGiving! And thanks so much for thinking of others this month.